A case of never giving up on your dreams despite the odds against you.
A case of never giving up on your dreams despite the odds against you.
Photos: Josh Rud/Arenacross.com and Courtesy of Bitterman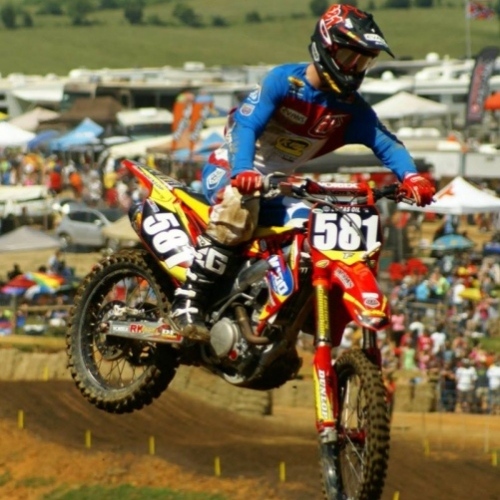 Bitterman in the 2013 Lucas Oil Pro Motocross Championship.
It was just a normal home office day for me. I was instructed to help Andrew Fredrickson, from Racer X, to gather information for the Amsoil Arenacross yearbooks. That means that I call, email, text, and show up at people's houses in order to get the information I need. Sometimes it is just easier to get a tooth pulled than getting what you need by deadline.
I have a list of numbers that I have to call and sometimes I don't have those numbers saved into my phone. As I hung up on another phone call after leaving a message I went to finish up one of my final papers for school. That's when my phone rang.
"Hey man, I got a call from this number, what's going on?"
"Oh hey, what's up?" I said. "Who is this by the way?
"It's Kyle…"
"Okay, awesome. Kyle Regal?" I asked stupidly.
"No, this is Bitterman," he said.
Duh. I had just called his number ten minutes beforehand. I felt so stupid. We began to talk and then I realized something. This guy has an awesome story about remaining relentless to reach his goals. Bitterman just signed a deal to race for the Rockstar Husqvarna presented by FMC Racing and OTSFF team in Arenacross. He will be joining teammates Gared Steinke and (ahem) Regal. Why not give this guy some press?
Bitterman grew up in a racing family in the western part of New York state, although it wasn't dirt bike racing. His dad, uncle, and grandpa raced go-carts and Kyle wanted to follow in their footsteps. The only problem was that he wasn't old enough to drive go-carts in competition. Still, the racing gene was in Bitterman's blood. He eventually found motocross through a friend at school who had a dirt bike. He begged his dad for a bike and the rest was history. Bitterman raced local races whenever he could. He practiced when he raced because of limited bike time.
"I was always the kid who would go to school, get my work done, do my chores, and then get ready to go racing," Bitterman said.
His family didn't quite have the funds to travel to the bigger amateur nationals once Bitterman started to get faster. He couldn't afford to take off school for weeks at a time. That never mattered to him though, as he never let lack of support ruin his dreams. He resorted to working full-time to support his career.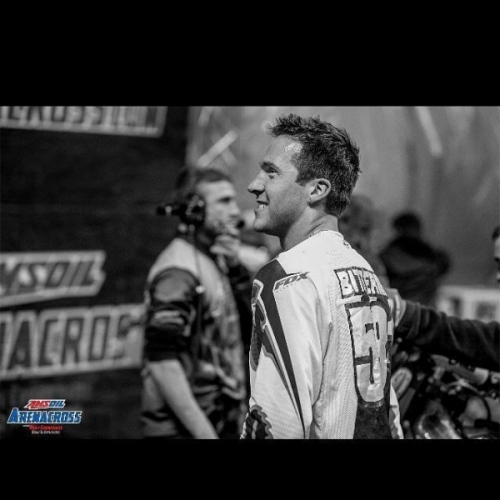 All smiles because the hard work is paying off.
Around seven years ago Kyle and his uncle Rick relocated to West Pelzer, South Carolina and opened up a repair shop. In that repair shop is where Bitterman works on whatever he can to make enough money to go racing. His routine consists of training, working at the shop, and hopefully getting off of work in time to get some motos in.
As he turned pro at the end of the 2012 season, Bitterman started gaining more support from sponsors, which made his life getting to the races a bit easier. Bitterman started to put himself in Monster Energy Supercross main events and even made some podiums in Amsoil Arenacross.
Last season Junior Jackson, who at the time was managing the Thermotec Yamaha team, noticed Bitterman. When Mike McDade was forced to sit out due to injury, Bitterman was called for the fill-in ride. Unfortunately as soon as Bitterman was given the chance with the team it was taken away virtue of a broken femur. However, he did show potential by leading some laps in main events and Jackson liked what he saw.
Jackson has now moved over to manage the Rockstar Husqvarna team for the 2016 season. He called up Bitterman to offer him the support of the team. At twenty-two years old, Bitterman's dream has now come true. He has received the support that he's always dreamed of. He's looking forward to soaking in as much as he can from his teammates Regal and Steinke in his first full season in Amsoil Arenacross.
"They are two very good riders with a lot of talent," Bitterman said. "I can learn from both of them and I think it's going to be a fun year."
Bitterman said that he doesn't have much pressure on him entering the season. He knows what he can expect from himself and he wants to show his sponsors that he has what it takes to be a frontrunner. Bitterman is coming in under the radar and he's never given up on his dream. He's done what he's had to do to get to this point and he will still work full-time through the season.
"You just can't ever quit and you have to keep on pushing," Bitterman said. "If you want something bad enough you have to just find a way."
Bitterman found his way.
Thanks for checking out my weekly columns. I appreciate getting emails whether they are good or bad. You can reach me at Troy@pulpmx.com. I respond to every email I get!