Views from the Cincinnati opener.
Views from the Cincinnati opener.
Photos: Shift One Photography
Unless you've been living under a rock you know that the Amsoil Arenacross kicked off its series in Cincinnati's US Bank Arena on Saturday. While Matthes was off covering Anaheim 1 I was sent to cover the event in my hometown. Here's what I gathered from my day at the races.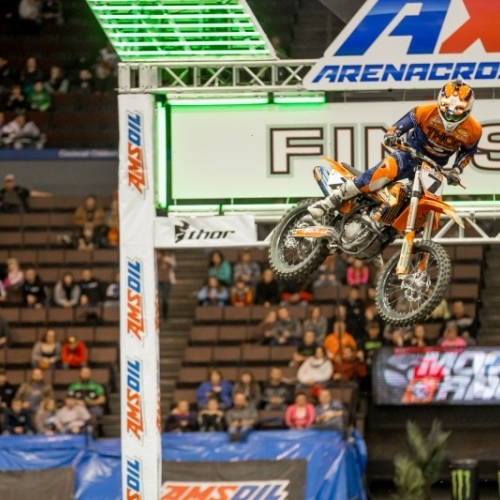 Travis Sewell won the first main event of the year, but would crash the next time out.
Last Saturday was a huge day for Cincinnati. Downtown was covered with Bengals and Steelers fans for the playoff game, there was a car show, and Amsoil Arenacross was in town for the series opener. That's a lot of money that was made! It's cool to me because Cincinnati has been trying to reach its potential in the past five years and its only getting better. What a time to be alive!
This was the second year in a row that the series kicked off in Cincinnati. I did notice quite a few improvements from last year's event. Last year all of the riders competing were crammed in the quarters of the stadium, which created a huge mess of traffic throughout the day. I might understand this logic now because last year was twenty degrees colder than this year was. The arena was freezing because of this and the ceiling heaters were a must. Weather wasn't an issue this time around and it was a decent temperature inside the arena all day.
I was really impressed with the amount of positive comments the city received. A lot of people loved the surroundings and thought it was very nice. It's a huge turnaround from what the area looked like fifteen years ago, so this looks good for arenacross to return next season.
This year the promoters had assembled two huge tents outside the entrance to the stadium. The factory teams like Team Babbitt's Monster Energy Kawasaki and Rockstar Energy OTSFF guys were set up inside the stadium. Other teams and riders had a crack at pitting inside the stadium as well, but I think it was based off of a first come first serve basis. The tents held everyone else and kept them dry on the rainy Saturday that we had.
When I got to the track I caught up with Zac Commans who is in the midst of gathering his supercross points via the Road to SX. It was just about track walk time so we decided to follow the crowd out onto the floor of the stadium. Once out on the track Commans was very surprised at how narrow it actually was. This was his first arenacross and he told me he didn't know what to expect. You also couldn't see the track very well because of the amount of people that were out there. It was basically a bunch of people waiting in a line. Thankfully there wasn't much track to learn.
I have only been to an arenacross in Cincinnati and I have often wondered how this event stacks up against the rest of the series. In talking with most of the guys it turns out that Cincinnati is one of the tightest, narrowest tracks on the circuit. The riders were talking about how the track surface was going to shape up throughout the day as well. The dirt was very tacky on press day and on the track walk many were surprised how hard packed it had gotten. That didn't last very long.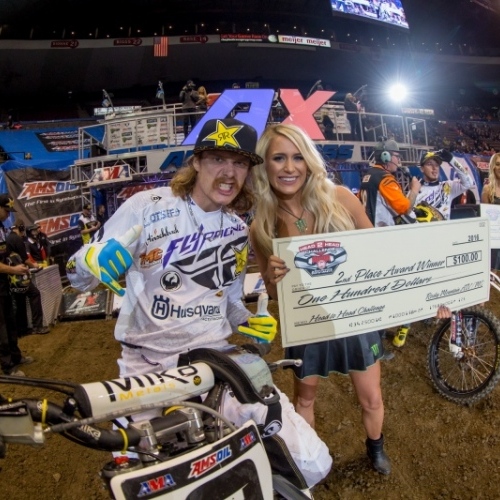 Steinke went Head-to-Head with teammate Regal and raced it like a goon to get second.
The track had four lanes that included the start straight, whoops, a rhythm lane that included a double, step on-off option into three smaller jumps, and the finish line catapult. Kyle Regal was the only rider to double quad the rhythm section, but he only did it on the parade lap after opening ceremonies. It was fast, but the ruts chewed up the track throughout the day, which made that line very hard to do.The track also got very choppy as it developed many braking bumps throughout the day.
I walked through the whoops with Kyle Bitterman and he was commenting on how forgiving they would be because they were rounded. Some of the guys are used to just hitting peaked whoops and these rollers were huge. Road to SX participant Keith Tucker had them down throughout the day and he was very confidant about his night on track walk. He would go on to win the AX Lites main event by a long shot.
Practice was very close as far as times were concerned. Gavin Faith ended up being the fastest qualifier on the afternoon with a 20.9. Benny Bloss, another Road to SX participant (Blue Buffalo/Slater Skins rider), had a huge get off in practice and just didn't look comfortable all day. He earned his point in the night show, but will look to do better next weekend in Baltimore.
The opening ceremonies were pretty cool this year. It's everything you would expect from the supercross opening ceremonies, just less fireworks. You can't light too many off in a smaller arena. Kyle Regal's video made everyone laugh. It was just him showing up to this huge party with some slow motion head nods at chicks throughout. The night was huge for Regal, despite struggling in the main events, he was presented his championship ring from last season.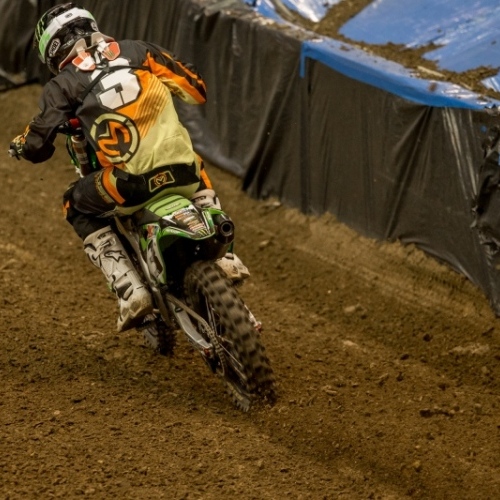 Gavin Faith was the big overall winner on the night. He's coming back from injury and only had three days on his new Kawasaki ride.
The racing was great! I don't have a single complaint about anything I watched. It's what you want out of a race. The track is tight which means that no one is going to get a huge lead and guys are going for it at all times. It's amazing how fast it all happens. These guys can't go into a corner without getting bumped. It also helps that the field has gotten very stacked in the past few years. If you want a fun night out with the family bring your kids to Amsoil Arenacross. It's a very fun show.
Arenacross rebranded itself as well this season. The new logo has a cleaner look and the new podium is state of the art. Below the podium is the gate and above it is an announcer's tower, DJ booth, and podium. This isn't a minor league series for amateurs to make their way onto the supercross circuit. Arenacross stands alone as a legitimate series and a way for riders to make a living. From last years opening round to this year we've seen drastic changes for the good of the sport, and like I said before, the talent is deep.
The series also has a new trophy that will go to the champion and it goes by the name of the Ricky Carmichael Cup. The new trophy had its own opening ceremonies video and everything. Somewhere Buddy Antunez is sobbing (I'm going to get this joke to stick around, I promise).
After the event I went looking for Gavin Faith to interview him. I ran into his mechanic, who is none other than Mandingo Pickles/Nick Wey BFF Big Nasty. I introduced myself to him and told him that he was in fact a legend. It turns out that he's really cool guy and he told me that he was going to be in studio for the Pulp MX show in a few weeks. I told him to give me a shout out and we kind of bro'd down a little bit. I've got to buy some jars of Mandingo Pickles now.
One thing that I've found so inviting about arenacross is that it's a tight knit group. Everyone knows everyone and I haven't found any outcasts on the tour yet. It's a friendly environment that allows a lot of family interaction. After the main events are over the top riders have an autograph signing for all of the fans and they don't leave until the line is empty. It's a good thing for the kids and of course the older women who want to get their chest signed by Gared Steinke. You know Stankdog just loves that attention.
It's going to be a great season of racing. Next weekend in Baltimore two more competitors will join the field in Jace Owen and Ben Lamay. Both of them had to miss the opener due to conflicting races in Germany. They will bring their supercross experience in and be an immediate threat to the championship this season. No one is going to be dominating this series. With the race to the championship in place this title will go down to the series finale in Las Vegas once again.
Thanks for checking out my column. I appreciate feedback whether it's good or bad and you can reach me at Troy@pulpmx.com.
Twitter/Instagram: @troybendgen