Vuillemin weighs in with some thoughts from the opener
Vuillemin weighs in with some thoughts from the opener
Photos by James Lissimore
First off, your team rider Maxime Desprey rode great in his heat to get into the main. Once there, it didn't go great but overall…what did you think of the night for you and your team?
It was Max's first US SX ever. He had to be nervous. We had a strategy to deal with the challenges of the night but he got behind the eight ball a little too early. You have to start your day off on the right foot right the first practice. The plan was to just do everything in the free practice like a main event guy, be in top 20 overall in practice to have a gate inside of the bridge on the gate for the heat race. He didn't jump a couple triples in the rhythm sections. He then had to do them in the first timed practice which gave him little time to focus on speed and lap time. He still was the fastest of his group but only around 24th fastest overall. At that point, it wasn't too bad but in the last timed practice, he struggled to find a clear lap and made a bunch of mistakes. He improved his lap time but not enough.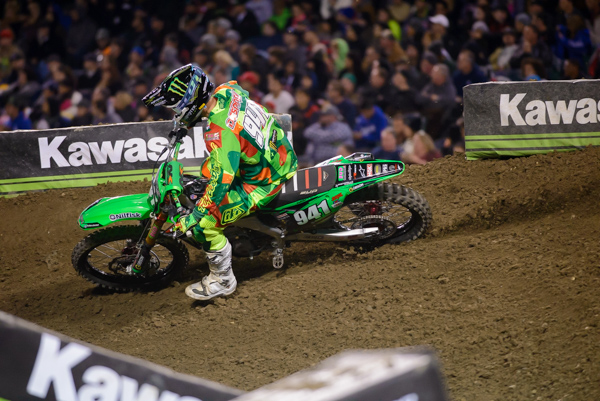 Bud Racing's Maxime Desprey made the main in his first US SX and is hoping for more soon.
He ended up 30th overall, a second off 20th, which with the way he was riding, wasn't bad. But, he got 15th pick in the heat race. With the start being the way it was, it was a huge disadvantage. He fought hard in the heat race to pass Noren for a transfer spot in the second to last turn. I was happy with the way he rode but that put him with the 19th pick in the main. He crashed early in the main while being 16th. That killed his mojo and it was done after that. He's got to do better in the next races right off the bat. I think he could've got a top 12 in the main in Anaheim if he would've rode like he did in the heat race though. It was the first race, 20th isn't where I want him to be. We're gonna work some more to try to get closer to top 12. I think that's a reasonable goal for now.
Jason Anderson was great, could this be a MC in '93 Anaheim type of moment? He ripped through the pack in both mains.
I actually picked him to win before the main. I love his drive and even with making mistakes, he never gave up. He's always trying. He looked like he did in 2014 when he won the West coast title. It was an impressive ride. When he got to second even with a 6-7 second deficit on Seely, I knew he was going to win this thing. His ride should inspire everyone out there-that was impressive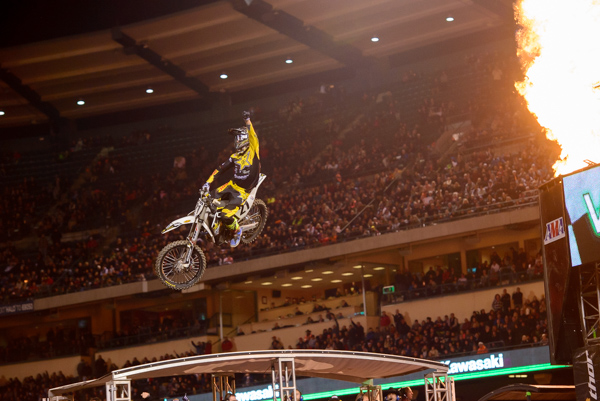 Jason Anderson took his first win in the 450SX class in amazing fashion.
Surprises and Disappointments from the 450SX main?
Obviously, Anderson was a surprise. He was an easy top 5 guy (in my eyes) before the race but seeing him dominate was a surprise. I'll put Dungey in there too. He was 4th, got taken out by Canard, dropped to 7th and stayed there until halfway. He dug deep, made some good passes and passed Seely for second in the last lap. That 2nd place finish is like a win for Ryan. He starts the season better than last year. He looked uncomfortable last A1 but Saturday it was a different Dungey. Seeing him this strong early in the season and knowing his consistency has to be scary for the other guys. He's still the favorite on a 17 race series. Lastly, you could put Reed in the surprises. Chad looked great. I am curious what he would've done without the red flag. I think he was in the top 3 then. He looks comfortable, aggressive, fast and just like Dungey. And more ready than 2014.
For the disappointments, I have to put Seely in it. Cole isn't allowed to lose that race. I saw him many times in this off-season riding. The kid is ready, fast, smooth and strong. To me, he came apart when he saw Anderson catch him a couple laps in a row and that killed his second part of the main. He just blew up mentally Saturday. Then, I have to put Barcia in there. 5th fastest in the main, over riding the bike as usual, too aggressive with the throttle and with other riders, he crashed and finished 15th. He was leading before the red flag so maybe that affected him a bit for the restart. He's got to get smoother, roll his turns, stop with the rear brake and with the clutch. J-Bone, just take his clutch lever off during the week, he won't be able to lock his rear brake like that and will have to smooth his turns out! And finally, I have to put my boy Pourcel. He was 2nd fastest overall in practice and fastest in the 2nd timed practice, he was transparent in the main after a bad start finishing 18th with the 19th fastest lap. I can't say I'm surprised but you got to race not only when you're in front off the start and everything goes right.
What's the % that Cooper Webb goes undefeated here…he looks great. What else did you take away from the 250SX main?
I don't think Cooper will go undefeated this season. Everyone seems to think he killed the field but I guess I didn't see the same race. Cooper and Nelson had exactly the same fastest lap in the main, 1'01"39. Even if he was half a second faster in practice, he made lot of mistakes. He crashed and went off the track telling me he wasn't as confortable as everyone thinks. I don't think we saw the best of Christian Craig. Just like Seely, I saw him ride this off season and he's way better than what he showed Saturday. I think Nelson and Craig can give Cooper a run for his money from time to time. Even a Savatgy in a good day could surprise some people. He was doing some nice things on Saturday.
Weston Peick/Vince Friese… What's your take on the heat race contact, Vince's move in the semi race and Weston's reaction…and also the punishment laid down on WP?
I don't think the heat race incident is anything to talk about. It was racing incident with two guys touching each other. In the semi, Vince was too late to block pass Weston in that turn. We've seen this type of action a million times in Supercross. I don't think it was over aggressive nor dangerous. The fact it was Vince vs Weston added race VP fuel to the fire. Any other guy doing that to Weston, he would've picked up his bike quickly and jumped on it to qualify for the main. The fact it was Vince made Peick lost it. His reaction is unacceptable. You don't punch a downed rider with a closed fist 5 or 6 times because he block passed you poorly. The punishment isn't bad either. Malcolm got fined $5k a couple years ago (or last year?) in Daytona for pushing someone after the same kind of action. $5k and a race suspension for UFCing another rider isn't bad. Weston got off easy I think.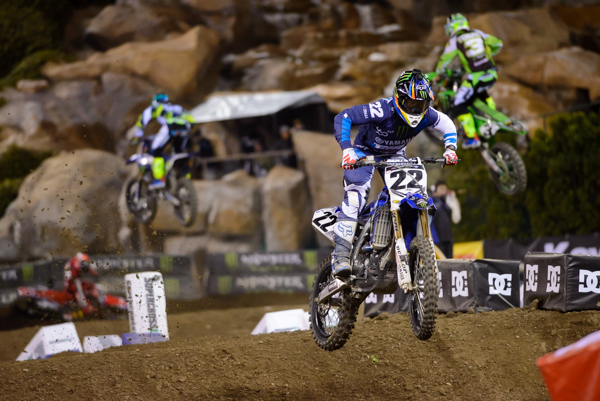 "The Yami looks on point. The gear looks on point. His style is on point. Reed is the definition of class, bro!"
Your buddy Chad Reed… He hasn't lost it yet. Looked great.
This guy is immortal and deserves respect. Being almost 34 and being competitive in such a field with well prepared talented riders is very impressive. I am happy to see him do well and I am sure we'll see even better from him this season. The Yami looks on point. The gear looks on point. His style is on point. Reed is the definition of class, bro!
Red flag thrown a bit premature?
I saw the crash. I saw the quick red flag and I was like, what?? But I couldn't see Bubba on the ground though. I guess he wasn't moving nor responsive so better be safe the sorry. That will not change the outcome of the championship unless Barcia loses the title for a few points which I don't see the happening. We have to play it safe sometimes. SX is dangerous enough and it's better to have the Asterisk crew take care of a down rider than letting the race go.
You're like me and saw nothing wrong with the Stew/Dungey collision right?
It was the definition of two riders being at the wrong place at the same time. Dungey made a little mistake and was a few feet inside of his regular line. Bubba went wide and squared off Anderson to put himself in the position to pass him on the dragon's back after the finish line. My view on it is that James has tough time to race while being around other guys. It always seems like he thinks he races by himself. It's like if you drive your Ridgeline down the freeway but never use your mirrors to change lanes. At one point, you got to get into an accident. Also, early in the race when the riders aren't spread out yet, you shouldn't really go in the turns super wide and square them super sharp. There's always someone coming in tight from the inside and you can easily get into a head to head collision. I really hope Stew is ok and will be able to race in San Diego. We need him out there.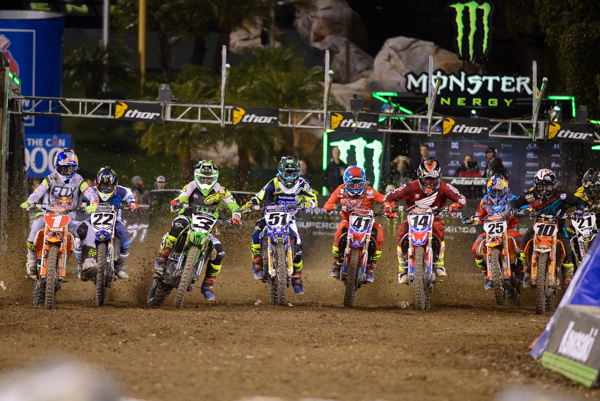 The 450SX class at Anaheim 1 had a bit of everything.
Since I'm talking about him, he can do so much better. He was still sketchy in some spots, super fast in some spots but in other sections, he was super slow. Take the first rhythm of the track after the start. The first double out of the turn, which you can jump on a peewee, he was jumping it siting down very slowly instead of using his legs and soaking it up. Also, in the first set of whoops. he was going all the way to the right against the tuff blocks. The next turn was a right hander. He was coming in so tight he couldn't turn. Finally, the last rhythm before the finish, it was cool to do 3-3-3-1 but the last single was so steep it would kill everyone's momentum and mess them up in the next turn. The way to do it was 3-3-2-2 to set up the turn nicely and keep the momentum. When I see bad technical decisions like that I wonder if any of the guys wearing a team shirt know anything about the way you should ride supercross…