The 722 is back
The 722 is back
Photos by James Lissimore
WHHHAAAATTT UPPPPP! I'm happy to be back racing and even happier to be writing for PulpMX! Last year I suffered a major injury that put me off the bike for 6 months. At Santa Clara SX I crashed by landing on a Tuff block! I broke the scaphiod, triquitrum and also suffered a major dislocation resulting in a torn tendon on the top of my wristbone. The injury was so severe I almost had to have my wrist fused permanently! Needless to say it put a major speed bump in my 2015 season and led to a slow 2016 preparation!
This year's Supercross season has already had some ups and downs and we're only two rounds in! I have my own team, my little brother is racing, and I have a reputation to uphold! So far this season the team has been nothing less than a success! I am so happy the way it turned out and very grateful for all those around me helping. At Anaheim 1 we had the pits completely surrounded all day long like we were one of the top factory stars! It put a huge smile on my face, and the sponsors were stoked! But your pit is only one aspect of the circus we call Supercross!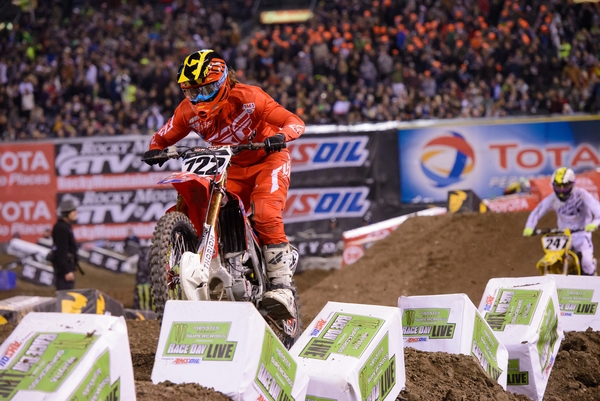 The 722 charging at Anaheim 1
Racing this year has been more than a struggle for me. My reaction time is great, and my lap times are close, but my first lap speed these past two weekends have been downright embarrassing! My cardio is 100 times better than last season because of all the long motos I have been putting in, but because I have been doing long motos there is a lack of the most important thing you need for Supercross! INTENSITY! I haven't raced in a long while and I forgot that it's not just "intense" its like IIIINNNTTEEENNSSEEEE, like no-regard-for-life-intense. I am not afraid at all but what people don't understand about intensity is that its not just a state of mind it's also a skill. With that being said, I am working on it as hard as I possibly can and I will take what is mine. I don't give up and that's why I am where I am today!
The little brother was STRAIGHT RIPPING at A1 and SD1! It has be one of the coolest feelings in the whole world to have your own team and THEN have your bro right next to you! My little brother and I have been side by side since day one! He is my training buddy, riding buddy, trouble buddy, and we ride or die! We are as close as peanut butter and jelly when you smash the bread together! With that being said, when I saw him break his thumb this weekend in practice it definitely took me out of the moment! The crew was pretty bummed, but not near as bummed as my little brother Tyler! Luckily it's just a minor fracture and he will be back in around four weeks! Get well soon lil'bro!
Team 7deucedeuce has had some moments thus far that kind of resemble a supercross track. But honestly that's what we do best and we're going to huck one obstacle at a time. I know what we need to improve and I know how to do it, so look for some good ass results in the near future! Keep it on the real! #7deucedeuceBUUURRRAAAPPPPP!!!!!!!