Want to know what a former SX winner thinks?
Want to know what a former SX winner thinks?
Photos by Jani Hovi
1- The track was made very tough by the wet dirt, it turned into a mans track by the end of the mains. What did you see and what did you like and dislike?
Obviously the track was pretty tight and small. I'm a big supporter of long lanes and 180 degree turns. If you watched the race, you saw the passes happened in the "u-turns". It's a blessing the track was wet and ruts showed up. It made the track more technical. If it was dry and hard packed, that race would have been even more boring. The track wasn't a factor on the outcome of the race. In 450, the best guy won and the second best got second. At the end of the day the track is the same for everyone and even if it wasn't the best track in the history of SX, you have to adapt yourself to it and find the solutions to perform. Other than Dungey leading from start to finish, I thought the 450 race was pretty entertaining.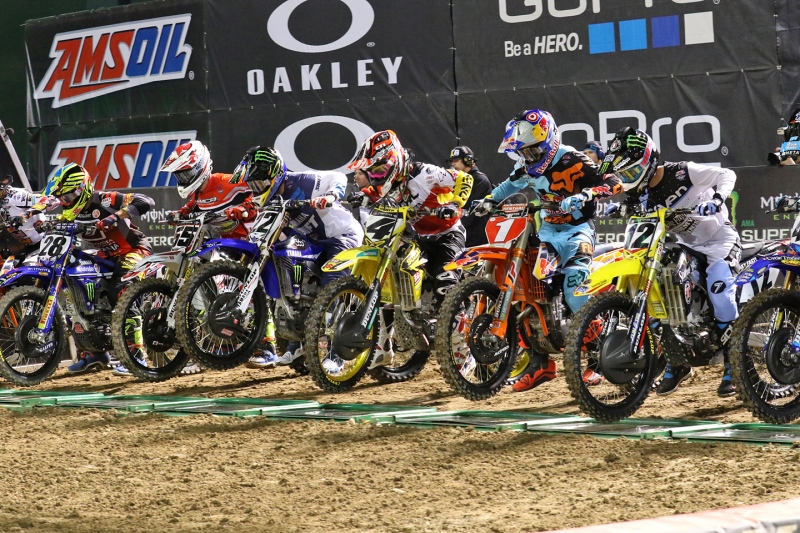 "When they figure out it's how fast you go thru the turns and not how fast you twist the right grip, Dungey will not run away with it like he does today…"
2— How can you beat Ryan Dungey right now? Talk about the strategy you would have to use
I don't think it's a question of strategy at all. It's a question of riding technique and putting everything together in the main on Saturdays. Dungey isn't unbeatable. Dungey isn't a cyborg. But Dungey put everything together when it counts. I've said it may times before, he rides a 450 like it should be ridden. He corners well. Very rarely you see him turning with the rear brake. Lastly, he's obviously well prepared physically. The problem with the other guys, they all want to beat him but they don't attack the problem the right way. From the outside, when I see Roczen, Musquin, Tomac, Reed and others ride, it should be easy to be closer to Dungey. Those guys have heart and I'm positive they work hard to win but it all comes to riding technique. If you're halfway smart and halfway knowledgeable in SX, you can easily see where Dungey shines. In what language do I have to tell them? They have to enter the turns wide and roll them. Not go in tight and turn with the rear wheel! It's so noticeable. Ryan keeps his momentum way more than everyone else and you can even notice he's fast. The other guys look faster but they "stop and go" in every turns of the track. You cannot go fast and beat a metronome like Dungey like that. When they figure out it's how fast you go thru the turns and not how fast you twist the right grip, Dungey will not run away with it like he does today…
3- Marvin was great and got his first podium with a great start. Some were upset by his cross jumping on Roczen in the main but to this reporter, it looked like lines you needed to go on the track. What did you see?
When I read this question, I actually re-watched the 450 main. I didn't see anything bad or wrong coming from Marvin. I actually thought the opposite. He was too nice to Roczen. He basically let Ken go by on the outside after the big double after the mechanics area where if it was Tomac, Anderson or Peick in Marvin's shoes, Ken would've been eating popcorn in the cheap seats… Marvin rode great in the first few laps. I was surprised to see him that aggressive in his riding style. He passed Stew in the second turn and you could see with his body english that he wanted to go forward. Something I haven't seen him do this season yet.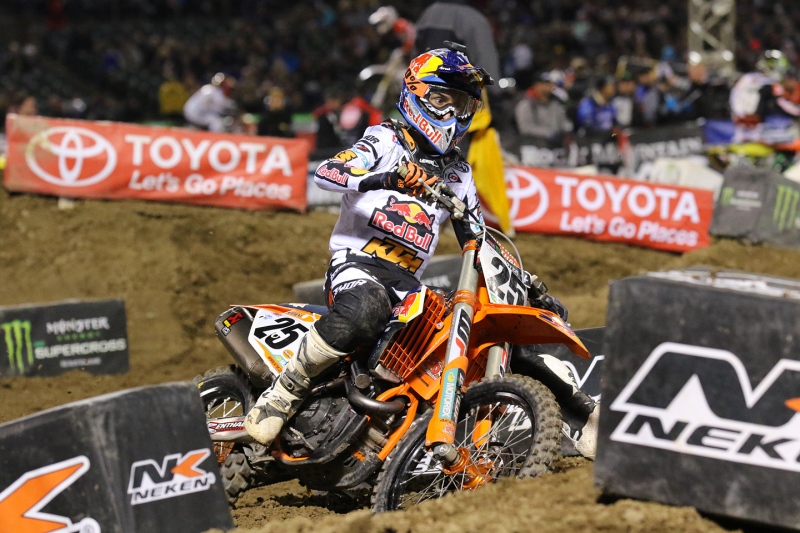 Marvin Musquin ended up on the podium in a 450SX race for the first time.
I think when Ken was pushing behind him, Marvin put himself in a position to get his first ever podium instead of going for Dungey. It's been 12 years since we've seen a French guy on the podium of this class. Yes, the last one was me in '04. It's a good milestone for a rider to be on a SX 450 podium but since I'm a perfectionist, I would've loved to see Marvin try to go for RD. That was a track made for MM. Tight, no whoops, rutted, technical and it's good to see him up there.
4- Stewart still isn't better and pulled out of the main but until then he looked rusty. What does he need to do and what did you think of his return to SX?
James has 2 points in the championship in 4 races. Why would he hurry back to race if he wasn't at 100%? To tell you the truth I didn't think he showed up at A1 at 100%. Bike set up seemed off and he didn't look like someone that didn't race for a year and eager to race or win. James can be so hot and so cold at the same time. We've seen him walk on water with a dirt bike and sometimes he's just average. I'm one of the guys that would absolutely love to see him race for a championship again and dominate races like he could once do. But, I don't think we'll see him do that again. Seems like he has the same program that hasn't worked in a while. He has the same people around him that haven't helped him be in a title hunt in a while. His bike set up isn't where it should be to be in a title hunt. If you do the same thing over and over that doesn't really work you can't get a different outcome. I believe he has the potential to be a title contender but he will have to change his program around. I don't think he's ready to do that. With that being said, if he doesn't want to change his preparation and his views on how things should be done, sadly, it might be time to retire…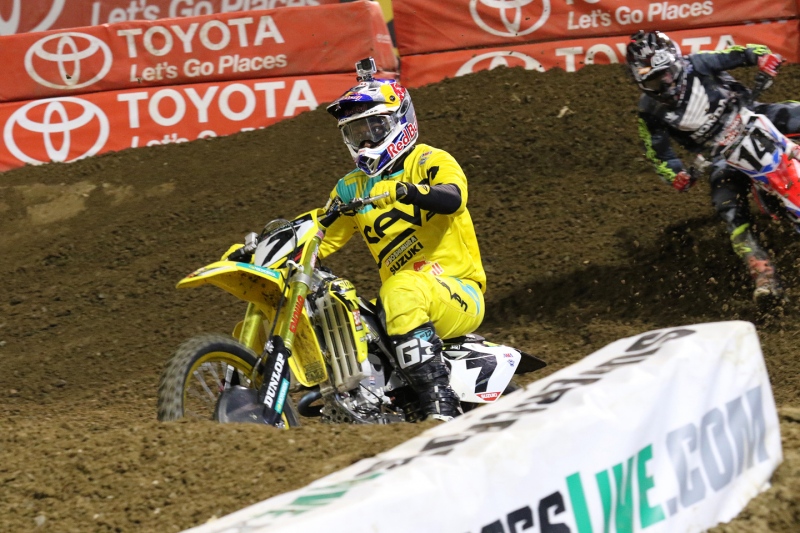 It wasn't a good night for the #7, again.
5- The 250SX West series just got interesting right?
I don't think having Webb trailing Savatgy by 2 points is more interesting. The only thing different would be the color of the backgrounds of his bike at the next race. Basically, it took only 1 rider, Joey, 4 races to score 2 more points than Webb in 3 races and basically a DNF. Webb will be champion. His bike won't quit again this season. The only thing that could happen is that Savatgy and Osborne might become a bit more hungry since those 3 guys are within 5 points in the championship.
6- We hear that BUD Racing might pick up Soubeyras for east coast…anything you can confirm?
I've heard that rumor too and I've asked the owner. A French agent is trying to get the Bud equipment for Cedric to race the East Coast. The whole team spent Saturday night at my house to watch Oakland. The two mechanics and Maxime Desprey are all back in France as I type this column. There are only 3 soldiers left in the team, the owner, Darian which is back at the gym training to get back on the bike in March and myself. There's no plan to race the East Coast and Soubeyras would have to find a "home" on his own to race the East Coast with the Bud equipment for that deal to go thru. As of today, the Bud Racing team, the truck or I won't be at the first race of the East Coast series. As far as I go, my deal ends on February 20th and I won't be in Atlanta. If I had to give my opinion, Cedric would be better racing the 450 class. It'll be easier for him than racing the 250 class. I don't think racing 250s would be good fit for Cedric but it's only my opinion. I'm not close to him and I don't have a say in what Bud Racing does. I am (was) only training the West Coast guys.