Here's what a former AMA MX, SX and GP winner thought of Dallas SX
Here's what a former AMA MX, SX and GP winner thought of Dallas SX
Photos by Jani Hovi
What did you think of the Dallas track, lots of mixed opinions about it
I wasn't there but I liked it in TV. The dirt is way better than in my days. It used to be like a factory track at 3pm in the afternoon, hard as concrete and dusty. It looked way better Saturday but was slick in some spots. The track is the same for everyone. Each week you have to adapt yourself, and the bike, to perform and be efficient. The key like most of the tracks was to keep your momentum and stay out of the shiny line the most you could. It was the same in SD2. When it's a little slick, you don't want to have a lot of change of speed. If you stop or slow down too much, it's tough to go back the race speed because it's slippery. The riders had to roll their turns to keep that speed. I've seen too many guys use the inside shiny lines. You gotta ride the outside line more on the edge of the hard and good dirt. Roczen was doing a good job at it. The best guys on Saturday won though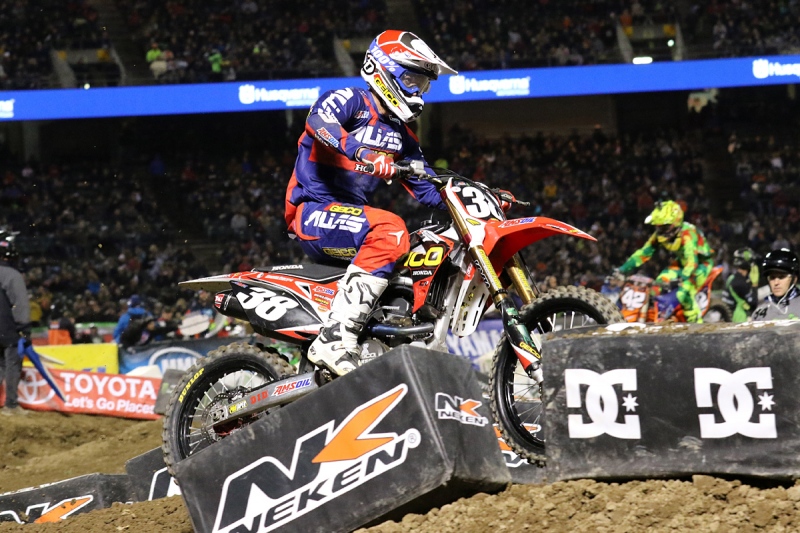 Craig got his fifth straight podium finish in the 250SX West series.
Christian Craig's move in the whoops…fair or foul?
You never want to see riders move over but Christian had to defend his spot. He was already on the left in the whoops pretty far. I think Joey should've seen the move coming in my opinion. He didn't have much room to make the pass. Being behind, Savatgy (again in my opinion) should've anticipated Craig moving over to keep the lead. It wasn't a classy move from Christian but Joey could've avoided the crash.
Webb did what he needed to do and took his first win three weeks and the points lead. Does he have it from here?
I actually liked what I saw from Webb Saturday. He was very impatient in the last couple races while made him do a bunch of mistakes. When you're 2nd, you have a lot of time to come up with a strategy to pass 1 guy in 15 laps. Cooper had one of his best starts of the year. He was 3rd on lap 1. He took his time and, at one point, I thought Craig was going to run with it. Webb didn't look great in the beginning but found a way to get closer to Christian and make the pass. In my opinion, I don't think Craig has 15 laps in him with a guy like Cooper behind him. Webb got the job done and has an 11-point lead with 2 races to go. 11 points isn't a huge lead with 2 races to go. He's in great position to go back to back but he will have to perform for another 30 main event laps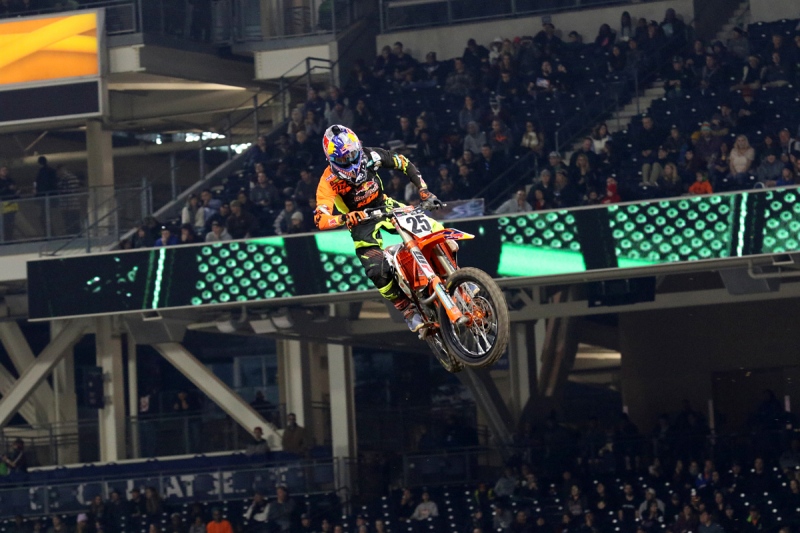 "I almost think that he rode even better than in Oakland where he got 3rd. That has to boost his confidence for the rest of the season."
Marvin Musquin was fast in practice but was knocked down in the heat and in the main. he came from last to sixth in a great ride. What did you think/see?
Marvin was fast from the get go on Saturday. It's very important to have a fast pace from the first practice so you can have a good base. That's what he did. When you're behind the eight ball right away, it's always difficult to catch up. He was super fast in practice but got pushed around early in the night program. Canard gave him a love tap and then he had to go to the semi. Going to the semi isn't a bad thing. I actually think is a great thing. More race time to prepare for the main is good. The guys transferring straight from the heat only do 6 laps and take one start to get ready for the main. It's good because you can rest and see what happens between the heat and the main but they have a huge break from the checkered flag on the heat to the start of the main.
Musquin did good in the semi coming again from behind. In the main, Tomac cleaned him out of the start but he rode a great race. His sixth place in the main is as good as a podium finish in my opinion. I almost think that he rode even better than in Oakland where he got 3rd. That has to boost his confidence for the rest of the season.
What's going on with Reed?
We didn't see him too much on TV. Like I said above, when you don't start your day good, it's tough to catch up. Chad was only 15th in practice and almost 2 seconds off Dungey. It's very difficult to close the gap in speed in a 6-lap heat and 5-lap semi. From what I saw in the previous races, he's very aggressive on the throttle and riding, sometimes, a gear lower than the top guys. Add to that the fact he doesn't rail the berms/bowls as good as a Dungey, Seely or Roczen plus the lack of grip/traction of the track, you get an off night for Chad. Maybe there's another reason for his 12th place finish but that's what I saw this season from him so far
What did you see about the Roczen/Dungey battle that caught your eye?
What I saw is a Roczen racing the track the right way. The way I think riders should ride and race. I'm gonna say it for the hundredth time but you could see him coming wide into his turns and staying in them all the way keeping his momentum. He wasn't squaring his corners nor taking unnecessary insides with lack of traction. I like what he was doing under the bridge too. He was one of the only guys not using the wall of the bridge. Since the line was to go outside and tripling out, you couldn't prep yourself for it if you were hitting the wall early. He wasn't even touching it.
Dungey in the other hand, was hitting the wall. It would've been good if he was going inside in the next turn but he wasn't. Hitting the wall made him comeback to the inside but his line was going wide after the bridge to triple out. He was making three turns inside of two turns which made him lose time. That made him case that "small-big-small" triple after because he wasn't anticipating enough. Ryan's timing in the rhythm section before the finish wasn't great neither. He didn't look as comfortable and in control Saturday and Roczen brought his A game. With 4-5 laps to go though Ryan had a chance to win the race but Ken showed he was resourceful and in shape to get the win. It was a great race and I'm sure we'll see those 2 go at it again this season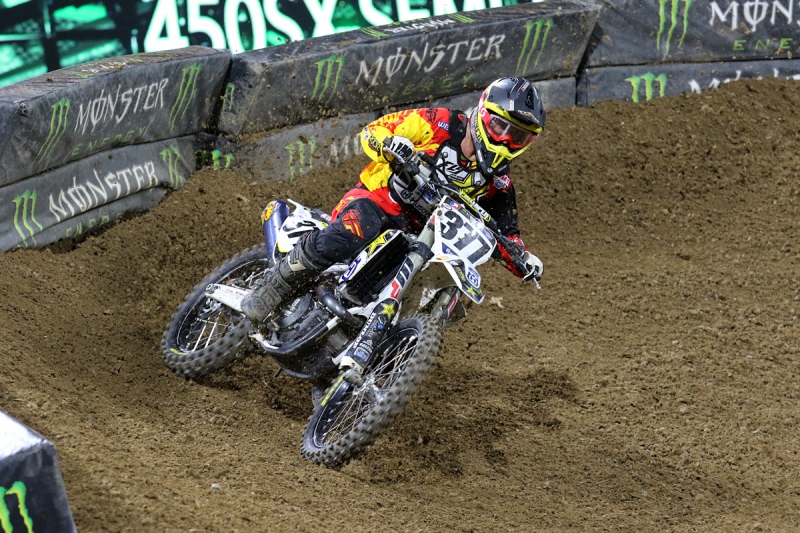 Pourcel had a breakthrough ride in Dallas.
Pourcel said the seventh race he would be better and he was!
He was better in the heat race when he was racing with Roczen and Dungey. Without that little mistake in that turn he could've won the heat. As far as doing better in the 7th race, I don't buy it really. For a guy like CP, it's pretty easy to do better than his best finish in the first 6 races which was 12th. He didn't ride well at all in the first 6 main events. So yeah, he rode better but, like I said, it doesn't take much for a guy like that to do better than 12th. Also, he capitalized on a few guys crashing (Canard) and/or "disappearing". Freese, Bogle and Peick all had problems but they were in front of him and then, they were way back. CP finally got his first top 10 of the season in the 7th race.
So did he ride bad on purpose in the first 6 races so he could finally make a top 10 in the 7th race? Do we have to get excited and celebrate when a factory rider finally makes a top 10 now? Why not show up at the first race ready and in the top 10 and be in the top 5 or on the podium by race 7? I'm a little irritated because with the riding abilities and the speed he has, we would talk about him today because he was on the podium if he was better prepared physically. He has everything, the bike, the style, the technique, the speed, the racing IQ. The only thing missing is the fitness and it has been the issue for quite some time now