You want the truth? You can't handle the truth!
You want the truth? You can't handle the truth!
Photos by James Lissimore
1- First up, Marvin Musquin rode great and led 19 laps. What did you see from him that allowed him to almost win the main? Where and why was he good?
First of all, it's always a plus to get out front right away. Brayton got the holeshot but Marvin went around him pretty quickly. Marvin is great when he has a free track in front of him, can focus and go fast. He did 19 almost perfect laps. He made a couple mistakes here and there but they weren't huge. What I liked is that he thought outside of the box to deal with the track. That inside line before the wall was great and faster when done right. Pourcel was taking it too. I didn't many guys take that line. Maybe a French-only line? It was tough technically to make it work though. After the big triple, you had to triple in like you were going outside but you had to case the following double on purpose to be able to make that inside rut. That was the only way to make it work. If he was doing 2-2-1, it would've been easier to make the inside but the outside line would've been faster. I like to see that kind of creativity and see something different that actually works on a track where there isn't much to do. Jumping the whoops after the wall was also very good. There were 8 or 9 whoops and Marvin was going through them by jumping only twice. It was fast but also set you up way better to corner the tight 180-degree turn following them. When you have a tight turn after a set of whoops and you skim them, it's very difficult to set up of the corner. Why? Just because when you skim you automatically get kicked by the last whoop. And when the corner is right after, you can set up nice when your rear wheel is in the air.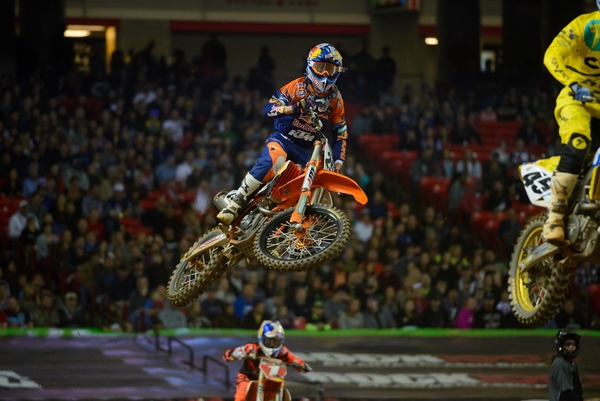 Marvin led pretty much the whole way and was this close to winning his first 450SX main event.
Couple more points I liked from Marvin and I'll be done. Since the beginning of the season, we never saw him skim big whoops super fast. He even started jumping them in Anaheim 2 cause he didn't feel comfortable skimming them. His podium finish in Oakland came on a track where the whoops were nonexistent in the main event. But in Atlanta, he was going thru the ones after the finish very well and fast. Put those whoops in the first few races and he would've struggled. He has improved drastically since the beginning of the season. Lastly, I also liked the fact he started tripling in the rhythm that later cost him the win. Not too many guys were doing that triple out of the turn and it was nice to see him be one of them. Dungey, after a 5th place start, caught up to Marvin but couldn't find a way around him because he was riding well. Out of the last 8 laps before the last lap mistake, 7 of those saw the gap between Marvin and Dungey under a second. It proves to you that Musquin's fitness and concentration were on point. Why did we see this race from him? I really think his race in Dallas brought him a huge confidence boost and he realized he could ride up there with the best if he could put everything together.
2- Ok, lapper-gate. Did James Stewart cost Marvin the win? What happened there in your eyes?
Let's start by saying if you remove Stewart from the last lap , I'm pretty sure everyone would agree that Marvin would've won the race. So, James was definitely a factor in the outcome of the race. Do I blame him 100%? Not at all. Whether it's James or Kyle Lewis, a lapper is a lapper, you gotta deal with them with caution and intelligence. That being said, I believe James had something to do with it. James raced the whoops like he was battling for the win but stopped in the middle of the corner. Marvin didn't really know what James was going to do. It looks like Marvin wanted to square him off at first and at the last second went to the outside to triple in the rhythm section. James messed him up but Marvin made a bad decision to go for the triple. At that moment, Marvin definitely messed up. Why did he go for the triple? With James in the way, there is no way Dungey was gonna pass Marvin if Marvin would've gone 2-3 instead of 3-2 in the rhythm section. Those 2 combos were close in time anyway. Marvin got a little impatient and lost his cool in the turn. He would've won the race by doing 2-3 and we wouldn't be talking about it today. Marvin is building his experience and like Oscar Wilde once said, "Experience is simply the name we give our mistakes."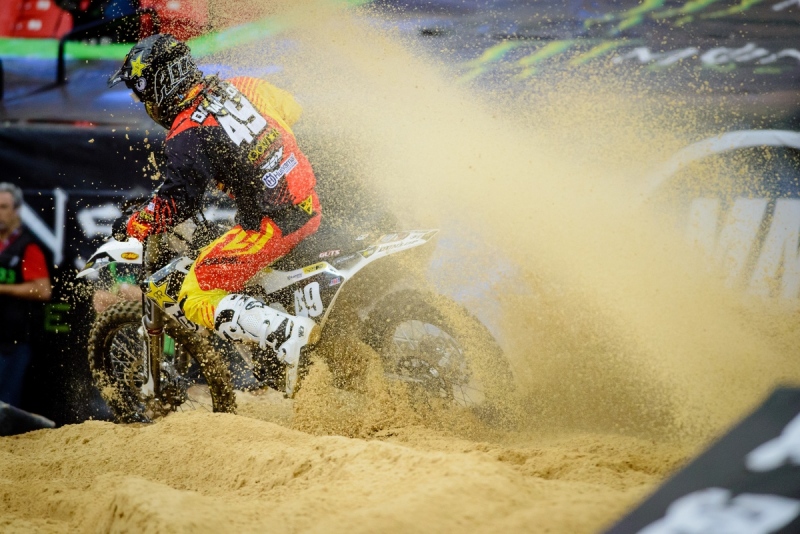 Marty Davalos won the 250SX eastern opener in a great ride.
3- Martin Davalos rode great, what did you see from him and do you think Stewart would have caught him if he hadn't fallen?
The new Tim Ferry-tuned Davalos has arrived! Martin was on point all night. He won his heat, clocked the fastest time in the main and won the race. He didn't lose the front while in the lead like we used to see in the past. He wasn't too pressured after Malcolm hit McElrath's bike and crashed. I guess we'll have to wait and see if Davalos can deal with a pressuring Stewart, Jeremy Martin, Plessinger or Hill for that matter. It's just the first race but Davalos got the job done like everyone dreams of getting it done. After one race and seeing the stats, I think those 5 guys can win a race and maybe Bowers if he gets a bit better. He was a bit off the pace in Atlanta but it's understandable. He's not 100% yet. We'll never know if Malcolm would've caught him. He was catching Marvin every lap after his crash but when you're in Davalos shoes with a 10 second lead, you're not gonna go balls out and grenade yourself. I'm guessing Marty managed his lead. I'm still picking Stew for the championship. He's fast and rock'n'roll like I said in last week radio show! Looking at his individual lap times from the main event, he looks like he's in shape too. Now, we need Bowers and J-Mart to step it up and Plessinger/Hill to get a start. Aaron went from 9th to 3rd and Hill from 21st to 5th. All those guys will make it more interesting than Atlanta quick enough
4- Anderson and Seely got into it again (TV didn't show it) but what I wanted to ask you was did you have any rivalries with guys week in and week out and what's the steps to fixing that or not thinking about it on the track? Are there words back in the pits? How would this affect those two out on the track?
It seems like there's always rivalries on the track with 2 guys. It could be the first 2, 2 in the top 5 or even 2 farther down- doesn't matter. We've seen it with Reed/Stew in the past, Seely/Anderson since their 250 days, Peick/Freise… They sure seem to attract themselves. There's nothing much to do about it though. Words in the pits will always make it worse. I don't think you can get a constructive conversation between 2 guys ramming each other on the track and filled with adrenaline. After the Phoenix 04 fiasco between Kevin Windham and I, all I wanted is to pay him back. But I never actually did even when I could have. There's no point really. And look, it took 12 years for Kevin to publicly apologize to me about this take out on his Instagram account. I knew he deliberately took me out. He knew it to. Most of the industry knew it. But it's the way it is. I understand what he did. Did it change my life? Not really. Do I forgive him? For sure. I am pretty sure JT forgave me for taking him out in the last turn of the LCQ in San Francisco '07. These things happen but it's better not putting fuel on the fire. It's better to put your ego aside and focus on what's important. Being the fastest you can and getting the best results you can. If Seely and Anderson keep effing with each other, they will hurt each other results and make it easier for the other riders that they could've beaten without losing time taking each other out.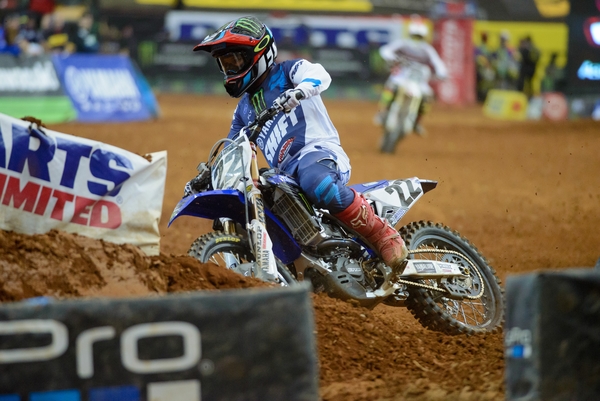 Specify caption here
5- Chad Reed was better this week, he grabbed a podium—what did you see/think?
Reedy rode a great and constant race. Knowing him, I'm sure he won't be happy until he wins but he rode great . I talked about him last week being behind the 8-ball right away. He was off the pace in practice in Dallas, 1.9 seconds off the pole. He wasn't that far in Atlanta. He was .8 sec from Dungey's best time in practice. I count CP out because he hasn't been a factor in any mains yet. For a guy like Chad that is known to be a better racer than a fast lap turner, you know he can gain some of that .8 sec in race condition. But 2 seconds is another story. If you look at the main event lap times, Marvin was the fastest but Chad was less than .3 slower. That's more where Chad should be at to be on the podium or be a win contender. In Dallas, Chad was 1.8 second slower than Dungey on their fast lap in the main. It's as easy as that. You have to be on it right away in practice and find your lines, speed and bike set-up. It's tough to overcome a 2 second deficit in practice with a 6-lap heat and/or a 5 lap semi if you transfer form the semi. That's the inconvenience of this one day format. When you start your day slow, it's almost impossible to finish it fast…
6- Davi Millsaps was good this week and has been a nice story this year, what do you think about him and his career and why do you think he's doing better this year?
I think Davi did great in Atlanta. His best ride of the year for sure but he's been riding well since the beginning of the season. His technique is on point since A1. He's been one of the best in the whoops since the first race. He's done some great heat races. Maybe his fitness wasn't as good as it is today in the first few races. He's coming along. 4th in Atlanta with a 6th place start and within half a second of Marvin on the best lap time in the main. I've been a fan of Davi since 2000 when he was racing a RM80. One evening of the summer 2000, I was riding in Perris, CA and saw him for the first time. He was flying with his 80. My dad was there and when I wasn't riding I was watching this kid jumping huge double and hauling ass. My dad and I were very impressed. Since that day, almost 16 years ago, I've always followed him in amateur racing and watched what he was doing when he started in the pros. It's very fun to see the progression.
As far as his pro career, he was a Lites champ, won big class races and has had ups and downs. It happens to most and the best of us. Seems like he had some issues in the last few years but he's turning it around and it's nice to see. BTO seems a good fit for him as well as for Brayton. They're both doing well in a team with less pressure and with less of a spotlight on them. I still enjoy watching Davi especially when the tracks have big whoops and most riders are struggling. You know he won't struggle. I like to see the technique of the riders come out and Davi is one of them. For me, Davi is still that little kid I saw in Perris 16 years ago with his donut on his helmet but I'm glad he's doing good now, having fun and getting good results.