Here's the nitty-gritty from the Detroit SX through the Cobra's eyes
Here's the nitty-gritty from the Detroit SX through the Cobra's eyes
Photos by Spikman
Ryan Dungey rode a great race and crushed it on a track that looked like it broke down pretty quickly. What did you see?
I was actually very impressed by Ryan's race. He didn't have the greatest start but stuck to the inside and got the holeshot. Marvin showed a lot of determination and aggression in the first rhythm section to get into the lead though. He even shut the door on Dungey from the outside in turn 2! Dungey did the same thing in the first turn in the heat race. Often during the night, the guy getting to the first turn in first, didn't actually came out of the first turn leading. Ryan's experience, race IQ and technique helped him take that first turn perfectly. It was very important in both the heat and the main. He got around Marvin pretty quickly in the whoops and rode perfectly.
There isn't much to say but to congratulate him for that impressive ride. He was fast, mistake free and good in the whoops. When Anderson got to 3rd, I thought Jason would've helped Marvin to stay with Ryan because he seemed/was faster. They weren't far behind the Champ but Ryan was too good and too strong for them. He plugged away, got away from Jason and Marvin to put himself out of reach. In my opinion, it was one of his strongest rides of the season if not the strongest.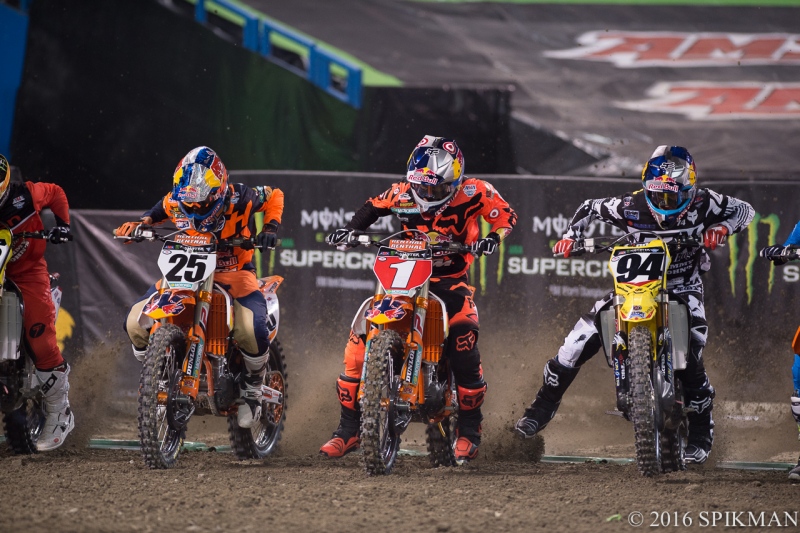 Two out of these three guys had good nights in Detroit.
Of course Dungey got docked two spots and for the first time the winner of the SX was not the winner of the SX. Jumping on the red cross…what do you think?
I actually didn't see the race live. I saw it the next day. I was too busy Saturday. I stayed away from the live timing and social media because I didn't want to know what happened before watching it. Even after watching it, I didn't know he got docked 2 positions. It's only after checking Twitter and Facebook that I found out. Obviously, while watching the race, I didn't even see that action with the red cross flag and didn't think anything of it. I share the same opinion as DeCoster on the matter. I don't think that Ryan saw it and I don't think it was intentional. The flag was on the inside of the track and in Ryan's blind side when he was cornering. The flag was pretty much at 90 degrees of his right eye in a right hand corner. When you drive on the freeway looking straight ahead, you don't see the car on your left "at 9 o'clock" even with a mirror.
I really believe he saw it too late and he was already committed to that jump on jump off. In one end, I think the rules are the rules but in the other, I think he could've gotten the benefit of the doubt on that one. The flagger position on the track wasn't good at all. I feel bad for Ryan because he won that race fair and square with a great performance.
Last week we had two flats, this week we had two more…three Dunlop's and one Pirelli—what is going on here?
The flats are the consequence of what I've been saying for years. All the way since Stew was racing Yamahas. So it has been a while. The tire manufactures want to make light tires and use a pattern that's spread open and tall blocks to ride on hard packed Supercross tracks. The blocks on the tires they use are useless and irrelevant because they don't stay up. If they were, the tires would be even worse because they'd have even less surface of rubber on the ground. To have grip (which means when the blocks don't go in the dirt. Traction being the term used when the blocks go in the dirt on a softer terrain), you have to have a lot of rubber touching the hard packed dirt. But, they're using "sand tires" with less block surface on the ground. Since they want to keep using that pattern, they have to make the blocks super soft. Why? Because that tire will only work when the blocks are "laid down" and use the front surface of the blocks instead of the top or the top square edge. If you super slowmo a rear tire on a 60+HP 450 bike on a hard packed tire, you'd see the blocks don't stay up. The backside of the blocks go all the way over and touch the base of the tire. It's the only way to make that kind of tire work in hard condition.
So to make an inadequate soft pattern on hard packed, you have to make a very soft structure. Why? Always the same factor, to have the most surface of rubber of the ground. The tire will deform a lot, it will look flat but will have the most surface on the ground making an inadequate pattern somewhat work in those conditions. It's also why they run that tire in a 120 wide size. Always the same goal, having more surface of rubber on the ground. Lastly, to make a "sand tire" work on hard pack, you can't use a "regular" tire pressure. You have to drop it to make the tire work. when you ride a 450 in SX on hard packed with 11psi with all the impacts there are in SX, don't be shocked if you get a flat. You don't need a rock, a knife stuck in the whoops or a steel rebar at the landing of a triple to get a flat. Just landing short in a rhythm section would do the trick. I don't understand why they keep going in that direction with tires and not come up with a hard packed pattern used at a regular 13 or 14psi pressure. By hard pattern, I mean fatter blocks, lower in heights and higher count of them on the tire.
Here is a little tire story for you. When I was battling with Chiodi in 125 GPs in 1998, I was using Michelin. We had a GP in San Marino in Italy. We knew the track was blue grooved and hard as a rock. We did some testing with Michelin prior to that race. They took their hardest pattern tire, built it with road racing compound (close to whatever they used in 500cc Road Racing GPs then) and put the tire on a machine (a tire lathe basically) and cut half of the height of the blocks. We wanted surface to the ground. A rubber that was sticking. And we wanted no block movement whatsoever to have the most grip and consistency. They built 3 of them for the GP, 1 for timed practice (no qualifying race then) and 2 for the motos. I clocked the fastest time in practice. Won moto 1 on Chiodi's soil. Was leading moto 2 for 30 minutes and with a decent gap on 2nd (40 minutes motos) until a huge shower hit the track. Then, the tire wasn't good at all! It got muddy and slick quick! Puzar passed me and won moto 2. I still got 2nd and won the overall. The tire strategy was perfect.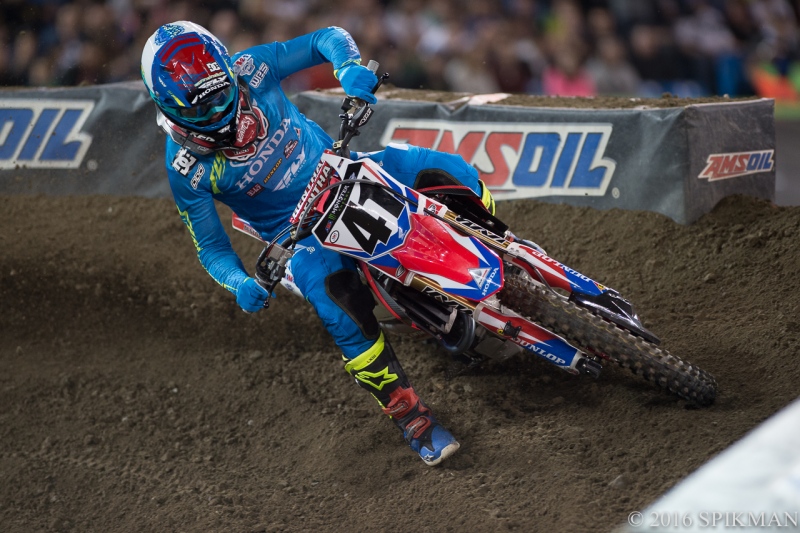 The good: Canard won another heat race. The bad: Another poor start and a crash.
The Trey Canard and Blake Baggett incident, what did you see there?
I saw Trey make a little mistake at the end of the rhythm section prior to the incident. I saw Blake squaring him off and making a move. I think Baggett had the pass made and Trey should've accepted getting passed and give up the position. Like we say in France, he tried to "go thru the mouse hole" which never works well. It's my opinion once again but Trey should've given up the position, regroup and go after Blake a little later. He made a bad decision and crashed. I don't think it was a dirty move from Blake at all though. It was just 2 riders coming together and one hitting a tuff blocks because there was only room for 1 guy.
Mookie was great, killed it in the whoops and deserved this win. What did you see?
I'm glad my "rock'n'roll" pick is doing good (if you don't know what I refer to, listen to my last appearance on the PulpMX radio show)! The whoops were it or him. His jumping in the first set was great. He did it very consistently. There are no whoops that scare my boy Malcolm. He just pinned the shit out of the second set which is what you should do in 250 in those kind of whoops. There are no rhythm sections with a quad that scare my boy Lil'Stew' neither! The track was actually pretty good for him. His jumping technique as well as his whoops technique was an advantage Saturday.
Add to that, a flat section from the landing of the finish line to the triple where he could take a breather and you have Malcolm's second SX win of his career. I like what I see from him. He's still a big boy that could still shave a few pounds and be less out of breath after a race but he's doing great and, most importantly for us the fans, he's fun to watch.
Jeremy Martin had the red plate but had a terrible night, whoops or pressure or…
When I see that kid ride in SX, there's no way you'd think he's a 2 time MX champ already. He looks so tight, so uncomfortable, so unconfident… I don't want to tell the great O'Show how to train or coach but I'd let J Mart's bicycle get dusty in the garage. I'd let the pltboard for the motos get dusty in the garage too and have Jeremy work on the quality of his SX technique. He's not where he should be technically.
Every time I see him go in challenging decent size whoops I squeeze my butt cheeks because I'm scared he's gonna grenade himself. He's got to do something about this bar position too for SX. It could be and it is good for outdoors but in SX, you need to adjust it differently. Plus, he lost the front 237 times in Detroit. I don't know if there was something with the bike but it wa flagrant he struggled with his front end…
Would you like to see the rider designed tracks come back?
I'd like to see them post less socks, supplement powders and bicycling photos on social media and show a little more abilities and strength on Saturdays first. As for tracks, riders should have better things to do. They pay guys to build tracks. They need to get out of their comfort zone and cookie cutter obstacle and take some calculated risks in term of track designs. You can't reinvent the wheel with tracks. Fit a long start. Long lanes. Forget about the 90-degree turns. Drop the useless sand sections and let's go racing, bros!