Bendgen is trying his hand at the guessing game for the last time.
Bendgen is trying his hand at the guessing game for the last time.
Photos: Simon Cudby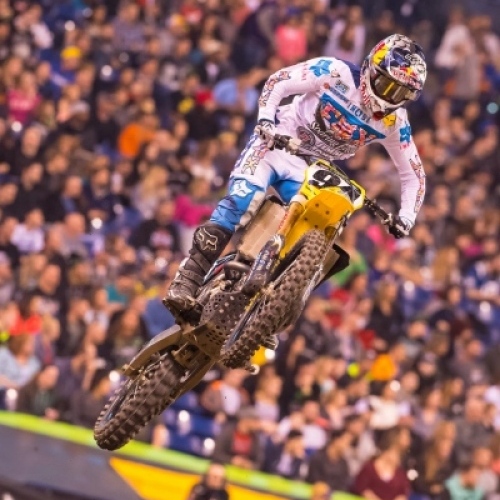 Roczen is hungry for a win…especially after he has been so close the past two weeks.
I was right, but then I was also very wrong on my predictions from last week. Here are the results:
My 450 top ten:
1. Ryan Dungey
2. Marvin Musquin
3. Ken Roczen
4. Jason Anderson
5. Eli Tomac
6. Chad Reed
7. Trey Canard
8. Justin Barcia
9. Justin Bogle
10. Weston Peick
What really happened:
1. Ryan Dungey
2. Ken Roczen
3. Jason Anderson
4.Trey Canard
5. Blake Baggett
6. Chad Reed
7. Christophe Pourcel
8. Justin Brayton
9. Eli Tomac
10. Mike Alessi
My 250 top ten:
1. Aaron Plessinger
2. Malcolm Stewart
3. Jeremy Martin
4. Martin Davalos
5. Gannon Audette
6. Jesse Wentland
7. Shane McElrath
8. Matt Bisceglia
9. Tyler Bowers
10. R.J. Hampshire
What really happened:
1. Aaron Plessinger
2. Malcolm Stewart
3. Gannon Audette
4. Shane McElrath
5. Martin Davalos
6. R.J. Hampshire
7. Anthony Rodriguez
8. Tyler Bowers
9. Luke Renzland
10. Cedric Soubeyras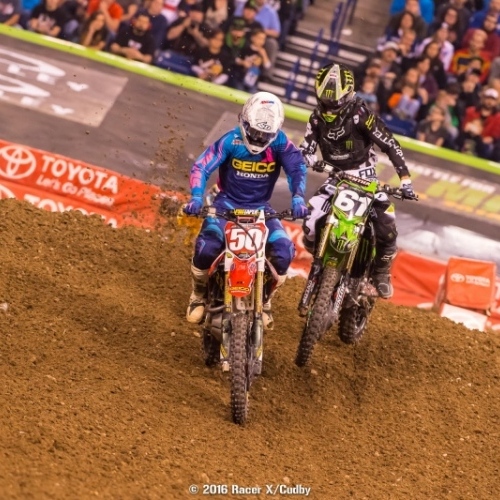 Audette was a nice surprise in his first outing with Pro Circuit.
In all I had four out of twenty guessed correctly. I'm not going out like that, bro. I need some redemption this week. I'm going to guess again and if that goes terrible I will quit forever and you'll have another rider profile next week. I promise.
To be honest I had lost before I even started, which is why I'm posting this as late as I can this week. I had put my predictions in before Marvin Musquin announced that he would be out for Indy, and as you can see I had him finishing second.
I did successfully guess both of the winner's correctly. I pulled that Plessinger win out of pure luck and I'd like to think with some skill as well. Also, with five laps left to go in the 250 main event I had the top five completely right! I was so excited. I told my wife this and then she turned to me and said, "Yeah, but you still have five laps to go bro. Anything can happen still." So yeah, I jinxed myself on the entire deal. Before I knew it Martin had a get-off that broke his triple clamp and Davalos was down as well. Audette took the green light and motored away to his first podium. It's pretty cool that we featured him a few weeks ago and now he's almost too cool to text me back. He said that I had everything to do with his ride so there's that.
Other than that I was completely wrong, but Indy was epic and it was great to be back at the races again. I also got an official Pulpmx shirt from the boss man himself. I'm truly grateful to be in the position that I'm in and I love bench racing in my column every week!
Without further adieu, here are my amazing top ten picks for this weekend's live on Fox Network at 3p.m. St. Louis Supercross. I'm for sure getting twenty for twenty this week, right?
My 250 St. Louis top ten:
1. Aaron Plessinger
2. Malcolm Stewart
3. Jeremy Martin
4. Gannon Audette
5. Martin Davalos
6. Shane McElrath
7. Luke Renzland
8. Tyler Bowers
9. R.J. Hampshire
10. Justin Starling
My 450 St. Louis top ten:
1. Ken Roczen
2. Ryan Dungey
3. Jason Anderson
4. Chad Reed
5. Eli Tomac
6. Trey Canard
7. Blake Baggett
8. Christophe Pourcel
9. Weston Peick
10. Justin Brayton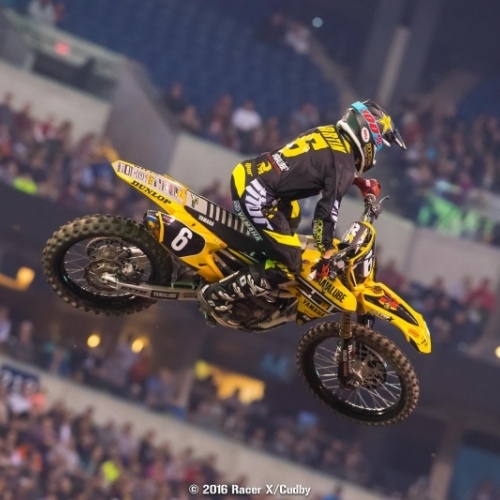 Martin has had a rough go at Indianapolis the past two seasons.
I just foresee Plessinger carrying a ton of momentum into this weekend. They say that once you win one race the rest of them come easier. I'm not sure if that is true because I don't have a single Manitoba title to my name, let alone four of them. If Plessinger comes in feeling good then it's his race to lose and Stewart and Martin will follow him across the line in that order.
Audette will once again be up in the mix and I wouldn't be surprised to see him on the podium in the remaining rounds. I'm not sure if he can consistently make the podium right now, which is why I was safe and put him in fourth. This is still an amazing ride and one that no one called before the season started. Remember he had a vicious crash and injury before the season started and he's come back from that to his best season yet.
The other six riders are basically a shot in the dark for me. It's up in the air as to who will finish where in the 5-10 group in this 250 East. I'm going to call this right now so that I look like a genius on Saturday afternoon: Justin Starling will finish in the top ten at St. Louis. He came from very far back in the Indianapolis main event and ended up twelfth. His time to shine is this weekend and I called it FIRST.
The 450 guys are almost harder to predict than the 250 guys….almost. I think Ken Roczen will win this weekend and he won't be as nice to Dungey as he was in Indy's main. He gave Dungey room when he could have made a more aggressive pass. He was faster than Dungey, but that didn't mean much because he missed the W. I say Roczen is out for blood this weekend.
Dungey and Anderson will also be on the podium, which has been the case more often than not this season. Chad Reed will come back strong this weekend and finish fourth with Tomac and Canard in tow.
Baggett had his best finish of the season last week with a fifth and he really shined on the tough rutted track. I think he will be strong this weekend too and I have him coming home in seventh. Pourcel will finish a very crafty eighth and he won't walk six miles after leaving his bike on the track like he did at Indy. We were all like, "Where is this dude going?"
I believe that Peick will have a better race this weekend rather than wrestle the tuff blocks like he did in Indianapolis. I really thought that he was going to somehow save it the time he crashed in the whoops. He held on until the very last second and any mere mortal would have been off of the bike right away.
Brayton will get tenth this weekend…I don't promise this because he could honestly be closer to the top five. This is just what happens when you get me a crystal ball. Let's see how St. Louis unfolds now shall we?
Thank you for taking the time to read my column. You can email me at Troy@pulpmx.com if you want to talk about anything really. You can even yell at me for guessing so badly at Indy!