Swiz and I teamed up to hash out the whole James Stewart trials and triublations of late and discuss the future.
Swiz and I teamed up to hash out the whole James Stewart trials and triublations of late and discuss the future.
Photos By: James Lissimore
JT: Ok, Swiz, what is the deal with Stew? This guy was and is one of the most talented, if not THE most talented rider ever. Nowadays, though, he just can't seem to get it together. I know you aren't at every race like Matthes or I, but what is your take on this madness?
Swiz: Much like the Bermuda Triangle or anti-gravity, James Stewart's downfall has many theories and no smoking gun. Prior to A1 this year, the most basic of arithmetic would see the most motivated and prepared James Stewart we have ever seen. He was forced to sit for an entire racing calendar and had plenty to prove. We know how he and Malcolm really push the "us against everyone" concept, so of course we just assumed that he would be the Robocop or Terminator of 2016 moto. A primed and perfected, purpose-built machine ready for anything and anticipating domination. Some may say that we'll never know because of that Dungey hit but in their heart of hearts, they know. Stew was way chunkier than we've seen before. He should've been svelt and chiseled. That hit to the head was a seriosu blow to how this season has gone but there were plenty of visible signs that the preparation wasn't what was necessary.
At this point, he looks like the Pro SX-er equivalent of a misfiring engine. Popping and sputtering all season long in the rare moments where he is on the track and there have been no convincing signs of correction on the horizon. I am an eternal optimist and really hope he connects the dots but I think it's his synapses in that concussed cranium of his that is the real culprit for why things can't figure out down from up and left from right.
JT: I agree with the first point. I really expected him to come in almost too prepared. I thought he would be so fired up to get back into the mix that he might peak too soon. I should have known after seeing him at the Monster Cup that that was foolhardy logic but I just couldn't see past it. I simply don't understand how he could come in heavier and noticeably out of shape. This stage was set for a triumphant return that would have sent shockwaves from here to Switzerland. I am not sure if he is simply "over it" or just didn't gain the motivation that we all thought he would. In any case, he is not the same James Stewart of anytime in the last few years. Even his worst days on the Yamaha seemed better than this. I have never been his biggest fan and at times, that would be putting it mildly. But, I do have an incredible amount of respect for his talent and skill so it's strange to see him out there looking like a shell of his former self.
That all leads me to my next question: Where does he go from here? And further, where does Yoshimura Suzuki go?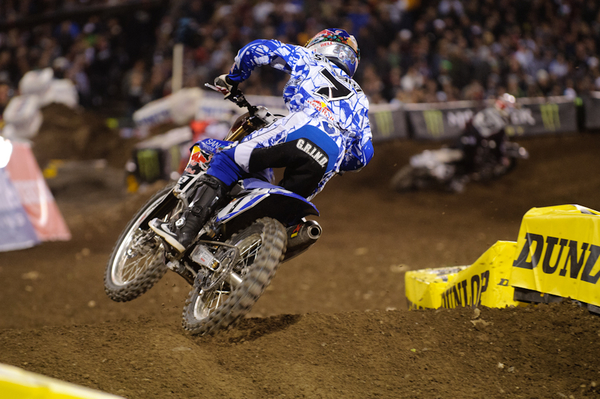 It's seems insane that the years of "Tire-gate" were one of the last periods of consistent results for James. It was 2011!!
Swiz: Wow. Now that is a super intriguing thought. It's no secret that James isn't about to be enticed by any lowball contracts but at this point, he's really in a situation he has literally never been in during his entire life aboard two wheels. He has been on a steady decline for a few seasons now and I can't see anyone offerring a contract that he still feels he is worth. I mean, this most recent stint of racing pitfalls for James don't even hold the promise that a rider like Josh Grant does. At least with JG, if he doesn't catch that lightning in a bottle and win, he's still likely to finish the race. James' race attendance has been at an all time low and finish percentage is atrocious. James has been through every Factory other than KTM and Honda and I can't see either of them even being interested in having James aboard, let alone making him an offer that he would consider. I see James' only option for 2017 being a ridiculously incentive laden deal where he has to produce, not just promise, to make his income.
Honestly, Suzuki's future can only go up from here in my mind. I'm not sure why but I just don't see Blake Baggett being any better than he has been and with James being gone, they could honestly hire Josh Hansen and have more return on their investment. I'd honestly love for James to get his deal all figured out and start finishing races again but I just don't see anything that would point toward that being on the horizon.
JT: It's certainly an interesting thought to imagine James Stewart having to sell himself to potential teams. I don't think that's something he has ever considered or had to weigh. Although, maybe Suzuki just decides his press and association is worth the issues they have had? With their budget, I don't see them being able to hire a championship contender for next season, other than a healthy James Stewart. I don't think that Yoshimura Suzuki isn't in a position to throw huge offers at a Ken Roczen or Cooper Webb, etc. They may feel that James, even in this rough and tumble state, offers them the best chance to win. I know that sounds crazy given that James hasn't won in a couple of years but I really think that his team believes in him and wants to make it work. When your team is emotionally invested in getting the ship turned around, especially with a legend like Stew, I can see where they would be willing to stay the course.
To wrap this up, give me your two 2017 Yoshimura Suzuki riders if you are calling the shots.
Swiz: Oh man, I've been handed the keys to PulpMX before but keeping Rocky off the counter and Moser out of the liquor cabinet are nothing compared to this type of pressure! Hmmmm, who do I sign if I am heading the Factory Suzuki effort for 2017? Well, considering the RMZ line of dirt bikes haven't seen any real innovation in nearly a decade and the fact that they still appear to have cash flow problems, I'm going full retro with my 2017 line up and signing Nico Izzi and Ivan Tedesco.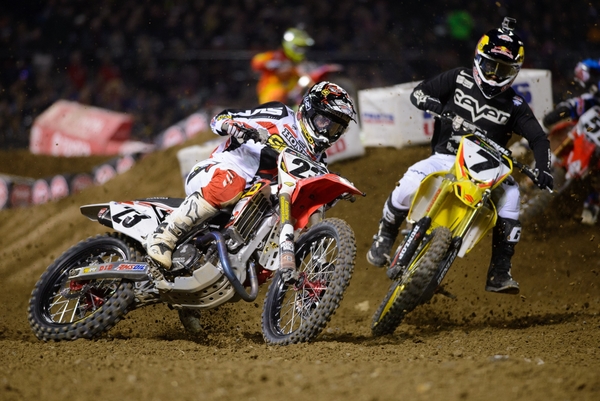 And there you have it, my teammates on Factory Suzuki for 2017.– Swiz
Seriously though, I don't see James and Suzuki breaking up. Both sides have to look in the mirror and be honest with themselves, knowing they have to give a little and take a little less. It's a symbiotic relationship until one of them brushes off the dust and gets back on the high horse. As a second rider, I think I'd throw an offer at Wil Hahn. Motivation matters and I want the guy who wants the spot, not the guy who wants to leverage me for other deals.
I runs me a tight ship over here at the Yoshimura Suzuki Race shop!