Weltin is eager to get back to the races and show the world what he is made of.
Weltin is eager to get back to the races and show the world what he is made of.
Photos: Simon Cudby and Courtesy of Weltin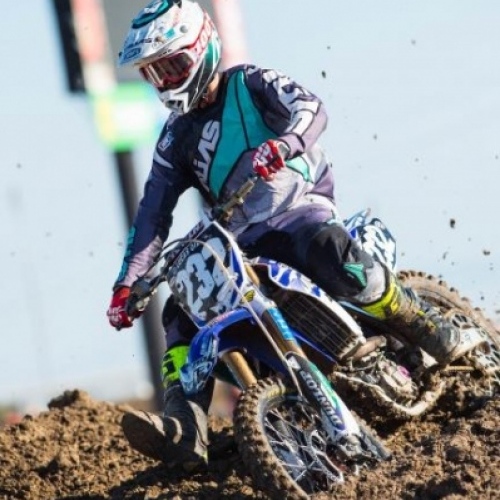 Weltin made his professional debut last summer,
On paper Michigan's own Marshal Weltin has four professional races to his name. To be fair he only turned professional after Loretta Lynn's last season, so he hasn't had many chances to show what he is made of.
We can go off of the facts that we know about him such as: he's from Michigan, he's very proud of that fact, he's friends with Justin Barcia, get's help from Joe Gibbs Racing, and he has trained at Club MX for the past three years.
Yeah, all of this information is great, but who is this kid really? It turns out that Weltin went to public school until his senior year of high school. He was a starting guard on his school's basketball team for those three years and he says that to this day that he has skills on the court.
"In Michigan, in the wintertime, when it's about ten degrees and there is snow everywhere you can't ride dirt bikes, so you find other things to do," Weltin said.
Growing up motocross was just a hobby that Marshal, his father, and brother liked to do together on the weekends. The Weltin's have spun plenty of laps at Baja Acres in Northern Michigan over the years.
It wasn't until 2011 Loretta's in the B classes that Marshal realized what he needed to do in order to reach his goals in motocross.
"I was out of shape." Weltin admitted of that summer five years ago. "I really had no business being there and it was a huge eye opener."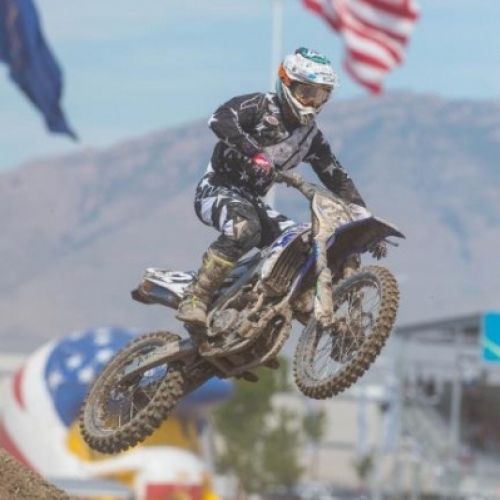 Weltin hopes to be back for the Lucas Oil Pro Motocross Championship.
Weltin decided to finish high school online and then he moved to Club MX in South Carolina to see how far he could take his dream. This turned out to be a huge game changer and Weltin began to realize that motocross was now a full-time job.
"It seemed like the hottest spot on the block." Weltin said of choosing Club MX. "They were a newer facility at the time and it seemed like a cool place to go."
Weltin proved he was worthy to stay full-time at the facility and the rest was history. Through Club MX, Weltin became friends with Justin Barcia and the two would regularly train together. Barcia wanted to help Weltin reach his dreams and offered to help with some practice bikes.
"It started small and progressed from there," Weltin said. "No other riders really do that for fellow up and coming racer. For Justin to give back to the sport like that is just awesome."
Fresh out of Loretta Lynn's last season, where he finished second in Open Pro Sport with a moto win, Weltin hit up the final three rounds of the Lucas Oil Pro Motocross Championship. He finished 24-36-13-35-14-16 in his debut races.
After the nationals ended Barcia stepped up to help Weltin put together a program for the 250SX East Region. Weltin also picked up a lot of support from JGR and he rides at the team shop in North Carolina from time to time.
According to Weltin, JGR team manager Jeremy Albrecht has been helping him find some other sponsors for his program as well.
Unfortunately for Weltin he didn't get to show his speed in the East Region this season. His debut supercross race in Atlanta was a success as the rookie finished 15th on the night.
"When the gate dropped I was still really nervous and it was hard to take it all in. It was overwhelming. I never thought that I would be in that position riding a dirt bike," Weltin said.
Right before Toronto Weltin crashed, dislocated his shoulder, and fractured his arm. Neither of the injuries required surgery and it's been 45 days and counting since he's been on a bike. He's been trying to stay busy and not think about riding, but the only one of his hobbies that isn't active is watching his Detroit Pistons in the NBA playoffs.
Next week will be crucial in his recovery process. Weltin is going to attempt to ride again and if it hurts he will be forced to take another four weeks off. On the other hand if it doesn't hurt to ride then he will be on track to make the start of the outdoor season. He said that he would know more about his return then.
Regardless of when Weltin returns it's obvious the kid has talent. He's a top fifteen guy doing things virtually on his own in his rookie season. That's not an easy task for any rider. The next time that you see the #89 JGR supported rider keep an eye on him. He's going to be giving it his all.
Thanks for reading! I appreciate all of your feedback whether it is good or bad. You can email me at Troy@pulpmx.com to chat about anything really.