You want the truth? You can't handle the truth?
You want the truth? You can't handle the truth?
Photos by Mike Sweeney
1- Ryan Dungey's podium streak is over, the last two weeks he hasn't ridden as well as we've seen. Title pressure or type of tracks in your opinion ?
Unlike most keyboard warriors, I don't think Dungey was as bad as everyone is debating and arguing about. Here is what I've noticed in that main event. Dungey was going through the whoops like guys I don't know in the 250 LCQ. Those eight whoops killed his race basically. Because of that, it took him 2 laps to pass Chad Reed that went from 4th to 9th and it took him 5 laps to pass Brayton. At any other race this season, I don't think Ryan spent more than a few turns behind Brayton. Also because of the whoops, he couldn't get around Seely and got passed by Tomac. Dungey was jumping 3 in in the whoops and struggling with the rest of them for some unknown or good reason. They looked a bit challenging but they weren't Anaheim II 2000 challenging. Despite his struggle in them, his best lap was pretty much as fast as Tomac's and only 6 tenths slower than Roczen's. When you are behind guys that know how to ride SX like Seely or Brayton but you lose a lot of time in a section, it is very difficult to pass them. I call it "doing the accordion". You get closer around the track but lose contact in the whoops. That's what happened Saturday.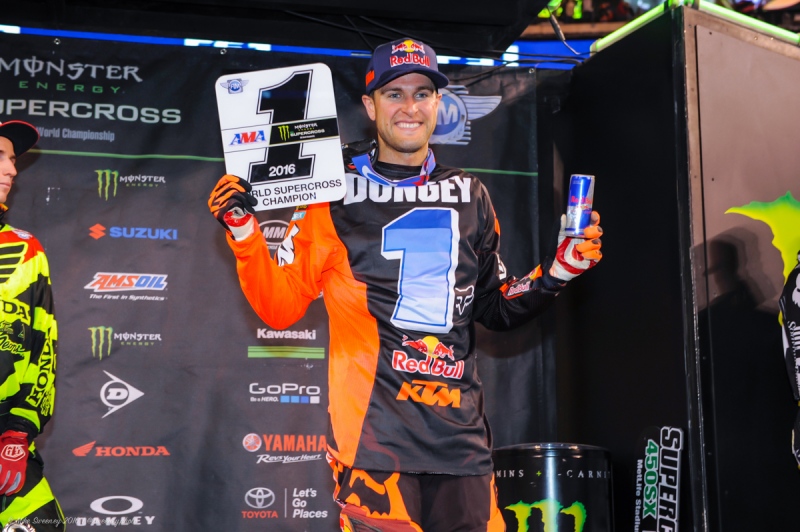 Dungey's podium streak ended Saturday but this is all he cared about.
I have no idea why he didn't skim the whoops balls-out like Mookie, Tomac or Roczen though. He obviously knows how to do that. Other than the whoops, I really think the pressure of clinching the title was very present and we might easily see the real 2016 Dungey back in Vegas. You can't compare a guy racing like he has nothing to lose with a guy that has everything to lose if he gets hurt. Because if you get hurt and aren't able to race the last 2 races, you very well know that Ken was going to win the last two races. It had to be in Dungey's mind even if he hasn't gotten hurt or made a big mistake in quite some time. I guess we'll see what kind of Dungey is showing up in Vegas but it would be a good strategy on his part to show up like the winning machine he was in 2016 to shut Roczen and Tomac up a bit before the Nationals. You don't want those two extremely great riders to get their confidence up before the start of a new series.
2- Eli Tomac and Kenny Roczen are a lot better lately and riding great. Do you think any of this momentum matters for MX or does the week off and the different type of series mean anything for momentum or no?
Roczen is riding great. His last two performances are the proof of it. Tomac is getting there but he isn't quite at his best level yet. I believe Eli can ride at Roczen's level of the last 2 weeks. Tomac is still half a second off in the last 2 races when he got 2nd and finished 9 and 19 seconds away from Roczen in Foxborough and East Rutherford respectively. Yes, he got second twice but he's not riding the best he has been like in the past. Roczen is, in my opinion. With the start of a new series and the fact Dungey has finally been beaten straight up, Roczen and Tomac will enter the series with the same amount of points (0) knowing Dungey might not be an extra terrestrial after all. Also, I still believe Ken and Eli are better outdoor riders than SX still. Roczen might just have proved me in the last two races that he might be great at both though. I believe the MX series will be way closer than the SX series was. What's important also, and we'll see this soon enough, is who did their homework the right way to prepare the MX season.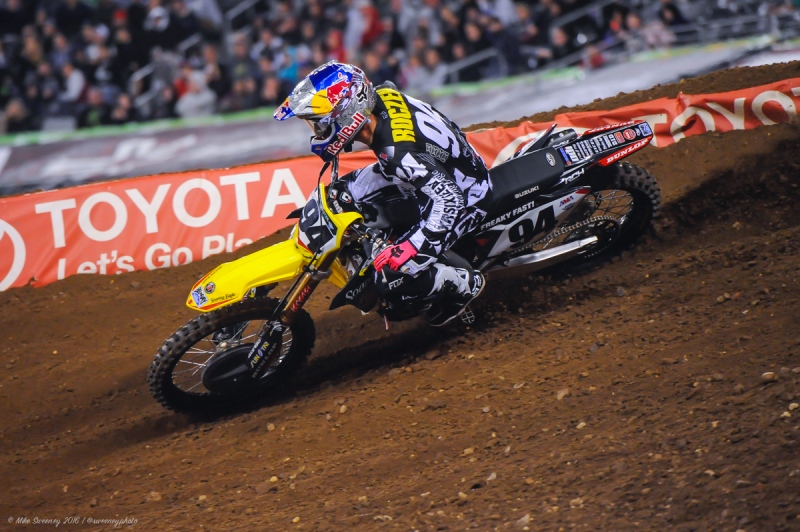 Roczen won his second race in a row in dominant fashion.
Bike set up is obviously very important and you have to show up at the first race with a set up you're comfortable with and build from there. Last year, it seems like Tomac was prepared the best. He totally killed the competition. Could it happen this year again? It could but I don't think so. I don't think the other riders as well as us fans will be surprised as much as we were last year though. I'm very excited about that series after a long SX season and the domination of the diesel.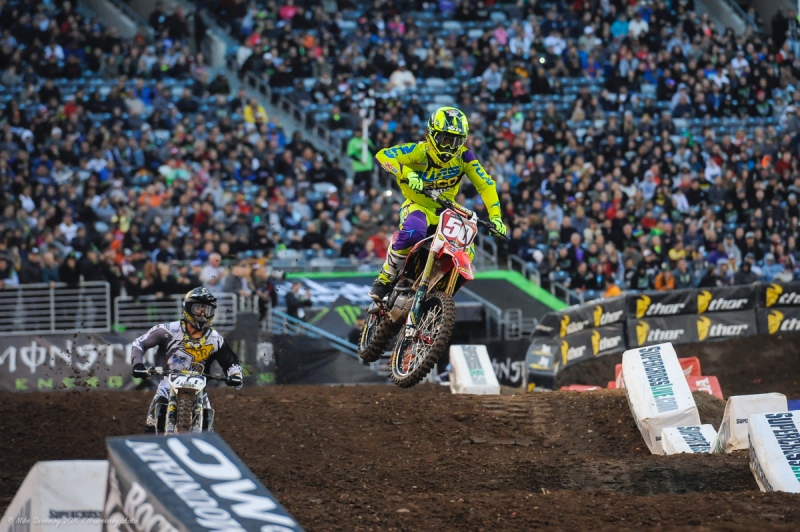 Great ride by Mookie to take control of the series.
3— Mookie rode great, he was killing it in the whoops and dragon back—what did you see?
I've said it before the season started. Mookie is the best supercross rider of the East Coast series. It showed in New Jersey. It wasn't a surprise to anyone that he was amazing in the whoops. The Stewart's know how to go balls out in them . It's a matter of commitment basically. Most of the top guys know how to go through challenging whoops. But some just dont commit as much as some others. We saw it with Dungey on Saturday for example. What I liked about Malcolm is that he rebounded after a couple not so great races where he struggled a bit and St Louis where he totally blew up with multiple crashes. I've got to give him props to show up at the second to last round of the series and get the job done to put himself in a comfortable position before the season finale in Vegas. Vegas will be very exciting this year with the new format. The East/West shootout will finally count for something and not only for bragging rights like before.
4- What's the number one mistake you think teams make with riders? Not riders themselves but the teams.
I think there are two big mistakes they make in my opinion. Way too often, teams sign riders with injuries that haven't been fixed. How many times has a team hired a rider with shoulders that have been popping out for years for example. Teams are spending a lot of money on riders but never get them in a doctor's office before they seal the deal. In soccer for exemple, players go thru a very detailed physical before the contract is signed. Lot of players didn't get to sign their deal because they had small injuries or even tooth cavities. They also do physical tests. The soccer clubs have the players do a VO2 max prior to finalizing the contract. If you have a bad knee and the results of your VO2 max suck, you will never sign a soccer deal. This never happens in SX/MX and I think it's stupid not to do like they do in soccer. I'm sure they do that in other big money contracts sports too. The other mistake is to sign riders and let them do what they've been doing training/practicing wise. When you sign a Dungey, you know his program works and you don't have to worry about it.
When you sign a rider that struggled or never delivered to his potential, just changing the brand of bike will not drastically transform him. Teams sign the checks and spend hundreds of thousands of dollars to go racing but I don't think they have enough authorities on riders. In other sports where players make 10-20-30 times more money than MX riders, teams and coaching staff have total authority on players and players just do what they are told to do, physically, technically and strategically. A top 5-8 guy that says his program is working for him but hasn't won anything nor improved in the last few season annoys me a lot. The goal for a top 5-8 guy is to win even if a Dungey, Roczen and Tomac are racing, they should work to beat them.
Not say their program works. It obviously doesn't if they aren't improving and racing with those top 3 guys. This philosophy works also with rookies. Too many teams let the rookies train and practice with their buddies and people that call themselves coaches/trainers without having much say in their program. This can't work. When a team spend millions to go racing they have to have a knowledgeable and efficient coaching staff to guide them. Take the PC team for exemple. They've struggling a bit. Don't you think they'd be better with some in house coaching that could follow the riders and report to Mitch on what's going on? Rather than letting the riders do what they do and see if what they've done actually work on Saturdays? Just my opinion.
5- Do you think Dungey should ride the MXDN or if he skips it, you're ok with that?
MXDN is a great race and it's fun to be part of. I've raced it many times, got a few podiums and actually won for team France. Yes, I know, the US weren't there. But with all the good thing about that race, I don't think it's as fun and as important as it once was. I feel like that race is becoming the subject of arguments for keyboard warriors around the world rather than being this huge MX feast for the whole world to be part of. The racing seasons on both sides of the Atlantic are very long. 29 races in the US and 18 MXGPs plus the National championships the Euro riders are racing. Some seasons, I almost didn't want to be picked for that race because all I wanted to do is sleep and go on vacation. It's a huge commitment if you want to race in good conditions especially for the US riders. You have to test for that race because the bike regulations are a bit different but mainly you have to totally change your bike set-up to race an Euro track when you race the US nationals. If you don't believe me, ask Villopoto about racing a bike set up for the US in GPs.
And sometimes, you don't really know where and how to start testing. You pretty much have to go to Glen Helen the day after open practice and not have the track watered to get somewhat close to Euro conditions. Who in their right minds after 29 US races want to do that? To answer you about Dungey, I'd be excited if he goes for sure because I want to see the best US team go to the MXDN but being a rider and having raced here knowing what it's like to prepare for it, I can't blame him if he wants to skip it
6- Chad's going to race the British and Italian GP's after Vegas—thoughts on this?
I'm surprised he's that excited to go there. One sure thing is that he didn't pick the easiest year to go race a couple GPs. This season might be the most competitive season ever since they introduced the MX1/MXGP class. It's cool that he's going there though. It's a great way to do a couple farewell races in a championship that revealed him to the world. As far as results go, we shouldn't expect too much from him there. He's raced 17 SX races, the guys there have been in MX mode since at least January so I don't think he had (or will have) time to prepare himself to be competitive. But with Chad Reed, you never know what can happen…