The 2016 Lucas Oil Pro Motocross Championship is upon us.
The 2016 Lucas Oil Pro Motocross Championship is upon us.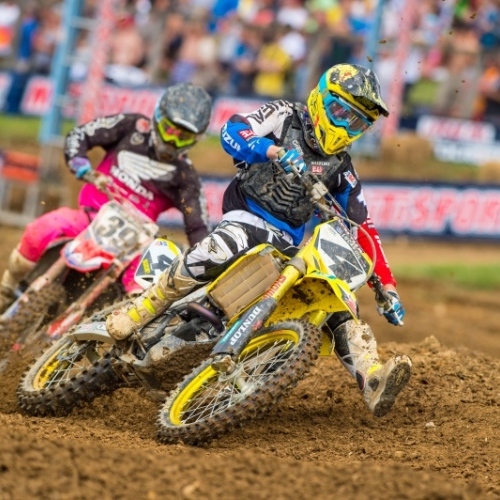 Baggett is ready for deep ruts and 30 plus two.
Photos: Simon Cudby
To the Great Outdoors,
It's been far too long since we've spoke, but I've missed you so very much. The stadiums are great and all, but the weather is too cold and the riders don't get above second gear. I can't wait to hear the sound of a wide-open bike digging into a deep rut and not letting off until the next turn. There is nothing quite like this.
Waking up at the crack of dawn to the sound of dirt bikes with the smell of cut grass, race fuel, and freshly tilled soil is something unlike any other. Practice gets underway very early and that's some of the best times at a national. From the valley of Hangtown, to the forest covered Ironman National, and everywhere in between, the next 3 ½ months will make or break some riders.
Who will win the championships this summer? Only you will be able to tell us, but we will just have to wait and see. You're going to give us dust, sand, and mud to test the rider's skill level on multiple track surfaces. It truly is a new exam every weekend and those who win some of the battles may not win the war.
Whoever wants to be champion will not be able to finish outside of the top five in more than two motos and that might be a stretch. To be in this championship battle you'll need to be a consistent podium guy. The defending champions Ryan Dungey and Jeremy Martin are going to be very tough to beat each moto. The 450 class will have Ken Roczen and Eli Tomac hungry to dethrone the Red Bull KTM rider from winning his fourth straight 450 title.
You'll also have to keep an eye on the new rookies in the 250 class who are coming in very highly touted. We have Monster Energy Pro Circuit Kawasaki's Austin Forkner and GEICO Honda's Tristan Charboneau making their debuts at Hangtown. These guys are going to be very fast this year and we won't know their potential until the gate drops, but we're hearing that Forkner could be the next big thing. Charboneau doesn't have the hype behind him like Forkner does, but that could be a very good thing for him. Benny Bloss is pitting under the BTO Sports KTM rig for the summer and it will be his first full outdoor season. Bloss is of a taller breed and the 450 will suit him just right. I think you'll see some great rides out of him. He has the speed, but now he can harness the consistency.
Adam Cianciarulo saw a glimpse of you last year when he raced the first several rounds, but unfortunately he was injured before RedBud….ahem…REEEEEDBUUUUD!! AC is looking to redeem his career and show the world his potential after a few seasons of injuries. Please keep your eye on him. He's going to be fast, but it will be interesting to watch how he plays this summer. It's been about a year since he's seen a gate drop.
I've always wanted to ask you what your favorite track on the circuit is. Is it Hangtown, Glen Helen, Thunder Valley, High Point, Muddy Creek, RedBud, Southwick, Spring Creek, Washougal, Unadilla, Budd's Creek, or Ironman? Or do you view all of them as your kids where you can't choose a favorite? I've been to six of them that are currently on the circuit and I can't even choose a favorite. All I know is that each of them have their strong points and they are all out in the middle of nowhere. That's why a national fan is so unique…each track is off the beaten path. It takes a lot of determination to get out to them and spend a hot weekend in the sun.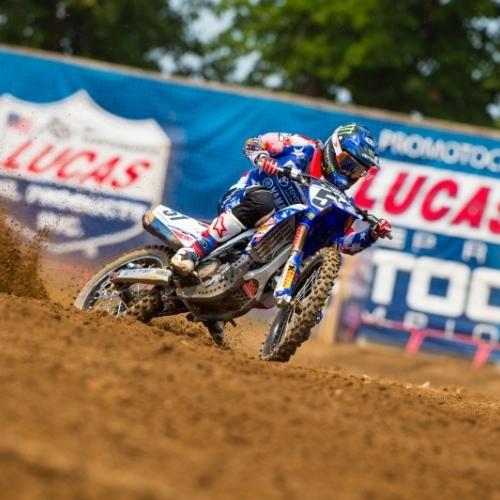 This picture explains RedBud to the fullest.
Do you think Josh Grant will get a holeshot at Hangtown? It's hard to bet against the guy there. It's been twelve years since he made his memorable professional debut. Time goes by really fast.
Now that you're turning 50 do you feel old, or are you in your prime? You've seen countless tracks come and go on the series and you've also had some of the same ones on the circuit for the duration of your life. This year you've added Southwick back to the circuit and made everyone in the New England area very excited. Do you think John Dowd will race it? If he does do you think he'll get a podium? Dowdy is older than the series, but still was a podium contender when he raced last.
What about James Stewart? Do you think he can turn his terrible 2016 season around? It's been s heck of a career for Stewart and I know he wants to go out on top and on his terms. He's going to be looking for revenge all summer sixteen…dirty not clean (it's the nationals after all). It was three years ago that Stewart started off the season by winning the first two rounds. He was looking good at Thunder Valley, the third round, until he crashed hard on a downhill straightaway. Was it the photographer's fault? Only you can answer that, so get back to me on that as well.
Stewart's teammate Blake Baggett should be a surprise this summer. I don't mean a surprise as in a bad thing. I truly think that we will see Baggett come alive and run with the likes of Dungey, Roczen, and Tomac on many occasions. I don't think you should count out Justin Barcia either. He should be back to form and show everyone that last summer wasn't a fluke. It will be a good time watching all of these guys going for it.
We have so much stuff left to cover, but all that really remains is the gate drop. We can only hype up the series so much. It will be exciting to watch this summer, however if you want my own personal opinion, I believe the same guys are going to continue winning. That's just the way this sport is. The same guys dominate and then new guys come in and dominate again.
Whatever happens I'm very excited and eager to get this season rolling. We have 24 motos of pure endurance, speed, and skill. It's a test of who really wants to hold it wide open the longest on the roughest tracks in America.
Lets have a great season!
Sincerely,
Every Fan of Motocross
Thank you for reading my column! If you'd like to chat more about the great outdoors email me at troybendgen@gmail.com (my computer is having issues with my business email).