You want the truth? You can't handle the truth!
You want the truth? You can't handle the truth!
Photos by Simon Cudby
Kenny Roczen and Joey Savatgy dominated Hangtown…which ride was more impressive? And which one was more surprising?
In my opinion, Kenny's ride more impressive and Joey's was obviously surprising. Roczen led the 34 laps of both motos Saturday. His first lap of moto 1 was maybe one of the best first laps I've seen, ever. He passed 6-7 guys in just over half a lap to take the lead. He made the riders look like they were standing still. Other than not having the best lap time in the first moto (Dungey was .064 faster on their fastest lap), Kenny had a perfect and dominating afternoon. It wasn't as dominant as Tomac last year obviously but no question he was the best guy by far. I've talked about it in a previous column but I think his momentum in the end of the SX series was very important to approach a new championship. His state of mind entering the new series and the fact I believe he's still a better MX rider (than SX) today were the ingredients for his great performance in Hangtown. But, it's only 1/12th of the season. Dungey is only 6 points behind.
Dungey went 2-2 at the opener and his Hangtown winless streak continues.
As fas as Joey goes, his both moto wins were a surprise too many, myself included. I was thinking it was going to be the J-Mart show (since Cooper was racing hurt). Just because he's a 2 time National champ and also because he won some SX races that were very MX like, obviously Daytona being one of them. Joey got 2 great starts after clocking the pole in practice and only had to deal with Jordon Smith in the first moto and pass Jessy Nelson in the second. With Martin not having a great day and Webb dragged down with a wrist injury, Joey took over in great fashion. The only drawback I'd say about Joey is that he was only 8th fastest in the second moto. It was enough to win the moto in Hangtown but might not be enough to do so with a top 10 start. Surprisingly, Osborne, which we haven't seen all day, was the fastest in moto 2.
Where did you see Roczen making time on Dungey?
Ken was playing with the track way more that Ryan. I thought Dungey looked a little too passive riding that track and lacking creativity. Roczen was playing with the bumps a lot. Looks like he was doing rhythm sections in some of the breaking bumps. At that level it makes a big difference between someone that jump go down the hill passively and someone that jump a few bumps or wheelie them. It was very obvious after the first table top of the track where the guys disappear for a while. Ken was great there bunny hopping bumps and wheeling with a great timing. Same thing in the little downhill after the uphill rollers.
Does the first national mean much in terms of the rest of the series?
Like I said, it's only 1/12th of the series. There are 22 motos to go. We crowned Tomac after Hangtown last year and look how it went. Dungey won the title with exactly 100 points on Kenny, which is two full races… Glen Helen will be surprising too because it's such a specific track and most of the guys don't know those two California tracks. We'll have a better idea from round 3 in Colorado and on. Most of the guys are in survival mode in the first two rounds because not everyone is ready physically yet and they want to get out of California healthy and with a good set up. It's also difficult to know who rode at what percentage.
Some riders might have been at 100% in Hangtown and others at 85%. We should take in consideration the amount of risks the riders took at each round. It seems like too many people talk like everyone had their best set up and rode at 100% of their potential. It's never the case. There is still a lot of racing left and dont count anyone out just yet. We'll just have to be patient and see what's going to happen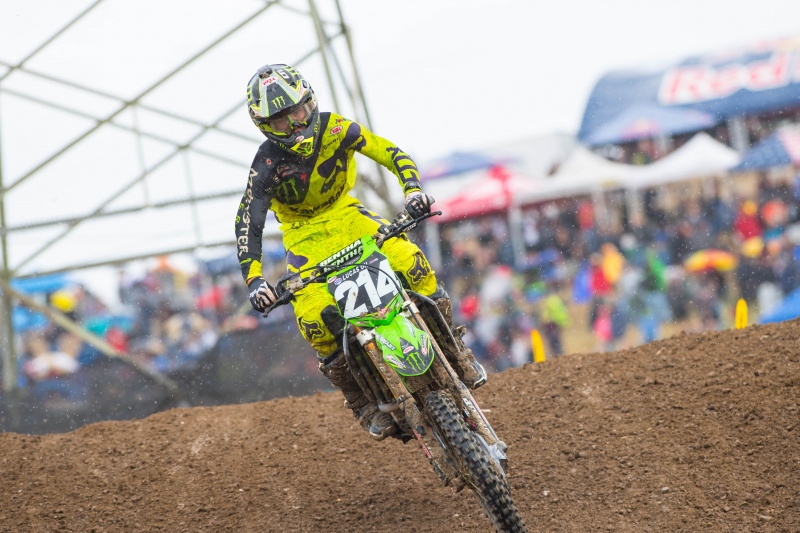 The rookie Austin Forkner had a nice debut professional race.
If GEICO Honda or Mitch Payton called you about advice for the rookies Forkner and Charbonneau, what would you say about doing 24 30+2 minutes moto in the summer?
I'm always interested to see how rookies do compare to confirmed factory supported rider in the Nationals. I don't follow the amateur scene at all. I just wait to see how they do at Hangtown or Unadilla every year. From what I saw in my career and what I still see today is that rookies always want to pin it and go as fast as they can. But before doing so, they have to learn the proper riding technique, line choice philosophy and how to set up a bike. The best example is Barcia for what I what to explain. Justin still rides like he was doing at Lorettas as an amateur. His technique and line choices never evolved. He pins it and rail the outside clutching it 5 times per berms. There is so much more than "pinning it" and revving the shit of the bike in the air.
Advice would be to teach those kids the proper riding technique, keeping momentum, using their legs, feet positions on the pegs and the philosophy of picking the best lines possible BEFORE going to Glen Helen on Thursday and doing three 40 minute motos. I understand you have to train very hard and do motos to perform outdoors but those kids don't have to win today. They have to learn now to win later. If they don't learn now, they won't later. It's a process and I believe the technique and racing IQ is more important to focus on for rookies. Then, the speed will come automatically…
Surprises from the first round?
In 250, I have to say Savatgy, Alex Martin and Jordon Smith (for a moto and a half). I bet dinner with a friend and I picked JMart/Kroc for the win. I thought Joey was a top 3-5 guy and it's a surprise to see him get 1-1. Second overall for A-Mart is also a surprise. He rode amazingly good in moto 2. He was very strong and fast in the second part of the race. I put Smith in the surprises because his first moto was good. I would've never thought he would've got a podium all year to tell you the truth but he was consistent and fast. He was top 4 for a while in moto 2 until colliding with A Mart. He was on route to get 2nd overall! I forgot to mention Webb though. Pretty impressive ride with a f'ed up wrist. I would rather see him get the scaphoid healed than race but we have to give him props to do what he did in Hangtown
In 450, I thought the hierarchy was pretty much respected. I didn't see anything that surprised me in a good way.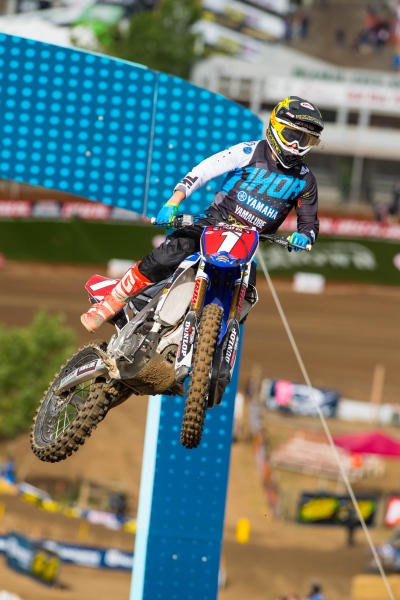 Unfortunately for J Mart, he makes Vuillemin's list of disappointments from the opener.
Disappointments from the first round?
In 250, you have to put JMart into the basket of disappointments with 3-9 scores not being great for a 2-time National champ. He looked very flat to me, riding-wise. No creativity, bad line choices and lack of will/motivation is what it looks like from the outside. It was obviously not the best of days for Jeremy. He will turn it around. Since they were a big buzz on the internet prior to Hangtown, I have to put Forkner and Cianciarulo in the basket. Not that they rode terrible but to tell/show the keyboard warriors on message boards and social media to stop fantasying and dreaming. I've read so many people pick Austin and Adam to win the opener. After seing so many groupies pick those 2 guys, I was disappointed not to see them on the box at the end of the day.
In 450, I will say, Pourcel (17-15), Tickle (14-18), Peick (39-13), Brayton (18-17) and to lesser extent, Musquin (9-7) and Bogle (12-11). Like I said above, it's only the first race. I'll give the guys a 3 race pass before I really get disappointed. Some riders might not be as comfortable as others and not as ready as others. The physical side of things will be difficult to improve with races very often and with the travelling but the set-up and speed could be found way quicker. I said that before too, I'd rather see guys go fast and up front that fade because they're not there physically than being transparent in mid pack. At least then you can see the potential.