You want the truth? You can't handle the truth!
You want the truth? You can't handle the truth!
Photos by James Lissimore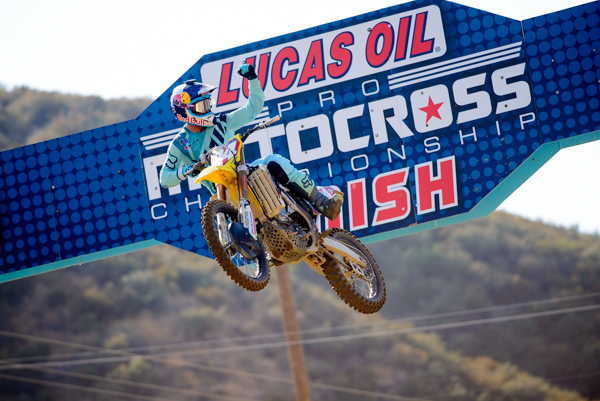 "In my opinion, Roczen is (way) better that Dungey today because he's pushing hard, he's taking more risk, he's more aggressive and he looks desperate (in a good way) to win a title"
Roczen was great, should've went 1-1, his speed once past Dungey in the first moto was amazing. Are you coming around to KR94 now being better than Dungey or is it still early? What spots or spot did you see that helped 94 be so much better?
Yes, Kenny should've went 1-1. But, in any motorsports, shit happens as they say. It's really a bummer for Roczen because he came ou swinging since the start of this MX season. Mathematically, it sucks too. Kenny should have a 12 point lead today but the lead is actually only 2 points. It's a 10 point swing. It's huge for 2 guys that are comfortably 1st and 2nd in this 450 hierarchy. In my opinion, Roczen is (way) better that Dungey today because he's pushing hard, he's taking more risk, he's more aggressive and he looks desperate (in a good way) to win a title. As of Dungey, he's riding in his comfort zone until it's time to hammer down more. I feel like he can do and show us more. He had more fight in him in SX. Thats why I'm thinking he's playing the game safe and scoring big points. Look, he has been dominated for 4 motos and he's only trailing Roczen by 2 points. I believe Ryan will step up soon and give Ken a run for his money. I don't we've seen 100% of the Champ yet. That's what I think the difference between 94 and 5 is so far this season, just the motivation, commitment (when the gate drops) and the eye of the tiger. Dungey has all of those qualities but it seems like he's deciding not to show them to us just yet…
Eli Tomac's first or second moto…which one was better and what did you see from the #3?
Obviously, Eli is still fast. He's got the pole in practice at the first 2 rounds already. His second moto was better. He was less than a second slower than Roczen's fastest lap and he was faster than Dungey, also on their fastest lap. In the first moto, Ei was more than 3 seconds off the pace of Roczen on their best laps. I don't think I'm an insider enough to know what's going on with Eli. It's not like he's doing horrible either. He went 4-4-3-3 since the MX season started. He's just not 2015 good though. I am not aware about his injuries from last year, if they're all healed and 100%. I am not close enough to know/see if the bike could be the issue. What I see is that the Kawasaki riders, since Villopoto left for the GPs, aren't as good as they used to be. Millsaps wasn't too hot on the green machine. Will Hahn was great at Geico, won a championship but has been struggling bad on the KXF. Lastly, Tomac was on another planet last year in MX and he came back on Earth this year. It could be only coincidences though…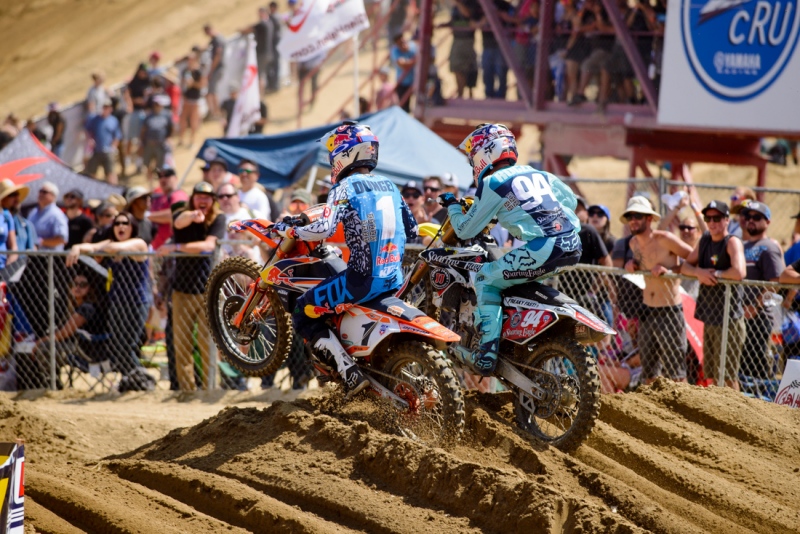 These two have had some good battles through the first two races of the year.
What else in 450's was interesting?
Not much, buddy! When you watch Ken, Ryan, Eli and Jason ride, the rest of the field becomes very uninteresting… I talked about Eli but forgot to mention a stat I saw on the AMA website. The difference between average start positions and average finish positions. Eli has the biggest difference, average start is 10 and average finish is 3.5. Means, he's passing 6.5 guys per moto in average. That stuff interests me as well as seing Jason Anderson ride! It's not always pretty, it's not always super technical but there is always heart and a great never give up attitude. I'd love to see him on TV more. He's so exciting to watch. By the way, he's the rider with the 2nd biggest difference between start and finish averages, 9 to 4.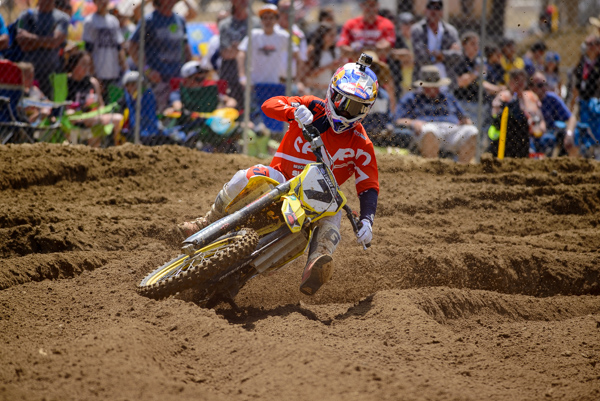 Vuillemin thinks that it might be time for the #7 to hang it up.
James Stewart…Why would he try to ride?
He is one of the greatest, for some the best that ever put his ball sack on a dirt bike seat. I am a huge fan. I absolutely loved his greatness on a motorcycle. Some stuff he did might never ever been done again. But today (and it has been a while), it's time to retire, time to look back at an amazing career, time to appreciate all the great things he has done on a dirt bike and time to wait for his Hall of Fame induction. I can't find one good reason that tells me it's a good idea for James to keep racing…
Alex Martin won the overall with 2-2 scores. What did you see there and how does veteran rider get so much better 5+ years into the class?
(FYI, I also won my first National with a 2-2 score… Hang town '00. So, it's ok in my book to win a race without winning a moto) What a race by Alex. First moto was great. I was hoping he was going to win it actually. He surprised everyone with his passes and agression in the first couple laps. He passed his brother in the first uphill with total authority. His second moto was very good also. He knew he had to get Nelson to get the overall and fought hard for it. Both of his motos were inspiring in so many ways. It's not uncommon to have a surprising moto out of nowhere once in a while like Alex in Moto 1. Remember Jordon Smith got second in Moto 1 in Hangtown for example. The hardest part is to confirm it in the next moto. Alex just did that and passed Nelson in the 11th lap to get second and the overall. That was a great cinderella MX story.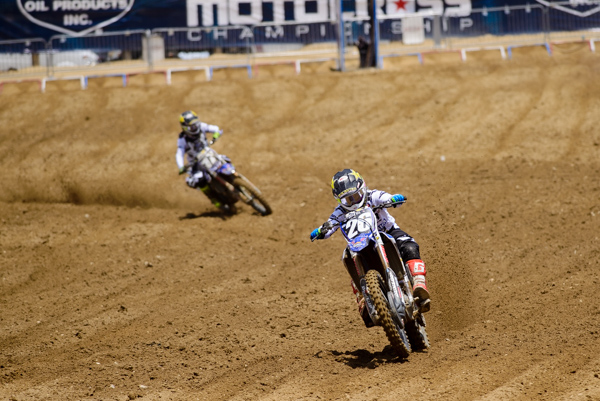 The red plate holder Alex Martin everyone!
As for getting much better now, it's understandable. He's been struggling as a privateer for years and he now has a factory supported ride. His brother is the 2-time National champion. He's racing on the team and with the bike that won in SX and MX the last 2 season. That has to boost the confidence, the motivation for training and getting results. Look at back in the days when PC gave the bike to privateers and even this year with Audette. The kid podiums his first race with the PC bike. Matt Walker and Eric Sorby (fresh off the boat from France) went 1-3 at the 2002 125cc Houston SX as replacements with 2 days of practice with the bikes. Remember Lil'Goose when he was struggling with an ECC bike or whatever team it was. Jumped back on the PC and podium right away… That stuff has been happening for a long time in that class and it will happen again. It's going to be cool to see Alex in Colorado with the red plate…
What else in the 250's caught your eye?
Just the fact the top 4 of the championship are within 4 points with Alex Martin leading the series after 2 races. Pretty crazy, huh? And, the first 2 races of the season weren't in Millville! They were in California far away from the loamy dirt and sand of Minnesota… What about Austin Forkner? First podium in a moto, 4th overall. That kid is so small and skinny I don't know how he does it to be that much on the gas. I'm looking forward to see what he does this summer and how he's gonna evolve technically and physically. Adam Cianciarulo hasn't broken the top 10 of a moto yet but I'd rather see him start like that than going to fast and end up in the ambulance. Just like Forkner, I'm curious how he's gonna improve through the season.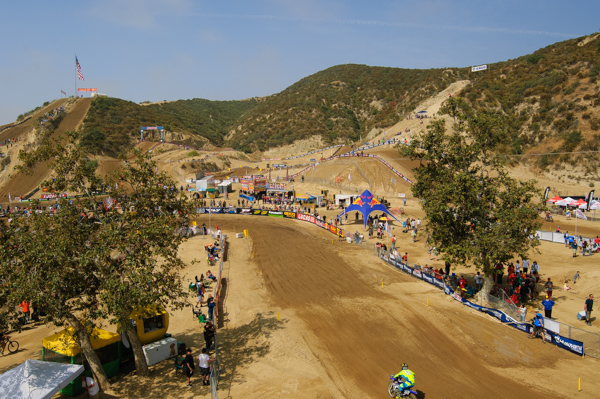 "Bottom line is, whoever designs the National track isn't qualified to do so and doesn't know what it takes to make a cool, fun and safe National track. It's as easy as that…"
Lots of complaints about Glen Helen being dangerous, too many jumps and too high speed—thoughts on the track when you raced and on yesterday?
Glen Helen has been the same Glen Helen since 1993. In the 23 years, the track has changed but they do always the same (bad) things to the track. Dug too deep. Watered too much in some spots and not enough at others. Too many bad thought out/designed man-made crap. I'm still wondering what they were thinking when they built the rhythm section before the starting line. They think racing is good when the ruts are multiple and deep. It doesn't make racing better. I've seen races at Unadilla with not a single rut better than any Glen Helen races combined. To tell you the truth, I actually like Glen Helen. I've seen it great in open practice in the winter. I've had ton of fun riding there over the years but NEVER at the national. Bottom line is, whoever designs the National track isn't qualified to do so and doesn't know what it takes to make a cool, fun and safe National track. It's as easy as that…