Gajser and Herlings at the double.
Gajser and Herlings at the double.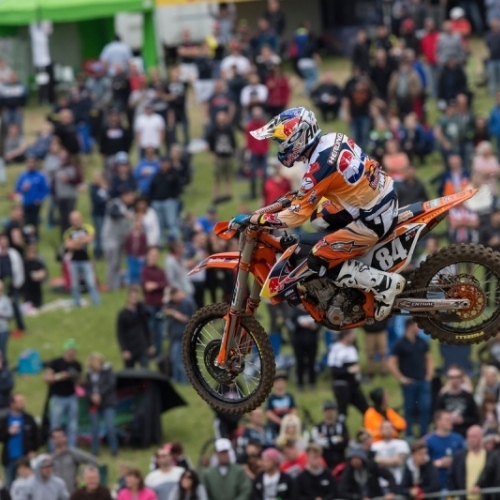 Herlings has a 148-point lead in the MX2 standings.
Report: Jonathan McCready
Pic: Honda, KTM
Two dominant moto wins and a concussion for Romain Febvre has effectively made Tim Gajser the champion elect in MXGP.
Gajser is doing everything right at the minute and the key isn't just his speed,it's his starts. Gajser has started inside the top five in nearly every moto this this season, and a "bad start" for the Slovenian is now starting seventh with the leaders in sight! From there Gajser uses his speed to get to the front quickly and control the race. Even Cairoli couldn't stay with Gajser in race one in the UK, and once in the lead Gajser plays it smart and doesn't try and win by 30 seconds, five is enough for the Slovenian.
"I'm so happy to win again; it's such a great feeling," explained a delighted Gajser. "I love this track and I was really enjoying it a lot. The second race was a little sketchy with the rain because the track got really slippery and it was difficult for visibility, but I really enjoyed my riding today – having fun with some nice scrubs and whips. In the past races I was in a rush at the beginning and made some stupid mistakes, but I'm really happy that this weekend I could ride more smart and take another pair of wins for the overall."
Gajser is simply a class act right now and amazingly hasn't missed the podium all year (eleven in a row now including six wins). HRC Honda must be grinning from ear to ear but secretly worried Gajser might not remain in MXGP for 2017 if he wins the title this year, which would leave the red team short of a title challenger again as Herlings moves up! The fans though would love to see Gajser v Herlings next season before he moves to the USA.
Contrast that to poor Romain Febvre who would regard seventh as a good start and spends most races riding at 100% to come through the field and limit the damage as Gajser leads the race. Febvre has proven he has the speed when he gets away with the Honda man, but bad starts have directly and indirectly cost the Frenchman the title and two injuries.
Febvre got held up by Simpson in Spain that resulted in the arm injury and Townley tagged the Frenchman at Matterley as Febvre came from 20th into the top ten only to face-plant hard into the face of a jump after Townley's wayward rear-wheel clipped the Yamaha.
Both crashes were not mistakes by Febvre but he put himself in a risky position by not being at the front from the start and for everyone involved in the championship not named Tim Gajser, it is a real shame as the championship battle is virtually over.
Tony Cairoli's season could be summed up by his results in the UK. A decent first race saw Cairoli come from fourth to second but crucially Gajser passed the Italian and there was nothing Cairoli could do about it, even if he did come on strong in the last ten minutes.
In race two, needing another good start to try and give Gajser a challenge, Cairoli blew the start and came from way back to tenth despite casing the quad and injuring his wrist. Surprisingly it is Cairoli, not Gajser making the mistakes this year and despite three sand races coming up, 77 points is probably too much to make up on Gajser unless Tim has some serious bad luck or gets injured.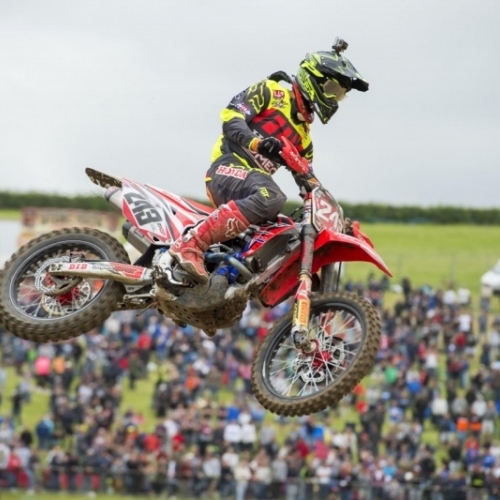 Gajser has a 76-point lead over Cairoli who sits third in the MX1 standings at the moment.
Cairoli said: "This was another weekend with ups and downs. The first moto was very good and I came from fourth to second. Then there was some bad reaction on the start and Bobryshev came all the way over to my side and closed me out, but that's normal, that's racing. I came back very good and was back in the top 10 but then I cased the big quad jump, my wrist was very painful and I had to slow down for two laps. My wrist was beginning to swell but I kept riding because I need the points. Hopefully it is not too bad and we try to recover for Mantova because that's my home GP."
Australian Chad Reed went 14th and 16th for 13th overall and enjoyed his first GP in 15 years, saying: "I think my physical fitness is totally fine, but the muscle memory for 35 minutes of pounding, especially from this track, is lacking. The riding, the feeling on the bike and the pace was fine, but the grind in two days of motocross is a lot different than what we do in one day in Supercross."
"Hopefully this will shock the body and make next week a bit easier. But honestly the pace doesn't seem too gnarly, and my feeling on the bike is the best I have had outdoors in a long time."
In MX2 Jeffrey Herlings struggled on Saturday with a foot injury sustained at a Dutch championship race the week before and just about finished fifth in the qualifier after holding off Paturel and Petrov.
But it was a different story on Sunday as Herlings pulled two holehots and cruised to two wins, the one thing you can count on with Herlings is his will to win despite adversity and do what it takes to do so. Dylan Ferrandis was second overall couldn't get away with Herlings but even if he had it was unlikely he had the pace to beat Herlings.
Pauls Jonass and Jeremy Seewer battled right to the last lap in both motos with Seewer stealing third in race one but crashing on the last lap in race two as he passed Jonass for third again leaving Jonass to reclaim third in the moto and overall.
Max Anstie overcame bad starts for fifth overall but it wasn't what the Brit expected after winning the qualifier on Saturday. His young teammate Conrad Mewse stole the show with seventh overall and a brilliant fifth in race one having battled Ferrandis and Seewer for 20 minutes. Mewse who only moved up to MX2 from EMX2 a few rounds ago showed he has the talent when he gets his head straight and his starts on points.
Mewse is the next big thing from the UK and he confirmed that talent and potential in front of the home crowd. The Brit is part of a the wave of talent that is coming up from EMX2 into MX2 and will provide some fireworks from next season on.
MXGP Overall Top Ten: 1. Tim Gajser (SLO, HON), 50 points; 2. Maximilian Nagl (GER, HUS), 36 p.; 3. Gautier Paulin (FRA, HON), 36 p.; 4. Evgeny Bobryshev (RUS, HON), 34 p.; 5. Valentin Guillod (SUI, YAM), 34 p.; 6. Antonio Cairoli (ITA, KTM), 33 p.; 7. Jeremy Van Horebeek (BEL, YAM), 28 p.; 8. Jordi Tixier (FRA, KAW), 27 p.; 9. Clement Desalle (BEL, KAW), 22 p.; 10. Jose Butron (ESP, KTM), 20 p.
MXGP Championship Top Ten: 1. Tim Gajser (SLO, HON), 482 points; 2. Romain Febvre (FRA, YAM), 408 p.; 3. Antonio Cairoli (ITA, KTM), 405 p.; 4. Maximilian Nagl (GER, HUS), 378 p.; 5. Evgeny Bobryshev (RUS, HON), 367 p.; 6. Jeremy Van Horebeek (BEL, YAM), 321 p.; 7. Valentin Guillod (SUI, YAM), 242 p.; 8. Shaun Simpson (GBR, KTM), 212 p.; 9. Kevin Strijbos (BEL, SUZ), 204 p.; 10. Glenn Coldenhoff (NED, KTM), 201 p
MX2 Overall Top Ten: 1. Jeffrey Herlings (NED, KTM), 50 points; 2. Dylan Ferrandis (FRA, KAW), 44 p.; 3. Pauls Jonass (LAT, KTM), 38 p.; 4. Jeremy Seewer (SUI, SUZ), 36 p.; 5. Max Anstie (GBR, HUS), 31 p.; 6. Aleksandr Tonkov (RUS, YAM), 29 p.; 7. Conrad Mewse (GBR, HUS), 28 p.; 8. Brian Bogers (NED, KTM), 25 p.; 9. Iker Larranaga Olano (ESP, KTM), 21 p.; 10. Thomas Covington (USA, HUS), 19 p.
MX2 Championship Top Ten: 1. Jeffrey Herlings (NED, KTM), 547 points; 2. Jeremy Seewer (SUI, SUZ), 399 p.; 3. Pauls Jonass (LAT, KTM), 370 p.; 4. Aleksandr Tonkov (RUS, YAM), 298 p.; 5. Benoit Paturel (FRA, YAM), 293 p.; 6. Dylan Ferrandis (FRA, KAW), 273 p.; 7. Max Anstie (GBR, HUS), 258 p.; 8. Samuele Bernardini (ITA, TM), 244 p.; 9. Petar Petrov (BUL, KAW), 242 p.; 10. Vsevolod Brylyakov (RUS, KAW), 209 p.