Well, she is finally done! After seven months and countless hours, Project 90 is ready to hit the track.

Well, she is finally done! After seven months and countless hours, Project 90 is ready to hit the track. Along the way, we have had a few hiccups and setbacks, but such things are to be expected in any vintage bike build. Overall, it has been a ton of fun and now I get to actually do the fun part and ride the dang thing.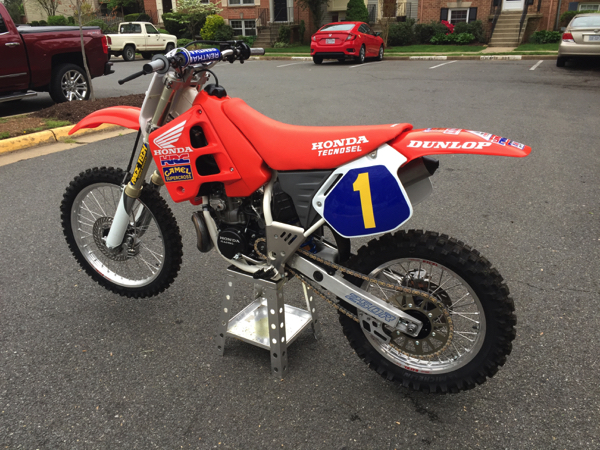 In April, I finally got all the pieces back together. The old girl looked great, but that stupid bog was still present. As soon as I rolled on the throttle, the bike tried to load up. After a few seconds it cleaned out, but as soon as you let it idle down and tried to get back on it, it loaded back up again.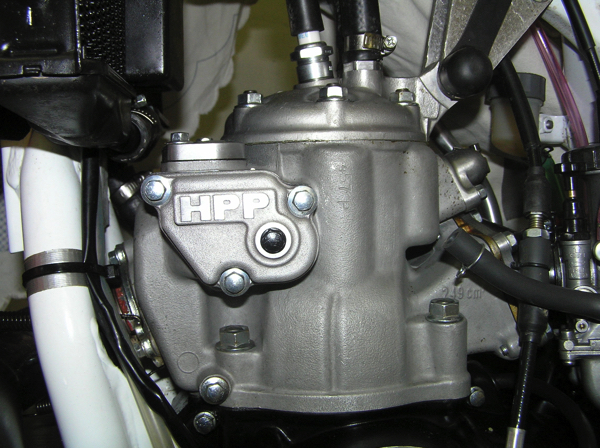 When I first got the bike, I thought the weird bog might be related to the HPP system, but after we pulled the motor apart and cleaned and adjusted everything, I was confident that was not the issue. Getting these stupid things adjusted properly is a huge pain in the rear, but they seemed to be working fine, so the problem must have lain elsewhere.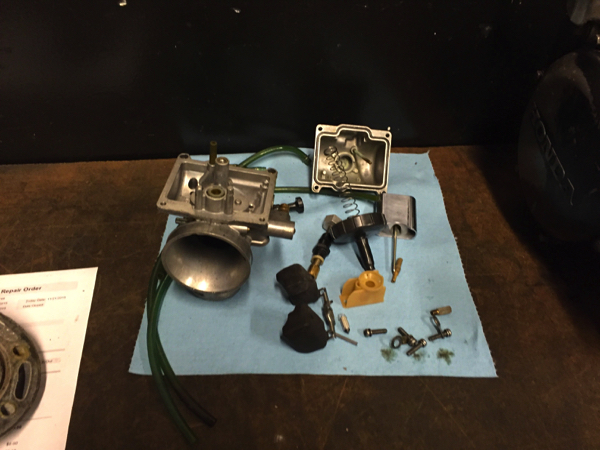 The next most likely culprit was the jetting and we tried swapping brass to see if that would alleviate my stupid bog. We went up, down and sideways, but nothing seemed to make it better.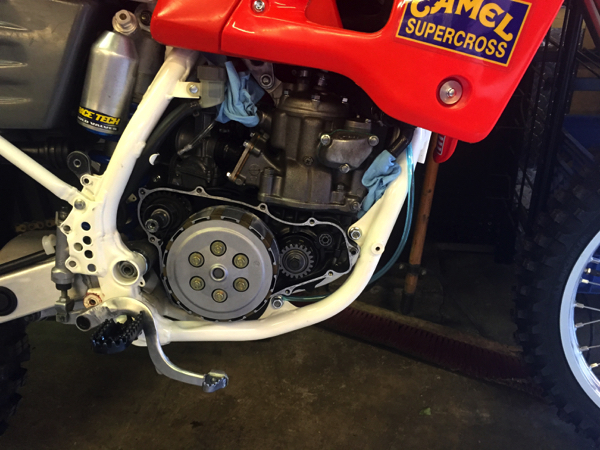 Our next thought was that maybe a crank seal was bad. They were probably the original ones and if one were leaking, it could have been letting tranny fluid into the top end. Well, unfortunately, that did not work either. Once we lit her back up, we still had that damn bog, Grrrrrrrrrrrrrrr!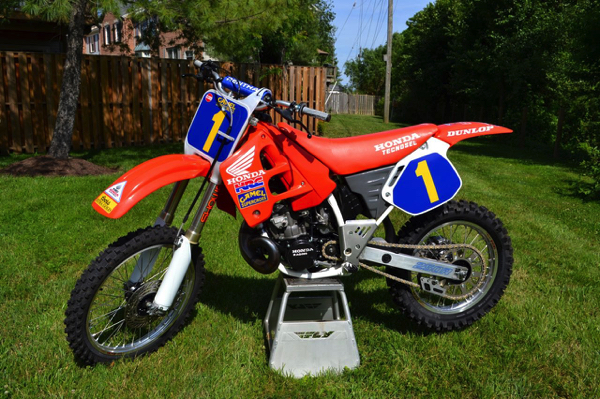 At this point, I was starting to get a bit frustrated. Several people on social media had suffered the same issue and suggested everything from a faulty choke to a crapped out Roost Boost. The ignition seemed to check out and we double checked the reeds and even went to a hotter range plug to see if that would clean her out, but to no avail. At this point, I had a beautiful bike that ran like a '76 Pinto with a cracked distributor cap.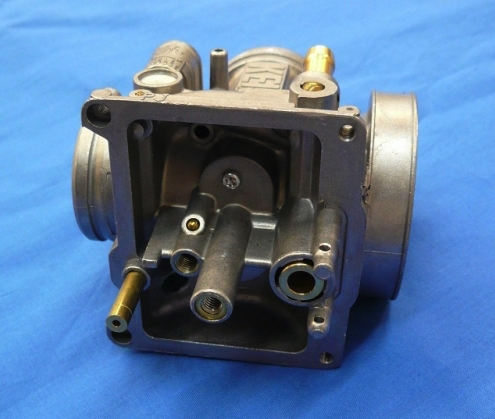 After banging my head against the garage wall for twenty minutes, Mike Dickensheets, the service manager at Loudoun Motorsports in Leesburg, VA suggested that it might still be the carburetor that was the issue. Even though we had totally rebuilt everything, he thought the problem might be a worn needle seat allowing in too much fuel. Unfortunately, this part was machined into the carb body and not easily replaced.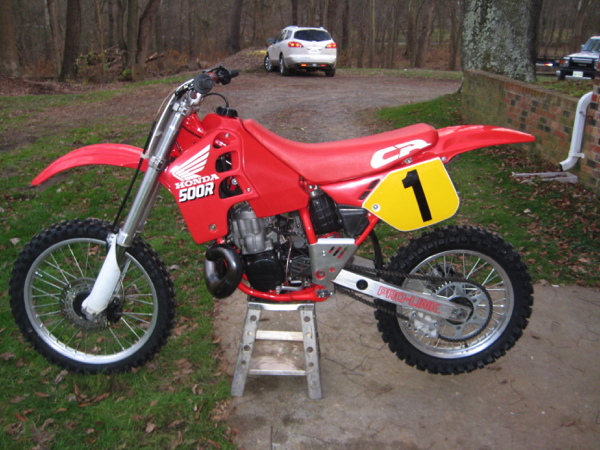 Since this was not a replaceable part, my only hope to test his theory was to score a different carburetor from someone. Thankfully for me, my best friend Jamie Conard happens to have a restored 1989 Honda CR500R in his basement. Since the 500 and 250 shared the same basic carb, it was the perfect opportunity to test out Mike's hypothesis. If it worked, we were gold, if it didn't, at least I could be pretty sure my problem was somewhere in the ignition.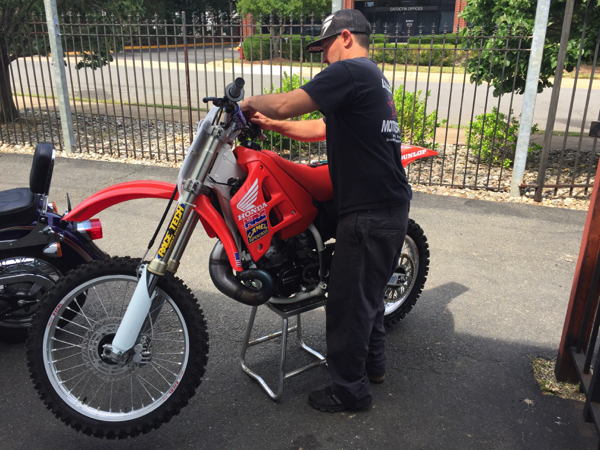 The moment of truth: Steve Tranum at Loudoun Motorsports prepares to fire up the beast one more time after swapping the carb.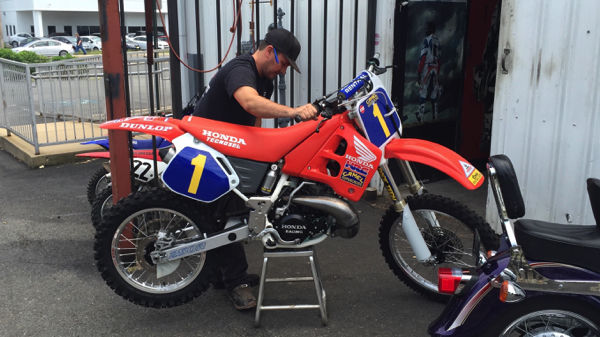 Hallelujah! After a brief pause to adjust the throttle cable play, the old girl fired up and purred like a kitten. No bog and no hesitation. I want to say a HUGE thanks to Steve and Mike for all their help getting Project 90 sorted out.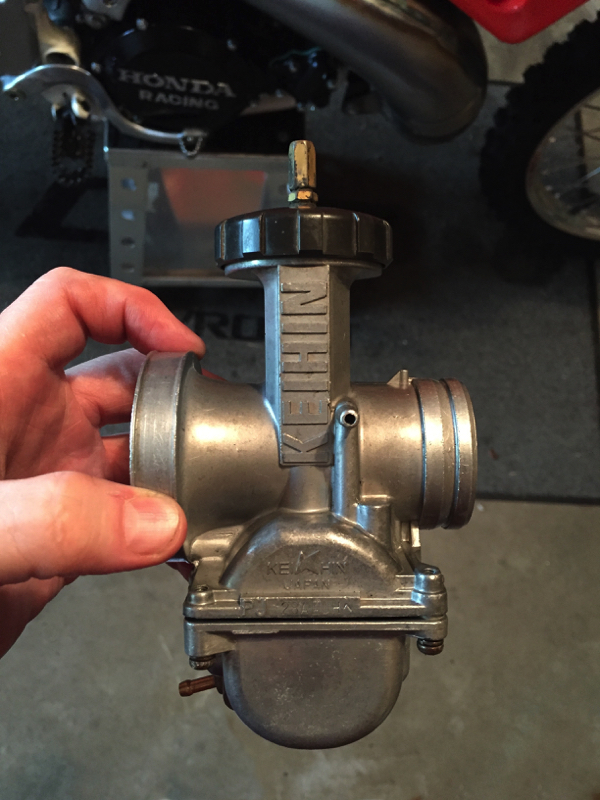 The culprit: With the PJ's no longer in production, I'm thinking of moving up to a PWK for Project 90.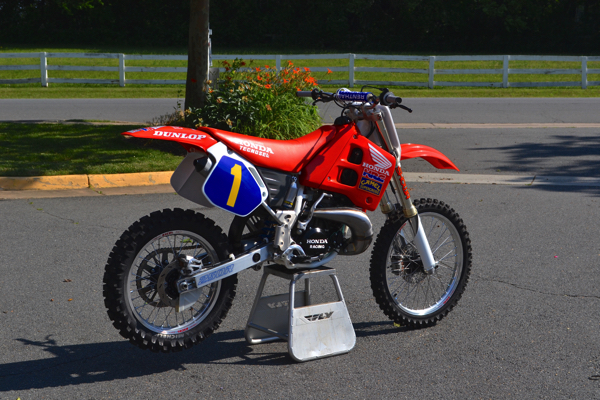 Back in one piece and ready to ride.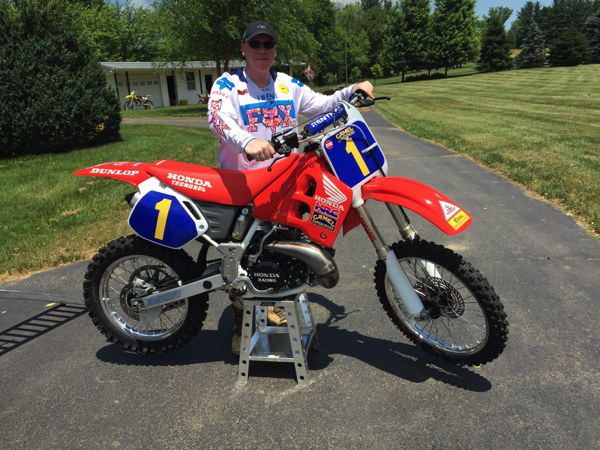 Ready for the maiden voyage: I headed out to my friend James Rowell's place in Hamilton, VA to shake the old girl down and burn a few laps 1990 style.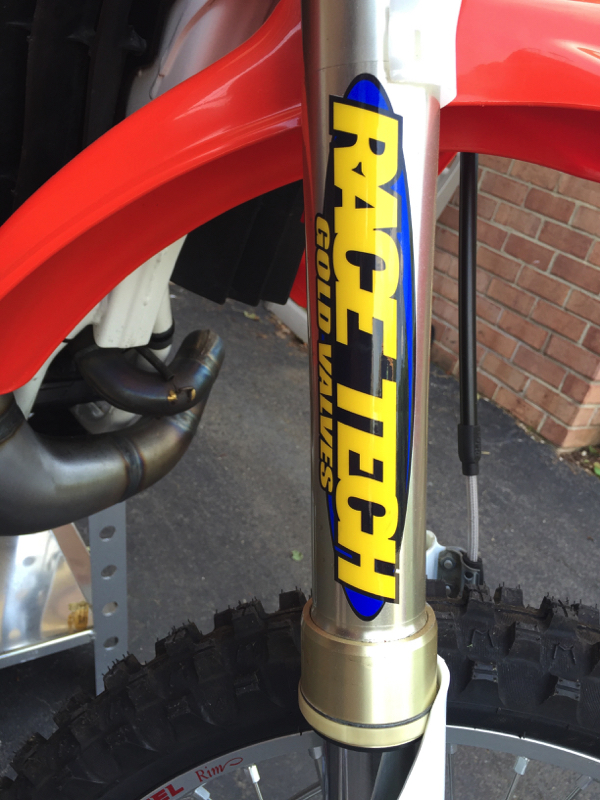 After day in the saddle, I could draw a few conclusions about the success of my build. First of all, Race Tech really did wonders with the suspension. Stock, these are about the worst forks known to man, but now they work great. Back in nineties, I fiddled with these things constantly and got them re-valved a couple of times, but they never really got any better. With the Gold Valves installed and the damping dialed in, they are super plush and worlds better than stock. Best of all, there is none of the mid-stroke harshness that used to abuse my wrists in the old days. They did wonders with my '83 CR480R and really outdid themselves with this project as well. Good stuff!
The stock shock on the '90 CR was only marginally better than the grim forks, but now this puppy is as smooth as butter. The shock feels just as plush as the forks and does a great job of smoothing out the track. As delivered, the rebound felt a little quick for me, but I always prefer slower rebound, so I am going to try dialing in a little more and see how that feels.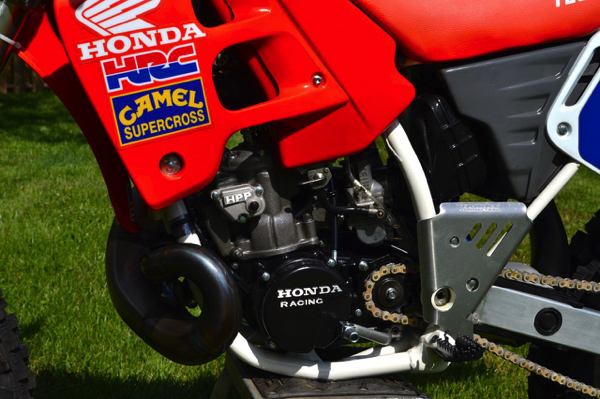 After a day of riding, my initial impressions of the motor are pretty good. It runs just like I remember, with a smooth pull and not a ton of hit. The 1990-1991 HPP motors were very electric and pulled over a super-wide range, but they never barked like the '92-'01 CR motors did. Compared to a modern 250 smoker or even a 250F, the bike is pretty tame. Pretty much any 250F will trounce it in the low-end torque department and it only catches up once the power valves open. It is fun and fast for its time, but I won't be looking for any 450's to pick on.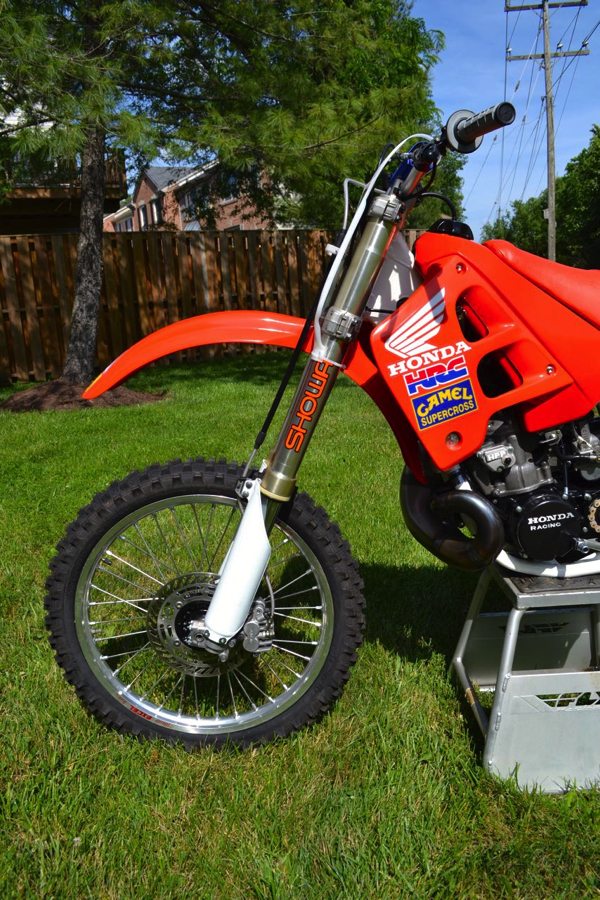 One area where you really notice the march of time is in the performance of modern brakes. Compared to any modern binder, these units are unimpressive, compared to a new KTM, they might as well be drums. Even with my updated 1994 components, they offer good feel, but not a ton of power.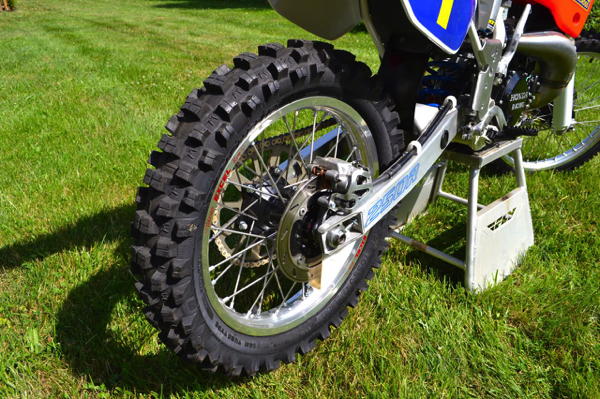 This was my first chance to try out Michelin's new Starcross 5 tires and I was real impressed with their performance. The track I was on was dry and hardpacked, but these intermediate tires hooked up great. They never went away or did anything spooky on the slick surface and I really look forward to trying them on something with a little more traction in the future.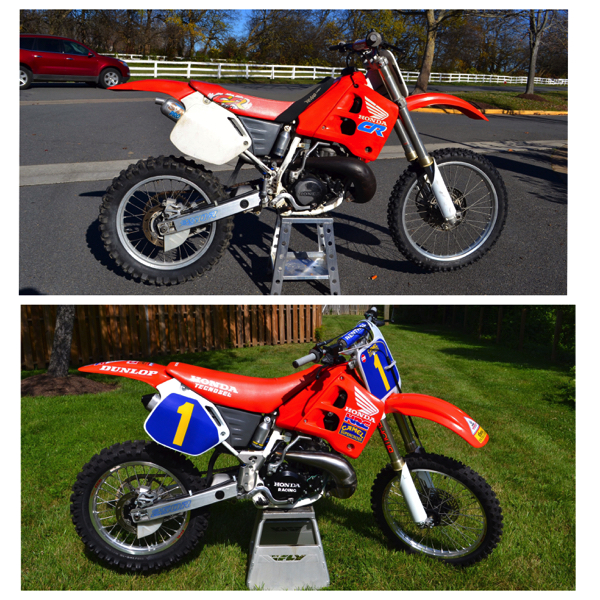 Seven months, tons of man hours and a good lump of cash later , I have a bike that is as beautiful to look at as it is fun to ride. If only I could ride it as fast as Jeff Stanton…
Huge thanks to Race Tech, Dubya USA, Vertex, Ride Engineering, Michelin, Guts Racing, Roost MX, Evo-MX.com , Piperepair.com, Works Connection, Pivot Works and Loudoun Motorsports for all the help along the way.
For your daily dose of old-school moto goodness, make sure to follow me on Twitter and Instagram -@TonyBlazier
For questions or comments, feel free to drop me a line anytime at TheMotocrossVault@Gmail.com