Photos by THE Anton
Photos by THE Anton
Chad Reed
Three-week European vacation, kind of ends on a bummer note. Bike problems today. Your hand was jacked up a little bit from last week from Matterly. So, tough weekend for you overall, but I guess you got a lot of fans here and it doesn't hurt to ride a little bit and have some fun.
Yeah, it was pretty much four weeks, but two races. Like you said, last week, I actually felt pretty comfortable. The result on paper didn't really show how decent I felt. I've done obviously a few interviews and it seems like the biggest thing for me is I'm not racing motocross because it's not that fun anymore. It's been a struggle. Since 2011 it just hasn't been fun for me, so to come over here I was trying to make it fun. Last week the bike, the track, everything seemed to gel a little bit more. My starts weren't awesome but that's kind of consistent with how the year's been. But the riding was actually okay. So coming into this week I rode on Wednesday. I only rode once this week and I only got maybe fifteen minutes in and my hand was really sore. So kind of one of those things where you blow it off and you're like, that kind of sucks. I can't believe that I'm still hurting on a Wednesday after the race.
But I showed up Saturday morning and rode and immediately it was just hurting. I couldn't hold on. I didn't have any grip strength. Struggled all weekend. The heat really was my best friend in the fact that these guys were going to really struggle in that. They're not used to it. So I was just trying to find a rhythm that would kind of put me somewhere in the top fifteen. I got inside the top 20 there and unfortunately we had a bike issue. Don't really know why or what happened, it was just like someone pulled the plug. But it's been good. It's been a lot of fun. I got to do a lot of things that I was able to do fifteen years ago and see some people.
A lot of the same people, right?
Yeah, a lot of the same people. But I really did enjoy my trip. But four weeks without the family and the kids is a little too much. I don't know that I would come back without them again. But I would like to come back next year. Truthfully I'm looking forward to going to Australia tomorrow and taking a month off and just regrouping. I just feel like I haven't been able to get a breath of air since closing TwoTwo, or actually to be honest with you since starting TwoTwo. So it's been a tough five years. For me, I really want to just kind of step away and enjoy the family and the life a little bit and then just start focusing on '17 and just have a little bit more in the tank emotionally and physically. I didn't put a lot of effort into this, so it wasn't like I was expecting to come here and be a top five guy. Like I said, Matterly I actually felt pretty good but struggled this weekend.
You didn't get to see him too much but this Gajser kid, we'll see him in America soon. He's the real deal.
My recommendation would be if you're 19 years old, you don't have any supercross background, and HRC wants to take you there I think that you should do it. For good or bad, if it works out then you're young and you can do it while you're young. But if you can't adjust to supercross then in two or three years you get spat out by the system and you're back in Europe and you're only 22, 23 years old. So my recommendation would be get on a plane and get to the US.
Some of the things about GP's, like the wash bays, which I love, it's way better. The pit lane thing is really cool to watch. The mechanics area is good. There's some things that I don't think are as good as the US Nationals but overall it's a different series, different vibe. I like some of the things they do over here.
I enjoy it. I would like to hear what you don't think is not as good.
I think some of the tracks blow.
The tracks suck but our tracks suck too, to be honest. I think that tracks in general worldwide there just seems to be a theme that everybody's going for – the woodchips, the sand, the dirt. So I think that that's a worldwide virus at this point. I don't think that's one here or there. I don't love really short lap times like we had today. Having the amateur kids here with us felt like a Thursday afternoon with the way the track was working. If I had a bone setting I think I'd be stoked today. Thursday afternoon at Glen Helen. But for me I think that it's my personal opinion we're at a world championship and I think it feels like that.
When you go to a national championship it feels like that. Both people are making a lot of money. I think that here you can see the money getting put back into it. There's things around the track and the way they do the start, the way they do the mechanics. There's an effort going back that you can see. For me, it hasn't changed over the last fifteen years in the US, so somebody's getting very rich. But you can't see anything for it. So that would be my biggest thing.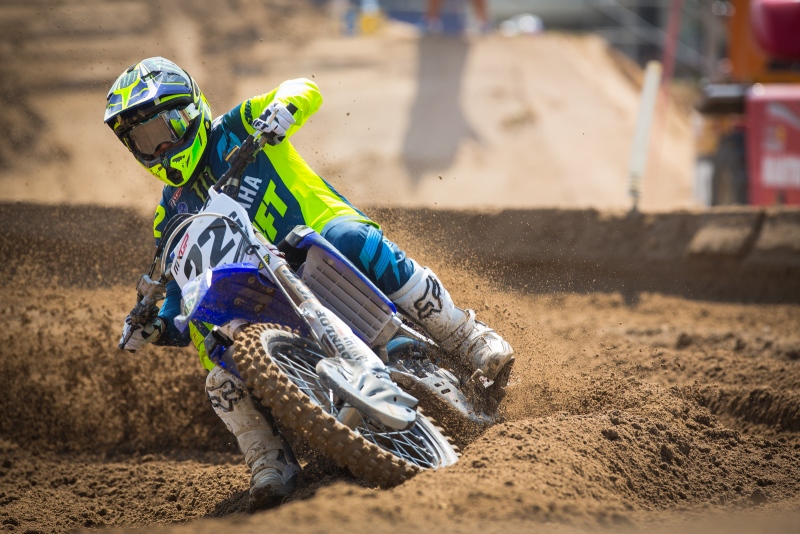 Reed's MXGP didn't go so well in Italy but he says he still had fun.
For you, are you going to start riding supercross with Yamaha again? Is that a done deal? Can we announce that?
We're working on it. We're still grinding away on each other I guess.
So not 100% chance you're on a Yamaha?
Not at this point but I'm confident that we can make it happen. For me, that's where I want to be. It's kind of funny. Coming over here and enjoying it and having some fun, I had to really think about whether I wanted to do supercross only or if I wanted to motocross only. So it was kind of a tough decision the last couple weeks. But I really enjoy supercross. My kids are in school. It'd be difficult to pack up shop at this point. Too late in my career at this point. But I hope to do the same thing, supercross only and then maybe some GP's.
We were talking about this on one of my shows, and you mentioned it earlier, since the Chadapult, you were leading. You won the first moto. You had a 21-point lead over Dungey and Villopoto, looking good. You had the Chadapult incident and it's just been weird. That's not it; I know you're not a scared guy. But we were talking about it on one of my shows and it's just like you've never been the same outdoors ever since then. None of us know why.
It's been a struggle.
Do you know why?
Obviously I think that that was a pretty scary crash. I was beat up from it, so I think that the rest of the Nationals…
Well yeah, you get a mulligan the rest of that year.
Yeah. And then I actually went and won the first moto at Des Nations that year. So that was kind of like me firing back and then I came out swinging in supercross. I won a couple of races there at the beginning of 2012, had the red plate at one point. Then the Dallas crash blew my knee out. And then honestly my real feeling is Honda went to this new '13 bike and it just didn't gel with me. I couldn't find any comfort, couldn't find any feeling that I had. I went from a bike that I absolutely loved, probably one of if not the best bike I've ever rode. And then somebody takes it away and then you got to go and ride a new bike. And we don't get the turnaround that they get here. These guys get to fudge on the frames a little that they're allowed to do.
Fudge anything, really.
We can fudge. We're good at fudging but we're not good at actually legit going and building a cheater frame, which is not a cheater frame over here. So I just think that's really it. And then just the injuries. Wrong time, wrong place. That's really I would think the biggest thing. It just hasn't been enjoyable. I guess that's the biggest thing. Because I do enjoy motocross. Like last weekend, though the result wasn't great, it was fun again. And that's what you want to do. That's why I still do supercross because I feel like I can be competitive and I can go out there and enjoy it and that's what you want. Where motocross it's just been a real struggle.
You have a national title under your resume so you know how to ride motocross very, very fast and you've done it. So it's just weird for us to see you on the Kawi or on the Honda. You're like, what is wrong with this guy? You're just not the same guy.
It was just always a struggle and I don't know why. It wasn't like the effort wasn't put in. I just fell short. I just couldn't find that comfort level. Maybe the kids just got better than me, I don't know. But for the most part I'm off the couch for this. Last weekend I was somewhat competitive, where this weekend I was way off.
***
Gautier Paulin
Second overall, you'll take it, right?
Thank you. I'm happy. Yesterday I struggled a little bit and it was really warm. I had to manage to be good with my bike. I'm just back from injury but even if I have a back to back podium. But it was really good today. I had a good start and then fourth in first moto. I was missing something to finish third. Then second moto I was third and then when I saw five laps to go and Antonio got passed by Tim and stop fighting with Tim, then I thought, okay, now he could lost the reason. I make mistakes and then third lap before the end I start pushing. I put some good sections on, and then he make mistakes so then I just came back, pass him, and then he just stopped pushing. So it was good, fighting until the end with this crowd. It was cool. The track was really tough so I'm pretty happy to finish second today.
I was talking to Chad about the track. When I first got here yesterday I'm like, it's kind of sandy. He's like, no, underneath it's hard. It's real sketchy on tires. You can't push too hard, square edged. A little deceiving.
Yeah, you're using your rear brake and then the bike starts to slide. Then you accelerate when it's soft and then you stop accelerating when it's hard. You need to control the bike. The start was sandy so we used a scoop tire but sometimes there were square bumps so that made the bike so aggressive and sketchy, especially there is big roller sand section with hard ruts. So it was tough. Montova is kind of a strange race. I told the press conference in Matterly that when they say, okay, next week back on the sand, and I said, no, if it's really hot then it can be hard-pack, and actually it was. It's coming softer and softer during the racing but it was hard-pack and tricky. Tough for suspension. Tough for the style of riding. And then with this weather there was no wind and yesterday it was really hot and couldn't breathe. The track is small. You accelerate, brake, accelerate, brake. You need to pull, because riders there is not so much difference. So it was tricky, but happy with the day.
I think it's really hot here for you guys. You just came off injury. You've got to be pretty pumped on your fitness. First moto too, Bobby was catching a little bit and you just kind of pulled away near the end. You pulled away on some guys. So your fitness is nothing else is good.
It's getting good but I'm not looking fitness to pull a gap with the people back when I'm trying to look in front. I think Bobby was just finished physically. First moto what I'm looking for is when I see De Salle was hurt and when we came back on Max Nagl and we passed him, if I was having this spark, stronger than I could go and finish second. And then the second moto I had a good start and then I couldn't stay with the guys, with Antonio and Tim. I want to race with them. Right now I got him physically and with like being smart and stuff. But I want to enjoy fighting with them. This is why I'm looking for to have more strength and to go up front quicker. But I'm happy with what I did already today.
For sure, it's been a good little comeback from injury for you. Your contract's up over here. Do you know what you're doing next year or anything?
I don't know yet. Right now it's the first time in the world championship we have a break of three weeks off. So I was re-concentrate on being back racing hard and being concentrate on upgrading my level of speed. I'm going to concentrate on this now to know what I'm going to do next year. But my contract ends end of this year.
Are we going to ever see you back in a supercross, you think? You always tell me the same thing every year, and I ask you the same thing.
It's tough, to be honest with this interview. There is 10% of chance that I'm going US. There is 90% of chance that I'm staying in Europe. Why? Because in the US they want me to prove. So they don't give me the package to perform and just arriving like I'm not have to humility to say I need to learn, but I need also to have the full package to do it good and they have priority, which I accept also. So still because I love supercross I'm still discussing with them. It can be the door is open again but it's a tough one my agent is working on.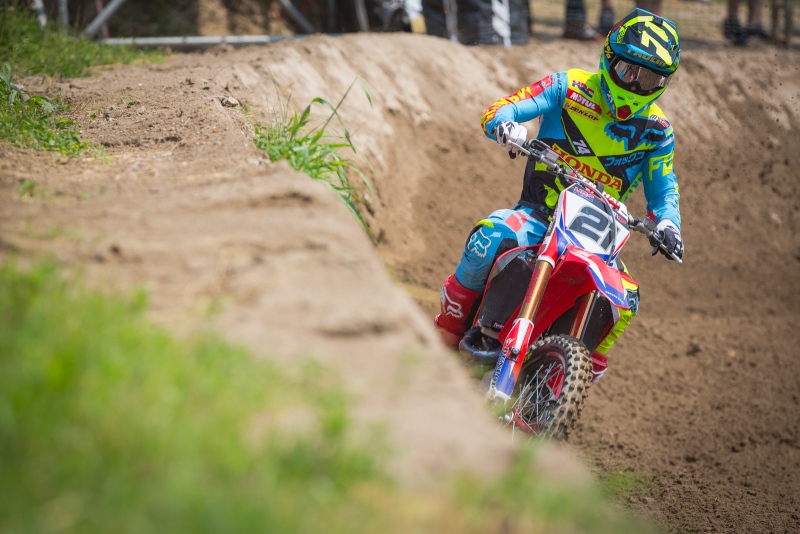 Paulin has made the podium in three out of the last four motos.
Also too with the series moved up, if you sign with these guys you can't really start January. You're almost ready to start here, right?
When I came racing in 2010 which is a far way back now, the championship was starting 22 of April, and right now it's starting 28 of February overseas. Always in Qatar, so it's far away from US so this makes it not possible.
Yeah, you really can't race five rounds of supercross or anything like that anymore.
If it was like 2010 for sure I will do it, but right now we cannot do.
Vuillemin comes up and co-hosts my show with me every third Monday night and he always yells about tire pressure and taking a rider's clutch off. Did he do that with you?
He didn't make it with me. I heard an interview that saying Paulin needs to buy a van. He needs to go train in Belgium, and he needs to stop riding a 10,000 kilometer road bike. So I'm telling DV, my road bike, trick bicycle. It's a sponsor, so thanks them that they give me a road bike because I was a world champ of BMX, and since that we keep a good relationship. And I'm a lot in Belgium. I could ride only one day last week in Lommel. It was heavy wind. No one was riding.
He's very opinionated.
But I like him. We are friends. He's a good guy. He just said what he thinks, so this is a quality I think to be free of mind and just explain to people really what he's thinking. He never took the clutch out from my bike. Actually I'm not someone who is burning the clutch. I'm riding pretty low RPM and stuff, so he never did it with me.
He's always entertaining for internet radio shows because he starts yelling and it's really good.
Yeah, I know he's also doing some stuff. We can see it in France. But internet is not really the best thing I ever had. I'm pretty far away from it. TV and internet I'm a little bit away, but it's a good thing. I saw also that he enjoys his retired life. Long time that I didn't see his kids and they grew up so fast. I know he's a good guy. You can say hi to him.
See you in Lille maybe? You'll be hanging out.
I don't know, but for sure I will come to see fans and hopefully I will ride. I don't know yet.
If the check's big enough you will.
No, it's not the check, it's also a team and where I'm going to go if I'm staying, if I'm living nearby then we never know. Even myself, I don't know the future.
***
Thomas Covington
It's been an up and down season for you. I guess your ankle or foot or something was hurt. But today was great, man. Almost got on the box first moto, fourth overall. It's a bit of a bummer that Ferrandis got you on the last lap but still a good day.
Yeah, for sure. It was a good weekend. The first half of the season's been a bit rough. I had bike problems in Qatar, I had food poisoning in Thailand, and then after that I ended up breaking my ankle and then my hand also. So that put me out for over a month. So now this is my third race back from injuries. We've just been getting better each weekend. Finally I put two solid motos together today and just missed the podium, so that's a bit of a bummer. But it'll come. Just got to keep working. We're going into a little break here. We've got a three week break. We're going to do some Dutch Championship races and then go to Czech Republic, so I'm looking forward to rest of them.
You were probably marking Ferrandis in that first moto, checking him out in some corners.
Yeah, for sure. He actually wasn't that close until the end. I was just dead from this heat. The last two laps I was just like tired. But then second moto I had the podium sitting in fifth right there, but then Ferrandis passed INAUDIBLE behind me on the last lap to get him the points for the podium, but whatever. I'm happy with the top five this weekend. Just got to keep going and hopefully I'll be peaking for the last two rounds in the US.
There was a bit of a gate issue. Did it affect you at all the second moto?
Yeah, I was pretty pissed about that, actually. I don't know what happened. It nearly dropped after two seconds and then everyone's just like, what the heck just happened? Looking up. And then the gate drops. Anyway, the whole first lap I was just cruising. I thought for sure they would red flag this. And then they didn't red flag it so I was like, well, I guess I'd better start going.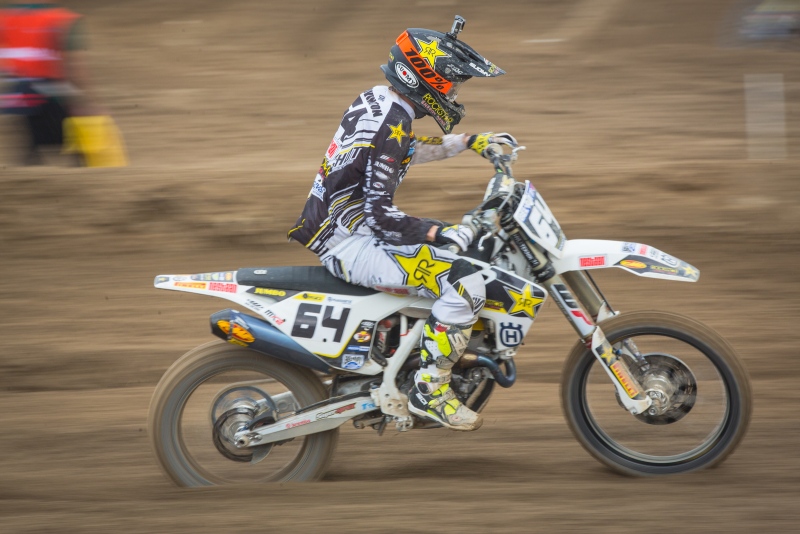 Thomas Covington had his best GP of the season in Italy.
I didn't see it but I was talking to a guy who did see it. He said it was an obvious gate malfunction, and that the red flag should come out, and then nothing happened.
Yeah, they've been having issues with it all weekend. I don't know if you saw the qualifying race yesterday. The gate just didn't drop, and then they had to reset everyone. It took like ten minutes. But whatever, it happens sometimes. But for sure, it should have been red flagged.
This is Red Bud or Florida weather here this weekend.
Yeah, for sure. It's not usually this hot here. I've never seen it this hot in Europe. It's something different for sure.
Overall on the day, I guess obviously get back on the box and start racking up podiums. Herlings seems like he's on it again, but why not? From here on out after the break you can get on the box, huh?
Yeah, for sure. That's always been the goal is to be on the podium and consistent top five. The rest of this year just going to try to get some confidence going and get stronger and then next year's really where we want to kill it.
You're enjoying it over here, man. We had you on the Pulp show a while back. You're digging it. Like you said, you love the culture, you love the travel, new and exciting tracks. It's kind of neat.
Yeah, it's awesome. I've got my dad over here this weekend so that's cool. We're going to go over to Venice tomorrow and hang out a little bit. Then I'll fly back to Belgium and get back to work. But it's cool. I really enjoy it. I know some guys in the past have had bad experiences with it, because it is gnarly. It is tough. Even talking to Reed here the last couple weekends these tracks are just brutal, with like six or seven classes racing on the weekend and not much track where it just gets hammered.
In America they're ripped, they're watered, they're worked in-between motos. When you come over here on a Saturday they don't touch it until Sunday really. I think that's part of the reason to be honest why I think the USA has trouble with Des Nations a little bit.
For sure. It's a totally different style. The lines and everything, like Reed was saying. Just a lot more traction always in the US because they rip it deep and they water. They actually know how to prep a track. Here it's like we got different guys prepping the track every weekend, like Italian guys this weekend. The track's completely different every weekend. So it's really challenging but I think it makes you a better rider.