Story and Photos by James Lissimore
Story and Photos by James Lissimore
Round four of the 2016 Rockstar Energy Drink CMRC Canadian Motocross Nationals took us to Moto Valley Raceway, just outside the capital city of Saskatchewan – Regina. Right in the heart of the prairies, the Moto Valley track actually has a surprising amount of elevation change, for being in the flatest part of the country. One thing that was not surprising was the weather. Since the series returned to Regina three years ago, rain and mud have been a part of the stop every year and this year it again looked like it was going to be another mudder. Luckily, other than a couple small showers, the rain mostly held off throughout the day and the track held together after some rain on Saturday night.
Just like Nanaimo, we had another race win negated by a penalty for jumping on a red cross flag. This time it was in the MX2 class as hometown hero, Shawn Maffenbeier, saw his moto one win, in front of family and friends, taken away when it was deemed that he and third place finisher, Dylan Wright, had jumped.
Let's take a look at what else happend in the city that rhymes with fun…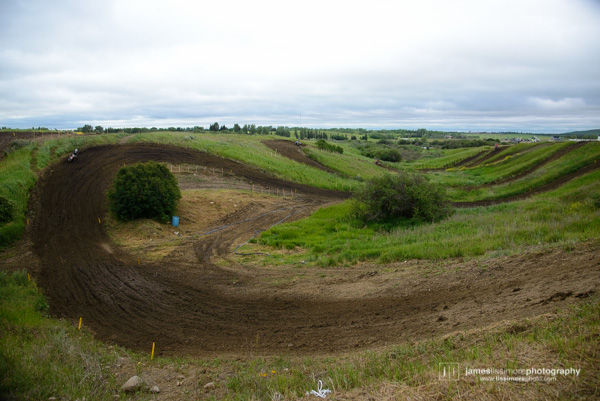 So we had the board flat Whispering Pines track in mountainous Kamloops, British Columbia for Round One and now we were at the surprisingly hilly Moto Valley Raceway for Round Four, in one of the flatest places in Canada – Regina, Saskatchewan. Canadian moto geography makes no sense.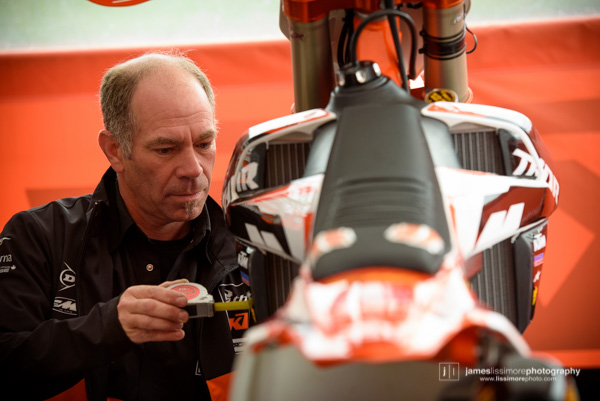 Paul Delaurier is back in the homeland, keeping Davi Millsaps KTM in world beating form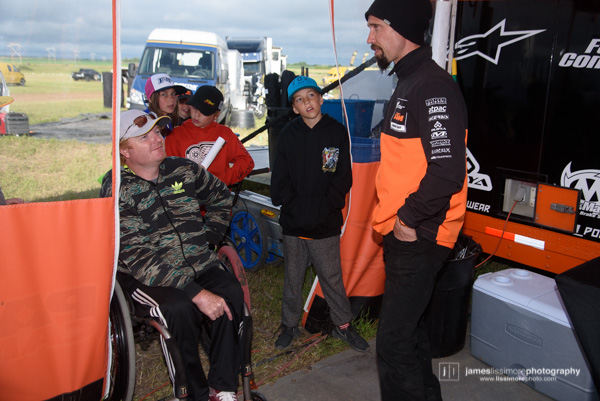 5-time X-Games SnoCross winner and Canadian Motocross legend, Blair Morgan, came out to his home race to catch up with his former Blackfoot teammate, JSR.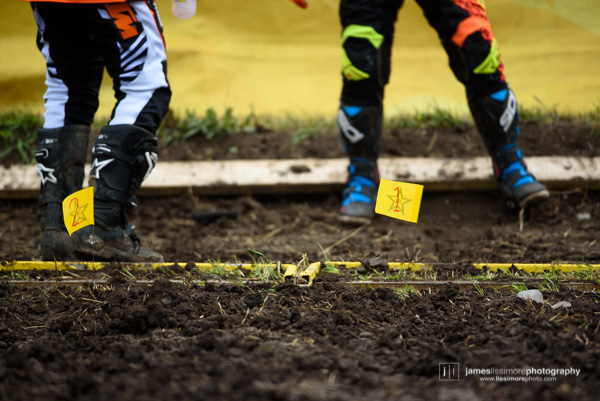 The strange Canadian gate pick procedure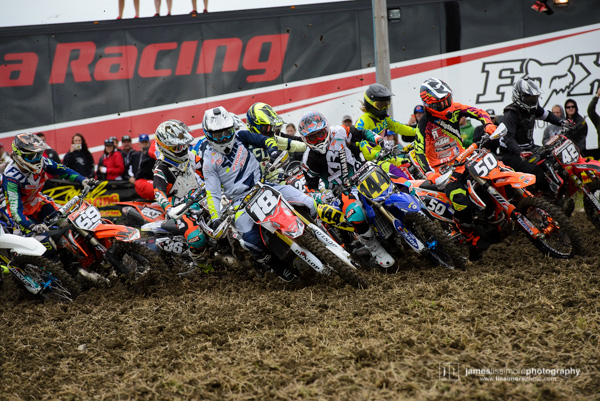 Brad Nauditt(18) and Nolan Heppner(144) battle for the MX2 moto one holeshot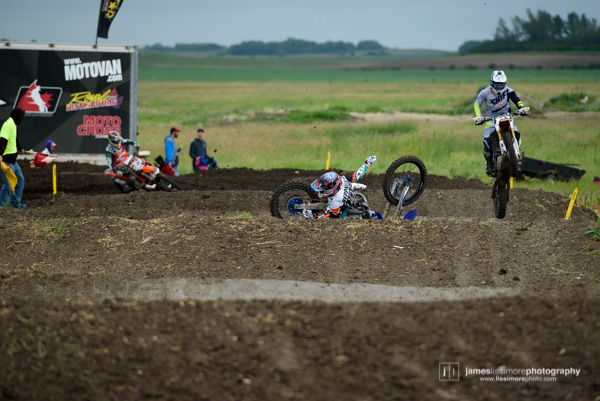 With B riders allowed to ride the MX2 class in Canada, Minnesota's Heppner led the early going of the MX2 moto before suffering a major get off.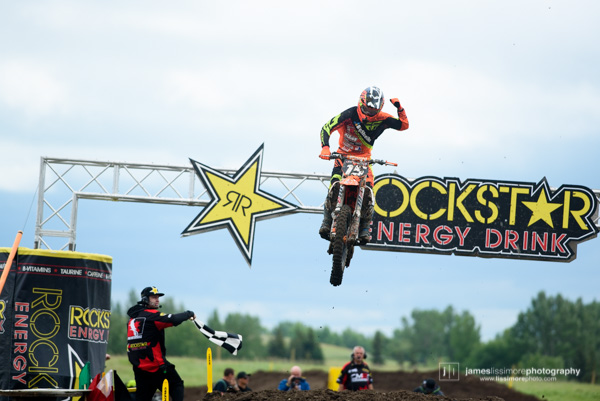 It was a terribly up and down day for Shawn Maffenbeier. The Saskatchewan native went down in the first turn of moto one, mounted a furious comeback to work his way all the way to the lead and the moto win, then was stripped of it when it was determined that he and third place finisher, Dylan Wright, had jumped on the Red Cross flag that was out for the Heppner crash. To add insult to injury, his engine let go in moto two while making another push to the front. Dock gate strikes again.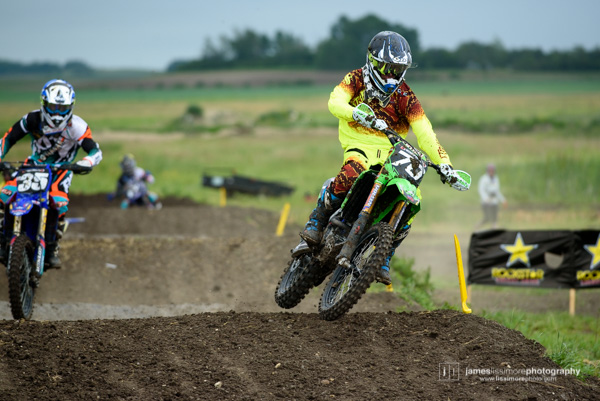 After a couple solid weekends, it was a bit of an off day for Brandon Leith. The Utah native went 11-6 for 7th in MX2.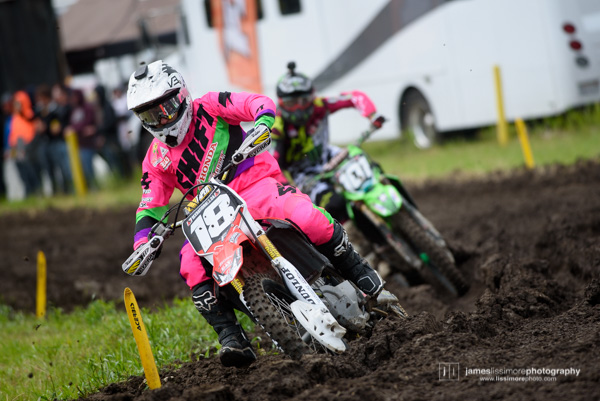 Washington State's Brad Nauditt already had a career best second finish in the first moto when it was bumped to a win with Maffenbeier's penalty. Nauditt would finish 2nd overall with 1-5 scores.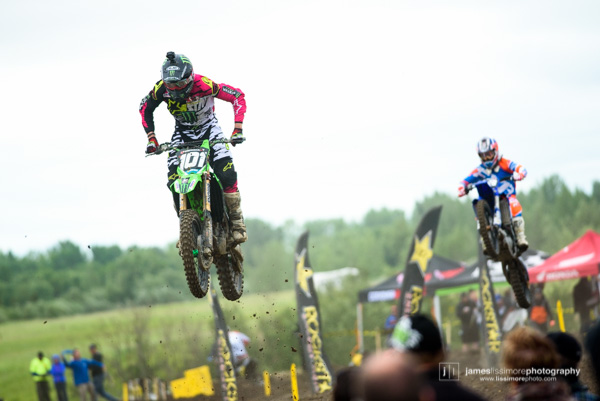 Another podium for Mark Worth in his third race as a fill in for the Monster Energy Alpinestars Kawasaki team. 3rd overall on the day.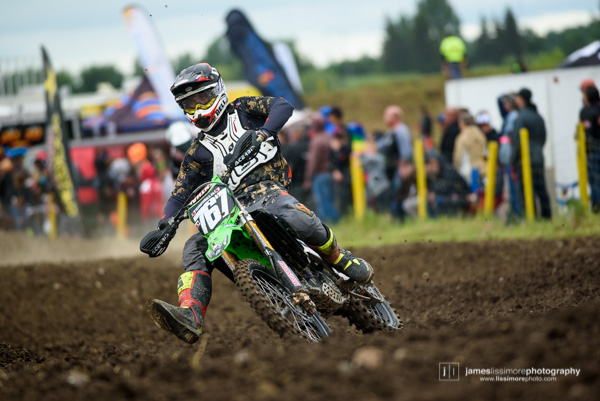 Washington's Mason Wharton rounded out the top 10 with 14-8 moto finishes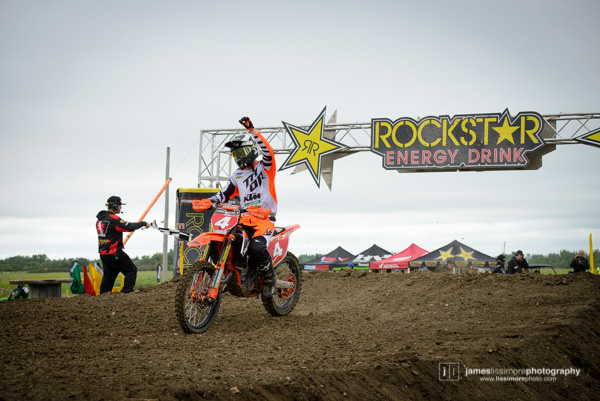 Another victim of the first turn pileup that claimed much of the top MX2 riders in moto one, Cole Thompson came back to finish 4th but was bumped up to 2nd when Maffenbeier and Wright were docked. Another moto win in moto two sealed up a third straight overall victory for the MX2 points leader. He carries a huge 50 point lead into the break.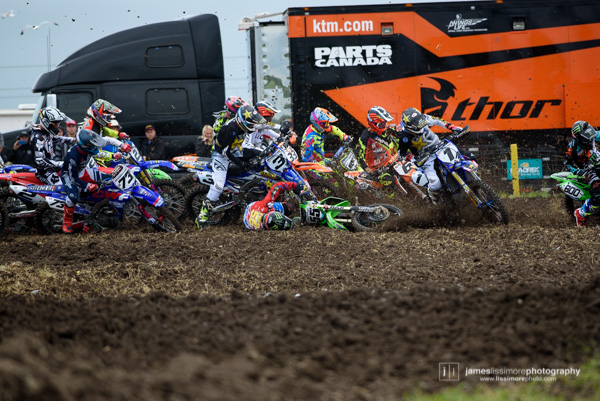 The new, 180 degree first turn was causing trouble all day, with crashes in every moto. Top qualifier, Vince Friese(55) hits the deck in the first MX2 moto, collecting Brett Metcalfe(3) and others with him.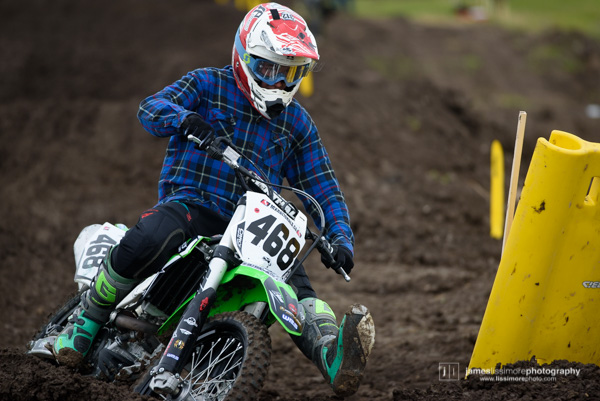 Austin Kouba is already becoming Canadian, as the Idaho native was rocking a sweet Canadian tuxedo in practice. He finished 13th overall in MX1.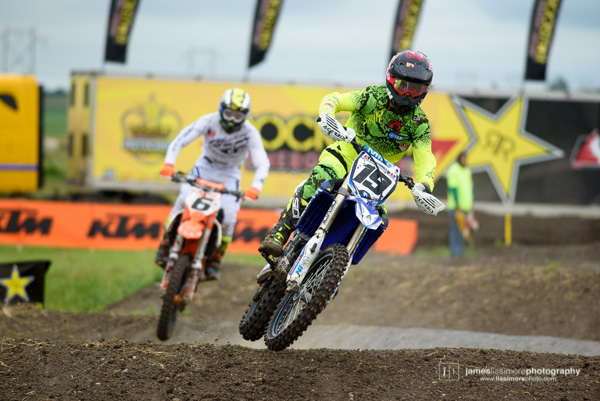 Another Idahoan(is that a word?), Morgan Burger finished 10th overall.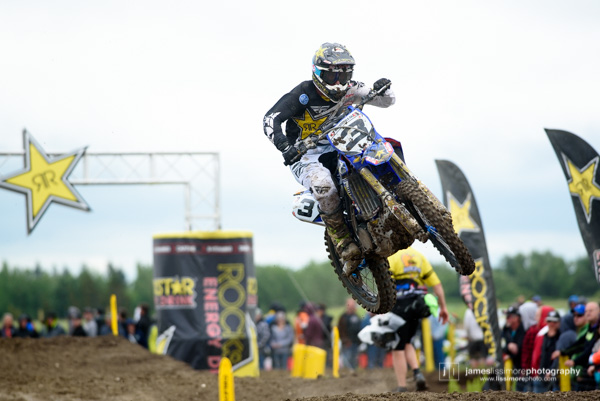 As shown above, Brett Metcalfe was collected up in the first turn pileup in moto one. He came back to finish 6th in the moto. A 3rd in moto two gave him 4th overall on the day.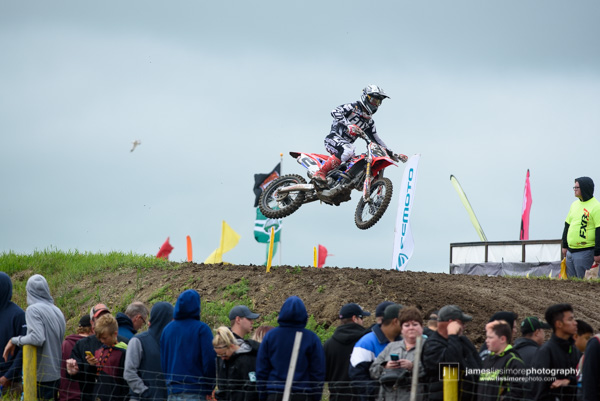 It was an off day for Colton Facciotti. The multi time champ was also tied up in the carnage of the start in moto one but didn't finish any better in moto two. A pair of 5th's on the day gave him 5th overall.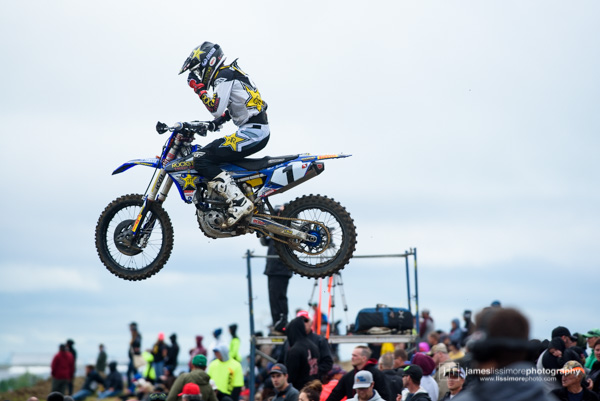 The defending Champ, Matt Goerke, was a little off the pace of the leaders but still managed to find himself on the podium with 3-4 finishes for 3rd overall.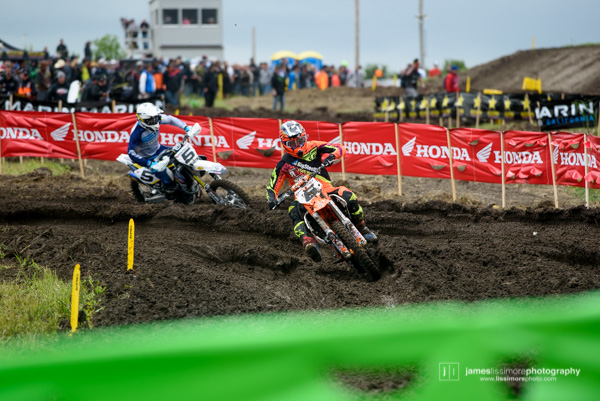 8-8 finishes for Cade Clason gave the Ohio native 8th overall.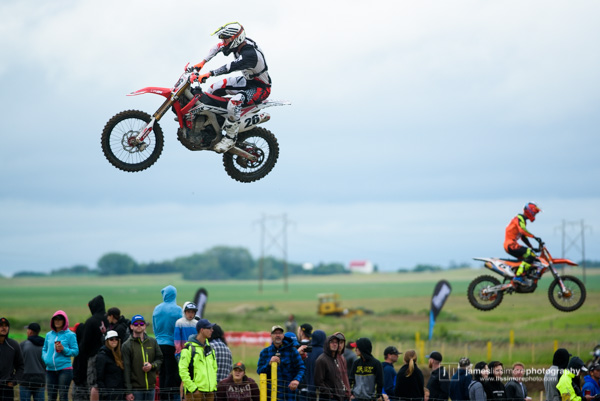 Utah's Riley Brough was just outside the Top 10 with 12-10 finishes for 11th overall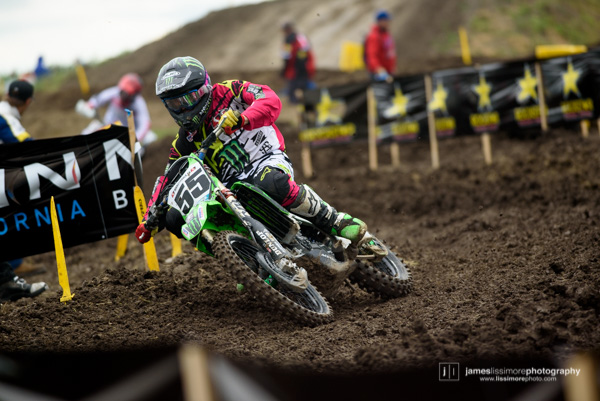 Vince Friese has been blistering fast in qualifying but hasn't been able to put it together in the motos so far. Number 1 qualifer for the 3rd time in 4 rounds, Friese had to work his way up to 7th in moto one after his first turn crash. A 6th in moto two gave him 6th overall.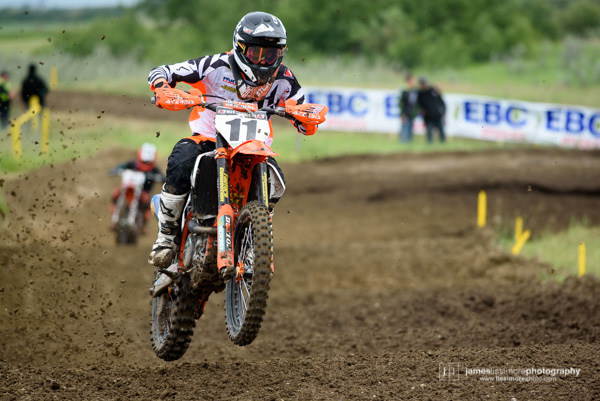 Kaven Benoit has shown some serious speed in his rookie MX1 season. The 2-time MX2 champ finished 2nd in moto one behind his teammate, Millsaps.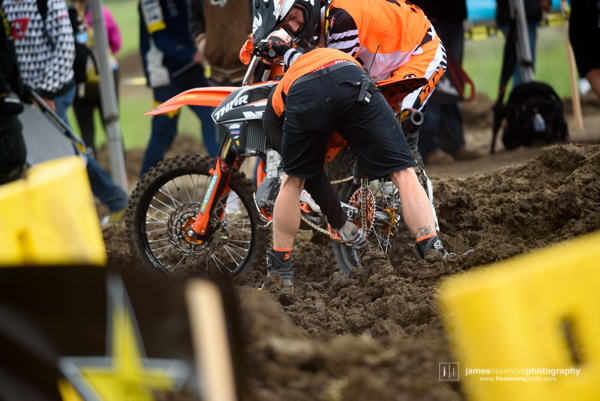 Unfortunately, his run of bad luck continued in moto two though as his bike tossed the chain off as he passed the mechanics area.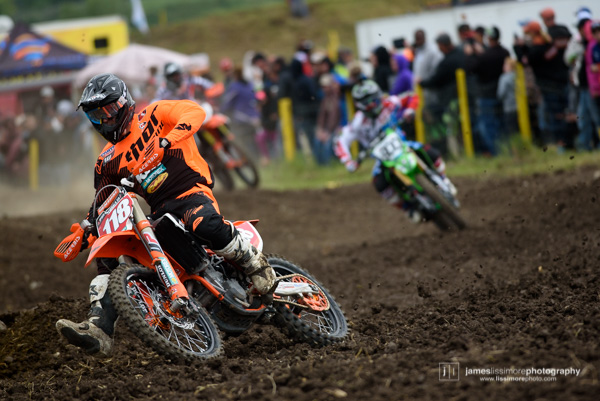 With all the talk of the depth in the MX1 class going into the season, not many could have predicted how dominant Davi Millsaps would be. It was another day of Davi cruising to a seemingly easy double moto sweep.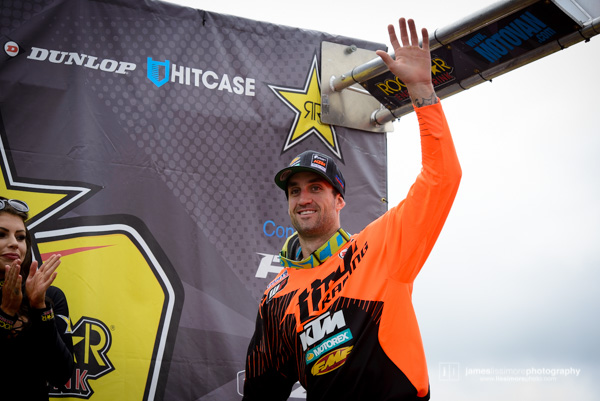 So far in 2016, it's Davi's world. We're just living in it. He takes a 24 point lead into the break and would be undefeated for overalls if not for getting docked in Nanaimo.