D. Pipes talks about shoulders, motivation, and keeping it real.
D. Pipes talks about shoulders, motivation, and keeping it real.
We hear the same things every week! What if someone just called up a rider without a plan for the conversation? Dusty Pipes is in his sixth year as a professional and earned his first national number last season. He's in this sport for the long haul and is expecting big things in 2017. Here is a glimpse of who he is under the helmet.
Photos: Courtesy of Pipes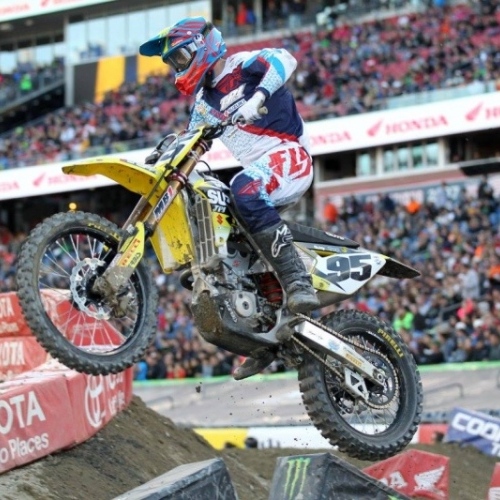 Pipes has ten more motos to earn as many points as he can to keep a two digit number for 2017.
Pulpmx: What are you doing right now?
Pipes: I'm about to go ride.
Do you want me to call you back?
No, no it's cool!
Where are you riding?
It's literally this dry river sand track that is 15 minutes away from my parent's house. There aren't any tracks open near me so I go ride this. It's pretty good practice. It's beat, no one else is really out here, kind of ruins the bikes, but it's the best practice you can get out here at the moment. It's dry as a bone.
How come you haven't been letting everyone know that you've been racing her into shape? You're not really healthy and I can tell.
Um, I don't know. No one really likes excuses and I'm not one to make up an excuse. I feel like everyone has their own problems and everyone is dealing with their own injuries. I just feel like no one wants to hear it. At the end of the day what you get is what you get in the results. Coming back from the injury I don't think that matters much in people's minds.
It's funny, but I've been watching you ride since the amateur days and I didn't even have to talk to you to know you weren't feeling too great.
Yeah, I think the shoulder injury I had was a little more significant than I thought it was. It literally happened a week before the season started and I cut my healing time in half that I was supposed to be out. The shoulder injury has been pretty bad, but hopefully that turns around here shortly.
Are you hurting it more by riding?
I don't know if I'm hurting it more. Being in season I can't do the necessary things I feel that I need to do to be able to get it better. I'm working really hard on my shoulder and then come Saturday my shoulder is blown out and tired. During SX I couldn't ride during the week and I could barely hold my shoulder up. Once the offseason happens I feel like I'll get strong again. Right now I can only bench press 135 with my shoulder. Chicks are out benching me at the gym. It's very embarrassing.
Speaking of chicks when are you getting married?
Dude, I can't even hang out with a chick more than three times before I'm tired of her. I don't think marriage is in the cards for me.
You do have options out there though?
I mean there are always girls, but not any good candidates that are cool to be around for more than like, a week.
Well, at least they are there. Alex Ray said that he doesn't even have candidates. He says that he's got no teeth having backwoods girls.
That's because he is from Tennessee. I think the girls are better here than in his neck of the woods.
Are NorCal girls better than SoCal girls?
Uh, no probably not.
What are the plans for next year? Are you still going to be with The Privateer Journey?
Yeah, that's the plan. The plan is to ride supercross next year. Obviously this year didn't go the way I thought it was going to go. Hopefully I can stay healthy and be a main event guy. I think that is where my skills belong, so I think if I can go in healthy I can turn a lot of heads.
This is year number seven for you coming up.
Dang.
You'd probably be in the top fifteen right now if your shoulder was good to go.
Yeah, I think I'm definitely a top twenty guy. I think that when you look at the lap times this year you can see that. I've just had so much bad luck. It's been a bunch of stupid stuff whether it's been crashes on the first lap, or other things where I've had to come from so far back to pass a lot of guys. The results aren't as good as what I believe I can put out there.
Is your mantle running out of room with all of those RC Hard Charger Awards?
I only have two and I don't really want any more. I would rather start up front. They are pretty sick! I was really pumped on the first one and the second one I didn't think I was going to get, so I was pumped on that one too. They are pretty nice to get when you're a pro, especially when you don't get a lot of trophies unless you win something. I'd rather have a good start.
We've got to get a national number for next year, bro.
I know. That's the whole thing. I need points and I don't want to be a three-digit guy again. I'm going to do whatever it takes to get points from here on out the last five rounds.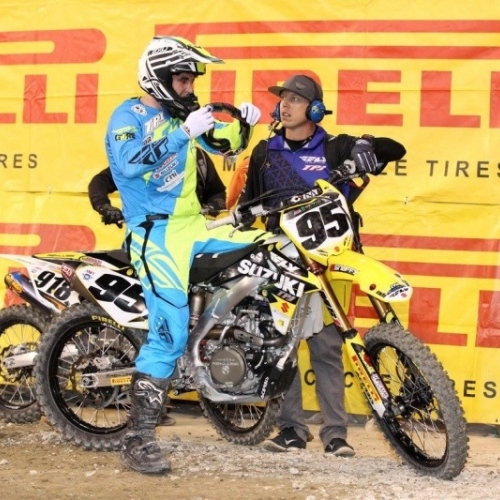 Dustin and his mechanic Snuffy have been a team for six years on the pro tour.
Who are you hanging out with these days?
I just hang out with my roommates and my friends here. I don't go down south anymore because I don't like the traffic. I have class right now and I'm doing the summer school stuff. It's just better to be around here to hang out with my close friends and family. I don't really hang out with anybody from moto.
Where I live there aren't many people who ride. I have other interests besides racing. It is 100% of my life, but I like hanging out with people that don't just talk to me about racing. I value that also.
What don't people know about you?
I'm an avid reader. I read on every flight and this book I'm reading now is about artificial super intelligence. I'm really into learning new things and one way I do that is to read. I'm always going to the bookstore to pick up random new books to expand what I know and get a different outlook on life.
That's rad. I didn't know motocrossers could read.
(Laughs) Oh, I don't think you're giving us enough credit.
Are you into everything? What is your favorite genre?
My favorite book of all-time is Wooden, the book about John Wooden with life lessons and things like that. It helped me in growing up in how to interact and treat people. I was kind of a punk, so that helped open my eyes a bit. I read it every once in a while still to this day.
At the races back in the day were you that guy who no one liked because you thought you were so good?
Yeah, I was trying to play that card 100 percent. At the local races I wouldn't lose too often, so I was a cocky little turd, that's for sure. I thought I was the fastest thing ever and then you race someone who is faster and that changes. There are a lot of good guys out there that get their eyes opened quickly.
Do you claim to be the smartest motocross racer?
I'm me. I don't really care to get into who is smart and who is not. I'm just going to ride my dirt bike and do what I'm doing. If someone wants to call me that then it's cool, but if someone calls me stupid I don't care either.
How do you get motivated?
I don't know man I just need to find a spark. A lot of times when people tell me that I can't do something I like to go out there and do it. Then I look at them like they were wrong. That's what gets me motivated.
You won't top fifteen this weekend.
Alright well we will talk after it and I'll call you stupid!
(Laughs)
I like it man! I like it.
Prove me wrong! Thanks for doing this, it's always a pleasure, who would you like to thank for sticking behind you?
I would like to thank Ted, Kathy, and Brandon at TPJ Racing, Pat and Chris at Suzuki, Max at Fly Racing, Snuffy Racing, Mike at MB1, Yoshimura, Carl Nelson Insurance, Austin at Rekluse, Dragon, Lucas Oil, Kevin at ODI, Paul at DT1, Andy at Guts, Bolt, Engine Ice, Acerbis, Doug and Tatt at Pirelli, Greg at 2XU, VP Racing Fuels, Works Connection, Progenex, Airtime, Haggard Pirate, Bryar Perry, and my family for supporting me.
Thanks for reading if you have an idea of who I should interview next for this segment email me at troy@pulpmx.com or hit me up on Instagram and Twitter @troybendgen.