Racing out of a camper all the way to a team ride.
Racing out of a camper all the way to a team ride.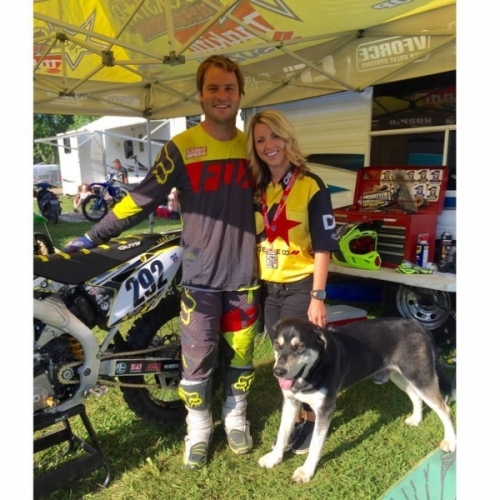 Austin (rider), Rebecca (mechanic), and Yogi (team manager).
Photos: Cudby and Howell
California's Austin Howell has been a privateer hero this summer. Not only has Howell come back this season after a series of neck and knee injuries have sidelined him for the majority of his career, but he's one (if not only) rider who is attempting round of the Lucas Oil Pro Motocross Championship out of a camper. He has not been home since early May. We won't harp on the past injuries here, but the fact that Howell is racing this summer shows the amount of heart he has.
Before the 2016 Lucas Oil Pro Motocross Nationals started Howell figured out how to make it to all of the rounds this summer. He loaded up his Chevrolet Express van with 200,000 miles on it, a toy box camper, enough supplies as he could muster, and set off on his three-month journey with his girlfriend Rebecca. Rebecca actually had quit her job in order to be there for him. They brought their dog Yogi, who actually has a pretty awesome Instagram, with them on the journey as well. It's basically an old-fashioned four-month motocross vacation.
In order to get this program on the map, Howell's parents and grandparents helped him get to the first couple of rounds until he started making money at the races. Since then he's been living on what he has made at the races. Here is a little rundown of how his summer at the races has been going so far.
Hangtown: 20-23 = 27th Overall
Glen Helen: 22-19 = 23rd Overall
"Glen Helen and Hangtown went pretty good considering where I have come from," Howell said. "It wasn't until Colorado and High Point where I started to struggle because we were on our own."
Thunder Valley: 40-22 = 33rd Overall
As a privateer you have to be the mechanic and the rider. In Howell's case he's had to depend a lot on his mechanical skills this summer, especially in between motos. At High Point he crashed and mangled his bike in the first moto and then had to rush to get his bike together for the second moto.
High Point: 33-18 = 21st Overall
Tennessee: 23-19 = 24th Overall
Howell had a rock hit his fuel pump wire as well in a freak accident; even though he couldn't remember what race it happened at. It was something that he had never seen happen and another headache on himself the mechanic.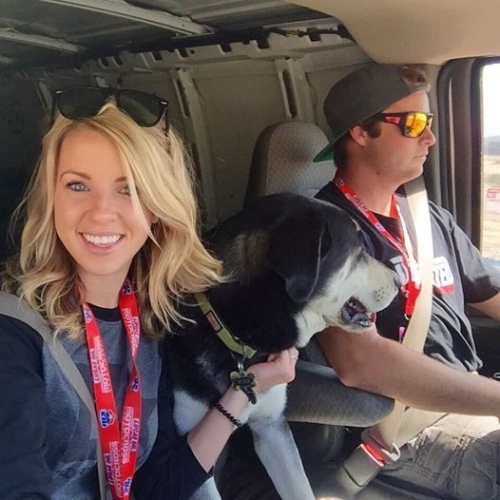 These three have shared a lot of memories on the road this summer.
RedBud: 38-40 = 40th Overall
On another occasion at RedBud he thought he might have to go home early after another mechanical issue.
"When RedBud came around a rock blew through my chain guard and derailed it. It blew my cases apart and I thought about going home," Howell said."
Howell credits his father for teaching him how to work on bikes and he even said that he could split his cases and rebuild his motor if he had to.
With the help of the Mike Webb and the Yoshimura Suzuki team and other supporters Howell was able to get the parts he needed to keep his summer and dreams alive.
Southwick: DNQ
Spring Creek: 23-34 = 28th Overall
The trek from Spring Creek to Washougal was too far and not worth the trip for Howell, so he decided to stay on the East Coast for the two-week break. On the break Howell was able to get his race bike back running again, but it turns out that he really didn't even need it.
"I got a call from the Blue Buffalo/Slater Skins Yamaha team and they want me to finish out the last three rounds for them," Howell said. "When Ben (Lamay) was in Costa Rica they let me ride the bike at Southwick and they gave me a call back a couple of days ago."
Washougal: DNR
With a ride for the last three nationals, Howell can kick back and not have to worry about anything except racing. He's under a team awning for the first time since his pro debut in 2010 with the Rockstar Suzuki team.
The hardest part of this entire journey for Howell has been the struggle of keeping his bike maintained. When his cases broke on his bike he was going to have his dad fly out to Southwick to help him rebuild his bike. Otherwise he would have to call it a summer and head home. Thus when the Blue Buffalo/Slater Skin team called it was a breath of fresh air. The team would cover everything as long as Howell could get to the races.
"I'm glad that people want to help me and they see what I can do," Howell said. "I just need to finish these motos without any problems and that's the plan."
The call couldn't have come at a better time because the wear and tear of the journey has started to add up on Howell's setup.
"That camper is not in the best shape," Howell said. "We've got axle problems and the wall is leaning. It's all starting to slowly break, so we are hoping that it makes it home."
Home is not a place that they have been since they have left for Hangtown. Howell and his girlfriend have not even stopped for a single hotel along the way. They've stayed at some friend's houses and get the occasional house shower, but they have been living out of the camper since May
According to Howell the journey has been quite memorable for them. They've stopped at parks around the country for their dog. They saw Niagara Falls and all of the little tourists shops along the way.
It's been a trip to remember for Austin, Rebecca, and Yogi. The trio has met many memorable people and have appreciated all of the help and support they have received. Austin is going to give it everything he has in these three final races. The team ride was always the goal, but not really expected this summer. It's more of an added bonus. The experience of doing something he loves and chasing dreams is what has kept Howell coming back to this sport after so many setbacks.
For the rest of their lives they will never forget this trip and the memories they made along the way.
Thank you for reading I really appreciate it. If you want to chat about anything or request a story on someone you can email me at troy@pulpmx.com.