As if you needed ANOTHER reason to help Nelson out.
As if you needed ANOTHER reason to help Nelson out.
This is one tough dude.
Photos: Simon Cudby
I hate this sport and what it does to the great athletes that choose to race it for a living. I get that when we throw a leg over a bike that our chance at having a serious injury drastically increases. I understand a lot about this sport and more truths are coming to the light, as I get deeper into it.
Of course this column has every bit to do with Jessy Nelson and his crash at Unadilla this past weekend. I first caught wind of something going wrong when I was following the Racer X Twitter feed during the moto. One tweet said something like, "Nelson has gone missing," and then the next one said that the race had been red flagged. It didn't take me long to process that Nelson was in a tough spot.
This situation really hits home for me. I've known Nelson about seven years now and he (as well as his entire family) have been nothing but great to me. When I first got my start with the Vurb Moto crew back in 2009 at Mini O's, Nelson was the first rider that I ever interviewed. At that point we were just two teenagers with big dreams, but I saw something special in Nelson that day and it had nothing to do with motocross. It had to do with how personable he was. Yeah, he was incredibly fast at riding motocross, but he never let that get to his head. Trust me, I've seen plenty of "cool guy" amateur racers who couldn't hold a candle to Nelson on the track who were complete snobs.
At the 2010 Oak Hill Amateur national in Texas a shoestring budget saw four dudes eating peanut butter and jellies for a week straight. I was one of those dudes. If you know my size you know that I wouldn't have made it out of the week just eating that. I would have ultimately starved and been left for dead in a portable toilet. In search of actual food one night on a closed down vendors row I saw Jessy walking to his pit area. I had filmed him on the track earlier in the day and I wanted to stop by and bench race a little bit about what I saw. We got to talking and the next thing you know he brings me into his motorhome, I met his mom and dad, and they offered me dinner. He had no idea that I was whittling away on the inside, but I'm sure they could tell from the outside.
Anyway, the spread was amazing. That night we had rotisserie chicken and an amazing fettuccini Alfredo. For dessert Nelson took me over to the Red Bull semi for cookies and Red Vines.
The next day during a moto break I was walking back to the Vurb motorhome when Nelson yells my name from the Red Bull hospitality area. He was eating lunch and invited me into sit with him. I took his invite and then we just talked about life, dirt bikes, and who knows what else. He went out for his final moto, won a title, and then a big crew of us met up at his motorhome to race some R/C cars.The week ended and we stayed in touch over the phone and hung out at the Loretta Lynn's that summer.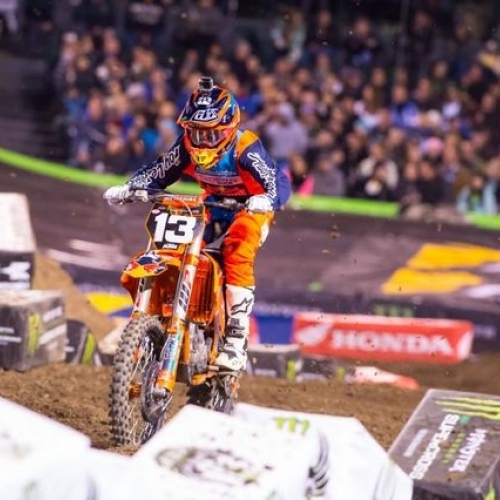 With the support of the industry and fans we can make this difficult time easier for Nels-Dog.
Then life got really busy. Nelson turned professional and I went to college. We wouldn't run into one another again until the RedBud National in 2012. He was in his rookie season and got the holeshot in both motos that day if my memory serves correctly. I ended up running into him before the second 450 moto started. We watched that moto, but mostly reminisced about old times and his mom's amazing cooking. Then life got even busier and we haven't crossed paths much since 2012. At one of the recent nationals I went to he had an epic autograph line as I walked past his semi. He saw me and yelled my name mid-signage, which I thought was pretty hilarious. It's just his personality though. He will go out of his way until he knows that he's said hi to everyone at the races and will sign as many autographs as he can. He's just an all-around great dude.
When he turned pro he stayed the same and he didn't change who he was as a person. That is a difficult thing to do when you get all of this coming at you at such a young age. He's just the same old' Nels-Dawg.
Flash forward to the present day and I'm still gutted on this entire situation. Thankfully the surgery went well Wednesday, but Nelson still doesn't have any feeling in his legs. Like I said, this situation really hits home for me and it reminds me of the way I felt after Justin Weeks got hurt in 2009. I don't think I will personally ride my dirt bike for a long time because of this.
Jessy is a really tough guy, who has already come back from so many injuries in his young life. I know he will get through this one just fine as well. The Road 2 Recovery has set up a donation for Jessy here and I urge you to help him out during this time.
We're all rooting for you Jessy and I know you'll be back better than ever. Remember that if you need anything the entire motocross community is here for you in your journey back to strength. We're here for you just as you have been there for all of us through the years…especially the ones that you saved from malnourishment at a Texas track in the middle of nowhere.
Thanks for reading. This piece is important to me and I enjoy sharing my memories with you. Let me know what you think by dropping me an email at troy@pulpmx.com. You can find me on Instagram and Twitter @troybendgen.