Read what your favorite riders had to say about Budd's Creek.
Read what your favorite riders had to say about Budd's Creek.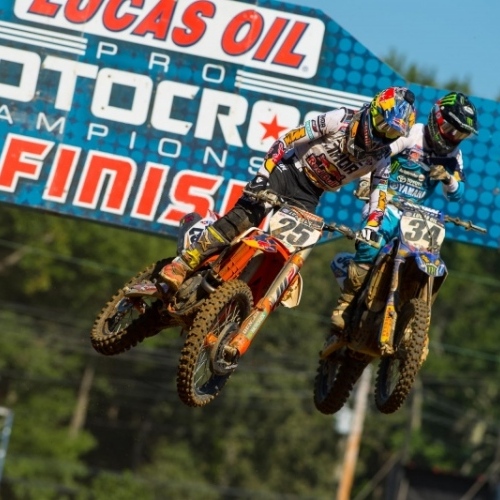 Phil had to prove a point at Budd's Creek.
Photos:Simon Cudby
Filthy Phil
Pulpmx: Nice work, fifth overall. What did Dean-O say during the week to upset you?
I didn't see it but somebody told me that Dean said you shouldn't be beating him. I was like, what do you mean? Then somebody showed me, he goes, "Guys like Shorty and Phil Nicoletti, they shouldn't be beating me." I was just like, don't single me out for beating you. Just say there's guys that shouldn't be beating me, not just me. So, first moto I just wanted to beat him just to make a point. Then second moto he was behind me. Justin and I actually came together. I lost my front brake. I had a pretty big gap on Dean-O, but I just couldn't carry the extra three seconds a lap that he was getting coming down the hills, because it's hard to ride this track without a front break. Dean-O ended up getting me and I was just like, ugh. I do like Dean. It is what it is. It was a good day.
I was over talking to Dean and he said, "Did Nicoletti beat me?" And I was like, yeah, he did, because of the points. He was like, ugh!
I guess because I'm underpaid in the sport I shouldn't be beating him.
I have heard people getting upset about Benny Bloss beating them.
Oh, they should. I got mad when Benny beat me last weekend at Unadilla, but he rode good in that type of track in the ruts. Listen, if someone rides good you got to pay them respect. They rode good. But do you like it? Hell no, but it is what it is.
Good day for you though. I didn't know about the brake problem – I thought we were looking at a Unadilla second moto problem, but we weren't.
No, it was actually really tough. In order to stop, I had to drag my rear brake coming down the hills with the bumps. It made the bike not work good. It was all jacked up. It beat me up. I just kind of tried to go with Dean after he passed me, because I was kind of pissed because whatever he said. But I was just like, I'm going to wreck myself. So I just stayed right there. I had a pretty good gap on Freddy and just rode it in for fifth.
Lakewood you scored no points in either moto and I was talking to you after and you were like, man, I really want to get top ten, and now I dropped from whatever you were to way back. Have you looked at the points lately? You added some injuries but you're back in the top ten.
Yeah, I do have five zeros, actually six zeros. Four of them are mechanicals and two of them are me crashing out. If you just add those zeros and give you ten points giving you eleventh place, I'd be way ahead of everybody else. So the season on a whole has been good. Just those motos really screwed things up. We did have some issues with some stuff, but that type of stuff happens. I've had my fair share of crashes. It balances out.
Monster making you do the Charlotte GP?
I don't know if it's Monster or the team. I think it's a combination of both.
Are you doing Glen Helen?
I believe so, as of right now. I think we are. So yeah, it's going to be a five-week run here. It's tough because last weekend was a hard weekend. This weekend was a hard weekend. Next weekend is going to be hot. Charlotte's sure as shit going to be hot and so is Glen Helen. We'll be fried.
We saw Alex come on and win. It's amazing. Alex Martin wins nationals now. Zach Osborne, another buddy of yours from way back. He won today his first. These guys are like good.
Yeah, they've always been good. Zach's always been that 2, 3, 4,5 guy, so to finally see him get it. Back in 2013 he was fifteenth. They've come a long way. But I told them as soon as they're ready to go up against Eli and Ken to sack up and come on up. Then they'd kind of get a different perspective on things. But either way both classes are hard. At those levels they're still awesome. I'm really happy for Zach. I'm really happy for Alex, especially the way his supercross season went. The kid's always had talent. He's always worked hard, but it's cool to share a 14×14 cabin together and then he's out there winning, so it's awesome.
Did you have much fan reaction to the cheap-off podcast?
Yeah, a lot of people. Some guy came up, he was just like, a kid asked me if the hotel was over 100 bucks today? I was just like, yeah? He goes, yeah, so he swiped all the shampoos and stuff. I'm just like, oh my god. That's terrible. I actually got more for that poll that you put up, that you should pay me. I'll invoice you. 2,500 bucks. I'll send you an invoice Monday. It's bad when your wife works for me.
She voted for you. Nice job today, fifth overall. Good job last week. You've straightened out this little fall you were on.
What fall?
You were having some zeroes there and DNF's and stuff.
A long time ago. I've been on a pretty good run since…
Since Red Bud.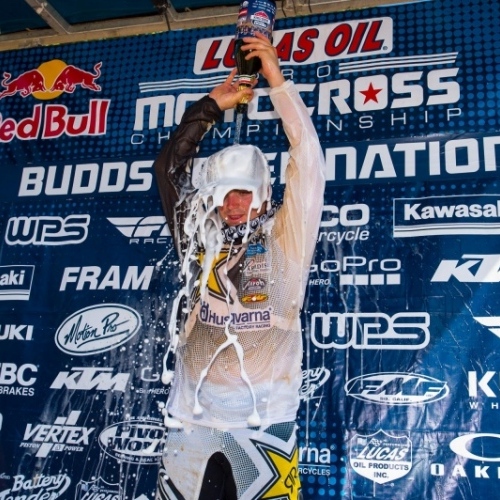 It's been a wild journey, but Zach finally got his overall win that he's been searching for ten years for.
Zach Osborne
We talked this week. I just think it's strange how this world works. Two DNF's at Unadilla. You're bummed and you're depressed then you come the next weekend and you win your first national. Weird how that works, huh?
Yeah, like I said in the press conference, my life is a series of weird ironies back to back. To win here ten years after nearly winning when I was a rookie, just the whole deal. It's pretty crazy to win here. It's awesome, but it's weird.
We were tweeting about that, the irony of you winning here. It's been five mechanicals for you this year, maybe more. Again, shit happens. I was a former mechanic. I know that. But just to have that kind of compounding on each other. But, you're here, you did it and It's cool.
Yeah, it's awesome. Last weekend I kind of lost it. I said a lot and wasn't happy just because if you go back and count points obviously hindsight's 20/20 and all that stuff but I'd be a lot closer to the top three and that's a lot more respectable than wherever I am, sixth or seventh. It's good to come today and win. The second moto I did it pretty convincingly, I feel like. I passed for the lead and pulled away. It's a good feeling.
Even the first moto, I don't know exactly where you were, but I thought you rode really well to kind of come up, and when you passed the guys you just sort of dropped them whoever you got by.
Yeah, I made some gains there for a bit and then I passed Joey. I got a little too hot, to be honest. I was pushing and not really paying attention to my breathing and stuff and I got a little too hot. I made a couple attacks on Joey and none of the prevailed, so I took a fourth. It is what it is. I told Dave going to the line before the second moto, I think 4-1 will win this, but to go and do that is a different deal. It was pretty awesome.
Did you know you had the overall?
No, the last time I saw third place was AC. I was for some reason in my head thinking that AC won the first moto. So I was thinking I'm going to go 4-1 for second. I'm going to get a moto win, that's cool, whatever. Then on the last lap they wrote that I won overall. It was pretty awesome.
Again coming here to Budd's when you debuted at KTM and all that. It's a place that probably caused you some nightmares but in the end you're going to always remember this track, this place.
Yeah, for sure. It's insane. Like I said, it's quite the irony to win here ten years later. Just in the situation that I had here in '06. It's insane.
What are you going to do with the bonus money?
I don't know. Save it.
You won your first ever moto this year and then you won your first overall now, and you haven't done any off-road in the off-season. I was always saying the off-road stuff was hindering you and taking you away from your true goal. I've been proven right, I think.
So basically what you're saying is you want my bonus check or what?
No, I just want you to say, you're right. Concentrating on off-road was a bad idea, Matthes.
You're not going to get that.
No off-road equals national moto wins.
Okay, I'll just stop until I'm done then.
Yeah, once you're done go on, ride the deserts. Go ahead, but until then focus on this. USGPs for you?
No USGPs, mainly because I would have to ride the 450 and there's just not enough time. Otherwise I would do them. I feel like I should do them, but it's just not enough time to prepare. So we're going to take some time and prepare for the German race.
I can't believe you're going to that.
I actually volunteered to go to that.
That's what we were saying. You're probably the only guy that wants to go.
I did. I told them months ago that I wanted to go. I just like to ride, dude.
No money at all for that.
Big prize money.
Dean Wilson
That's a good day for you. Charging from the back. It was hot as balls today. Millville your fitness struggled obviously but it seems to be better. You got to be stoked with the day.
Yeah, it was a good day. It was nice to get in the top five both motos. It was a hot one today. I was pretty pumped because both motos I was charging at the end, which was awesome, not falling back. Every race is getting better, just exactly how I planned it. I just wanted to get better every race. I've been pretty good with not setting any expectations on myself. Ride my best. It was good but now I was good at the end but I was a little slow at the beginning. Got to pick up at the beginning and I think it will be a lot better for me.
How were your starts today? First time I noticed you, you were like eight, seventh coming from the back. How were the starts?
Starts were good, that's the thing. That's why I said I'm slow at the beginning because the first one I was top three. I went back to seventh and then I got back to fifth, but just slow at the beginning. I knew it was hot and I'm just coming back so I kind of paced myself a little bit and finished pretty much where I should be for right now. Second moto was also a good start, but I just drove it in too deep and I kind of got caught up in another rider and got passed a bunch. Getting better, which I'm happy about.
It's almost like that second moto at Unadilla was really what you needed to be like, hey, I can do this. I belong up here.
Yeah, I'm learning. I haven't had much outdoor time, or supercross time on the bikes. I'm getting comfier every time I'm on it. To be honest, it's just race time. That's all I need and I'll always say that. Just racing is the best thing for me. What's been helping me a lot is just being relaxed and keeping a tall gear. I have a bad tendency to rev out and then it just spirals me in a bad way. Obviously Kenny's on fire right now and I've been trying to watch him. I watched him at Unadilla and I was really about to just go hang myself because he's just rolling around with his feet on the pegs and I'm there just looking like a C rider.
He really does lug it though. He lugs the shit out of his bike.
He lugs it. He's off the brakes. His line choice is amazing. He's really just unstoppable right now.
What do you think about the track today? It looked pretty sandy.
Yeah, it was a bit sandy actually.
You haven't been here for a while.
Yeah, it's been a while. That's why I kind of struggled in practice. I'm still learning it. But by the end of the first moto I'm like, okay, I think I know how this goes. It was good. Good ruts, which was nice and they held nice. Unadilla was really rutty but kind of gnarly. You couldn't really make a mistake where here you could get away with it a little bit more because it was softer, so that was nice.
I thought I was bugging Shorty. You got him both motos over the finish line by scrubbing. And he's Old Man Shorty, he's straight up and down.
Well, he's getting the good starts. This is his last year racing, and I'm still a young buck. I see Short and I'm like, there's no way. I'm going to die trying. I'm riding my bike into the fence. He's awesome. At that age, it's almost ten years older than me. It's an amazing career and he's riding really well. I know a lot of guys are out right now, but he struggled at the beginning of the season and just race by race he gets better, and that's how I feel like I am. It's just race time.
Indiana for you, one USGP I understand or both?
Both. I'll have three weekends. I want to keep racing, so five weekends in a row. Three more weekends to go.
What do you got going on for next year?
I don't know yet. We got Tony Gardia working on it. To be honest, I haven't spoken to him too much about it because it generally just kind of puts me in a bad mood. So I've just been trying to do my department and trying to ride my best and train and let it unfold. It is what it is. I understand that I need to just have a year to prove myself.
The last three motos I think you've shown you're getting better. Keep killing it and they'll come knocking to you.
For sure. As good as your last race, so keep it going.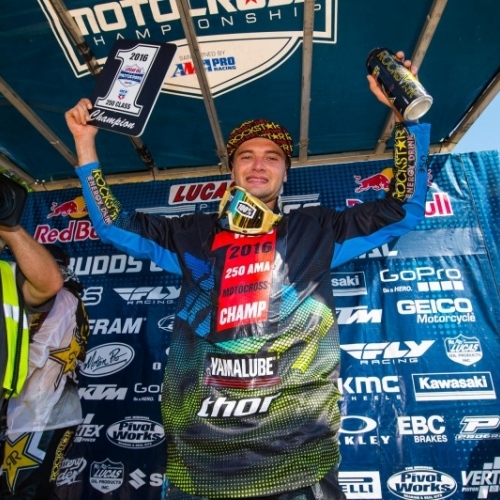 Webb is your 250 motocross champion.
Cooper Webb
You got a lot of passing points today. You earned this title the hard way. First crash first turn, and second moto collided with Alex off the start. Before we get to the title, a lot of work for you today.
Yeah, it was. Unfortunately I went down on the start, which made my life hard. I had to make a lot of passes and came back to sixth, which I was stoked on but at the same time the goal was to try to win it in the first moto, but shit like that happens. I came back second moto and had that with Al and Alldredge. It was obviously looking good but I was like, man, another bad start. Put my head down and I was actually stoked to be able to come back to third. I felt like all day if I would have gotten the starts I could have really done what I'm supposed to do. But at the same time, winning the championship is our number one goal, so we were able to do that.
It was really hot today. You had a long way to go in the second moto and I thought you just kind of out-lasted a lot of guys. A Mart was hanging, but a lot of dudes, you just kept the same lap times and they were dropping.
It was. I honestly was thinking about the title maybe a little bit. But Al was riding good, and I know he wanted to pass me. I think if he had passed me he would have won the overall. So he had that in the back of his head. He's a bulldog and I obviously train with him but I know he isn't ever going to give up. It was tough, especially with two to go, to say all right, put your head down, after it's hot and you're tired.
You really could have brought it home in tenth and still got the title, but…
I honestly thought with a 6-3 that I might be on the podium. Obviously I wanted to beat AC and then after that I just wanted to hold off Al.
What a job. 250 motocross championship. You wanted to get it. Your last year in the class. Your wrist was jacked, second motos weren't going well for you beginning of the year. Obviously you wanted to win, that was the goal, but such a big points lead, such a dominant season. I think you probably ever thought it would work out like that, right?
No, in a dream world this is exactly what was going to happen, but in motocross that shit doesn't happen. I definitely had to really just put my head down.
How close were you to pulling out?
We were talking about it in the press conference but there was four people that thought it was a good idea, and about 20 important people that thought it wasn't. So I just told them, I said, look, I'm not backing out.
J Bone
2017 silly season, your 450 team. There's a ton of 450 riders available. More riders than good rides are available. Is this different from other years for you, this sort of silly season stuff?
Yeah, for sure. Obviously I'm getting way more phone calls than usual from actually riders. Usually it's just the agents, but I've been talking to a lot of riders. The hard thing about it is they're all actually really good guys. You feel bad and you wish that you could help them all, but you can't. We haven't actually made all our decisions yet so we're still working on some things. It's really late, I guess. It's not too late, obviously. I'm sure these guys if I called in December they would still do it. It's not how we want to do it. We like to be all buttoned up and done, but we're not done yet either. Definitely more riders than rides. It's a bummer to see.
Which is unique for this year, I feel. More so than the past.
It is. I think a lot of guys moved up in the class, that's part of the reason. A few years ago a lot of teams left, which that's what hurt us now I think. No one noticed it I think in the past because there was still a lot of guys in the 250 class so you didn't see these good riders in the 450 class. But now a lot of them moved up and there are too many, for how many teams we have.
USGPs, SMX Cup, Red Bull Straight Rhythm, Monster Energy Cup, des Nations. Is there a breaking point here with too many races? I've talked to a few managers. It seems like that way. What are your thoughts, you and Coy together? What do you guys think of all this kind of stuff?
For sure, there are too many races. We used to not go to the US Open, it used to be the Monster Cup back in the day and we never went. It didn't make sense for us to drive all the way out there from where we lived. If we lived in California we would do it. That's like the Charlotte GP – we would support it because it's in our backyard. It's NASCAR family. We are a NASCAR team also. So Charlotte we would have done no problem. Glen Helen, I would say still not solid for us yet. We are making plans to decide pretty quick. But the GPs, obviously it's a good series as well and it's motorcycle racing and it promotes our sport, but we're at the end of our series and none of us are looking to do more. Monster Cup, we've all accepted the fact that we go try our new bikes there after getting ready for supercross, so I would say that one we're okay with. It would be nice to not do it, but we know we need to for the sponsors. That race in the past as you noticed, we started doing the Monster Cup when Toyota started sponsoring it. So if it's good for our sponsors, obviously we do it. If they don't care, we don't want to.
And you don't want any more races, really.
No. Honestly I would take less of all these. Obviously we need to do the ones that are important and focus on those, so that's what we'll do.