Views from Summer Sixteen by a guy from Ohio.
Views from Summer Sixteen by a guy from Ohio.
The 2016 Lucas Oil Pro Motocross Championship has come to a close and it's been a long year for many riders. For some it was a season to forget, while for others it was a career best.
I thought it would be fun to go through the top twenty in points from each class and give my reflection on how I thought the season went for each rider. I'm just a nobody from Ohio who loves the sport of motocross, so I figured I should give it a shot. Let me know if you agree or disagree with me by hitting me up on Twitter and Instagram @troybendgen.
Photos: Simon Cudby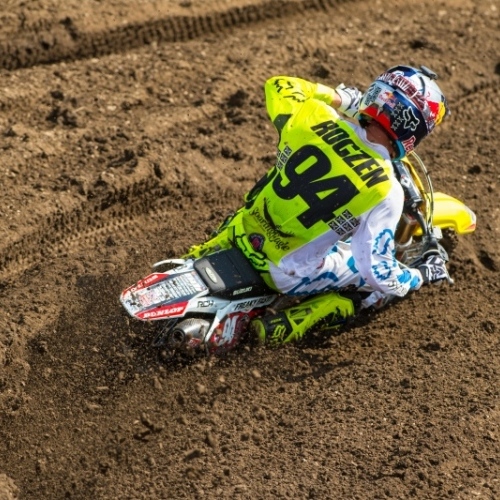 He makes it look so easy doesn't he?
450 Class
1 94 Ken Roczen 584
Yeah, I'm going to start out really original here. Roczen was on another level from the beginning of the outdoor season. He never backed down all summer and outclassed the field. I've written too many words about the two-time 450MX champion already!
2 3 Eli Tomac 498
Literally everyone in the sport thought that Tomac was going to go on a win streak like he had at the beginning of last year's nationals. I personally didn't think that he would and I was in the minority. Whenever a big-time rider changes brands in the offseason the first year always has some hiccups. Tomac is no exception. Eli had flashes of speed and was able to beat Roczen a couple of times, but could not make it a regular occurrence. I think Tomac will be a lot stronger next year and he should be closer in contention of both indoor and outdoor titles.
3. 25 Marvin Musquin 401
Musquin was a very quiet third this season. He was consistently up in the top five and podium spots, which is why he was the third best guy. Overall you can't complain about Marv's 450 rookie season. He was strong, up in the mix, and that's all you can ask for.
4 51 Justin Barcia 360
I really thought that Barcia was going to be a title contender this summer. After his performance last season, in which he was winning motos and overalls, I thought we would see more of the same in 2016. It was a struggle at first, but Barcia really turned it around in towards the end of the season. He ended the year second overall at the series finale in Indiana and looked the best he had all season. I think the question now is: can Barcia keep this ball rolling in January when supercross starts?
5 34 Phillip Nicoletti 229
Look at Filthy Phil taking home fifth in the standings! Nicoletti just barely squeezed by the rookie Benny Bloss to earn his best showing of his career. I think that Nicoletti is the most underrated rider in the sport today. He can run the speed, get on the podium on the right day, but just has weird things happen to him. Had he been able to finish every moto he would be a lot closer to his teammate Barcia in the standings. This was a great overall outdoor season for Filthy.
6 167 Benny Bloss 228
I had the chance to talk to Bloss a day before his BTO Sports fill-in ride was announced for the final supercross races of the season. He was having a rough 250SX East season and he was ready to turn things around. At the time if we would have brought up the fact that he would finish sixth overall in the 450MX this summer he wouldn't have believed me. It's not because Bloss doesn't believe in himself, he does, but he was just trying to put in a good rookie year. He dreamt that he could be up there in the results and he accomplished his goals. This kid is going places in this sport.
7 377 Christophe Pourcel 217
Pourcel was looking good for the third spot in the standings before he was injured. If he comes in with the same speed next year Pourcel will always be a frontrunner.
8 28 Weston Peick 197
All in all this was a great summer for the JGR Yamaha team. All three of their team riders finished inside of the top eight in the standings. If you notice below Peick tied with Shorty, but got the nod for eighth because of whatever tiebreaker they use these days. I saw Weston ride in person once this outdoor season, which is always a pleasure. His style, in my opinion, is what of the coolest I've ever seen. It doesn't matter what obstacle is in front of him it always looks like he's going to just plow everything over. This guy could ride a Harley street bike to a top ten finish.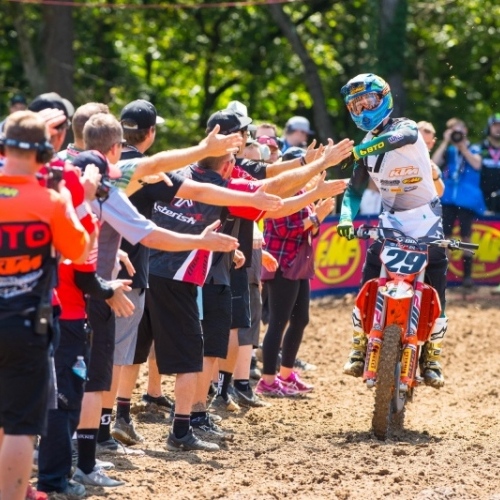 Again, we'll miss you Shorty!
9 29 Andrew Short 197
I wrote an entire farewell to Shorty in my column last week, so whatever I wrote about him then just copy and paste here. I witnessed from the fence Shorty's final holeshot and it was sweet!
10 43 Fredrik Noren 192
The HRC Honda team always can turn to Fast Freddie when they need a fill-in, which is what they did late in the season. He awarded them with another top ten overall. I remember when Freddie bought a bright green van off of my buddy (and privateer #742) Christian Telker a few years ago. Noren was on his KTM at the time and putting in the results. It's cool to see how far he's come.
11 10 Justin Brayton 173
Brayton is always that guy that will put in consistent results. He's a smart veteran that knows the game. Unfortunately an injury took him out of the game late in the season. So, is he now the resident vet in the class that will take Shorty's throne?
12 20 Broc Tickle 171
Just when Broc was getting his speed back to where he belongs another injury took him down. That's how it seems to work with him. He'll be getting his podium speed back and then boom he's out. He definitely had the potential to finish within the top three overall this season. Now it's time to rebuild again.
13 14 Cole Seely 151
We've found the injury pack just outside of the top ten! Seely is another guy who came alive this summer and showed his worth for Honda. It's no secret that Seely hasn't been as strong outdoors as he is in supercross. However, throw that garbage out the door. Seely came to play and it'll be interesting to see how big of a title contender he will be in 2017.
14 21 Jason Anderson 145
Anderson earned huge brownie points for me when he decided to race Ironman. He was selected for MXoN a few weeks earlier and I figured he would just practice at home. Well, Anderson came out for some laps over the weekend and put in decent finishes. Actually, I consider them great finishes since he was coming back from injury. He will be ready for the MXoN and I think we have a great chance at winning it this year.
15 32 Matthew Bisceglia 144
Bisceglia has had a weird year. He landed on the podium in a 250SX East race, split ways with his team, and then was scooped up by Yoshimura Suzuki as a fill-in. He proved his worth this summer in my opinion and it would be stupid for a team to pass on him for next season. He's a young top ten guy already, with some underestimated potential.
16 19 Justin Bogle 136
Hey look, another one that got injured! Bogle is going to be just fine this offseason. He's going to find a decent ride and he's going to have a great season in 2017. This of course is going to depend on if he can stay injury free, but if healthy he'll figure out how to be in the top ten every weekend. I can see him winning a supercross next year.
17 1 Ryan Dungey 131
For the first time in his career Dungey was forced out of a season with an injury. *Insert gasp here*. Meanwhile behind him Trey Canard is thinking really bro, just one season? That's so unfair! Matthes reported on the PulpMx Show that he thinks 2017 might be Dungey's last year. If this is true then lets just watch and enjoy RD as much as we can in every race from here on out.
18 41 Trey Canard 127
It's been a heck of a Honda career for Trey. He hasn't ridden another brand since the end of 2006 when he moved from Team Green Kawasaki to what is now GEICO Honda. Canard was the first athlete groomed as an amateur for that team and he completed their plan of making it to the factory team. It'll be weird to see him on a different brand next season, but new beginnings are always good.
19 15 Dean Wilson 122
Dean-O came in late to the nationals and still earned a decent amount of points. If he can stay healthy it will be cool to see how good he can be in this class. We haven't even been close to seeing his potential in the past few seasons. Here's wishing Dean a lifetime of no more injuries…and Canard too! Actually while we are at it, I wish everybody would never get hurt. There that covers it all.
20 68 Cole Martinez 98
Martinez did a great job filling in for the CycleTrader/Rockriver Yamaha squad. I don't ever remember seeing him race anything other than supercross. I know he's raced a few nationals, but never a bunch of rounds in a row. Good work on finishing inside the top twenty!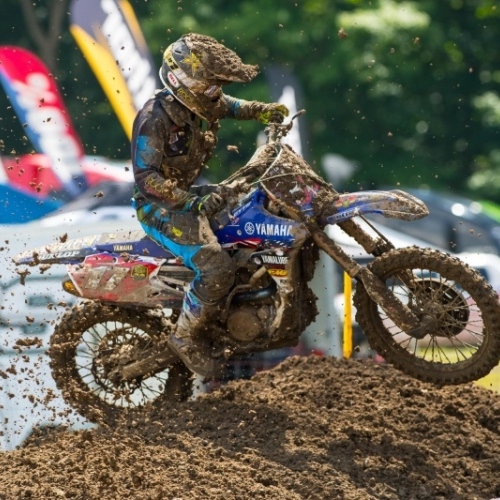 It's great to be Cooper Webb right now.
250 Class
1 17 Cooper Webb 495
I don't really have much to say about Webb. We used to hang out at the amateur nationals back in the day. He even promised me his championship winning jersey at Loretta Lynn's in 2010. I never went by to get it and now I've been kicking myself ever since. He's definitely a superstar and he raced through injury early in the season to get this title.
2 26 Alex Martin 422
Despite A-Mart's awesome outdoor season last year I didn't think he would finish runner-up in the points. I was very impressed by his speed this summer and I know he is going to be just as good next season too. He's got the confidence down and it's obvious his new program is working. Do you think he's good enough to win a championship in 2017?
3 37 Joseph Savatgy 383
Savatgy was exceptional early in the season and then started tapering off. I definitely thought early on that he would give Webb fits for this title. Still, Savatgy fought until the end and was the highest finishing Pro Circuit rider. In the offseason he will get this sorted out and will be a very big favorite for a supercross title next season.
4 214 Austin Forkner 376
I've written a book on this kid this season. He's going to do great things in this sport and he WILL win multiple championships. This was a great season for Forkner and to finish it off with an overall win at Ironman was the icing on the cake.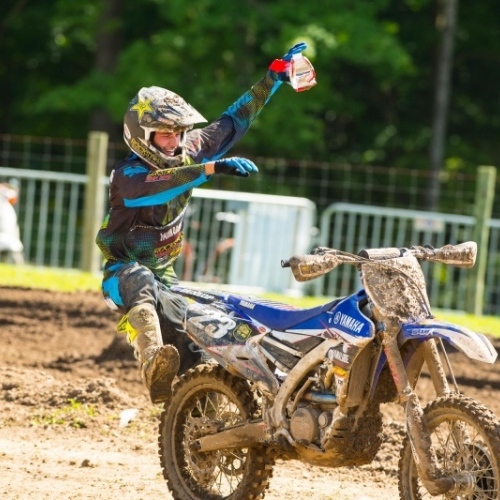 It's not as exciting as Deegan's, but this ghost ride will have to do.
5 23 Aaron Plessinger 351
I honestly thought that Plessinger would win either the 250SX title and be within the top three this summer. I was wrong, but still fifth overall is pretty damn good. If you're keeping score at home between Aaron and I, we have two moto wins and a supercross win in the state of Indiana. AP feeds off of the crowd at his "home state". Could you imagine how loud the crowd would be if we still raced at Kenworthy's?
6 1 Jeremy Martin 321
This summer was so weird for the two-time defending champion. I just don't understand where it went wrong. How can you win a team two championships and then all of a sudden things aren't peachy anymore? A fresh start will be everything that Martin needs next season, but it will be really weird to see him on anything other than blue.
7 16 Zachary Osborne 312
The best ride of the day goes to Zach-O at Ironman in the second moto. Osborne was so far back off of the start that the leaders came around on the first lap about to lap him. Ach proceeded to put down fast laps and was only lapped really late in the moto. Somehow he ended up fifteenth in the race, which was really impressive. Osborne is like A-Mart. Each of them had a breakout series and it was cool to see some different winners this season.
8 44 Adam Cianciarulo 266
A big hats off goes to AC for finishing every round this summer. It was the first time in his career that he was able to finish a series. I can't believe how much this guy has grown over the amount of time he's been injured. For the most part he was consistent and he started riding better towards the end of the summer. He made good progress and that's all you could really ask for from him this season. He rebuilt himself in twelve rounds.
9 66 Arnaud Tonus 243
It's a bummer that Tonus never was able to show what he was capable of here in America. His injuries and health issues occurred at the worst possible time in his career. Hopefully he will have redemption in 2017 wherever he decides to race.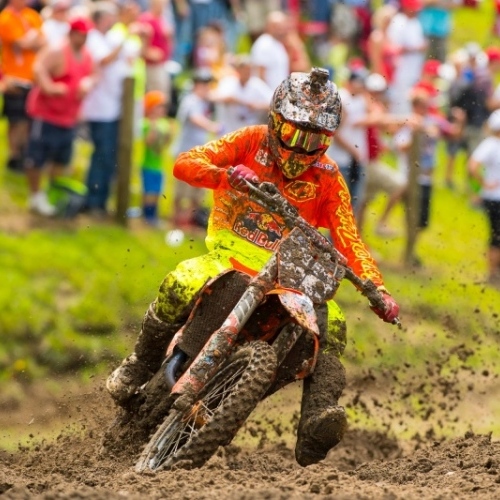 Fast and Underrated: The Mitchell Oldenburg story
10 42 Mitchell Oldenburg 237
When I watch Oldenburg race all I can think of is that this kid is fast! I get it that all of the riders are fast. I'm not dumb. However, Oldenburg will do things that stick out to me on the track. He will hit a turn faster than anybody, or pick a line that allows him to pick up a lot of time. A top ten in the points is nothing to be ashamed of in this class. Mitchell is my pick for most underrated rider in the 250 class.
11 31 RJ Hampshire 220
I haven't spoke to Hampshire, but he can run with the best of them on his good days. I think it's ridiculous how close in speed all of these 250 class riders are. They are interchangeable in every moto and that is a good thing for the fans.
12 49 Martin Davalos 193
Davalos made it through the outdoor season injury free, which is a step in the right direction. As always, he will be a race winner in supercross next season.
13 289 Mitchell Harrison 168
Overall Harrison had a nice rookie outdoor season. He's knocking on the door of the top ten in points and has plenty of potential. Next season will be his time to breakout and show what he is made of. It's crazy how the sophomores in the class always seem to pick this game up so quickly. Harrison will follow in their footsteps.
14 30 Shane McElrath 132
McElrath's crash at Southwick was so bad that I could only watch it once. I hate seeing these guys yard sale and get injured. I know it's part of the sport, but the limits are now pushed to the extremes. I'm not sure how much faster a man can go on a dirt bike. With that being said, don't sleep on McElrath in supercross next season.
15 45 Kyle Cunningham 127
Kyle, you are a crafty veteran now. Here is a guy that I really like to watch race. He's got such a unique riding style that accentuates on his arms an upper body. His head never moves. It's the most peculiar, but yet killer style. It gets the job done. Cunningham is always on the charge and that's what he's been doing all season.
16 39 Jordon Smith 126
As I mentioned earlier all of the 250 riders are interchangeable. Smith has the speed to run up front one moto and then he will have an injury or problem that sets him back. When he gets a start it's lights out speed, but we just need that in every moto.
17 36 Justin Hill 122
Hill did a nice job coming back from injury to a fourth overall at Unadilla. He got some laps in at the end of the season and that was a smart move on his part. Go into the offseason with some race confidence notched in your belt. Hill is another guy who has so much speed, but it bites him sometimes. I think we will see a mature, consistent Hill in 2017.
18 46 Luke Renzland
Renzland has one of the best personalities in the pits. His 2016 season was tough on him but he started to figure it out. Before he got hurt he went from a top twenty rider to the top ten. Renzland will not be with CycleTrader/Rock River Yamaha next year. We'll have to do an interview with him here soon to figure out where he's headed next year. Hey Matthes, I think you should get this guy on the show ASAP. He will be an instant classic. I promise.
19 13 Jessy Nelson 105
We're still thinking about you Nels-Dog. If you would like to donate money for Jessy's recovery you can go here.
20 403 Tristan Charboneau 94
Charboneau had a rough first outdoor season. He's fast and he has potential, like all of these guys, but he hasn't really had that standout ride yet. Fellow rookies Forkner and Bloss overshadowed him, which didn't help either. Tristan will get his chance next season.
Thanks for reading my column! IF you agree or don't agree with things that I said lets bench race! You can email me at troy@pulpmx.com. I look forward to hearing from you.