Want to get your bike working better? Read this
Want to get your bike working better? Read this
How To Properly Test
The Correct Way To Make Your Machine Better For You
Some may believe that being a test rider is a fantastic job. While it is a great job to have, it does take a considerable amount of experience and technique, (just like being able to go fast on motorcycle) to be able to evaluate a dirt bike and/or parts correctly. Even some of today's top professional motocross athletes aren't very good test riders. Some only know one thing; to turn the throttle wide open and ride as fast as possible. There are only a few top riders that are really in tune with their bike settings and can relay that information back to their mechanics/engineers to achieve the best set up possible. I raced professional motocross and supercross and while I wasn't fast enough to make a living on my speed alone, I was able to make a living testing motorcycles, am currently working for a great magazine in Dirt Rider, andstarted my own testing company that can help after market companies in the motorcycle industry. Not to mention being a part of a kick ass show like the Pulp MX Show!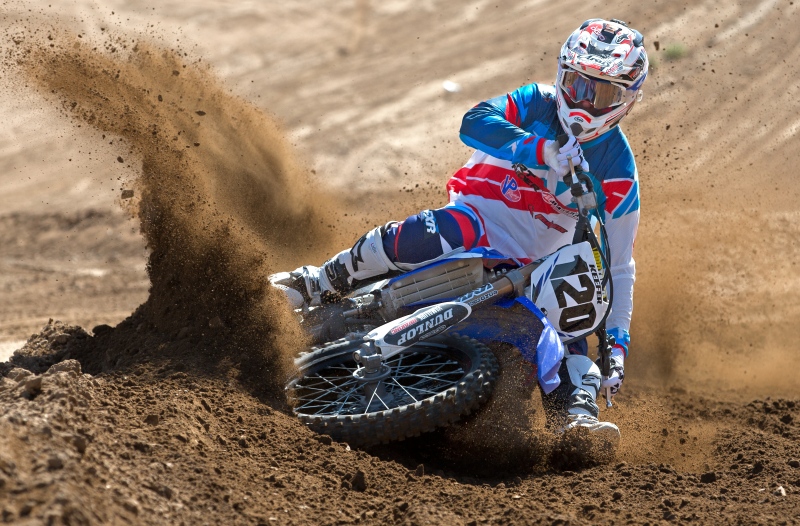 Keefer blasting a berm with his beloved Yamaha.
Today's production dirt bikes aren't tailor made for one specific rider. Manufactures and aftermarket companies have to make motorcycles/parts that can please a wide target of riders. This means that the bike you currently own may be a little "off" from your best setting. Therefore, if you don't know how to properly evaluate your bike, you're only cheating yourself out of faster lap times, being more comfortable, and having a better motorcycle for yourself. There is an old saying in the testing; "you are only as good as what you try." You don't have to be the fastest guy or gal in the world to be able to evaluate a motorcycle, but it does take patience and some proper knowledge and understanding of mechanics about how a dirt bike is supposed to function. What about the average weekend warrior? How is he or she supposed to know the right way to set up a bike to have a better motorcycle? Here are some key points and insider tips to help you evaluate and test parts or bikes on the track or trail.
Make Yourself A Ranking Chart
Make yourself a score sheet with all the things you will be testing on any given day/time. You can break the score sheet down how you choose, but a numeral system seems to work the best. Also, make sure to include location, date, time of day, temperature, humidity, make and model of bike, and also track or trail conditions. Keep a log of every time you created your own test and use it as your "bible," so to speak for future reference. Here is how it can be done:
3 = Baseline Setting (Usually what you compare every new setting or part you test to)
3+ = Slightly better; Barely noticeable
3.5 = Better in most areas of the track or trail
4 = Better in all areas of the track or trail
If the current setting is not as good as a "3" then it should be looked at as unacceptable and you should rethink using/riding with that setting.
Getting Started
The most important thing to remember when you test is your starting point. Whether it's your old bike you're trying to improve with aftermarket parts or you're trying to figure out which bike to buy, testing is all about trying to improve from where you are at currently. In addition, for the love of Christ don't make changes to your bike just to make it look cool! Sometimes bolting on those blinged-out aftermarket triple clamps or that super lightweight titanium muffler system will decrease your motorcycle's performance on the track or trail. Don't just assume because the aftermarket companies have something for your bike that it will be better than stock. Tons of man-hours, money, and development go into making your production bike perform the best it possibly can. Yes, even that stock muffler you got on there! When putting on aftermarket parts, put each accessory on one at a time to ensure it doesn't make your bike run or handle worse than what you have.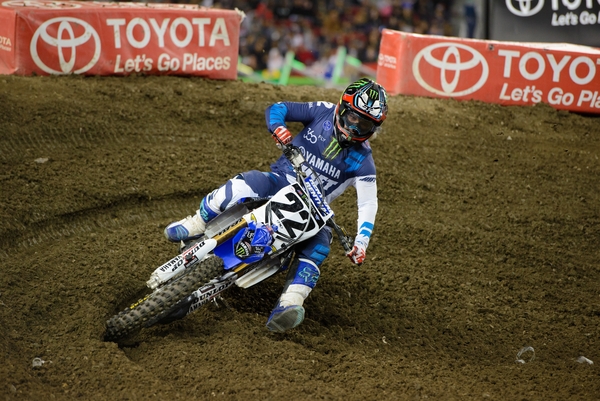 Chad Reed is one guy that's a pretty good tester and helps himself out. Lissimore photo
Everything that you bolt on to your motorcycle will change the way it performs when you go out to ride. Make sure when you have everything that you are testing, all of it is laid out accordingly so you can do the quickest and most efficient turnaround possible. Back to back testing is the best way to get the most out of your evaluations. Skipping days or taking too much time bullshitting with your buddies leaves room for inconsistent results. Your starting point is what we call "baseline". A baseline setting is the setting that everything else you try will be measured against. Anything you test and put on your machine should be above your baseline setting. When testing you never want to try too many things (three to four combinations max) before going back to your baseline setting. This means you might have to go back and revisit your baseline setting a couple times (if you have several bikes or parts) before you lose feeling of what that is. It is easy to get lost and "think" you're getting a better setting simply because you are getting used to the track and its conditions. Also, make sure you don't cram in ten things on a day to test. You will get lost and find yourself going in circles on your evaluation score sheet. Try to keep only a few parts to test per day when starting out. If you find yourself with several different types of the same part to test break them up into different days. Find the best two settings (each day) and then create a final day to decide on which way to go and what you will be sticking to.
Testing On The Track/Trail
Another important aspect of testing is making sure that you are doing things correctly on the track or trail. If you ride off-road, you need to evaluate on that type of terrain, so make sure you set up a loop that you can hit consistently that doesn't take you too long to complete (15-20 minutes max). Keep it short so each time you switch parts or bikes the memory of your baseline setting is in your head. Similar to off-road, keeping it short at the motocross track (no more than three to four laps) is optimal. One of the big reasons to keep it short is second-guessing your initial impression. If you are out there too long your mind can wander and you can second-guess yourself and your initial impression. Another key thing is to try and hit the same line (once formed) every time you go out. If you take different lines (which could be faster) your evaluation will be skewed. You want to make sure you and your bike are familiar with the exact same lines, bumps, jumps, ruts, rocks, and hills so when you try a new piece and it reacts differently (good or bad) you know how to rate it on your score sheet. This will determine if you are going in the right direction or not.
NOTE TO RACERS: Each time you go out on the track or trail to evaluate remember to ride somewhat aggressively or similar to how you race, or else when it comes time to hammer down the bike/part you tested will not feel the same on race day.
Testing Terminology 101
Want to use more testing terminology in your vocabulary? Or maybe you just want to impress your buddies when you're bench racing in the pits? Here are a few common terms that I use while communicating with engineers.
Rider Triangle: The rider triangle refers to the cockpit area that consists of the handlebar to seat to footpeg position. The rider triangle is important to understand when setting up your riding position, also known as "ergonomics".
Blowing Through: This is a term when either the fork or shock loses its damping feel and there is no hold up in the suspension. It can also be referred to as an "empty" feeling.
Suspension Performance: Some manufacturers or suspension shops valve for "performance" versus "comfort". Performance is a term used by test riders when there is more hold up in the suspension around the track. A rider can ride harder and charge into bumps and jumps without the suspension feeling mushy or empty.
Suspension Comfort: Comfort is more of a term for "plush" feeling suspension. Valving for comfort you will get more movement in the suspension when the track gets acceleration bumps out of corners or choppy square edge. Off-road settings are usually a comfort setting.
Flickability: Center of Gravity—or C.G.—is a common theme feeling amongst today's motocross machinery. Most all the manufacturers are shifting the bulk of the weight in the engine low and into the center (centralized mass) of the motorcycle. This gives the feeling of maneuverability or a "flickable" feeling on the track or trail.
Forward Bite: This term can relate to rear wheel traction or it can be used when the rear suspension squats out of a corner (instead of riding high in the stroke) and gives the rider maximum traction under load.
Pulling Power: When rolling on the throttle out of a corner this phrase is used to understand how much torque feeling is between the rider's legs.
RPM Response: This is how the crispness or instantaneous feel of any given rpm range is measured. It can be immediately coming out of a corner (low rpm response), shifting from second to third gear down a straight (mid rpm response), holding it wide open then shutting off throttle for split second and back on again (top end rpm response). This can be adjusted through FI settings or carburetion.
Dirty: This is used for some motor character testing if the bike feels rich or has a blubber/hiccup. The rider may feel it under acceleration or under load so "dirty" is a commonly used testing word.
Shit: The most common term used that is universal with Japanese engineers. When a part is so bad that you immediately come back to the truck after one lap; use this word to describe how bad the new setting is.
Ryan Dungey is a rider that's known to want to test a lot and adjust his bike throughout the day. Cudby photo
Blind Testing
This type of testing is usually how each manufacturer evaluates. Typically when a manufacturer is narrowing down a specific part of the bike, testers will not know which part will be replaced next. It is up to the test rider to give the proper feedback to the engineers and let them know which direction to go. Example: If the engineers have three different camshaft settings to try, each camshaft will be marked on the engineer's score sheet (this sheet is separate from the tester's sheet) and will be put into the motorcycle in no specific order. Manufacturers will use no more than three test riders when narrowing down parts to ensure proper direction. Each tester will not know which part is on the bike and after all parts have been run through engineers will go over all of the notes to see if all or most test riders agree on same setting. There are cases where some parts (or specs) may be split 50/50 in which case engineers decide which direction they want the bike to go based on what testers notes have to say.
Pulling The Wool Over The Eyes
Being a test rider is being a trustworthy person. Integrity is what companies and manufactures are looking for, and this trait can help you with dialing in your personal equipment. As a professional test rider you are not selling anything and only have your "honest opinion" to offer. There are not many other jobs in today's society where your opinion can be "factual" to a company. How I got my career started was passing a test that I didn't even know I was taking. It was one of my first days testing for Yamaha back in the day and they sent me on my way to evaluate a fork setting. I came back in and gave them my opinion on what it was doing out on the track. They sent me over to the box van to write my evaluation on that setting while they changed out forks. When they reinstalled the fork legs I went back out and made a few laps and came back in and immediately wrote down my score on the "new" setting. As the engineers gathered around to here what I had to say about the "A" and "B" settings, I explained to them "they both feel similar to me and I didn't notice anything better or worse on the track". Before I could apologize and tell them I felt like a failure as a test rider one engineer puts his hand on my shoulder and says, "you're hired". The engineers put the exact same fork on (to test the tester) and sent me out on the track to see if I would just make up some different opinions on the same fork. So the key thing is if you don't feel a difference, don't make up stuff just to sound intelligent because it will backfire on you.
Creating A Better Machine For Yourself
At the end of the day you want to be able to load your bike up and go home knowing that you made your machine a better fit for you. Not everyone can go test a product before buying it, so make sure to do your research before purchasing a product. If you still can't decide on what to buy for your motorcycle, put your trust in someone that you know has integrity and is able to get you the proper feedback you need to make your purchase.