Will it be enough to contend for a title?
Will it be enough to contend for a title?
Welcome to the offseason and our new ongoing "Team Previews" column. Every week from now until the Monster Energy Supercross season starts in January we will be profiling a big team in the sport. We'll go through the changes that have been made, analyze results, and give each team a grade on all of their offseason moves. This week we have Monster Energy Kawasaki and you will find the full schedule below.
Photos: Simon Cudby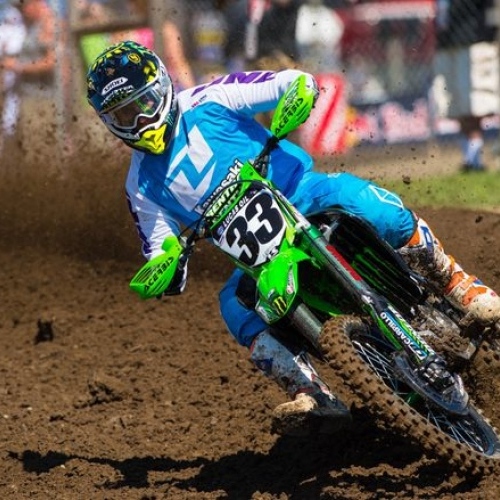 Grant will be inside of the top ten in points if he can stay healthy.
Who's In:
#3 Eli Tomac
#33 Josh Grant
Who's Out:
#69 Wil Hahn
Last season's Supercross Results:
Eli Tomac – 4th 450SX
Josh Grant – 18th 450SX
Wil Hahn – 20th 450SX
Last Season's Motocross Results:
Eli Tomac – 2nd 450MX
Josh Grant – 21st 450MX
Wil Hahn – Did Not Race (Injured)
Offseason Grade: C-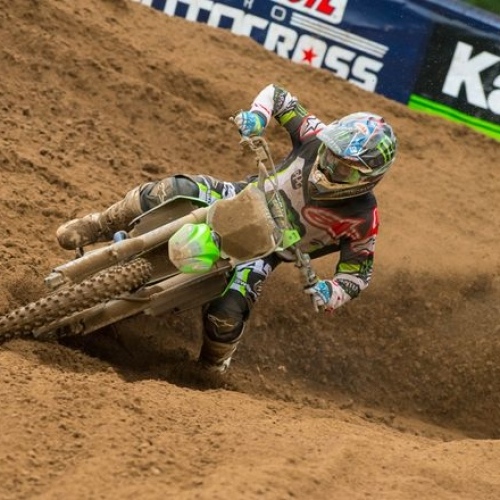 Does Tomac battle with Roczen and Dungey more this season?
The Rundown:
Wait, what do you mean the Monster Energy Kawasaki team deserves a C- as we enter the 2017 season? Call me crazy, or cray as the kids say these days. The truth is I'm tired of being "that guy" who continues to write the same things over and over. I don't get paid to analyze the sport to make everyone happy and from time to time I'm going to write things that people will disagree with. I think this is about to be one of those times.
The Monster Energy Kawasaki crew has been in a tough spot since Ryan Villopoto left the sport. They quickly went out and purchased Eli Tomac at the beginning of last season in hopes of filling Villopoto's shoes. The problem is that RV's shoes are very hard to fill. The 2016 season just didn't go the way Tomac or Factory Kawi thought it would. You see, Kawasaki needed a guy in the fight for championship and Tomac was the hottest property at the time. On paper Tomac's year looks pretty good, but for a guy with high standards it doesn't. He was pretty far off of Ken Roczen's and Ryan Dungey's pace in supercross and didn't have anything for Roczen in outdoors, except for at Southwick.
If next season is the same struggle for Tomac then I foresee a change in brands. His contract is up at the end of 2017, and unless he ends up first or second in each championship, I think he will jump ship. The first year with a new team can be difficult for some of these riders. You know how it is. If the bike setup isn't right then the mental block comes into play and the results just aren't as good. This was Eli's problem this season and I think we will see a better version of him next season. Tomac should be on par with Roczen and Dungey every weekend. He's battled with Roczen since the first day that K-Roc landed on American soil and that is where he belongs. If we don't see that battle surface at the majority of the races, then we have a mystery on our hands here.
Can you believe that Josh Grant is entering his thirteenth year as a professional? He's now one of the oldest riders in the 450 class, which doesn't even seem right! Grant started the 2016 season without a ride and didn't have to wait long for Wil Hahn to get injured. Grant took the fill-in ride and did well enough to earn himself another shot on a factory team.
If Grant is on, he is incredible to watch ride. I don't think anyone would argue that fact. He turns it up to another level and he leaves us all wondering why he can't ride like that every week. JG33 is fast and he can finish anywhere in the 5-10 spot on any given weekend. Just to make sure that we all understand this point before the next paragraph, JG33 is a solid rider, got it?
Here is why the factory Kawi team gets a C- and why they can hate me for being honest (that's how it works in this sport, don't you know that). In the terms of the offseason JG's deal was signed super early. I get it, both parties gelled well together, and they wanted to get a head start on the New Year. At the same time so many better options were out there for the ride. It gets to a certain point in a rider's career where they can only have so many chances on the highest level of equipment. It seems that Grant has reached that point and if I were Kawasaki I would have gone after Justin Bogle. I don't have a clue whether if they did or didn't, nor do I know how much the team had to offer their second guy. A lot of younger riders were available who are just as fast and less injury prone, which is why the grade stands.
When it's all said and done this is a make it or break it year for this team. Either they have great results with both riders, (Tomac wins a lot, Grant in the top ten overall in points) or we will see two new riders on this team for 2018. We'll have to wait and see which way the coin flip goes. If I'm a betting man I would say that Tomac has a totally different year and he will be up in the mix more, however I'm a bit skeptic on Grant staying healthy all season.
Monster Energy Pro Circuit Kawasaki is next.
Preview Schedule
10/14 – Rocky Mountain ATV/MC KTM
10/21 – Troy Lee Designs/Red Bull KTM
11/4 – Monster Energy/Yamalube/Chaparral/Yamaha Financial Services/Factory Yamaha
11/11 – Yamalube Star Racing Yamaha
12/9 – Factory Monster Energy Kawasaki
12/16 – Monster Energy Pro Circuit Kawasaki
12/23 – RCH Yoshimura Suzuki
12/30 – JGR/Toyota/Suzuki
Thanks for reading my series of team previews for the coming season. If you'd like to talk about these or any of the other stories that I've written you can email me at troy@pulpmx.com. You can also reach me on Twitter/Instagram: @troybendgen