Tickle and Bogle will be great contenders for a rebuilding year for Suzuki.
Tickle and Bogle will be great contenders for a rebuilding year for Suzuki.
Welcome to the offseason and our new ongoing "Team Previews" column. Every week from now until the Monster Energy Supercross season starts in January we will be profiling a big team in the sport. We'll go through the changes that have been made, analyze results, and give each team a grade on all of their offseason moves. This week we have RCH Yoshimura Suzuki and you will find the full schedule below.
Photos: Simon Cudby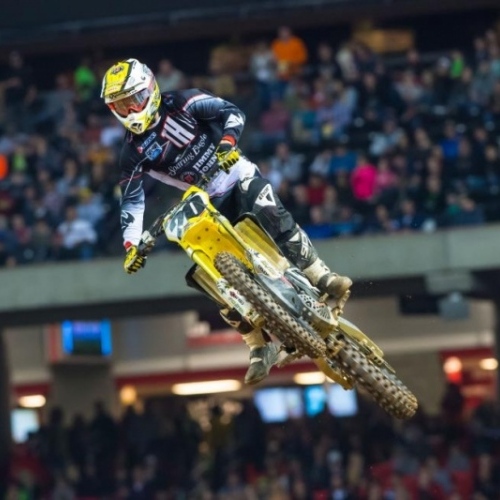 How long will it take for Tickle to get back to his podium form?
Who's In:
#19 Justin Bogle
#20 Broc Tickle
RCH and Yoshimura Factory Team Up
Who's Out:
#94 Ken Roczen
Jimmy Johns
Soaring Eagle Casino
Last season's Supercross Results:
Ken Roczen – 2nd 450SX
Broc Tickle- 19th 450SX
Last Season's Motocross Results:
Ken Roczen – 1st 450MX
Broc Tickle – 12th 450MX
Offseason Grade: D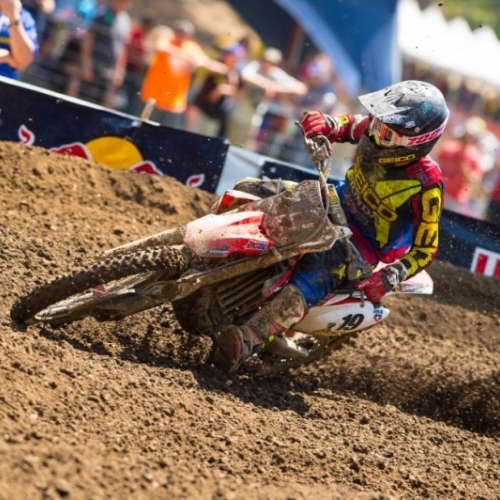 Bogle hasn't been able to show what he is capable of on a 450 just yet.
The Rundown:
I'm seriously worried that this joint Factory RCH Yoshimura Suzuki offering won't make it through the 2017 season. Why would I have doubts? Well, the riders and team weren't officially announced until last minute and we've all heard terrible rumors about Suzuki through the years. Not to mention that they haven't had an official 250 program since Austin Stroupe in 2010? Things just aren't looking so hot right now for the yellow guys.
On the other hand, Broc Tickle was on the Pulp show a few weeks ago and thought his deal went down pretty normal. He said that he was never worried because he heard everything was peachy, so who knows. Both Tickle and his new teammate Justin Bogle have been riding their Suzuki's for a few weeks now. The team had its photo shoot last week as well and everything looks to be coming together for them, as we are only a few weeks removed from Anaheim 1.
After achieving all-time highs in 2016 the RCH portion of this team is looking to continue its excellence that they achieved with Ken Roczen during last summer's Lucas Oil Pro Motocross Championship. Unfortunately the duo of Tickle and Bogle doesn't bring them any championship hopes in 2017. These guys will however be good top ten guys in the long run of each series.
The only problem is that both Tickle and Bogle have been injury prone the last few seasons. It's nothing against them it's just that the sport is brutal and both of them had to spend the majority of 2016 on the injured reserve. If they stay upright then they both can contend for a random podium and will be in the top ten in points.
What is the ceiling for Bogle? Have we even been able to see his 450 potential yet? I don't think we have considering he's spent most of his rookie season on the couch in 2016. Does he have podium speed in the 450 class? If the stars align I think he can get up on the box. In my opinion Bogle has flashier speed than Tickle and we've seen Broc get on the podium more than a few times in the premier class. The ultimate goal for Bogle this season will be to stay healthy and create a foundation for the future of his career. Without a solid base to stand on then it will be tough to make a living in this sport in the long run.
As for Tickle, he's coming back from an injury as well and it came at such an inopportune time for him. He was putting together great results outdoors and even snagged a podium, which is something he hadn't done since 2012. He was finally built up to the point mentally and physically to where he could peak in the results. How long will it take him to reach that same level in 2017? I don't think we will see a healthy Tickle podium in this deep field. If he does it won't be in supercross. BT20 takes a while to build up and once he does he's a force to be reckoned with. Unfortunately he's coming back from a big setback, so I'm a bit concerned with that fact.
All in all it was a scary offseason for this Suzuki squad. Instead of two 450 teams with four rides they have now merged into one team with only two rides. The big sponsors of Jimmy Johns and Soaring Eagle Casino have left and that is never good for a team. Suzuki also lost the hottest property in the sport right now in Ken Roczen. Tickle and Bogle are great choices to have on a team, but staying healthy will be an issue with this team next season. If they're healthy they are going to be showing flashes of brilliance, but that is easier said than done.
Preview Schedule
10/14 – Rocky Mountain ATV/MC KTM
10/21 – Troy Lee Designs/Red Bull KTM
11/4 – Monster Energy/Yamalube/Chaparral/Yamaha Financial Services/Factory Yamaha
11/11 – Yamalube Star Racing Yamaha
12/9 – Factory Monster Energy Kawasaki
12/16 – Monster Energy Pro Circuit Kawasaki
12/23 – RCH Yoshimura Suzuki
12/30 – JGR/Toyota/Suzuki
Thanks for reading my series of team previews for the coming season. If you'd like to talk about these or any of the other stories that I've written you can email me at troy@pulpmx.com. You can also reach me on Twitter/Instagram: @troybendgen