Fan votes matter!
Fan votes matter!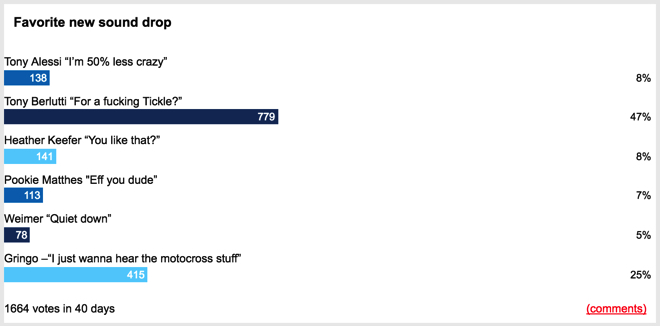 Congrats to Berluti on the dominating victory for his comment on what goggle salaries were up to a few years ago. After a few Guinisses, he seemed to be in even more disbelief. I told him he won a Pulpy and he seemed amused by that and then thanked me. Listener Gringo's phrase made it onto the new Pulpmx shirts and you people voted it runner-up. I figured all you pervs would've made this a Heather Keefer landslide.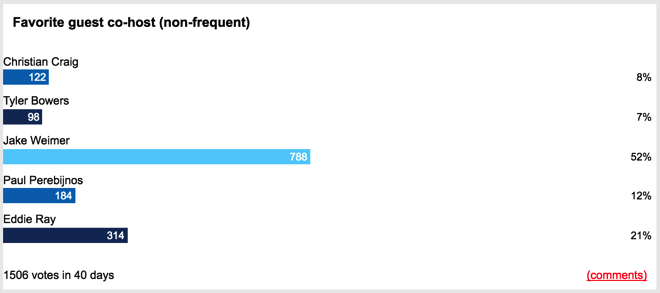 Another dominating victory here for favorite non-frequent co-host. Weimer's been up, I think, four times and he's always funny, honest and offers a lot to the show. Is he THAT much better than Eddie Ray who's pretty outspoken or Paul P who's full of insight? Guess so.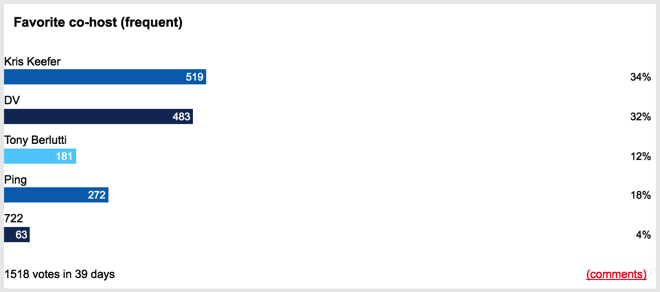 What a narrow race here! Keefer just beats out everyone's favorite Frenchman for favorite co-host. Ping's distant runner-up was probably hurt by his infrequent visits. What a race and congrats to Keefer, he earned this one by coming up the most and offering up great moments every time he's here.

We all knew the results for this one right? The only surprise I have is that KW's margin of victory wasn't bigger.

Definitely a surprise, Show #100 was amazing to me but that's probably showing my age. As we talked about a few times, the gang from Great Western Bank that were in for show #100 was formed in 1996 and although that SEEMS like not that long ago, it actually is. Just kill me now. I haven't spoken with Paul since #200 and I hope he's doing well, I know he was very appreciative of being able to come back in.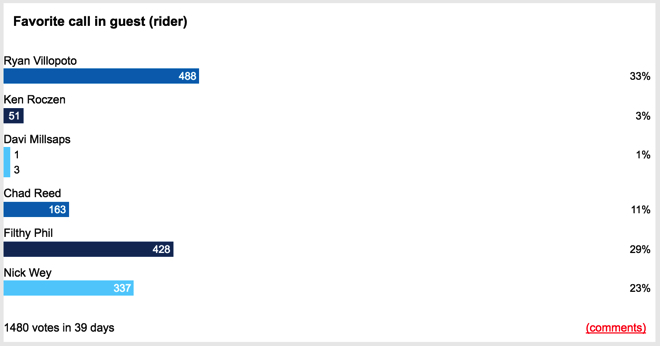 People have always loved RV on the show as he busts my balls, swears and acts, like, well, himself. Wey got third here but he deserves some of RV's Pulpy because oftentimes he poked and proded RV to act like he did. And Filthy getting second? Yeah, he's an all timer.

Swizcore put this in here for some reason. He doesn't do these shows anymore so I guess maybe he was feeling guilty. I could've told him that "awesome" was going to win because in my experience with these podcasts, more is always better for most people. Him and Moser better fire up the bookmarking and pulling machine for 2017.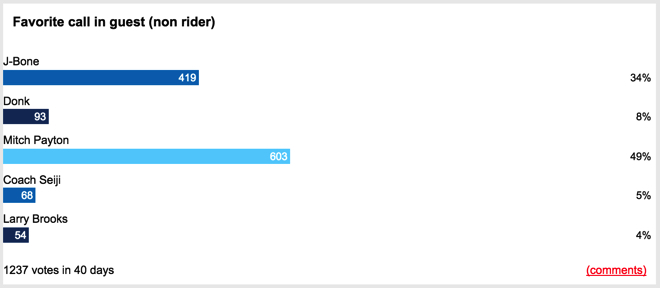 Think of all the things that Mitch Payton has won and think about where this Pulpy Award is going to rank. Gotta be number three or four right?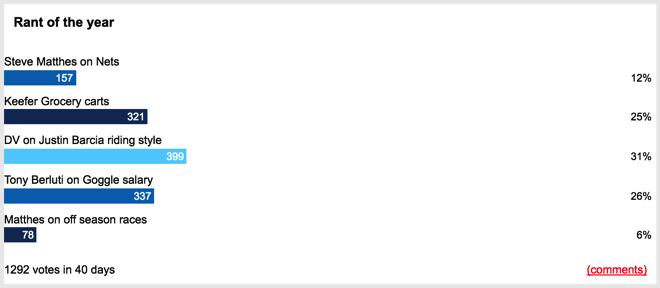 Well, I got last and second last here. Screw you people. DV winning is not surprising, he's typically honest and blunt and people like that. Giving no effs is usually a sure sign that someone is going to lay it all out there. The Keefer grocery cart stories and passion is amazing. It really bothered him badly.

Yup, no contest as this made everyone laugh over and over. Poor Keefer.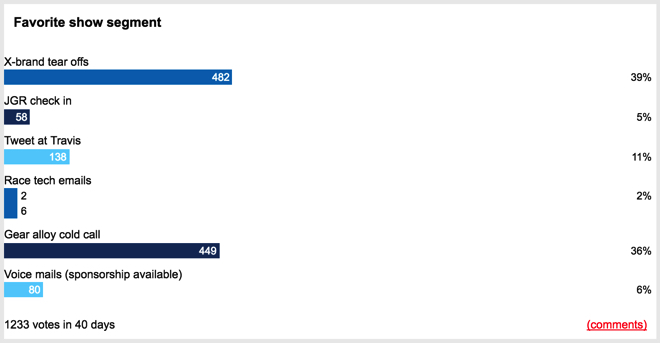 Close race here and Moser is taking 100% credit for this win due to his excellent question submition.

Wil Hahn loves internet radio shows and we all love him. He's in a class by himself.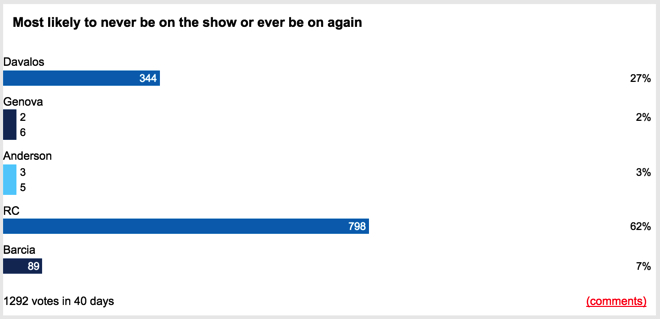 Not a surprise here, not only would RC never come on, he might even try to burn the studio down one day.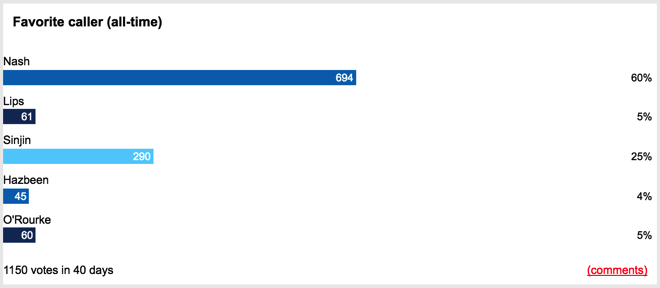 We should've put Raining Yellow on there, that's an oversight on our part but in saying that, there's ZERO chance he would've won. Congrats to Nash, may your Factory Phil dreams all come true one day.