Can PC return to the powerhouse they used to be?
Can PC return to the powerhouse they used to be?
Welcome to the offseason and our new ongoing "Team Previews" column. Every week from now until the Monster Energy Supercross season starts in January we will be profiling a big team in the sport. We'll go through the changes that have been made, analyze results, and give each team a grade on all of their offseason moves. This week we have Monster Energy Pro Circuit Kawasaki and you will find the full schedule below.
Photos: Simon Cudby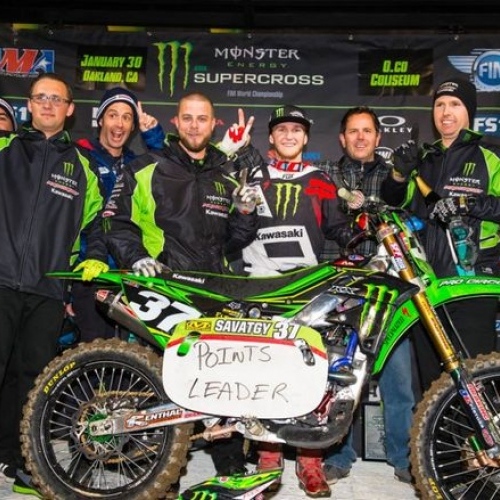 Savatgy made huge strides in 2017 and was Pro Circuit's top rider indoor and out.
Who's In:
#17 Joey Savatgy
#24 Austin Forkner
#36 Adam Cianciarulo
#46 Justin Hill
Who's Out:
#35 Arnaud Tonus
#52 Tyler Bowers
#58 Chris Alldredge
Last season's Supercross Results:
Joey Savatgy – 2nd 250SX West
Tyler Bowers – 5th 250SX East
Gannon Audette (Fill-In)- 6th 250 East
Chris Alldredge – 12th 250SX West
Arnaud Tonus – 21st 250SX East
Austin Forkner – Did mot race.
Adam Cianciarulo – Did not race.
Last Season's Motocross Results:
Joey Savatgy – 3rd 250MX
Austin Forkner – 4th 250MX
Adam Cianciarulo – 8th 250MX
Arnaud Tonus – 9th 250MX
Chris Alldredge – 26th 250MX
Tyler Bowers – Did not race.
Offseason Grade: B+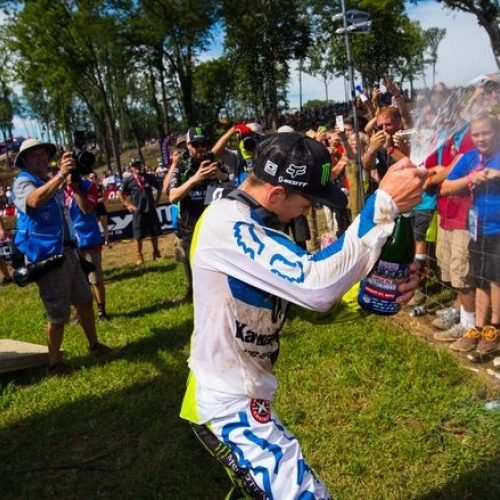 This Forkner kid is going to be an all-time great in the sport when it is all said and done.
The Rundown:
What do you do when you used to dominate a class for a couple of decades and then all of a sudden you don't? Well, for starters you do what Mitch Payton did for 2017, which was clean house and make way for the new superstars.
Pro Circuit is not holding anything back this coming year when it comes to contending for a title. On each coast they will be loaded with riders who have no excuses to get the job done.
Let's start with Justin Hill and take a gander at what he needs to fix in order to contend for a title. Hill has the speed to podium and win races on any given night, but his lack of consistent results and constant injuries have set him back since he turned pro. He will get up in the lead pack and then just throw it away in a corner or something strange like that. If he stays up then he's the right candidate for the job and Mitch's loyalty could pay off in the end.
Other than the addition of Hill this team is pretty much the same. Pro Circuit dropped Arnaud Tonus after two disappointing years, Bowers after an injury and sickness filled season, and Chris Alldredge for nhaving sub par results and injuries. These three riders have all found homes for 2017 and we will see Bowers on the 51Fifty Energy Drink Yamaha, Alldredge on a Barns Pros/Home Depot Yamaha, and Tonus is heading back home to race the GPs.
The Pro Circuit crew has hit some speed bumps the past few seasons, but the panic button has not been sounded. I repeat, the panic button has not been sounded. They have won races with three of their four riders on the current roster and who else was available that was a better option of any of these guys?
If I'm Payton, I would be a badass, but I'm not. If I was though, I would be putting Savatgy and Forkner on one coast and then put Hill and Cianciarulo on the other. Savatgy is a sure bet for a regional championship this spring and Forkner is coming into his first full season. Hill and Cianciarulo are just going to be fighting it out for best rider on the other coast. The big problem with this team will be everyone else's problem too: staying healthy. Cianciarulo finally stayed healthy for the duration of an entire series during the Lucas Oil Pro Motocross Nationals. This guy was supposed to change the motocross world when he turned pro in the summer of 2013, but it's been injury after injury. Do we see a return to his 2014 form when he won three supercross' in his first five races? I don't think it will be that easy for him now just based on his size alone.
Once there was a story about a young kid who couldn't gain any weight, but then he bloomed an extra three feet and boom, we have a giant Cianciarulo. It was a big concern over the same, but supercross is a different story. It will be tough for Cianciarulo to do what he did in 2014 based on height alone. Cianciarulo is one injury away from people giving up hope on him for good and I hope this season awards him with some very good mojo.
I've written so much about Forkner that it's hard to come up with new things to say about the kid. I still believe he is the sport's next great champion and I will stick by that. Watching him at Loretta Lynn's, from when he came out of nowhere on a Suzuki in 2010 to finishing out his career, shows that he can ride under pressure. He will be the can't miss kid of 2017 and I believe he will take Pro Circuit singlehandedly back to the top.
Preview Schedule
10/14 – Rocky Mountain ATV/MC KTM
10/21 – Troy Lee Designs/Red Bull KTM
11/4 – Monster Energy/Yamalube/Chaparral/Yamaha Financial Services/Factory Yamaha
11/11 – Yamalube Star Racing Yamaha
12/9 – Factory Monster Energy Kawasaki
12/16 – Monster Energy Pro Circuit Kawasaki
12/23 – RCH Yoshimura Suzuki
12/30 – JGR/Toyota/Suzuki
Thanks for reading my series of team previews for the coming season. If you'd like to talk about these or any of the other stories that I've written you can email me at troy@pulpmx.com. You can also reach me on Twitter/Instagram: @troybendgen