Owen sets the tone for the 2017 Amsoil Arenacross Championship.
Owen sets the tone for the 2017 Amsoil Arenacross Championship.
Amsoil Arenacross is a different beast than what you are used to seeing in Monster Energy Supercross and Lucas Oil Pro Motocross. On any given night up to ten riders have a chance to win a main event. They've all won before and each rider inside of the top ten in from last season legitimately think they have a chance to win the title this year.
At Saturday's opener Jace Owen dominated the show. It was a convincing performance in the fact that he won the Head2Head bracket as well as both main events. It was the first time that Owen had in fact won an overall in arenacross, which isn't bad considering his deal came together late last season, forcing him to miss last year's opener, with his TiLube Honda team.
We caught up with Owen on Saturday after the race in the freezing seven degree weather to get his take on a night he will never forget.
Photos: Josh Rud/Arenacross.com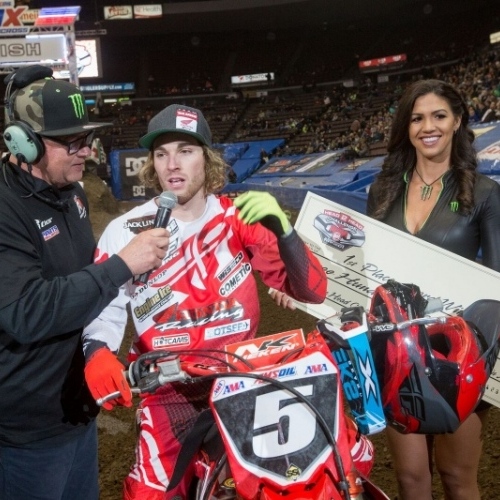 I went 1-1 and I got that monkey off of my back. I want to keep the ball rolling.
PulpMX: Man, 1-1 on the night, won the Head2Head bracket, and you got great starts all night long. It was pretty much a perfect night for you from start to finish.
Owen: Yeah, definitely the day started off pretty good. In the first practice I think I was in third so I was pretty solid in that. We made some changes to the bike in the second practice and I think we went in the wrong direction a little bit. I had a solid heat race and then we got going in the Head2Head. I took it all the way in that. I felt great all day.
This was the first time that I rode the bike, so I was a bit worried about what was going on, but I raced for these guys last year. They did a couple of more things to the motor this year that actually helped it even more. As soon as I got on the bike today I thought that it could win today. I got the suspension dialed and the track was tight, soft, and rutted. I knew that it would come down to getting some good starts.
In the first main event I got the holeshot and put in fifteen consistent laps and won it. I didn't want it to be a fluke. Last year I didn't win any overalls. I got quite a few podiums and a couple of main event wins, but I never got it done.
Coming in here I just wanted to get the first race out of the way and get through the first race jitters. Obviously I wasn't putting the pressure on myself to go 1-1. I knew last year that I even had the speed to do it, but it was just a couple of mistakes that prevented me from doing it. It was just minimizing those and making everything come together in that way.
I went into the second main event with the first gate pick and I ripped another holeshot. I was like, 'It's all up to me now. Just put in another consistent fifteen laps and let's go 1-1 on the night'. That's what ended up happening. I'm super stoked.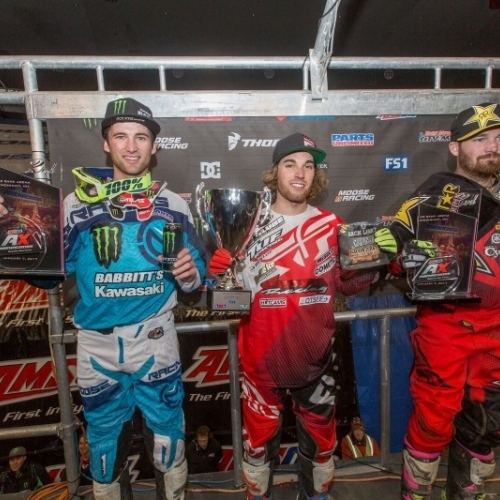 Owen and Faith are training together at the farm and went 1-2 in Cincinnati. Beef Goerke finished third.
The team wasn't even sure if we were going to make it to the first race. I was like we've got to go! We've got to do whatever it takes to make it happen. I didn't want to come into the second race like I had to do last year because I was racing in Germany. I just decided this year that I was going to stay here and not miss any races this year. It was a smart decision, but it was getting down to crunch time. The team was still waiting on some things. My mechanic, Ben's (Lamay) mechanic, and Dillon's (Cloyd) mechanic had late nights all week.
I ended up getting here last night super-late and everybody did a great job to make this happen. I know the team is happy, but I'm also happy to be hear. I'm healthy, I'm the points leader, and I'll have the red plate next weekend. I went 1-1 and I got that monkey off of my back. I want to keep the ball rolling.
I'm training down at the farm now with Ricky Carmichael and his mom Jeannie. Gavin (Faith) is down there as well and you know he's the reigning champ. I get to ride with him, so that's a huge confidence booster.
That is a pretty recent switch to the Farm, but it's obviously already paying off for you.
Last year I was riding at a good place, but I didn't have anyone to really ride with. I needed that. Going down to the Farm you've got Joey Savatgy, and like I said Gavin, it's good for both of us because we push one another. I think it shows tonight with me winning and with him finishing in second. I'm just excited about what is going on. I know I have a good program, with good people around me, it's a great foundation. It's just everything. I finally feel like things are going my way again.
I've had to struggle. I know it's only one race and I can't base my entire season off of this. You're only as good as your last race, but you do set the tone.
My goal coming into this race was to just have fun. I tend to put a lot of pressure on myself. I was just like, 'why did I start racing'? I started because it was fun and I loved it. My family and I went racing and we had some blowouts the last few years and this was the first race that they've been to in a few years. It was a big moment for me to have them here, especially my dad.