The racing calendar-year kicks off on a night of the NFL Wildcard and epic fumbles were seen on both scorecards.
The racing calendar-year kicks off on a night of the NFL Wildcard and epic fumbles were seen on both scorecards.
Photos By: James Lissimore
Just like every Anaheim series kickoff for as long as I can recall, I was brimming with excitement at the thought of what could be for the coming 17 round series. The riders with vastly changed programs and steeds, the riders entering a new class (even a few leaving their familiar one), higher targeted goals and simply resetting with an eye on consistency for others. Some of these interests had a box checked next to them as part of an evidence trail which will be tallied along the way as the races conclude each week, the vast majority of them though have "pushed" on to San Diego where the series is headed for round two.
It's weird the way Anaheim 1 works from year to year. It is always expected to be the bombshell kickoff round of the series where all of our wildest dreams and speculations have the potential to become true. Nothing is off the table because there is no confidence earned yet and no results to act as either a black mark or momentum builder. It's all rhetoric, promise and possibilities.
Ken Roczen is the one guy who's Anaheim 1 preciely followed the script he and the Red Riders drew up for himself in the prior months. It's good for Ken that the series started this way (obviously); for all the work he's put in publicly to create the image of the unshakeable, superior racer… if he hadn't pulled off the W, all that weaving of words and confidence talk would have created a confidence boomerang that would send him reeling into round two. Ken has never lacked for confidence and it's for good reason, the guy is incredible but until he makes it through the 17 round series and actually dethrones Ryan Dungey, all the talk is just needless hot air. Dungey doesn't care about it nor react to it. Maybe it's all for the fans and the show, like the suit at the press conference?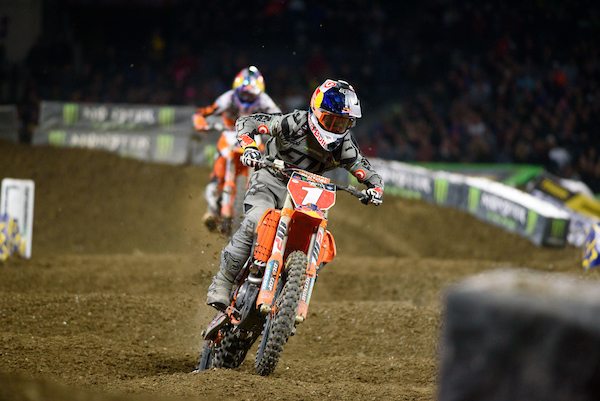 The only thing Dungey need be concerned with right now is finding a deep hole to bury that gear in.
Speaking of Dungey, he really seems to have settled into his accurately earned reputation as the rock solid steady podium guy who often ends up on top. His smile at the end of the night was genuine and without concern. It was almost as if the results had ended up just as he had anticipated.
Jason Anderson was once again one of the few guys in the field who made passes at will with his free flowing style (and shirt tail). If Jason ever finds that next little click of consistency and combines it with a good start, he is going to be a hell of a threat for the title in a Supercross series. He doesn't always make clean passes but he definitely is always passing and it's both exciting and nerve-racking to watch.
Eli Tomac looked eager and capable early but the one thing you thought you wouldn't need to be concerned with when talking about the #3, bit him. His endurance was not up to the task, inexplicably. Perhaps he just tightened up quickly after his early aggressive moves to the front but whatever the issue was, I call it a fumble.
Team Yamaha were my biggest bum-outs of the night. Chad Reed did what no man has ever walked away from unscathed. He went head to head with Weston Peick in a corner and you just do not do that. Ever! There have been whoops that have moved out of the way when they saw Weston coming. Chad has been racing a looooooong time and it doesn't seem possible but he saw something he hasn't seen before in his previous 13 years in the class; an immovable force that can jump a triple and corner for dough.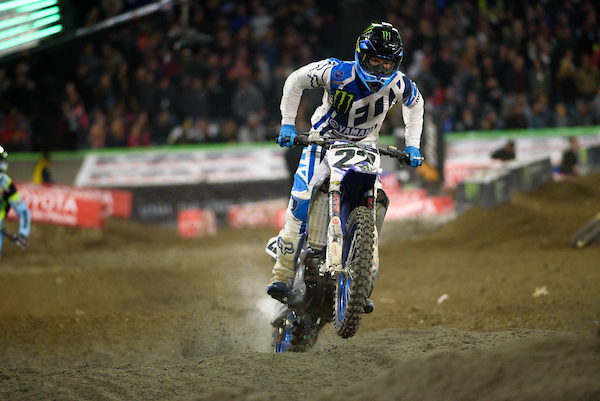 The aftermath of the 22 striking an immovable object. The brightside is now if JS7 shows up at San Diego, he and Chad will have their own little throwback series within a Series.
Cooper Webb was my biggest fumble of the night. I'm not saying he was the biggest failure or anything, I just had the highest hopes for C Webb's debut but I gotta say, he looked like his goal was to just through 20 laps without hitting the deck. Maybe it was? Maybe he knew his bike setup was not close enough to race ready that he just wanted to ride it out for 20 laps(minutes) and take as many mental notes as possible to really make a stab at an inspired ride starting in San Diego? I honestly thing that if Cooper had given the 450 class a shot on an off-weekend during his 250 title campaign last year, he'd have done better in the results. I get it, there's pressure, expectation and the unknown weighing down on him at A1. With the debut in his rearview mirror, with a mid pack finish to boot, the pressure and expectation going into round two is greatly diminished… not that pressure has ever been something that adversely affected him before.
In the 250 class I was impressed though not surprised with Shane Mcelrath's win. The kid is super gritty and just does not get caught up in the talk of who's who and what's gonna happen. He just prepares and focuses on his own riding.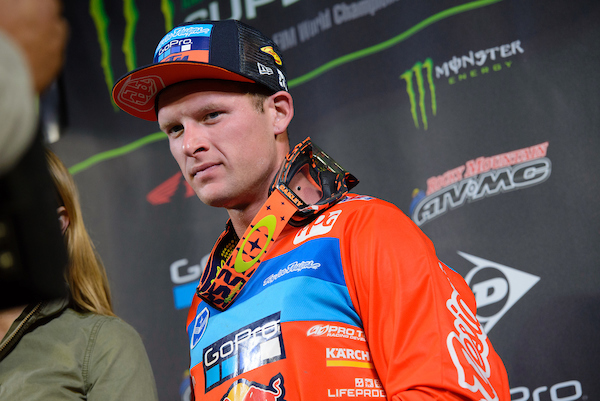 Mcelrath is no frills. Just a gritty, get shit done racer. And he's getting better.
Without a doubt, Austin Forkner was my biggest fumble in the 250 class. All I've heard is how much better he is at Supercross than Motocross and I had some pretty high hopes for a dominating debut. Unfortunately I saw a kid who looked like he had the weight of the world on his shoulders and wanted nothing to do with it. I still have high hopes moving into round two. It's weird how much pressure and expectation can weigh in at round one and be all but a distant memory 7 days later. Put away the social apps and just ride that dirt bike, man.
There was certainly an absence felt at round one, a couple of brothers who like to keep their plans quiet… I don't get the secrecy, or the point of entering a series after it has started, I mean James is a former Champion and we all know Champion's don't care about race results when they aren't building toward a title… so what up with that?! I want answers but knowing how hush hush and strange things can be whenever the 7 is involved, I'm sure we'll never get them.