You want the truth…you can't handle the truth!
You want the truth…you can't handle the truth!
Photos by James Lissimore
1- Anaheim one has come and gone- lots of talk about Kenny Roczen this off-season both good and bad. Let's tackle each of these off-season questions yeah?
A- What are your thoughts on his comments on training and his past relationship with Aldon?
There's obviously some bad blood in this story and we might not know exactly all the details. But, you have to put yourself in Ken's shoes. He left the winningest trainer in MX/SX history to do his own thing. This, in the moment when the majority of the people (in the industry and the fans) thought no one could ever win a 450 championship in MX or SX without Aldon. That move took a lot of courage, mental strength and confidence of his own potential. He already proved it in the nationals last year when he had all of Aldon's guys covered and there's nothing Dungey could've done had he rode the whole season. We've seen it last summer, we've seen it at the Monster Cup and we saw it Saturday night at the opening night of the 2017 SX season.
Ken is one step better than anyone else at the moment. He dominates in a time when most people think it's the most competitive field ever to ride dirt bikes in the USA… It has to feel extremely good. That being said, if the kid wants to talk about eating donuts, being extremely in shape and do some bragging, who cares? He keeps backing it up. We complain about riders stating a list of sponsors on the podium. We complain about Kenny bragging too much. What we need to do is stop whining and enjoy this time of great riders riding dirt bikes.
B- What about his self confidence on social media and in the media?
Finally the best guy of the moment is telling the world that he's the best rider. Then, he dominates. What's wrong with that? Why does everyone want a SX or MX champion look and sound like the perfect son in law? Kenny won't marry your daughters, you don't have to deal with him at Thanksgiving dinner. Let him be, he's great for the sport, he brings an edge that's missing. How boring would the sport be if we only had perfect sons in law on social media and on podiums? We, the fans and the industry, are getting soft and live in a Disney cartoon these days. Come on, wake up! Remember the Bradshaw-Matiasevich era? What about Larocco-Kiedrowski? Hughes-Henry? Weren't they fun times to be a motocross fan? Or you guys want today riders who go to dinner together? You want their wives to go to the mall and post selfies together on Instagram? Is that what the SX/MX people want, seriously?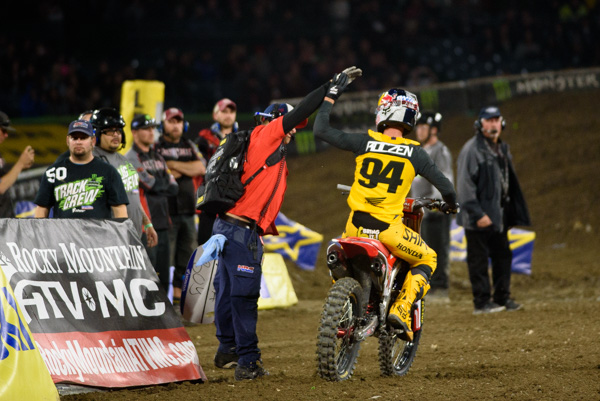 Ken Roczen was the man at A1.
C- Where do you stand on the suit?
The suit was great! I didn't like the color nor the print but it worked. Everyone and their cousins talked about it. The marketing stunt worked perfectly. Everyone fell for it with both feet. All we talked about after the press conference was Roczen. The rest of the riders always say the same things anyway. They never worked that hard. Bike never worked better. New team is great etc… We've been around the block, we've heard that stuff too many times. To tell you the truth, I wouldn't care if Kenny showed at the press conference with a board shorts, a surf board and bare sandy feet…
D- And finally, he backed everything up that he had said with crushing rides in the heat and the main event…what did you see from him and his brand new Honda 450?
I didn't like his forks at the Monster Cup. They were maybe good for Enduro-X but not SX. I've talked about it here or on Lebig's site. Bike has improved since then and he looked more comfortable in Anaheim. I really like how he anticipates the track. He's always thinking ahead which helps him keep his overall momentum. If you looked at him, he doesn't look as aggressive as Tomac, Musquin or even Dungey on Saturday. But, his speed around the track has the least amount of difference between the fastest and the slowest. He's always moving but to do so you have to pick good lines and put your wheels in the right places. He did just that. Seriously, if you're halfway smart and know a little bit of moto, it you watch the main event, you will get it very easily.
I can't give all the details because I'm paid to coach a rider now, but it was obvious. I actually sent texts to Christian (Craig) during the main to point out what he was doing better than anyone else…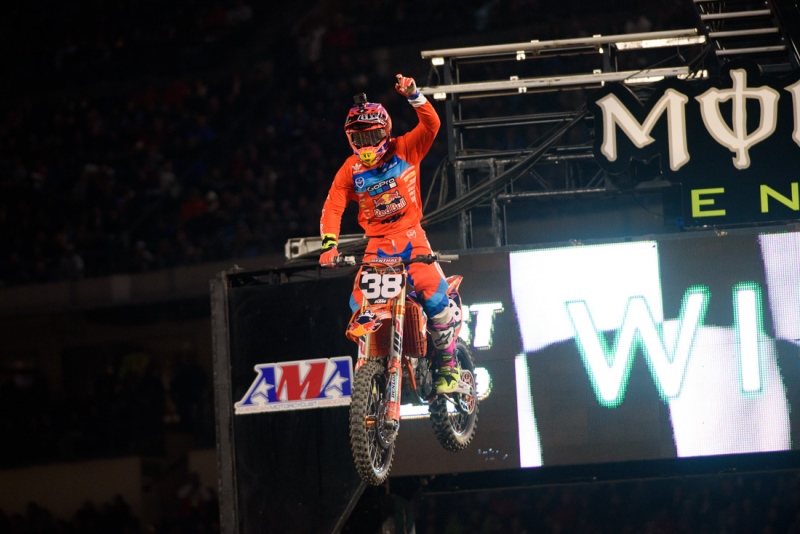 Amazing race by TLD KTM's Shane McElrath!
2- Shane Mcelrath! We all talked about Martin, Forkner and Plessinger but Shane won the heat and led the main every lap. Thoughts on Shane's ride and the ride from Plessinger and Forkner?
I love this story. I love a good A1 surprise a-la-Josh Grant several years ago. The kid isn't the most talented (man, I hate that word), the most stylish, the most charismatic, the most paid but he got it done in a great manner. I thought he was great and consistent in the whoops. Obviously, starting in front didn't hurt him. He was strong. He kept putting his head down to clock good lap times. There are a few things he could've done better but he gave it all and rode with a lot of heart. He looked exhausted and I like seeing that. He pushed himself and improved his fitness while winning a race. It's a win-win. Can you believe I put him 5th in my PulpmMX fantasy picks? I'm horrible. What I also like about Shane winning is that it's gonna bring a few riders back on planet earth. Some of them saw themselves a little too good too soon. Nothing like a good A1 reality check to go back to work. We all got one one year or another. It's a great way to move your ass on Monday
3- J Mart was moved to the west because of his speed in some team scrimmages… Set the fastest time but didn't get the start. Thoughts on him?
It's a delicate subject because I work with Christian which is in the same team. I wouldn't say his speed put him on the west, I'd say the team felt Jeremy was the best prepared to race the West Coast. It's the team's decision, they pay the bills and ultimately they make the decisions they feel are best for the team. The scrimmage I was at, speed-wise, Christian had the fastest time but Jeremy looked mean and ready to race. But, Jeremy looked very stiff on Saturday. Nowhere close to what I saw at the practice tracks when I saw him ride. You have to realize it's a big gamble for the team to put your 2 best riders on coasts they've never raced before. Jeremy never rode Anaheim. It shouldn't affect the riders that much but it does. A track is a track anywhere in the country. The location is irrelevant but it sometimes plays in riders' heads. I've never rode East Coast before my rookie 250 2-stroke season but I still won 4 races and was on the podium 12 times out of 16. You haven't seen the best of Jeremy yet and after having his first West Coast race under his belt, he should get better from now on. If he rides like I saw in December, he will be tough to beat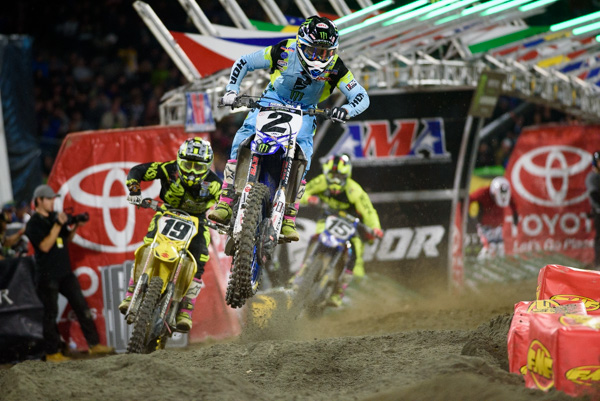 Webb wasn't great at A1 and DV thinks it might be a bit of a bike set-up issue.
4- Cooper Webb made his 450SX debut and didn't look great, what did you think of his race and should anyone be worried?
Did you really check if it was really him that raced Anaheim? Joke aside, he looked stiff, like he hasn't ridden in months and his bike didn't look good at all. It looked very high and hard in the rear, not settling anywhere around the track. He couldn't corner, race the track, anything. When your bike works like that, you can't twist the throttle with factory HPs in the engine… You'll end up in the cheap seats. They have work to do on the bike. When he'll get comfortable on it when he can actually charge and race it, he'll obviously move up in the ranks…
5- I spoke to some guys that told me they were nervous at A1, guys like Forkner and even Weimer…what do you remember about the season openers?
Season openers suck for riders. A ton of people want to have their 5 minute chats with you, if you don't do that, they call you a dick on VitalMX. Also, lots of pressure because you don't know if you're ready or not. Anaheim is a big reality check without any prior notice. They throw you in the ring and you gotta perform. I don't miss the way I felt at every supercross I raced when I was in the tunnel before the main event. You're basically sick, sometimes you'd rather be somewhere else because you have the pressure to perform, so many people expecting for you to do good. You don't want to think about injuries but they cross your mind at one point just like that. When you add all of this, the feeling before a Sx race sucks. The funny part is that it's gone as soon as the 5 second board comes up. We forget everything and we go for it. To be honest, being a fan of the sport now isn't that bad after all…