Raise your hand if you were fighting off narcolepsy during the A1 450 main.
Raise your hand if you were fighting off narcolepsy during the A1 450 main.
Photos By: James Lissimore
The second round of the Supercross series brought a few things we have been theorizing about for a bit and in my opinion, they both add up to net-positives (Sorry Steve, not those nets…). Shortly before the Supercross series kicked off, Feld Motorsports let it out that despite MANY concepts floated about as possible changes in format to the races, we would see but one. A change in the race duration from lap-based racing to timing based racing. Of course, as if it could go any other way, fans were up in arms at this proposition. "I won't watch Supercross anymore", "That's stupid", "Feld is ruining Supercross". Bitch, moan, bitch, moan, copy, paste, repeat… It's a fair statement to declare that ANY change in the established race format will bring about complaining and negativity from the peanut gallery that fills the stands and programs the DVR's each week. Nevermind the fact that this newly implemented race-duration formatting is merely mimicking the long-standing method used in the National Motocross Series for oh, FOREVER. Really, this would be something I would consider a no-brainer as something the core fans would be in favor of; bringing something from the pure roots of Motocross into the stadium but nope and well, you know what they say happens when you "ASS-U-ME".
So last week at A1 the timing of the main events was essentially inconclusive as the lap times were close enough to 1 minute in both classes that the Main event lap-count was still at 15 and 20 respectively. Coming to a shorter track like the one in San Diego brings shorter lap times and what would previously be a shorter race duration, turns into a longer race duration than years past and with more laps and therein lies the potential debate on whether time-based racing is better or worse.
I can theoretically understand this debate, though barely as in my mind, more racing is better than less. Call me weird I guess. Sure, we've seen some real snoozers in recent years with runaway races where there were no battles and no action but that's always been a possible negative. Like I said, more racing is better than channel surfing. Intense battles with passing or not.
In San Diego this week though, we got our moneys worth and the proof of concept that Feld could only dream of and in both classes to boot. In the 250 class we saw a confidence-surging Shane Mcelrath start mid pack and carefully, almost veteran-like, work his way forward as Jimmy Decotis holeshot and lead the way, hanging on for as long as he could. We were all holding our breath for Jimmy, hoping he could land his first podium but the longer main was working against him and for the confident Mcelrath and always fast Justin Hill who were making lemonade out of their lemon-tastic starts. Meanwhile, Martin Davalos was in great position to snatch victory away from the unlikely hero Jimmy-D but he lost 4 positions in one lap in the closing laps, leaving his "haters" more fodder to reload their Haterade cannons. Austin Forkner improved his start in San Diego for his second pro race ever and his 5th place finish is a definite step forward over last week but if he wants to be a factor in this series for the duration, he needs to stop slipping back into the clutches of the veterans and prove he's the fresh-faced prodigy we all heard about.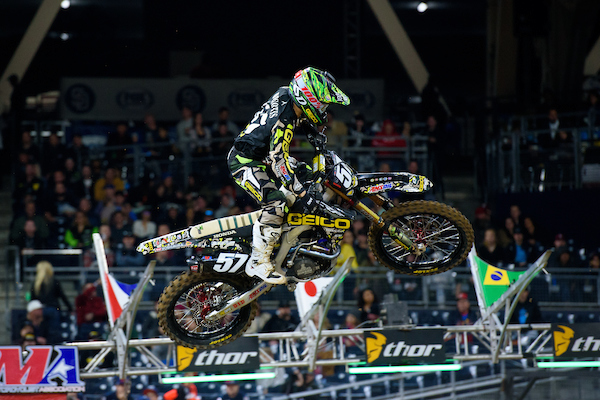 Jimmy D held on until stomach cramps made him hit a wall. Good to lead for so long though.
Justin Hill is the real threat in the 250W though. Just listening to his interviews it's clear, he is wise beyond his years in his perspective and that certainly lends itself in a positive form to his race craft. He doesn't appear to have a panic button and merely works his way forward at a pace that can keep him in the title fight. Justin needs this series to continue to evolve in a positive manner as he has had issues with consistency and injury throughout his career but Mitch didn't bring him back to the PC team after a year "abroad" for no reason. He believes in the kid. For real.
Shane Mcelrath isn't rattled in the heat of the battle. Pressure being applied doesn't affect him, he maintains focus and form. If something does go awry, it's his own error or miscalculation. We'll have to wait and see when these top guys all start at the front together if they'll wait for him to falter or initiate contact to signal a decisive changing of the guard.
Aaron Plessinger is the odd man out here through two rounds. Can't get a start to save his life, came in as a certain title threat and 2 charges to the podium but what does any of that mean other than a lot of yelling by Star Racing owner Bobby Reagan? You can see the urgency in Aaron's face on the podium. He definitely believes he should be winning but he needs to figure out these starts quick for the sake of his hearing and #mood in his own truck.
What we saw in the 450 main was glorious. The two most-elite riders in the sport today, head to head for 24 laps, separated by less than 2 seconds and often less than 1.5. Think about your own riding. How many times have you ever put together a perfect lap? How about 24 perfect laps with a direct clone of you putting down 24 perfect laps of their own 25' behind you for the duration. It's absolutely incredible. A riding clinic that you cannot replicate under any other circumstance. Pressure and consequence that create the X-factor of racing at this level.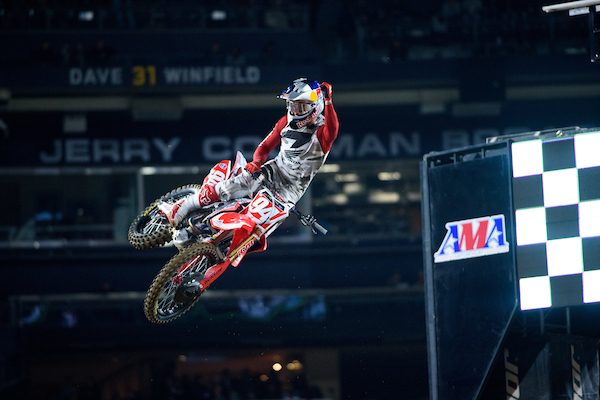 Ken Roczen was 50% of a near perfect display of cat and mouse.
Roczen obliterated the field at A1, winning by more than 16 seconds. This week in San Diego it was Dungey who pulled the holeshot and lead a handful of laps before Ken opted to make the move and Ryan knew how important it was to keep on Ken's rear fender like a shadow. Both riders picked up a few cues from one another but in the end, I gotta think that Ryan Dungey comes away with the better argument for optimism following those 24 laps. Ryan Dungey has rarely been the model for speediest racer in the field (this is no secret) but following a week where Dungey could barely sniff 94's exhaust, he stuck to him like white on rice for 24 straight. Knowing Dungey's method of race craft over the course of a series in his 450 career and also taking into account Ken's, Ryan has to be feeling really damn good looking ahead in the series.
What happens though when you throw the Stewarts on the line and into this series though? I really can't wait to see what talking points there are coming out of Anaheim 2. This 450 series could be unpredictably incredible 6 days from now.