Can Lamay be the one to take down the Babbitt's Kawasaki's reign?
Can Lamay be the one to take down the Babbitt's Kawasaki's reign?
It's been a while since anybody has gotten a dose of TiLube Honda's Ben Lamay. The Alaskan Assassin turned Texas Tornado is now entering his second season of Amsoil Arenacross.
Last year Lamay finished sixth overall in the AX class, but he had some break through rides that left you wondering why he couldn't finish on the podium every weekend. With a consistent 2016 in the books, Lamay is focusing on the future and stepping up his game to be an all-around better rider.
The first two rounds of the season may not have gone to plan with 5-4-11-9 scores through the first four main events of the season. However, Lamay is in this for the long haul and he's got his eyes on the championship. We caught up with him to see what's new in his life and to pick his brain on what he expects out of himself this season.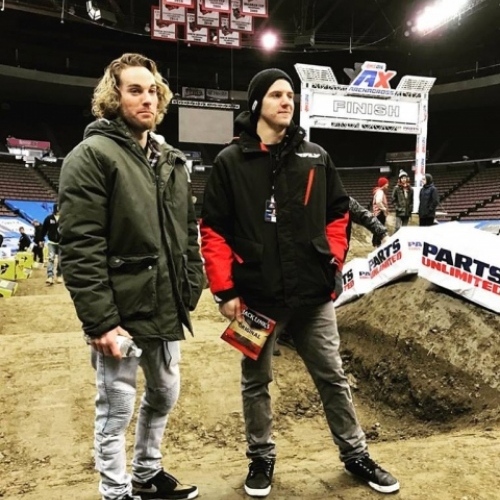 TiLube Honda teammates Owen and Lamay out on track walk in Cincinnati.
Photos: Arenacross.com/Lamay
First off, you're doing every round this year aren't you? Last year it was kind of a last minute deal for you guys.
Yeah, it was last minute and I already had plans to go to Germany, so I missed the first round. We ended up doing the rest, but this year I'll be doing all of them this year.
Do you guys have the same setup for this season or anything new going on for 2017?
It's Jace and I again and our other teammate is Dillon Cloyd. He was on the team last year, but it was his first year as a pro. He focuses on the Lites class, but does Arenacross class as well to get more practice in. Everything is about the same this year. I think some of the parts are different and we have some different engine components. We have a new bar sponsor as well, but other than that it's the same program.
In arenacross it's hard to see what the operation actually looks like in the tight confines of the pits. What is your team's setup like and how many personnel do you have surrounding you?
I love it. It's out of a big motorhome with a garage in the back. For arenacross that is all that you need. We have plenty of parts and space to do everything. My mechanic is awesome and the bikes are spot on. I think the bikes should be pretty good as long as I can get some starts.
Last year was your first year in arenacross and I'm sure you learned a lot of things. What was the biggest thing that you worked on in the offseason to step your game up this season?
I'm focusing on my speed and stuff like that to make me a better rider in general. Mainly I've been focusing on my aggression and that's doesn't necessarily mean hitting people. I'm working on my aggression on the bike and attacking the track more. I think I'm pretty methodical and I plan everything out. I'm fast, but I need to be on the edge fast and that's what I've been working on.
Arenacross is so crazy to watch because if you blink you'll miss something and the race is over. How do you keep your heart from exploding?
Yeah, the intensity is so much greater than supercross. Arenacross has everything that supercross has, but it's so much shorter. We're doing heat races, head to head, and then the two main events. Overall the time of the race is shorter but it is so much more intense. You're never by yourself just riding around and you're always elbow-to-elbow with somebody. You're always protecting the inside and making sure you aren't going to get slammed, or whatever it may be.
You come up on lappers so much earlier in the race too.
Yeah, that's probably one of the worst things. The hitting and the elbow rubbing you get used to, but the lapped riders are just one thing that you can't avoid. You come up on them so quick, and there is only about ten feet of track, so they can only go so far. If you're passing them in the whoop section or rhythm lane you're just praying that they stay straight. You hope that they don't roll the catapult. The lappers are difficult to deal with.
You're a bigger guy on the 250 and we saw that work for Tyler Bowers for four straight titles.
I'm bigger at 195lbs and 6'0, so I'm definitely bigger on the bike. With the engine and bike that we have I feel like I can still be competitive. When I raced Tyler in amateurs he was always really aggressive growing up. That's kind of been his motto his entire career and that hasn't been mine. That's why I need to flip a light switch and be aggressive because I know that I can be. I definitely want to use my weight to my advantage.
You also have an advantage in the whoops being so tall.
Yeah, I love that. I've always been good in the whoops and I can smash those out.
What is the game plan going into the start of the season? You have a bit before the restart happens, so how do you personally go about it?
I'm just going to go out there and try to win. My game plan for the first three rounds is the same as the last three rounds. I don't have anything on reserve. If I wait and risk being cautious then I think it will hurt me in the end of the season. I just want to go out there, have fun, and be aggressive.
Obviously you have to ask those questions, but at the same time you guys are racing to win. I'm assuming you're going into this season thinking title or nothing. Am I right?
Yeah, I race motorcycles to make a living, so I'm not just going to go out there and just ride around. I'm going to go out and do my best.
Who is a new guy coming into the series that you think will be another threat to everybody?
Obviously the biggest name would be Matt Goerke. He's aggressive, big, and fast. He's going to be good. You can never put anyone on a pedestal because arenacross is so tight and precise. Everybody is within thousandths or half thousandths of a second of one another. Everybody is so close and it all has to do with the starts and putting every segment together of the track. He's going to be good. Chris Blose is coming in on a new bike, so I'm not sure how he will be on the Yamaha. At the end of the day you never know. It's just another rider.
Do you have anything else cool going on in your life besides gearing up for this season?
Not really. I do want people to know that I will be racing the Atlanta supercross. I know Jace (Owen) and pretty much everybody else will be racing it as well. I look forward to that race because I think it will be fun. I've never raced a 250 in supercross, so I'll be able to see how I stack up. I look forward to that and to a fun year enjoying my time racing.
I didn't even know that you were eligible to race the 250 class in supercross.
It's kind of confusing because of Phil Nicoletti dropping back down. I finished 20th in the 450 class in 2015. I emailed the AMA because I had a few offers to race 250s this year. Those teams were trying to get me approved to race and it never worked out. I do look forward to racing Atlanta.
If this works out then I don't see why this won't open the door to do more crossovers.
Yeah, I don't know why they don't do it. I think it's going to attract more people. You're going to save money on dirt. All you have to do is cut off some lanes of the track for us.
Why not change it up?
Exactly, why not change it up.