You want the truth? You can't handle the truth!
You want the truth? You can't handle the truth!
Photos by James Lissimore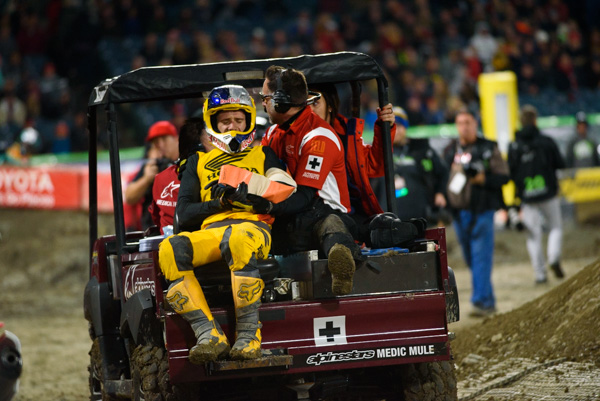 Roczen crashed hard halfway through the main event and will be out for a while.
1- Wow, where do we start? Ok, I know—Ken Roczen had a terrible crash while running second in the main and broke his arm. What did you think of his race before the crash, why did he crash, how did he crash and how much did his crash suck for the series?
First of all, I am glad Ken "only" suffered a broken arm in this crash. I don't get scared watching that much and I'm aware that crashes are part of this sport but this one looked very nasty. I screamed and refused to watch the replay to the end of the crash. I just watched the beginning to figure out what happened. Before the crash, I was kind of excited to see him around 8th place after the start. It obviously makes for better TV when the guy who won all the races since the start of the season doesn't get a great start. It would've been nice to see if he could've caught Dungey. I thought he rode well all the way until he got to Seely. He passed the guys pretty quickly even the 3rd place rider of the series in Musquin. He spent less than a lap behind Marvin. At this level when the riders are close and do the exact same things on a track, passing is challenging. Ken seemed to deal with that challenge well. It looks like he got a bit frustrated behind Seely. He started changing lines which didn't really work well. I'm sure he would've passed him eventually though.
On the rhythm section where he crashed, he used to do a different combo. He used to go over the tabletop, triple, double into the turn where most of the guys went on, off, triple, double. His original way to do it missed the nasty take off with the ruts which caused his crash. Later in the night, he started to jump that section like everyone else. Was he not used to it enough? Maybe he didn't find the smooth ruts to do that tall ski jump to tall ski jump. If you look at the previous laps, he moved around to find the right line. When he crashed he moved all the way to the left to jump that triple. Obviously something happened on the take off that caught him off guard. People talk about shock problems, bad body position but I don't believe that's what it is.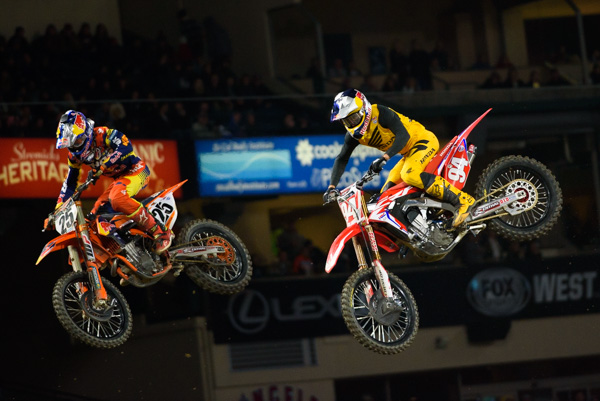 Before the crash, Roczen had cut through the pack from a so-so start.
When it rains a lot and they cover the tracks, most of the jumps stay pretty dry. But, water goes in every pocket which makes the dirt softer on the base. When bikes G-out in the bottom of those pockets, ruts form in the soft bottom dirt but not on most of the take offs. Square edges develop in the transition of the jumps. I am pretty sure he got surprised by a bump in the bottom of the take off. In slo-mo, you can see his rear wheel getting kicked in that transition. While square edges aren't a big deal when the suspension is extended because it's in the softer part of the stroke, they are a big deal when the suspensions are compressed all the way to the harder part of the stroke. It's like hitting a curb with a BMX bike.
2- It may have sucked for the series but it was great for Ryan Dungey who won his first main of the year and looks to be the guy now. Is this going to be a walk in the park or can anyone run with him?
If Roczen would've gotten hurt in the week prior to A2 and A2 didn't happen yet, I would've probably said Dungey was going to run away with it. But the second Anaheim happened and Dungey didn't look as comfortable while leading as he did trailing Roczen. The track was tricky but Ryan made some mistakes and got worried about Marvin catching him up at the end. He even said it in the post race interview. I thought Marvin looked off in the first half of the race but rode strong in the second part. I've been talking to him about his riding and especially his corner technique that I think could be better. If he can be smoother and stop trying to be too aggressives in the turns, I think he can give Dungey a run for his money.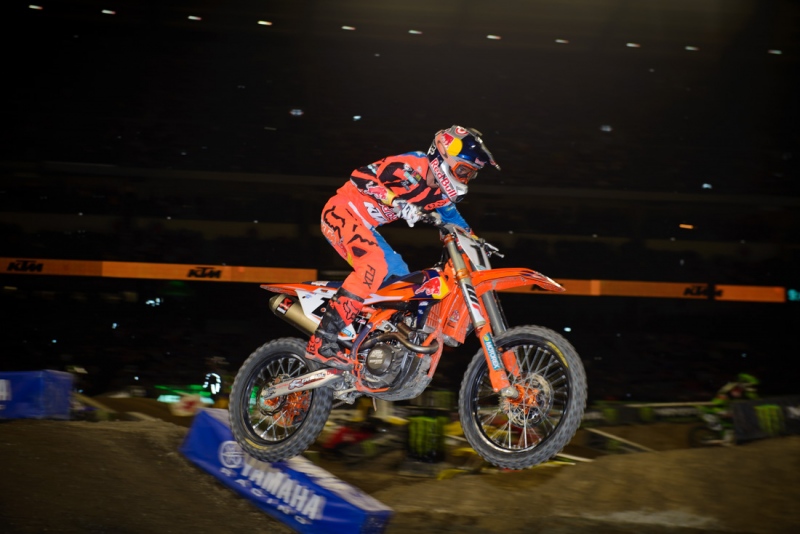 "We know Dungey is the most consistent rider to ever ride a super cross track but anything can happen. We all gave the 2017 number one plate after A1 and look what happened. Let's not give the number 1 plate after A2 just yet."
Maybe Roczen being hurt will make Seely realize he also has a chance at this thing. He rode well in A2 on a tricky track clocking the second fastest lap time of the race behind Roczen. Or the flip side is Ken's injury could put more pressure on him and work the opposite way. We'll have to wait and see. And lastly, there are 14 races left in this championship. We know Dungey is the most consistent rider to ever ride a super cross track but anything can happen. We all gave the 2017 number one plate after A1 and look what happened. Let's not give the number 1 plate after A2 just yet.
3- Cooper Webb looked great all day with his practice times and he got the holeshot even. He logged an impressive fourth…what did you see as an improvement for the #2 over the first few races?
Cooper looked like a "Walking Dead" character at the first 2 races. He looked a bit better in A2 and like he wanted to race instead of just ride. I don't think the bike is there yet. It looks short, twitchy and high in the back still. I'd like to see it plant better and more comfortable. Just like Reed, he gets kicked around a bit much and it looks like the bike doesn't plant good enough to corner well. Obviously a 4th place, 13 seconds back from the leader, is a huge improvement but they still have some work to do. Talking to some people close to the team, they've working on chassis components and making improvements. They need to keep going. I want to see Cooper as comfortable on the 450 as he was on the 250. If they get him to be like that, he'll race with the guys up there.
4- OK, the Vince Friese/Jason Anderson move…what did you see from Vince in that attempt? Fair or foul? Should Anderson have been that upset and should he have been DQ'd for his moves which included punching Vince over by podium after the finish?
I've tweeted about that about it: "I love El Hombre and Vince has history but on this particular action, Vince is not to blame…". Do I support Vince riding overly defensive to keep his position to make the main? Not really but he has to do so. He's not as good as the majority of the guys in the main. That's his signature riding style, get great starts, ride defensive/a wide bike and fight to keep his positions. We know this. I think he doesn't ride as dangerously as he has in the past. He's more predictable now and doesn't cross jump like he used to. As of this particular incident, I don't think it's his fault at all. I just think Anderson shouldn't have squared that turn off while in such heavy traffic. If he would've railed the outside, we wouldn't talk about it today and Jason would've raced the main event… As for the penalty, it's consistent with what we've been seeing since Reedy got black flagged in the incident with Canard. Same thing in the Peick/Friese incident-you shouldn't retaliate. The AMA is very clear about that. Jason lost his cool and paid the price. I am ok with penalties if they are consistent. Seems like they are lately.
5- Vince is in a lot of controversies but are these riders overreacting because it's him or if the number was different, would people act differently?
Like I said, Vince has history being in the middle of the mess and that could fire some riders up because it's him. Put Marvin in Vince's spot with Anderson and I don't think Jason would've flipped like he did. Because, if you put any rider in Friese's position Saturday night with Anderson, the end result would be exactly the same. I truly believe that. We can speculate on Jason's reaction if it was another rider but I would bet his reaction would be different if it was any other guys.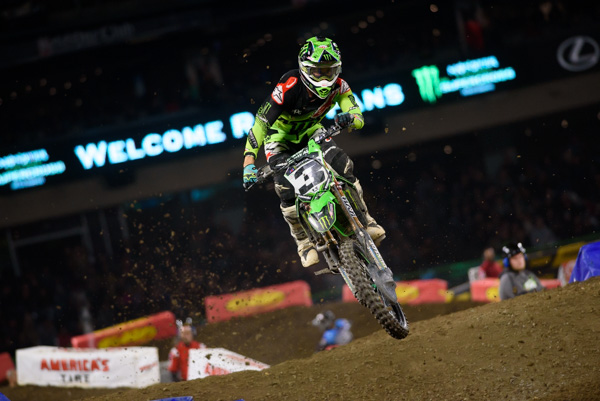 It's been a tough start for Tomac.
6- What would you do if you're Kawasaki manager and your rider is struggling bad like Eli Tomac?
I would do a few things. First of all, I would make him ride with softer forks that plant better to help his cornering. It's not a secret that if your forks are rock hard, it's more challenging to turn tighter and lean the bike. He might have to compensate on other sections of the track but corners are so important when all the riders jump the same way and go thru the whoops at the same speed. Second of all, I would make him ride without a clutch lever during the week. Back to basics. If you don't have a clutch lever, you can't lock the rear wheel in the turns because the bike will stall. That would help him roll his turns better and automatically he will become a smoother rider. Then, I will call DV to help him with his corner technique and line choices. I saw a video on lebigusa.com this off-season when Lebig went to Colorado for a day to film. Eli has a 2 bowl turn oval section next to his track to practice. No disrespect to Eli because I enjoyed watching him ride in the past and the bad ass rides he had through the years but in that clip of that oval, he looked horrible.
7- The 250SX main event was a bit of a snoozer but what did you see in there?
In the first 2 races, we all wished Hill and Plessinger would've gotten a start. They both did in A2 so it was a good indication of the hierarchy of the class. Hill ended up .3 seconds behind McElrath in San Diego so we knew he had the speed and the fitness to win. He just had to put everything together to win a race. He just did that Saturday. Aaron didn't have anything for Justin. He slowly lost ground lap after lap. I don't think he was as comfortable as he could be. He struggle in the tight stuff and in the whoops. Going from skimming to jumping but not very well. A2 was a good indication of the rank of the rider in this west coast series. Forkner is learning SX and improving every week. He does some interesting things on the track but can't seem to put everything together just yet. Whoops are still challenging for him and he lacks consistency in his laps still. It's a learning curve and he's on the right track.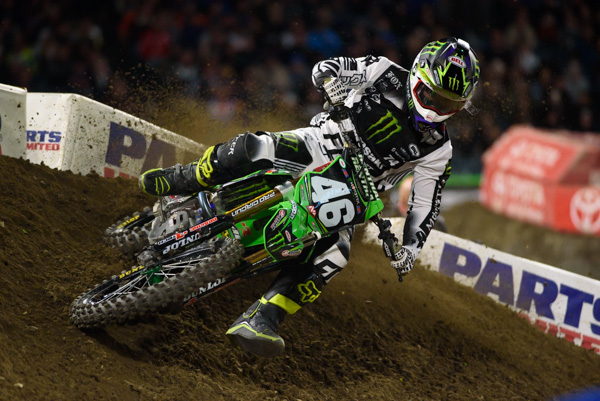 Great ride for Justin Hill to capture his first win of the season.
8- You went to the race! Who did you see, what did you do, who did you talk to? Anything/anyone interesting?
It was my first SX of the season. I brought Erica and the kids to hang out in the afternoon and see people we haven't seen in a while. We walked around and made various stops. we talked to Chad for a while and went back to talk to some of the Yamaha guys like McCarty, Perry, Guerra and Bob Oliver. I don't talk to them during the season too much. I don't like to bother them but they are my US family just like yours that you only see at Thanksgiving or Christmas. I see mine at Anaheim. It's nice to catch up, they can see my kids who they've seen since birth. It's funny, every time I see Keith, he asks about my parents and talks about my mom cooking. The first year I was here I would invite him at the house for dinner. My parents lived with me and my mom would cook. She's an amazing cook and Keith always talk about the pork roast she made that one day. That was 17 years ago!
We went to see the Bud Racing guys. My kids are friends with the owner's kids since I raced for him in 2009 in France. One of my buddies from Thousand Oaks who has a French café brought me a French almond pie. Just that was worth driving to Anaheim. We went to see the French guys I know racing (and struggling) in the 250 class. I used to date the sister of one of them when I was 16 haha. I had to say hi to Gothic J and talk about him roosting my motorhome in Binghamton 2004. I didn't catch Craig Monty but talk to his wife and saw his kids at the 5150 rig. I also had to see Matthes wrench for Alex Ray. I made Twitter live of it. You can catch it on my Twitter page. I saw Dean Matson. I was a fan of his craziness in the whoops when I was 12 at the Bercy SX.
I went to talk to Marvin for a bit. Told him to roll his turns and stop locking his rear wheel. Talked to the 100% guys, Marc & Ludo and that was it for us. We went home at 6pm and watched the night program on TV. It was a good day with Erica and the kids. My kids aren't around moto that much and it still surprises them that people want to talk to me, take pictures, do some interviews. I don't think they really realize their dad used to win SX races. I guess it's nice for them to see their dad was cool once upon a time. I hate to say it but I had a lot of fun in the pits. I guess it's a good thing because I'll be there every weekend starting at the Minneapolis SX.