Here's everything that David Vuillemin saw and heard about Dallas SX
Here's everything that David Vuillemin saw and heard about Dallas SX
1- After a few good ones, the track in Dallas wasn't an all-timer. All the riders said it was tight, tough to pass and pretty easy obstacles/whoops. The biggest thing that the riders had to fight was with the longer mains, the dirt broke down and made it sketchy…what did you think?
The track wasn't as good as some of the ones we had this season for a spectating point of view. But, the track is the same for everyone and you have to adapt to make it work, especially when you are racing for the championship. The lack of steep bowl turn made some insides fast when the ruts formed. It obviously made the track a bit one lined. You had to be really aggressive in the few 180-degree turns with steep outside berms. Whoops were easy in the night program but you could make the difference in them by doing it the "French" way. More on that later…The hard base made it tricky too. It was important to stay out of the shinny and slippery main line to get good traction. Overall, it may have looked a bit boring for most of us but I thought it was interesting technically to find a good flow and keep a good momentum…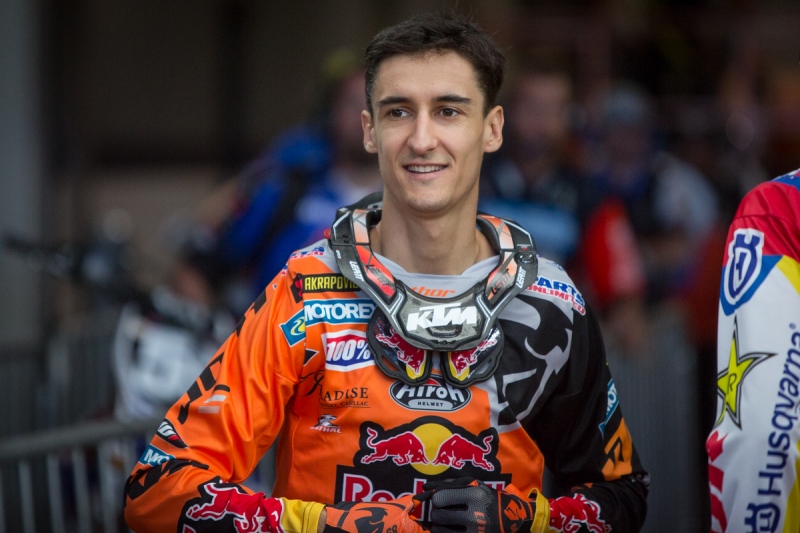 Marv did it! He won his first 450SX main event in Dallas.
2- Well he did it. Marvin Musquin becomes the first French rider to win a 450SX since…you! He used a great line in the whoops and consistent speed all day long to win rather easily. You must be happy…what are your thoughts?
I know what it takes for a French rider to win one of those. It's a lot of work, dedication and sacrifices. I wanted to recognize that before I keep going. In most of our minds he already won one in Atlanta last year. He proved he has the potential to cross the finish line first. Since last season and his rookie year, we all knew he had it in him. It was just a matter of time and a matter of putting everything together in a main event. He just did in Texas. He was fast all day and fastest in the second practice when the track conditions were the closest to what the riders were going to have in the night program. What I've always liked in Marvin is his creativity and his ability to adapt to track conditions. We saw him very lethal in the whoops when he started jumping far in and out of them with one hop. That's the "French" way. We grew up jumping those things because it was always faster to jump them in France with the way they were made in our series there.
Another point is that he's very good when he's by himself on the track opposed to when he's in traffic and has to pass riders close to his speed or a bit rough. When he can focus on his riding, speed, he's tough to beat. He's proved it in a past. You know he won't make mistakes and will be smooth every lap. I guess he made a very un-like him big mistake in Atlanta last year which was more of a bad decision than a riding mistake. It was 15 years almost to the day since a French rider won a SX race in the premium class. It's great for the French fans. They're all super excited and I guess it made mainstream news in France which is great for our sport. I'm proud of him and I'm glad he's the one succeeding me. Now, he has to confirm it all and keep grinding to fight for this championship. We're only a third of the way in the series and he's in a good position to give Dungey and maybe Tomac a run for their money for the title. He has nothing to lose while trailing Ryan by 18 points. He's got to be all in now.
3- It was a crazy race…Webb flat tire, Tomac's brake went out, Reed had a bike problem, Shane McElrath in the 250's…it was hard to track the chaos!
It was a very eventful race, that's for sure. We are in the motorsport business so mechanicals and crashes will happen. It's weird that a lot happened in one race. They're part of the game and I feel bad for Cooper and Tomac. Webb was leading before the red flag, then he was second after the restart and trailing Marvin by a few seconds and he got a flat. In the 129 mains I've raced in the premier class, I've never got a flat. I'm sure there is an explanation but I won't get into it. You know my position when it comes to tires. As for Tomac, it looks like his front wheel problem came before he crashed. Looks like his problem was the cause of the crash too. It's a bummer because we know he would've moved up in the main and obviously lose less points on RD than he did. I don't think he would've won but he was already up in third when he crashed and in front of Dungey. Same goes for McElrath who instead of being leading the championship by 2 points before the break, he's 25 behind…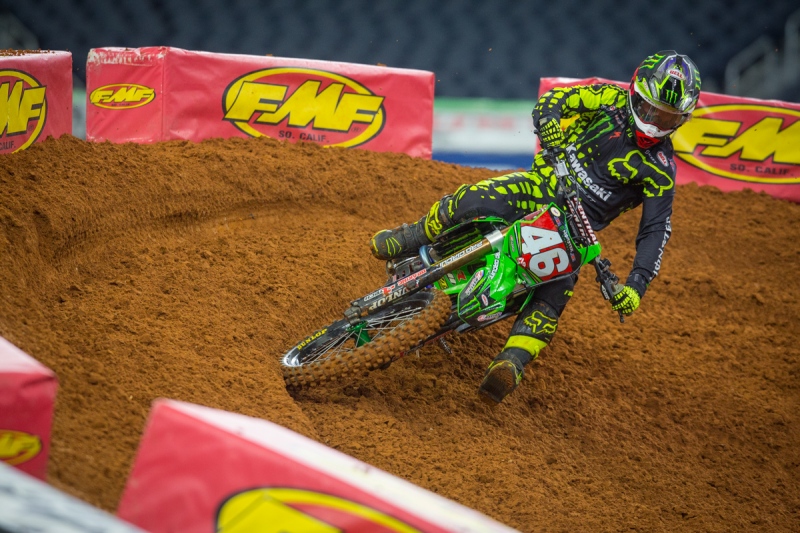 Hill won his fourth race in a row although he caught a bit of a break.
4- McElrath was on his way to the win with Hill in second before his bike broke, thoughts on the 250SX main?
Shane was doing something not too many riders did in the past. He stepped up and had Hill covered in Dallas after getting beat fair and square 3 races in a row. It's difficult mentally to overcome this in just a week. But he did it. He looked great. His riding was more aggressive, very solid and he stepped his pace up when we all thought Hill had those guys covered on any track like he did since A2. Shane was very impressive in Dallas and it's a bummer he's a race down now. It's going to be tough to recover from this with 4 races to go and trailing by 25 points. Same goes for the new Mike Larocco, Aaron Plessinger. Aaron is 21 points back and with his starts since A1, I don't see him catching up that many points on Hill in 4 races. Justin might start riding more conservatively after the break. It's his championship to win now and it will automatically put more pressure on him. That might help the 2 trailing him but to gain 20+ points, it's another story.
5- I don't understand why these teams wrap their guys in bubble wrap and we don't see them on the 450 on the east coast. It used to happen all the time and Seely did it a few years ago. What's up with this and would you like to see this or push for this if you were a manager?
20 years ago, even the leaders of the 125cc West Coast championships raced in the 250cc class on the East. In '97, Windham even won in the premier class as a full time 125 rider. It was in Charlotte. Same thing happened the year after in '98. Dowd won at the same race while leading the 125 West Coast series. I was 2nd so I remember! As of today and the way the west coast series is going this season and if I was a SX manager, I would make every west coast rider race on the East. By not letting/making them race in the 450 class, they make a regional championship too important.
The goal in this sport is to perform as a 450 rider. Why not gain experience in that class without any pressure and before moving up to get used to the bike, repetition of racing and the competition. I think it would've help Webb in 2017 if he raced some 450 races last year. Maybe he wouldn't have been so off in the first couple races this season with some racing and testing experience in 2016. The "we dont want him to get hurt" excuse isn't relevant. They ride SX, they can get hurt on any day, on any track, at the races or during the week. Everyone always look at the bad things that could happen instead of seeing what the great things that could come out of racing 450 in the East… The industry is a little too pessimistic sometimes.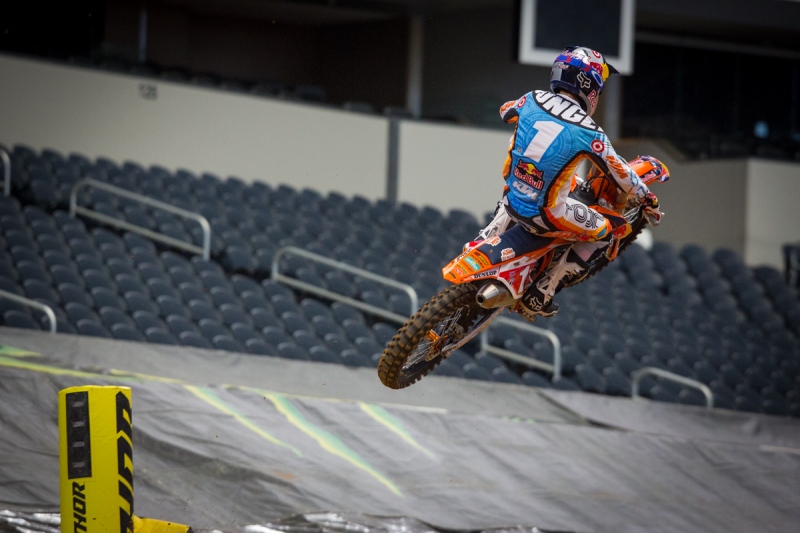 Dungey didn't look his usual stupendous self but he extended his points lead yet again.
6- What's wrong with Dungey? He hasn't been the same since he won and Roczen crashed…anything to that injury affecting him you think?
I've said it last week. We haven't seen the real Dungey yet this season, well maybe in San Diego when he was behind Roczen. I really have no idea if Kenny's crash and injury has anything to do with it. He looked off in practice in Dallas. He was trying so hard to go fast and lost all of his smoothness in the process. He was better during the night program but as the champ, he's not allowed to spend that many laps behind Wilson. Dean rode good but it's Dean. Not Tomac or Roczen.
But once again, after an eventful race, a horrible start, not riding like himself he gained 1 point in the champion and he didn't even podium the race. Since A2, he gained points on whoever is/was in 2nd at every race without winning a race. So, mathematically and for the championship, he's doing great. He now has an 18-point lead, his biggest lead of the season yet. Imagine how boring it would be if he was in his 2016 form. He'd have a 2-race lead by now!
7- The red flag for Brayton came out and hurt Webb, helped Marv, etc, etc…how do you approach these things as a racer?
Red flags always suck for the guys in front and are great for the guys who messed up their starts. Mentally and most of the time, it hurts the guys who were in front because they were doing good and have to do it again. And it gives the guys who were in the back extra motivation to succeed off the start. It's what happened for Marvin this weekend. He was outside the top 5 on the first start and started like a rocket on the one that counted. The best approach is to forget about the start that didn't count, focus and stop wondering what would have happened if there was no red flag. You gotta go thru your pre-start routine again. Focus on your start and on your lines, nothing else.
8- Story time…tell us about a Dallas SX race for you!
First time I was in Dallas was in 98 for the 125 West Coast season finale when I was trailing Dowd by a couple points. Won my heat. I was the fastest and was very confident to win the championship. My hope ended in the first rhythm section of the main event, I was third and Dowd was in front. I would've had to pass him in order to win. Whoever finished in front of the other was Champion basically. But in the first rhythm section after the start, Shaun Perolio on a Stiffie RM125 got out of control and his bike hit mine when I was in the air. Crashed, broke my front brake line and only came back to 5th. Dowd won the race and the championship… It was a big bummer. It was in between 2 125cc GP's and it took a lot of effort/money to race the full series that series as a privateer in the US. I went back to the GP's bummed out and finished the World Championship in 2nd too, behind Chiodi.
After that, I raced Dallas many times. I remember getting 2nd behind K-Dub in 2000. That might have been his only win that year. RC won Daytona and MC and I won the rest. I never liked Dallas SX. It was always a tough sketchy technical track with huge concrete hard whoops. I also got 2nd in 2002 behind RC. I briefly talked about it last week. I wanted to do the same as Indy but I failed. Feld did great when they bought new dirt for that race a while ago. The old dirt was harder than Vegas SX and it was blue grooved every year. The track conditions are way better today.