Are we overlooking the 450 potential of Blake Baggett?
Are we overlooking the 450 potential of Blake Baggett?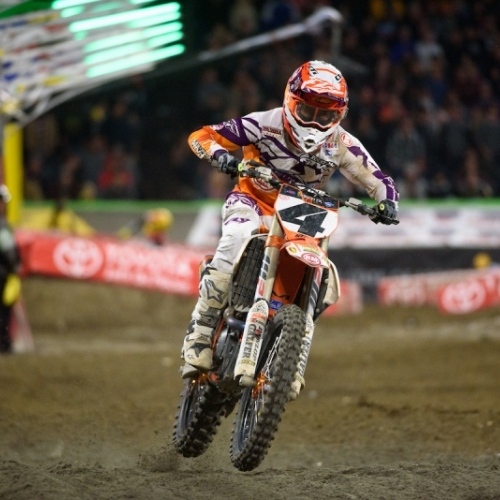 Two podiums in 34 450SX starts for BB4.
Photos: James Lissimore
Whether it's an issue on the media's part, or Baggett himself, coverage seems few and far between for the #4 Rocky Mountain/ATVMC KTM rider. He's a Lucas Oil Pro Motocross 250MX champion and has beat all of the guys who get most of the hype on many different occasions.
Who did he beat for the 250MX title that summer in 2012 that was so awesome? Well, I'm glad you asked…Justin Barcia, Eli Tomac, Ken Roczen, Marvin Musquin, Jason Anderson, just to name a few. These are just a few of the top guys in the sport today. I realize that outdoors is a totally different beast, however Baggett first admitted to Racer X Online on Saturday that, "For years I didn't even like supercross, but it's come a long way, and I like it now".
That's quite a statement. Before the season Baggett was brought up on the PulpMX Show a few times and the rumor was that he was absolutely flying out at the test tracks. Well, after Baggett's third place finish in Atlanta on Saturday, I'm a firm believer that those rumors were true. BB4 has only one other podium finish in his 450 career, which was a third in Daytona during his rookie season in 2015.
The stat that jumps out the most is that out of his current 34 career 450 class supercross starts, Baggett has seven top five finishes (two of which were podiums). This is just a genre of racing that has not come easy to Baggett and over the offseason he must have figured some things out. It seems like he's having a fun time racing this year and it is showing in his results.
Where do you stand on the question that was raised at the beginning of this column? Is Baggett overlooked because we all have given him the stereotype that he's an 'outdoor only' specialist? That sounds just about right. Yet, if he keeps hovering around the podium then he's going to uncork a new level of potential.
With Daytona a week away and the Lucas Oil Pro Motocross Championship on the horizon, I think we see BB4 on the podium a lot more. If he can stay healthy, which he proved that he could in his 2015 rookie campaign, which will be the key. It's not even a stretch to say that he can get a win in Daytona, despite Tomac absolutely crushing it there last season and always bringing the speed. Baggett can keep this East Coast mojo going and if he does he can creep up into the top five in the standings.
Also, another 'outdoor specialist' is making his 450 debut next weekend in Daytona. Jeremy Martin will be riding for the HRC Honda squad filling in for Ken Roczen. Martin and Baggett are very comparable when it comes to results, but Baggett has had better supercross results. We'll have to keep an eye on Martin to see how his results stack up next to Baggett in the coming years.
Below you will find all of Baggett's 450SX results. Check out his finishes and come up with an opinion for yourself whether or not he is underrated, or would you expect podium finishes in 450SX week in and week out.
2015
Anaheim 1 – 12
Phoenix – 13
Anaheim 2 – 10
Oakland – 9
Anaheim 3 – 7
San Diego – 7
Arlington – 4
Atlanta 1 – 8
Atlanta 2 – 5
Daytona – 3
Indianapolis – 15
Detroit – 8
St. Louis – 10
Houston – 11
Santa Clara – 6
East Rutherford – 4
Las Vegas – 6
2016
Oakland – 15
Daytona – 13
Toronto – 11
Detroit – 19
Santa Clara – 10
Indianapolis – 5
St. Louis – 12
East Rutherford – 12
Las Vegas – 5
2017
Anaheim 1 – 14
San Diego – 20
Anaheim 2 – 10
Phoenix – 7
Oakland – 7
Arlington – 17
Minneapolis – 9
Atlanta – 3
You can email me anytime at troy@pulpmx.com or troybendgen@gmail.com to chat about anything really. I will respond to whatever you send I promise. You can also reach me on Twitter/Instagram: @troybendgen. Thanks for reading.