You want the truth? You can't handle the truth!
You want the truth? You can't handle the truth!
Photos by James Lissimore
Finally we saw a track that gave the riders some options and challenged them. A big quad that not everyone could do, some whoops that held up decently and a long start straight with a switchback. What did you think?
To tell you the truth, I hated tracks like Toronto when I rode because they become sketchy when you keep jumping everything. As a fan, I like them a lot. They challenge the riders all the time and riders can make the difference when they keep jumping the rhythm sections the longest. It reminds me of the nineties when I first started racing here. For example, in Seattle, the track was a war zone when the mains started. Track builders worked less on the track back then than today too. It wasn't very fun to ride but if you were good, you could make the difference.
As far as Toronto goes, I really enjoyed watching the race and the guys being challenged. The over, triple, quad was cool. It didn't look too hard when the track was new but it was very sketchy as the race went on. Obviously, it helped the guys that were jumping the fast way consistently. The big whoops section held up too. Jumping through the big set didn't work this week. You had to blitz them and hit each every one of them pretty high to keep your momentum. I was a little skeptical with the chicane after the start but it worked well. There weren't more pile-ups than usual. I liked the anticipation you had to use to be able to negotiate that chicane well during the race too. Overall, the track made for some good racing also because there were a lot of bowl turns where we saw a lot of passing.
The roles flipped this week with Tomac getting the start and taking off and Dungey having to work through the pack to get second. The starts are more important than ever it seems in this class. What did you think of the top two?
I'll give it to you that you have to be close to the front to win a race but I wouldn't say that starts are more important now than ever. Both Eli and Ryan ended the first lap of the 450 main in 9th the last two races. Both of them got second in Atlanta and Toronto respectively. If you have good technique, racing IQ, good fitness and the motivation to get the best result you can get, there are possibilities to make the difference and get to the front. Eli and Ryan proved it the last two weekends. As I've been saying for a while, Eli has only one strategy at the moment and that's to win every race if he wants to stay in the championship hunt. As of today, there are only 2 guys who can win the title but Eli is still a little far in the points. 24 points behind a rider like Dungey is pretty big.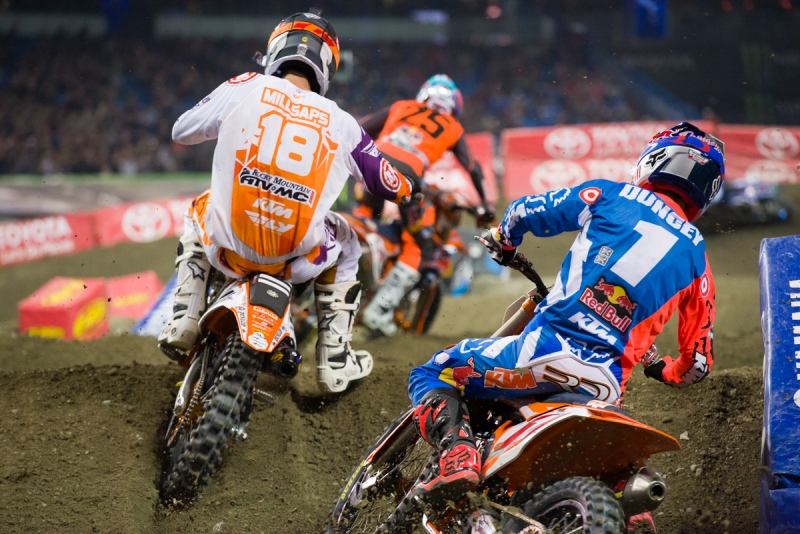 Dungey ripped through the pack to get the runner-up spot.
Right now, we don't see many riders being able to finish between Eli and Ryan in a main event. Marvin was the last one to do it in Minneapolis a few weeks ago. It's 24 points with 7 races to go. If the rest of the season goes like Toronto, Dungey would win the title by 3 points. SX isn't math though and Eli could win the last 7 races but he'll need a couple mistakes from Dungey. I was impressed with Ryan in Toronto. He got the job done and got the best result he could get on Saturday. He was more aggressive in passing riders than usual in the beginning of the main. He has it in him and only take chances when he has his back against the wall. It's a good strategy when you're one race ahead in the standing. Atlanta and Toronto were a wash for Dungey and Tomac but Ryan checked 2 extra races. He's obviously in a great position and his strategy is pretty simple now. If Tomac is on fire, take a second. If he feels good, get a good start and if there is a possibility to gain a few points on Eli, do it.
Broc Tickle made mention that last week he got a terrible start and got 14th, this week he got a good one and got his first ever 450SX podium. What do you think when you watch Tickle in Toronto? More to come or ?
Riders like Tickle need a good start and get in the right pace right away to hope for a good results. They're good riders but not enough to start over the top 10 and get a top 5. Broc is a solid rider, a good racer and he showed us in the past he had the speed to be a top 5 guy. Any of these, I call them "second tier", riders can be in the top 5 or even a podium when they can put everything together, start, riding, smart race and be strong the whole main. Baggett proved it last weekend too. But only the first tier riders can move to the front with a mid pack start. It's cool to see new faces on the podium and first timers. They should be proud of that podium plaque and can start hanging them up in the living room. They're worth more than a 250 win!
Marv was sick?
That's what I've heard. It was unlike him to be only 10th in practice. He also didn't look very good in his heat race even if he salvaged a 3rd by passing Davi in the last turn. He looked off and those things happen. Athletes with less than 10% body fat have tendencies to get sick easier than us, Steve. They've got to be careful. All the traveling, air conditioning in the planes, lack of sleep on weekends and much more can cause getting sick. It's a bummer because he lost 17 points on Eli and 14 on Dungey. Being 39 points behind his teammate now in the standing will be almost mission impossible to catch back up. He's gonna race to get 3rd in the Championship now.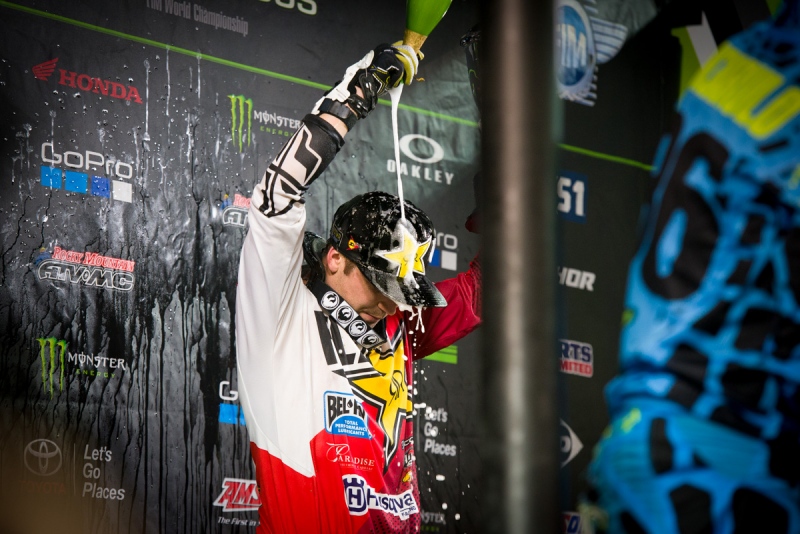 Zacho won again!
In the 250's it was Osborne again with a great ride and he looks unstoppable at this point but Daytona will be a test. He wasn't jumping the quad, he wasn't skimming the whoops every lap but he did what he knew he could for 20 laps and won.
Zach might not be the best rider of the series but he's definitely the best racer. He was skimming the whoops for most of the main, only the last 3 laps he started jumping them to be safe when he had a 7+ second lead. The main event was 17 laps this weekend. The quad is great if you can't do it for more than half of the laps because when the riders messed it up, they actually lost time on Zach doing it the safe way. You gotta think about the overall time of the race, not only the split time of that rhythm section. By not doing the quad, Osborne didn't have to think about it nor prepare himself for it. It's easier on the mind not to do it and focus on the rest of the track. He was great in his turns. He kept his momentum and hardly squared them off. He was also smooth in the sand and the corner following it. He has the ability to put everything together smoothly when other riders and fighting the track way too much without finding a flow. On a track like Toronto, the flow is very important and Zach was the best at it.
Your rider Christian Craig wasn't pleased with his riding but he had some people fall and he ended up on the podium which has to be nice after two crappy races to start the season. What did you think?
I don't think he rode anywhere close to what he can do but ended on the podium with some favorable racing events. I am waiting (and can't wait) for him to show us the real flawless and fast Christian. He still has a condition of Dr Jekyll and Mr Hyde. The doctor is lethal and could ride for the win on any track but the Mister will only be able to be a top 3-5 guy. He's gonna get the hang of it. He got hurt badly in a racing incident last summer. He was off for a while. He raced only 1 race between Glen Helen and Minneapolis. That's a long time without racing automatisms. He looks amazing at the practice track and having a race every Saturday will help him get in the right racing spirit. It's a bummer the season started like it did. I wouldn't mind if he was within 15 points from the red plate holder today with 6 races to go knowing what he's been thru in the last 10 months. We'll keep grinding. I had the weekend off but I'm flying early to Florida to prep for Daytona.
Who had the best LIT KIT in your opinion from Toronto?
I am a bit biased when it comes to bike/gear/rider combo so I have to say Reedy. The YZF450 looks good and very classy. The matching colors on the gear were on point. Reedy's riding style is tough to beat and I like the all black gloves touch. He gets my vote but it doesn't count for anything!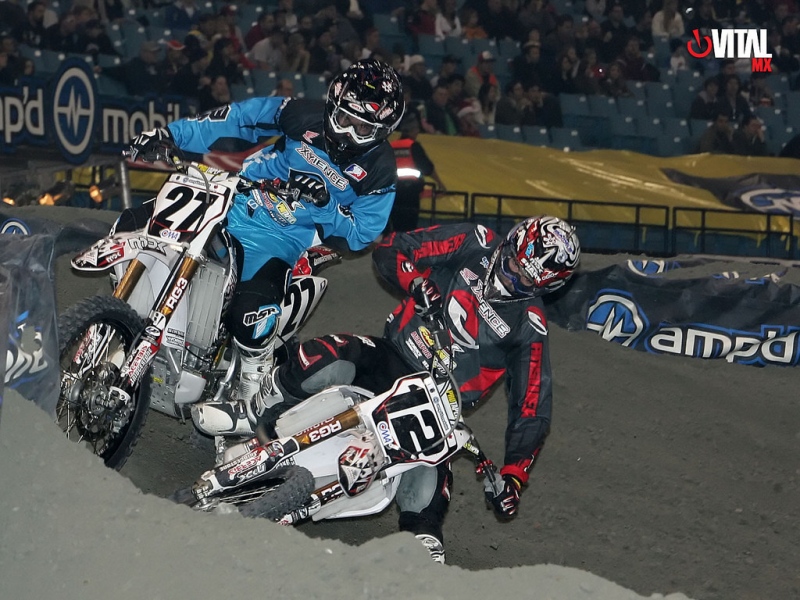 DV puts a pass on his teammate Wey in Toronto (photo courtesy of VitalMX)
Did you ever do the World Supercross races in Toronto on Suzuki? Memories of those?
I actually raced Toronto for the first time in December 2006 for the 2007 FIM World SX. I was racing for MDK Honda back then with Nick Wey as teammate. My 2006 SX season wasn't good at all and I rebounded well in the nationals with the help of Yamaha and Motoworld. I ended the season on 7th I think and top privateer. After the Nationals I signed with MDK Honda with Nyk. I loved the 2007 CRF450 right away and did good at the US Open. I actually podiumed the second night which was great for a rider on the downhill and as a privateer. We went to Canada to race the 2 World SX round. The track was pretty tricky with that grey silty dirt. It was almost too dry. Track broke down a lot but it wasn't as wet as last Saturday. I remember having a great battle with Nick for 5th position. I remember I came hot on him in the turn before the whoops to make the pass. I don't think he was too mad about it but I came inside pretty strong. Nick and I go a long way since he was a Yamaha of Troy rider and I was at Factory Yamaha. We didn't fight in the semi, we were cool.
Looking back at all the SX seasons I've raced, the MDK year was one of my favorite. The owner was a bit out there but super cool. Brent Myron was my mechanic, Lammy (Steve Lamson) the manager. Nick got hurt early in the season after getting a podium in Anaheim (I think) and I pretty much rode the whole season alone in the team. It was only Lammy, Brent, Big Danny Carlson (the truck driver) and me at the races. It was mellow, no pressure. I wasn't winning but I was dicing with the factory guys week in and week out on a MDK modified stock bike with RG3 suspensions which I tested for only two days. I went on to have a good season and get the top privateer award. Weird for me to sound excited about being the top privateer of the SX season after winning 7 premier class SX races and podiuming over 35 times but it shows you how much fun I had that season.