We've got ourselves a series!
We've got ourselves a series!
Photos: James Lissimore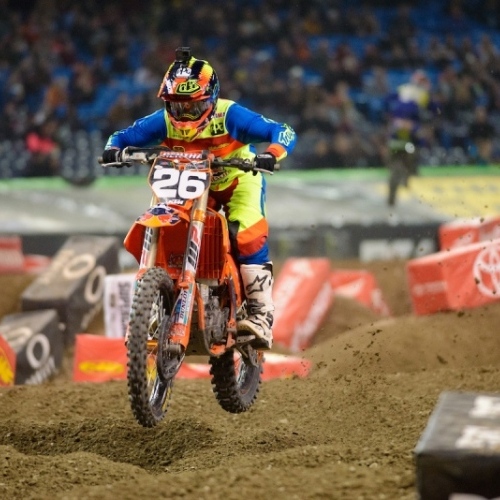 A-Mart was impressive in Indy…puked in his helmet and still ended up top five.
First off, how in the world is it Thursday already? It seems like just yesterday I was sitting inside of Lucas Oil Stadium watching the best riders in the world do their thing. Now I realize that these thoughts aren't as relevant as they may have been on Monday, or perhaps even Tuesday, but I came away with some decent views from what I saw during the races and wanted to share them before this weekend in Detroit. Here is a very short rundown of things I saw from the stands at the Indy SX and a preview of what I think is going to happen the rest of the season.
First off, I want to shame the crowd that showed up to watch the race. The RCA Dome and even the first three or four years at Lucas Oil Stadium were always so loud. This year even with the terrible coaxing from Lurch we were dead. The only time the place actually came alive was when Chad Reed held off Ryan Dungey for the final transfer spot in the first heat race. It used to be like that for the duration of the night show. Are we lacking star power out there? My theory is that this new wave of riders hasn't been out there long enough in the 450 class so people haven't really figured out whom they like to cheer for just yet. They are still holding onto James Stewart and Chad Reed.
I didn't see the entire Zach Osborne/Adam Cianciarulo incident from practice. I caught the end of it when Adam's bike went flying and that was that. I don't see a problem in either side of the situation. It was a stupid practice incident that should not have happened in the first place. AC is lucky that he's not hurt worse. At the end of the day this sport is dangerous enough and the riders shouldn't have to take out one another in practice.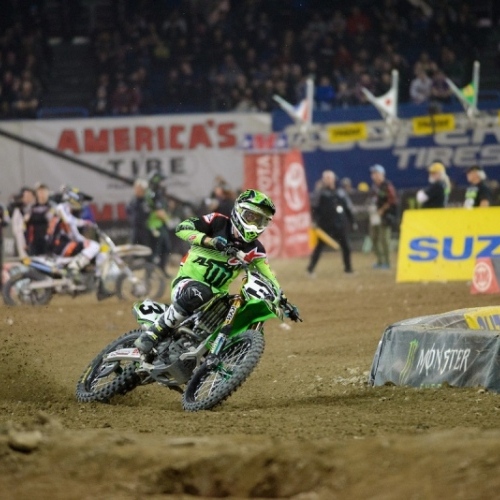 Corner speed on point.
Also, in practice it's always cool to watch and see guys figure out certain sections of the track. I only saw Joey Savatgy and Mitchell Harrison triple on top of the dragons back after the triples. It was so much faster and quite impressive to watch. They had to carry so much corner speed on the 250 and then seat bounce the takeoff a little bit. Josh Grant stood out as well because he was the only rider to seat bounce over all three of the jumps before the first big triple on the track. He did it twice in the second practice, but the first time he did it he went off of the track. Other than that practice was pretty standard.
I won't go too in-depth here with the night show because Matthes has already talked it to death and you've already created your own opinions on what you saw. I'll just start with a prediction on the fact that I do believe Eli Tomac will be able to pull this championship off. He's got absolutely nothing to lose right now and you can just tell that everything is working perfectly. His corner speed is unreal. I haven't see anyone cook a turn faster than Eli since Ryan Villopoto.
Tomac has this chase down to only twelve points, which I really didn't see happening leaving Indy. Marvin Musquin is obviously feeling better and Cooper Webb will be back and better than ever this weekend, which are obvious spoilers. I think we will see this lead dissipate in just a few more rounds. Dungey is frustrated and not on his usual game regardless of his podium finishes and wins this season. Something is wrong and it's going to catch up to the two time defending champion.
The 250SX East Region is going to go to Zach Osborne, barring any injury or mechanical failures. Zach-O showed me that he can be fast, patient, and in control. He made aggressive passes and that's what you need to do to make things happen. Don't get me wrong, Savatgy was flawless and almost mistake free in the main event, but he didn't show aggression or much fight once he was passed for the lead. He had the perfect opportunity to make something happen, but instead he lost points. Anything can still happen, but judging by what I've seen so far this is how I think it's going to play out.
We've got plenty of laps to run in this 2017 Monster Energy Supercross Series and it's pretty remarkable that the 450 main event went 26 laps. For a fan I like the change because it made the price of a ticket (which are a lot more expensive lately) worth it. Indy wasn't as rutted or dangerous as it was last year and the dirt looked perfect all night. I'm ready for Detroit and seeing how both of these championships play out in the next two weeks. We've got one month left of racing and don't forget about the West Region title as well. Can Hill keep it going? I don't know about you, but I'm hyped up and ready to see this all go down!
Thanks for taking the time to read my column. If you want to email me you can reach me at either troy@pulpmx.com or troybendgen@gmail.com. Please follow me on Twitter/Instagram @troybendgen.