DV explains why we need longer lanes in Supercross among other things.
DV explains why we need longer lanes in Supercross among other things.
Photos: Tyler Spikman
The track was pretty simple, very hard packed and didn't provide much great racing until the 250SX main event…why do you think that was?
I've talked about it for a long time. Track layouts need to be more open especially in a football stadium. I'm going to sound like a broken record but we need long lanes and 180 degree bowl turns to make it interesting. Detroit had some pretty good 180 degree turns but the lanes were too short, where the riders don't have enough time and room to get alongside other riders to make a pass in the turns. The longer the lanes the more chances they have to make the difference and make up time to be able to make a pass in the following turn. The lanes with the wall, the whoops after, and the straight away in front of the mechanics weren't very interesting and too short. When you use three lanes like that on the width of the stadium, automatically, it makes the lanes on the length of the stadium to short too. Long rhythm sections need more than three jumps in them to make good racing.
I understand they want to make the track closer to a minute but it doesn't really matter anymore since the races are timed. I think they want to bring us different layout throughout the season to change it up but I would rather see a generic track with long lanes but switching up by coming up with different obstacles. As far as the traction goes, that is another problem. I'm still a firm believer that nowadays the four strokes are utilized the right way and the type of tires everyone uses aren't adapted to the torque of today's bikes and also to the texture of the dirt. When four strokes came out, they were amazing in those conditions. We remember Doug Henry on the rock hard track of Las Vegas 1997, or how Windham had an advantage in Washougal or Unadilla when he was one of of the only top riders riding a four stroke. We now have four strokes that are as explosive as two strokes were in the early 2000s and using soft terrain tire patterns on hard packed SX tracks.
The way the bikes are today it might be good to set a fast practice time or to be fast when the conditions are great on California test tracks around 10:24am but when it comes to be fast and efficient a 20 minute main event on Saturday on a beat up track, I don't believe that set up is the best. Same goes for the tires. I've said it many times. I want to see tire patterns with lower and fatter knobs that will not completely be deformed when used on a 450 on a track like Detroit.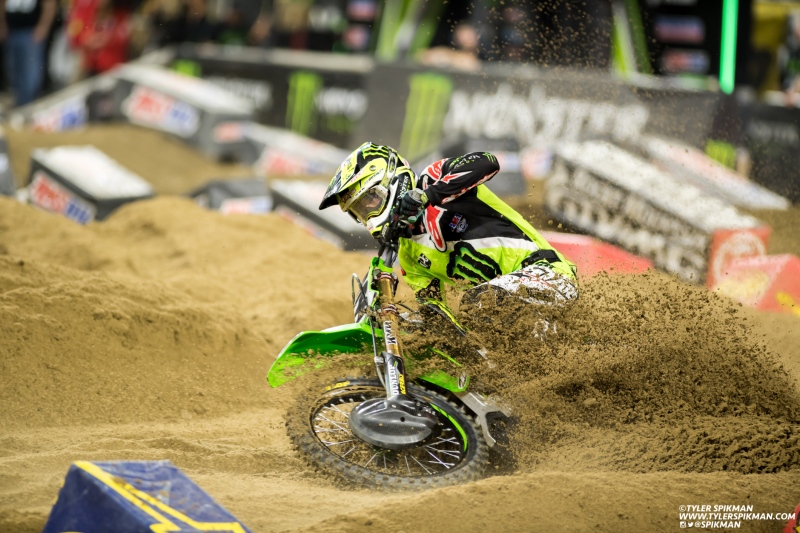 Tomac did it again and the gap is just now seven points.
The riders all hate the sand sections but lots of crashes in them all day long and cool photos—does it actually not "work" on a SX track or are these riders being a bit grumpy about it?
I was never a fan of sand sections in SX. As a rider I don't see the point of it the way they do it these days. You get roosted all day, but it doesn't make racing better. I'm sure the fans love it as well as the photographers. It makes for some cool shots like we've seen in Atlanta after the wall. The only sand section that worked this season in my opinion was in Glendale where it went from under the bridge all the way over. It was a 270 degree sand turn where you could make the difference and where we saw some cool passes. In Detroit, it worked too I guess because we saw Tomac take the lead in the main in it. I wish they would come back to the sand sections from the 90s. Often, it was after a big triple on a little straight away, rollers formed and they always put a little double coming off of it. I'd rather see straight sand section in SX. When it's in a turn, too often it makes it very only lined. We see it all the time and not too long ago in Daytona. Those 2 sand turns in Daytona weren't good.
Christian Craig incident on Alex Martin, add in the Osborne/AC move from last week—does the 250SX east series need some anger management?
I don't think it's that bad to have a little bit a rivalry even in practice. SX is a contact sport with actors with big egos. That stuff will happen. If they keep penalizing riders for this type of stuff SX will become very boring. Don't get me wrong, I don't want anyone to get hurt but a little drama and rough riding make for some good TV and entertainment. I didn't think Christian's action was that bad but the aftermath was. Alex actually crashed pretty hard. The consequence looked bad but the cause wasn't as bad. For being Christian's former riding coach, I actually was glad he finally showed some aggressiveness. He hasn't showed any since the beginning of the season. It's a bummer Alex didn't ride and flew off the track like he did but we don't want the riders to ride like drivers on the freeway around a cop car or when a cop is sitting under a bridge…
Do you agree with CC penalty?
I'm okay with fines and penalties as long as they're consistent. Fining Christian $3k and giving him the last pick on the gate for the main is a little steep when Osborne, last week in a very similar action, didn't get fined nor penalized. I guess if you're leading the championship, you get a get out of jail free card. That's what I don't like, the inconsistency. But if this story fires CC up, I am ok with it. It seems like he rode well in the main after being involved in the first turn pile up.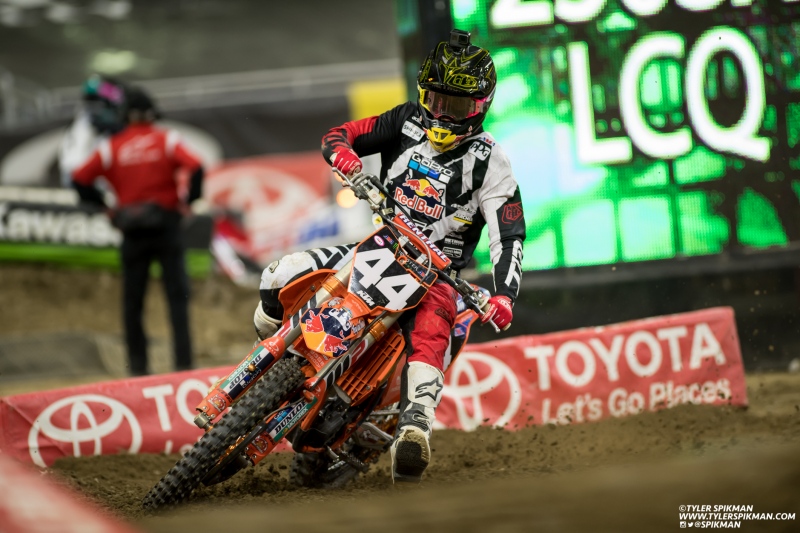 Jordon Smith captured his first win of his career in a great 250SX race
What do you make of that 250SX main event? Ferrandis has got to be bummed and Savatgy and AC crashed and still made the podium! Jordon Smith becomes the first rider in 14 years to win the LCQ and the main event!
The 250 main was great. It was cool to see Dylan running in front. French riders are too often timid and too cautious. I'm glad to see Ferrandis being agressive and racing in front. I guess he had some issues with his back and I'm not sure to what extent it affected his main event. He might have gotten a bit tired too. Halfway through he started seat bouncing a bunch of stuff and that's why he got passed on the triple after the second dragon's back. It looked like the two PC guys were gonna give him the win on a platter, but it didn't work that way. We've got to give props to Jordon Smith. Since the beginning of the season he has been pretty impressive. His starts coming from the outside are amazing, like he did in Minneapolis after getting 9th in the heat race, and this saturday in Detroit after winning the LCQ.
To tell you the truth, I was never a fan of the way he rode on the Geico Honda. He was always a gear lower everywhere, revving for no reason and his corner speed wasn't up to par. He improved tremendously this off season and it's showing. I've got to give him credit. It's not easy to change from the way I saw him ride last year during the off season and at the races. Him coming hot from the outside off the start screwed Osborne's night up though. Zach has to be bummed on the action, he damaged his bike, got 18th and lost the red plate. For us fans, it makes the championship even better. The top four guys in the championship are now within 11 points with three races to go. It's almost like we have a three race "Nascar Chase" between those four guys. It should be great.
Tomac won again, his pass outside in the sand was awesome and he rode away. Was it all whoops for Marv or was there something else?
Tomac is sticking to his plan, winning races. That's the only strategy he had if he wanted to catch Dungey in the championship. He's now seven points away with five races to go. His strategy might change soon because I don't think Eli thought he was going to catch Dungey that quick since his horrible night in Texas. Thanks to Marvin who has become Eli's best ally in the last two races. Marvin had his chance to win Detroit but a few things affected him saturday. the whoops were one of the reasons but not only. He could've been faster by skimming the dragon's back. I don't know why he didn't. Dungey spent 20 laps not skimming it and when he started to do it it's when he passed Millsaps. It was faster to skim, hands down. Marvin wasn't good in the sand also. That's where he got passed by Eli. After that short set of whoops he kept stopping and locking the rear brake on the sand roller before the inside berm losing all of his momentum. Millsaps was doing that very good. He skimmed the whoops well and then kept his momentum over the sand roller which helped him be smooth through the turn. Marvin struggled right there. His whoops speed wasn't as good as other riders but I didn't like his placement on the track. He kept skimming the whoops all the way to the left, which made him come in so tight in the turn before the dragon's back. He couldn't keep his momentum thru the turn which affected his dragon's back.
The key was to square off the turn before the whoops and go down through them more to the right to anticipate the obstacles coming at him. It's weird because he was coming in the turn before the whoops so well. He singled out from the rhythm section before pretty far into the bowl turn but went all the way around instead of using his entrance technique to square it off. All those little details didn't help him. He also missed the over the table-triple after the mechanic's area a couple times behind Tomac and lost ground there too. He's right there to win another one but he's gonna have to fix those small details to beat Eli straight up.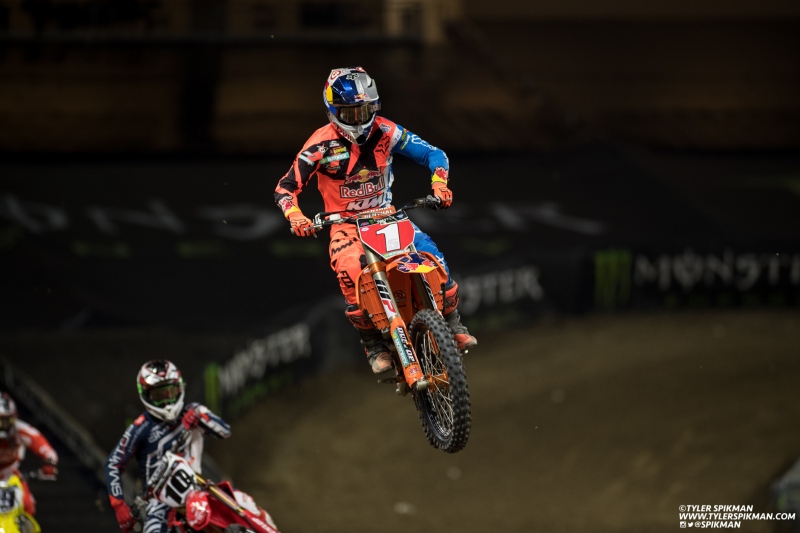 Vuillemin thinks KTM riders shouldn't be making life so hard for Dungey.
Are you surprised that Davi is fighting Dungey, Marv beating him and even Baggett was right there at the end looking for a way around Dungey? All of them KTM riders.
I'm very surprised the KTM guys are giving KTM's number one rider and actual points leader such a hard time. Ryan isn't doing too great since his win in Atlanta and his come from behind ride in Toronto. Like we say in French, his points lead is melting like snow in the sun. Why would riders of the same brand and same team make his life more difficult than it is? Why is Marvin becoming Eli's dream teammate? Marvin realistically can't get better than 3rd in the series. He doesn't have to beat Dungey to beat Seely for the last podium spot in the Championship. Some people say it's too soon to have team orders but even in the Kawasaki team they have to laugh at KTM's strategy on this one. Dungey's own teammate and training partner is helping Dungey's biggest competition in the Championship. The Kawi guys have to get a kick out of that.
To be clear, I have nothing against Marvin. He's doing great and he obviously wants to win. I don't expect Marvin to help Dungey on his own. I'm just questioning KTM strategy on that. If Dungey loses the title by three points in Vegas, how is KTM going to feel about those four points that Marvin "took" from him in the last two races? I've had team orders a few times. First time it came in 1997 when Chiodi was racing Puzar in the 150cc World Championship. Chiode was a Yamaha factory rider and I was becoming one in 98. They came to me and told me whenever he was behind me I had to let him go by. It actually happened in Belgium. Alessio got a bad start and I waved to him in the woods where no one saw it. I also had team orders in 2004 at Factory Yamaha when Reedy was racing with Windham for the championship. When we were DQed in Dallas for bad gas, the championship became very tight between Chad and Kevin. Same thing, I wasn't allowed to race Chad nor beat him which I was okay with it.
Give us a Detroit/Pontiac story?
Not too many memories in Pontiac and Detroit. I think I only podiumed one or two times there. It was one of my least favorite tracks and places on the circuit. It was always super soft and felt super narrow with ruts in every take off and every landing. It was fun to ride there in my days. But in 2008, I had the chance to design the track. That's the year half of the tracks were designed by riders. It was a fun project. Needless to say, it had long lanes, a long whoop section and a bunch of 180 degree turns. It turned out so tough, so picky and sketchy, but made for an eventful day. That's the year Chad was leading the championship, once again battling with Windham, and grenades himself on a triple step on in practice due to a bike malfunction. Those carburated 450s were a bit sketchy back then. Chad spent the afternoon at the hospital. He used his provisional to get in the main and salvaged a 12th place in the main being all banged up.
Same went for the 250 class where Canard and Villopoto were battling for the title. Trey was leading the championship by 14 points before Detroit. He had a bad night with some crashes too and left Michigan with only a 3 point lead before the final round in St Louis. St Louis was actually another crazy 250 race where those two collided on the face of the finish line, RV ended up on the ground and Trey went on to win the championship. So yeah, that's my Detroit story. My track, indirectly, made both championships way more interesting. It was my last SX season and riding for Factory Suzuki, the bike I loved so so much (J/), and got my second best race of the year, 7th. My best race that season was the jet ski race in Daytona where I got 4th. That's all folks and that was my weekly column. See you guys next week, same place, right here on PulpMX!