You want the truth? You can't handle the truth!
You want the truth? You can't handle the truth!
Photos by James Lissimore
Ok, we saw what happened in the main with Marv and Dungey. We've got his pit board, we've got him looking around a bunch and we have him losing the lead. Assuming that you also believe that Marv pulled over for Dungey…how do you feel about team tactics in the sport like we saw Saturday?
Everyone has an opinion about the "incident" on the last lap of the 450 main. I do have one but it's not very clear and I can't be 100% sure it's what happened. I'm going to talk about what you just stated.
The pit board, it said "Ryan", I saw that. Did Marvin see it? With a mechanics area like the one in New Jersey, I was looking at my board only when I started to get tired. You are doing a flat 180-degree left turn and the mechanics are back deep on the right.
The looking around & slowing down… I also saw that. It looked like he lost speed and was going wide into the turns to leave room for Dungey. That looked a bit obvious. I give you that. The same way Josh Grant looked in front of Tomac actually.
The last lap pass… I am not saying there wasn't a planned strategy not to finish in front of Ryan in the main for Marvin. I would hope they had to have scenarios planned out and what to do in any situations. Even if we saw Marvin slowing down in the last lap to let Ryan by without making it too obvious, I am not convinced, on the particular spot where RD passed MM, it was planned in that turn. It looked more like an honest mistake than a "let by". I'm sure most of you would disagree but that's my opinion. I'm not saying it wasn't planned. I'm not saying he wasn't going to let him by later on. I'm just saying he made a honest mistake that worked great for those alleged team tactics…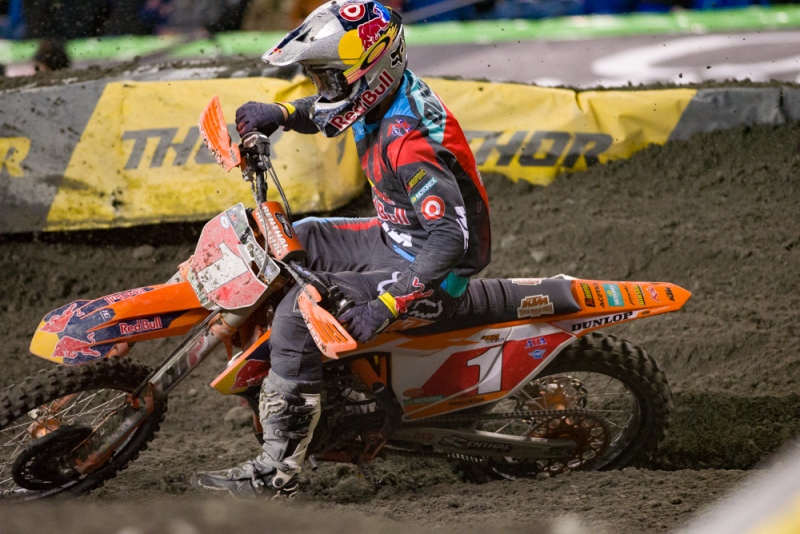 Dungey got the red plate back with a good ride in NY and some help for the win.
We can speculate all we want on that race. Why would he race Dungey in the beginning and pass him if he had the orders to let Dungey finish in front of him? The only answer I have for this is that he was promised a 6 figure win bonus if he was winning the race and let his teammate "bye". That's the only explanation. We could also speculate that Marvin passed him to show him lines and be the "hare" to help Dungey go faster. That's a little more far fetched.
At the end of the day, I actually like team orders and tactics. I can't stand fans who say its BS what happened and we have to let everyone race as individual athletes. Then, it goes down to why have 2 or 3 riders per teams then? If only 1 rider can win a title and he's not allowed to get help by his teammates we should fire Marvin, Grant, Seely, Reed, Wilson, Canard etc… If Feld, AMA, the teams (that get "screwed" by team orders) fans don't like this kind of racing, we should only have 1 rider per team and hire replacements from a list as pay as you go riders in case one of the rider gets hurt. Is that what we want? If I were Pit Beirer or DeCoster, team orders would have appeared way earlier when Tomac was getting momentum. Marvin wouldn't have finished 2nd in from of Dungey in Indy and Detroit if I was in charge, that's for sure. I'm not ashamed to say it. Why would KTM pay Marvin a million dollars+ in salary and bonuses to help Tomac, a Kawasaki rider, win the championship. It makes absolutely no sense whatsoever. If you're a fan of SX/MX and don't like team orders to win the most important dirt bike championship in the world, stop being a fan and start getting into tennis or golf…
Musquin gets his win bonus right?
I'm pretty confident he will because he passed RD straight up, built a little gap, slowed down in the last lap and opening the door in the turns. But, like I said above and again in my opinion, the way it happened didn't as convincing as it could've been. Stalling in an inside rut and looking for a kickstart on an electric start bike or waving him by in front of the mechanics area would've been more obvious.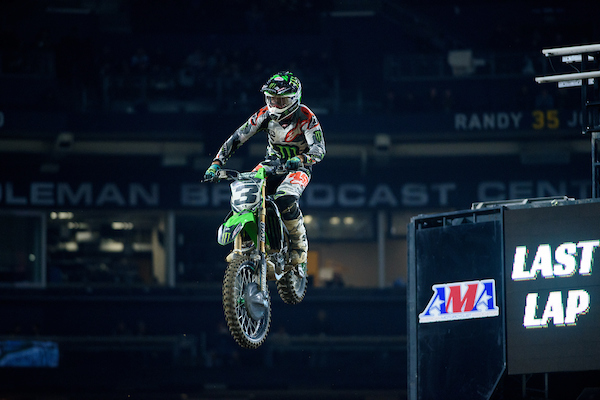 The title turned on Tomac this weekend.
Tomac took the lead and looked like it was going to be another win for him but he went down and sort of struggled from there. What do you think went wrong?
Even if Tomac looked on a mission in the opening laps of the main and took the lead early, he looked sketchy all day. I didn't watch the night program live but watched the last practice session online. He was really struggling to get clean laps in, crashed and wasn't very smooth. Same thing in the heat race. He struggled to transfer to the main thru the heat race. We can speculate on the weight of the red plate and also the different position he was in. He spent 15 races as the hunter and became the hunted in New Jersey. His crash was a bit weird too. He stood up way too late in that turn and leaned the bike way too much before his wheels were in the rut. Hence why he lost the front and crashed. The interesting thing was what happened after the crash. Tomac was unrecognizable. He looked like a guy struggling to make the main on a weekly basis. He forgot how to ride and lost his focus and drive. When you see his performance in Salt Lake City after a horrible start a week ago and his performance after his crash, it seems like it was 2 different riders. Did he get hurt in the crash? Did he blow up mentally? Was it the actual first time this season he thought championship and points and screwed with his head? Obviously, I'm not sure what happened exactly. What I know is that Eli looked like a regular mid pack rider after the crash, way different from what he showed us since the Glendale SX…
Zach Osborne was fastest in both practice sessions and rode an unbelievable main event for the win..what did you see?
Osborne is the best 250 East Coast rider this season. He proved it again this weekend. He's fast, has good conditioning and rides well when the track is challenging. He evolved well with the track and the ruts this weekend and kept being smooth and fast. The other guys were more sketchy and were fighting the track way too much. I like the way Zach rides this season. He doesn't do anything out of the ordinary but he's very efficient. I like the way he was jumping standing up and moving around in the ruts to find better lines in that 2-3-3-1 rhythm section before the sand. The rest of the field had tough time jumping it consistently and were slow doing it. Zach raced that section, jump the 2 triples in it standing making up time. He was also really good jumping off the roller in the middle of the whoops into the second set.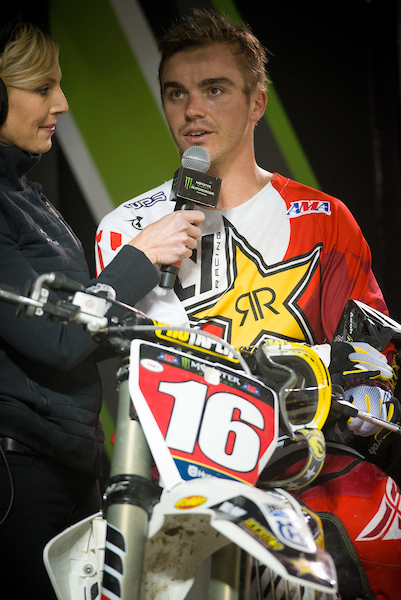 Osborne rode fantastic in the main event to win another race.
Most guys struggled in there with the ruts. Points are really tight in the championship now with 3 riders within 1 point. It's crazy to be in that situation after witnessing the whole East Coast season. You'd think Zach would've been champion before Vegas just like Justin Hill but he's not. He's got a good shot at it though because he's a little better than everyone else at the moment. With Jordon Smith and Savatgy still in it and not scared to get into it, it's going to be a fun Vegas SX.
Why do you think Savatgy just rode off after crashing? How can a rider not be aware that he's cutting so much of the track off? Are you ok with the FIM penalty to him?
In his defense, it would've been very difficult to get back onto the track before the whoops but it obviously would've been the right thing to do. To be honest, I'd rather see Joey get back on the track the way he did than Ronnie Stewart take most of the whoops section backwards to get back on the track the closest possible. I don't think it's legal to ride backwards on a SX track either. Was Ronnie docked any positions in the semi? I don't think so. I'm ok with penalties but they have to be consistent. You can't dock Savatgy and not Stewart. We've seen to many inconsistencies over the years though. Rockstar Husky protested Savatgy. It's understandable even if I wouldn't want to win a title like that, but that's me.
Maybe AJ Cantazaro should've protested Ronnie Stewart in the second semi so he didn't have to go in the LCQ. Anyway, it makes for a better Las Vegas SX for us. 3 guys within 1 point in the East with the West Coast guys in the mix, it's going to be a good one. Don't start crying if we see West Coast guys help their East Coast teammates in the main in Vegas. I can NOT wait to see what's going to happen and what strategies will be used. I live for this stuff!
Tomac's gotta win Vegas and assuming he does, is there any way that he wins this title?
Mathematically he can still win the championship. He has to win and Dungey has to finish 5th or worse for Eli to hold the number 1 plate at the end of the night. If Eli gets 2nd, Ryan would have to get 8th or worse for Eli to be Champion. Eli won 9 races this season. Dungey 2 and 1 gifted. In 16 races this season, Dungey never got 5th. His worse finish was 4th and it happened 3 times. The 13 other times, the KTM rider was on the podium. Safe the say the odds aren't in Eli's favor and he doesn't have his destiny in his hands anymore. Dungey will have to mess up. You'll never know what can happen but Ryan could feel pretty confident to win another SX title especially with having the 3rd best rider in the championship as ally and the 4th one, Anderson, riding a brand in the same group as KTM… And I'm not talking about Millsaps, Baggett and Wilson who are 6th, 7th and 8th in the standings. In the top 8 of the championship, 6 riders are affiliated directly and indirectly to KTM… #TeamTacticsGate