I am 40 freaking years old! 40! I have raced a lot of places, but have yet to race at "The Ranch".
I am 40 freaking years old! 40! I have raced a lot of places, but have yet to race at "The Ranch".
This year I wanted to do something different so I decided to focus on going to Tennessee to try and win my first amateur title at 40 years old, if that makes any sense? The family and I packed up the Sprinter and headed to our regional in Sacramento two weekends for a weekend full of dirt bikes. My son Aden has only raced four races and Heather and I kind of knew his class (85 9-12) would be almost impossible for him to qualify from, so this would be a good learning curve for him. However, my wife Heather has taken it upon herself to go full mini parent on me lately with the training and riding, so I was sure not to disappoint or it was my ass. I never experienced this growing up with my parents as both were pretty mellow people. We arrived Friday for a long weekend to practice on the Hangtown track, ride a private track Saturday and race the LLQ on Sunday.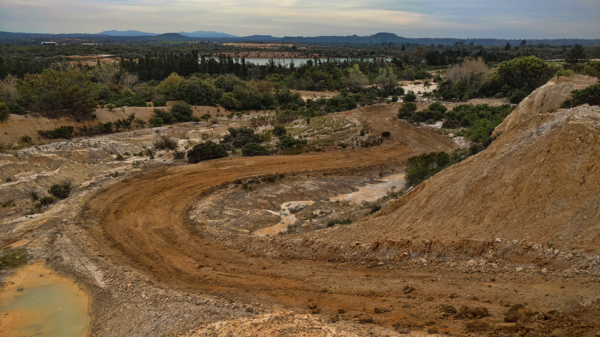 So before we move on with this article I really have to express how expensive amateur racing is! I brought three people with me for the weekend and when we showed up Friday for practice the gate fee just to get in for the weekend was 180 bucks! What? How do you all afford to go to all these races? Not to mention afford bikes and parts. I don't get it, but maybe I need to work for some of the other people racing these races because I know I am not making that kind of money. Once through the gates and 180 bucks later I had two practice sessions to shake down a 2017 Yamaha YZ450F that I haven't ridden in about almost three months. I have been spending most of my time on a 2017 Honda CRF450R and 2017.5 KTM 450 SX-F Factory Edition.
The plan was to race both of these machines at Loretta's, but since my departure from Dirt Rider I had to reconfigure my dirt bike carousel. Having only a week or so after giving my two weeks at DR and switching to KeeferInctesting.com and pulpmx.com I had to ask all of the manufacturers to get on board with my new endeavors. Honda was on board, but I am currently doing a KYB suspension evaluation on my test unit that they let me keep and it wouldn't be ready in time for the LLQ. KTM has yet to get back to me on if they will let me test and or take a bike to Loretta's.
So my old standby the Yamaha YZ450F was put back into action and it didn't take long for me to feel at home once again. I honestly don't know why this bike gets so much flack as it is a really good machine. Yes, it a little heavy and turns a little slower than a Honda, but the stock suspension is so good. Not to mention the motor is ripping fast. After practice we signed up for three classes (two for me and one for Aden) and it cost $380.00! Again, I don't understand how you die hard amateur families do this! I'm already over 500 bucks in the hole. It stings, it stings real bad..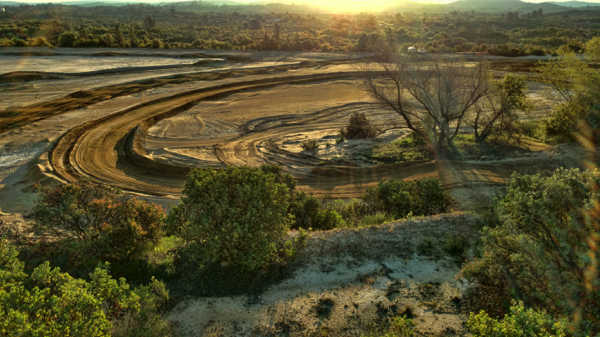 Mmmmmm, cake mix.
Saturday we had a day off as all of our races were on a Sunday, so Aden and I overruled Heather and decided to check out a new private facility called Ione sands MX Park in Ione, California which is about 40 minutes from Hangtown. The facility is ran by David Harvey (former director of pro racing at Hangtown) and the property is over 4000 acres and owned by US Mine Corp with permits for mining and industrial/commercial operations, with 24-hour security. It's huge! The owner of the land is a racing pilot and flies in the Red Bull Reno air races, and has an interest in moto. The property is a mix of deep sand and kaolin clay with multiple lakes and white silica sand. The property has 300 foot deep pits and rolling hills with old-growth oak trees, creating an insane scenery. So, the overall plan is to have a world-class testing, training, and product development facility for moto, side by side/UTV's/ and Trophy Trucks. It will operate similar to east coast training facilities (think Club Moto and SOB), but with world class amenities I am told. The complex will have a member lounge, with restaurant, showers, lockers, and glass viewing area of several of the tracks.
The facility will be open 7 days per week, allowing members, factory teams, and mx/racing companies to test as often as necessary. Currently there are two tracks: a pro-level outdoor track and a "vet" track. By the end of the year, there will be another pro-level outdoor track, an arenacross track, and a supercross track. Riding the sandy track Saturday made me realize how cool this place was! It wasn't just sandy, but had elevations changes and clay up on top of the hills. It was challenging and unlike anything we have in California. I met the owner and unlike other people I have met within our industry about how they are going to build this or that (which almost never happens), I know this park is going to be legit and all of you amateur riders with the fat wallets will love this place. I know i did. They will have a website up soon so be on the lookout on my social media (@kkeefer120) for all the info soon.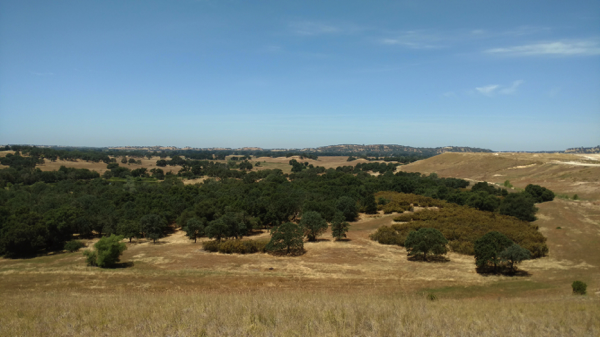 Tatanka (Dances with Wolves fans will get this)
On Sunday morning we were at the track early and ready to get this qualifying going. I am racing the Junior 25 and 40 plus classes at Loretta's this year. My Junior 25 plus class has a lot of hype surrounded by it with a ton of good riders making their way to Loretta's in 2017. With riders like Seth Rarick, Travis Pastrana, Bret Cue, Michael Byrne, Paul Perebijnos and whole lot of east coast guys that I have never even heard of, but will be going fast there in August. My 40 class should be a good one as well with Buddy Antunez, Nathan Ramsey and Robbie Reynard to contend with. I won both of my 40 plus class motos Sunday, but it was fun racing with Budman. He was even on a Suzuki so it was cool to see him racing the same brand of bike he grew up on at Loretta's. In my Junior 25 plus motos I would have a tougher time with mistakes and would finish 2nd behind Mr. Pro Taper himself Pauly P. Now when it comes to racing these Loretta races Pauly P doesn't play. He is serious as it gets. Now don't get me wrong he is a genuinely nice dude, but he means business when he's out on the track. He rides well and deservingly gets the "Best Dressed" award for the day. His Answer GEAR was looking good and you could tell he took his time with the heat transfers. It 's all in the details people! Good ride Paul, but we still have two months before the real race, so standby!
Now onto Aden. Poor Aden. He was a ball of nerves and was in shock when he saw Team Green fast little factory ripper Jett Reynolds in his class. He has never been on a gate with 30 other kids and I could tell he was definitely riding nervous. He was looking back more than Mike Alessi in a main event and was taking terrible lines. When we were on the line together for his second moto I was trying to crack jokes with him to loosen him up, but what got me choked up was when I was sitting on the back of his bike together, he said "well dad thanks for taking me here and I'm sorry I am not doing good, but I love you". I was hiding back the tears right then and there and old him I didn't care if he made it or not, but just to have fun with it. I was having flashbacks all day long of me racing with my dad and how nervous I got when I was at a big race like this with a lot of fast kids. I loved seeing my little dude race and how much he loves it. This is just as rewarding to me as winning and I love to see him stoked about trying to improve.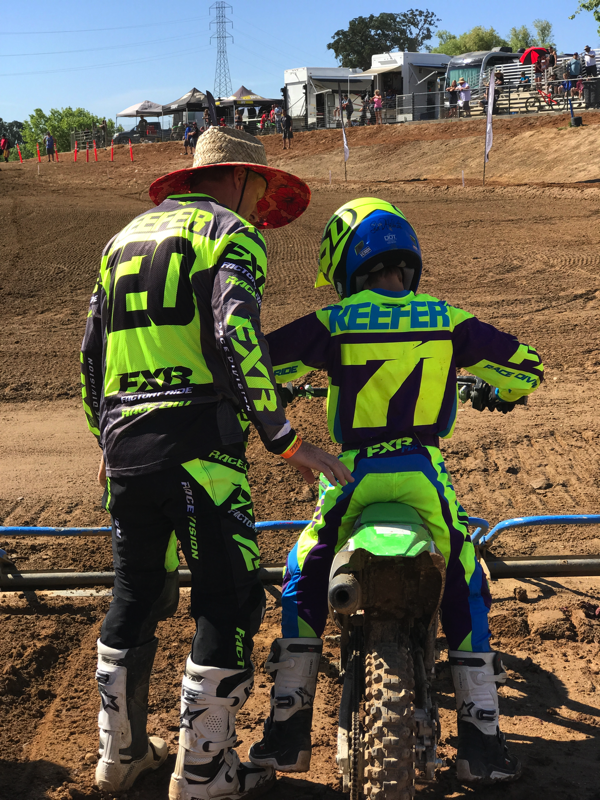 Aden gave it his best shot for 2017.
Yes, it was an expensive weekend, but I got to spend it with my family and to me I wouldn't have it any other way. I would rather spend money on all of us racing dirt bikes and sharing laughs than sit at home. I will be training my ass off for the next couple months with my new trainer Travis Preston so I will not disappoint the high desert come August 1st. Yes, that's right TP called on the drive back home and told me how disappointed he was in me that I finished second in one of my classes. So now he and my wife are teaming up on me (Tony Alessi style) to get my shit together. Great! Stay tuned to see how this turns out. See you all of you at "The Ranch"!