You want the truth? You can't handle the truth!
You want the truth? You can't handle the truth!
Photos by Boris Splatkov
Well, the threat of rain kept the track crew off of discing and watering the place and Jason Weigandt talked about how he heard Pulpmx Show #300 and the track discussions on there. His thought was because of the track not being ripped up, it didn't get that rough and there wasn't much passing as the riders went the same speed. And he's right on this. So thoughts about the track prep and what to do to not make it like Muddy Creek but yet not Lakewood?
I don't agree with Jason on what the tracks should be like. I don't like when people who never raced a National at a top level give us their opinions on the tracks. I also don't understand why we have to have super long ruts and a super rough track to have a good national. I never liked those types of tracks when I raced. Being stuck in the ruts without being able to go wherever you want on a track isn't fun. It's also not too fun to watch the races in Lakewood and High Point this year compare to this weekend in Muddy Creek. I actually really liked the track conditions in Tennessee. We saw riders used the width of the track and they were able to change their lines pretty much whenever they wanted instead picking a line and not being able to get out of it. I really wish we had more conditions like Muddy Creek. As a rider, it was more fun to ride and as a spectator, I find it more interesting. I've talked about this for years. I wish tracks weren't disced up and watered that much. Most of them are over prepped, they become one lined and when you get out of the main line you're in the deep stuff and lose so much time.
Where was Weigandt during the second 450 moto? Did he miss Baggett coming from 31st in the first lap to third? Obviously if passing was an issue in Muddy Creek, Blake wouldn't have been able to do what he did. Although, he did a similar thing in Lakewood on a rough and rutty track too. The condition of the tracks isn't the problem. There are always solutions to pass but it's up to the riders to use their skills, their intelligence and fitness to find the solutions to find spots to pass in. In this sport, we blame the tracks, and in a smaller scale bikes set-ups, way too often for the outcomes of the races. As far as Muddy Creek is concerned, I really enjoyed watching the races and I thought the races were fun to watch and the track was great. At then end of the day, it's what matters…
Tomac won this battle but Baggett rode amazing in second moto to get a third. What did you make of each of their races?
I thought both of them did what they had to do. Tomac finally won again after a couple rough weekends and Blake kept his red plate by showing a lot of heart and motivation. If you listened to the 300th PulpMX radio show, I still think we haven't seen tracks that suit Tomac best. We can't say Eli is a meticulous rider who excels on tracks like High Point or Muddy Creek. He's a great rider and rode those tracks well but he's more of a wide-open-in-the-main-line-on-a-softer-terrain kinda of guy. He still did good the last 3 motos winning 2 of them and an overall. I expect him to be even better on the next 3 tracks, Red Bud, Southwick and Millville. There isn't much to think about on those tracks. The fast line is obvious and you don't have to be creative and smooth to perform well. That being said, despite his crash in the first moto in High Point, Eli has been doing well in the points the last couple races. He gained 6 points on the red plate holder in High Point and 7 in Tennessee. That's very positive and he's now 4 points off the leader.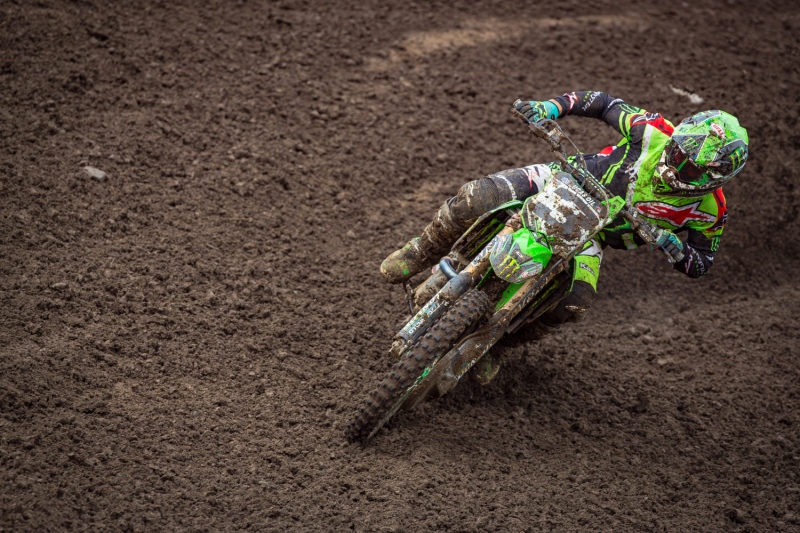 Eli Tomac won Muddy Creek with a 2-1
For Blake, we needed him to confirm his amazing race in Colorado and back it up. He did just that in High Point and Tennessee. He positioned and confirmed himself as a title contender the last 3 races. His first moto last weekend wasn't as great as we've seen him lately though. He struggled a bit with the bunch of Suzuki riders who were in front of the first moto and got passed by Tomac early in the race. He went on to get 3rd but finished over 10 seconds from Tomac in that moto. Since Eli passed him early in the moto, Blake could've maybe done a bit better. He still salvaged a third and only lost a couple points on his main title rival. He was in the first turn pile up in the second moto and rode an amazing and inspiring race. That's the kind of ride that build your confidence and prove you that the worst he should do is finish on the podium whatever the circumstances are. Like I said, both of those guys got the job done with the cards they were dealt with. I can't wait to see what's going to happen in the next 3 sandier races. We should have a better idea then on who to put our money on for the championship
Can Jason Anderson win this title?
El Hombre had his best ride of the year with the same score and amounts of points than Eli. I'm happy to see him step it up a bit and staying in the title hunt. He checked out in the first moto but Tomac was a bit better in the second one. I liked the way he dealt with his second moto. He had a strong moto but didn't ride out of control to go get Eli. It was a good "baby steps" race for Jason and it should show him he's getting better and closer to winning an overall. By riding like that he's staying in the hunt for the championship. He's now 19 points down but will have to start gaining points on both Eli and Blake to become a bigger threat. Mathematically, it's still possible for him to win the title but I think it's a bit too soon to say he's really a contender. If we go back to the standings after the first race in Hangtown, Jason was 35 points behind Tomac and 13 behind Baggett. Today, he's 19 off the red plate and 15 off second. He only lost 5 points on Baggett and gained 20 on Tomac. A lot of stuff happened since then but if we strictly look at points, he's doing pretty good.
We have 14 motos to go and I'm sure a lot will happen again but, like I said, his goal should be to start gaining points of both of the riders in front of him in the standings if he wants to have a chance at this thing. He doesn't want to lose too many more points and be a moto down. Indirectly, it will affect him him mentally to be 25 points (or more) down if it happens. At this point of the season, he really has to close the gap in the points if he wants to have the opportunity at this championship. If it was against a single guy, it wouldn't be as bad but there are 2 of them in front of him. Chances to have something happen to 2 guys aren't as good as if it was only 1 guy. I really enjoy having Jason in this series and watching him ride. He's such a fun rider to follow and I hope he gets closer to the 2 guys in front. It will make this series even better…
Is there something wrong with Cooper Webb?
There's obviously something wrong. There's also a lot of talk about the bike. If that's the case I would leave North Carolina and go to California to go back to the drawing board. I don't think the bike is as bad as people think. Dean Ferris showed us that this bike has potential to be in front. From what I've heard, Ferris had a stock engine, a pipe and a set of suspensions. His bike looked good in the first moto in High Point. He came out of nowhere to be third fastest in practice and get second in the first moto. That should prove the Yamaha guys and Cooper that the bike can do good.
Again, like I said in the Pulp radio show, teams and riders don't work enough on the stock base of the bike. They bolt on too many factory parts at once without building a good modified stock bike to get a base of work. The YZF450 is a great stock bike but it seems like it's not as good as a factory bike. I would love to see him ride a close to stock bike and see him race the shit out of it. At this point of the season where he struggled both in and outdoor, what do they have to lose? Staying in NC riding what he's been riding doesn't seem to be the solution. Go to Cali and build a stocker. Forget about the 2018 bike. It would become the same problem if they keep the same philosophy in setting up the bike. Ferris didn't need a 2018 bike in High Point to show us it was capable of racing in front.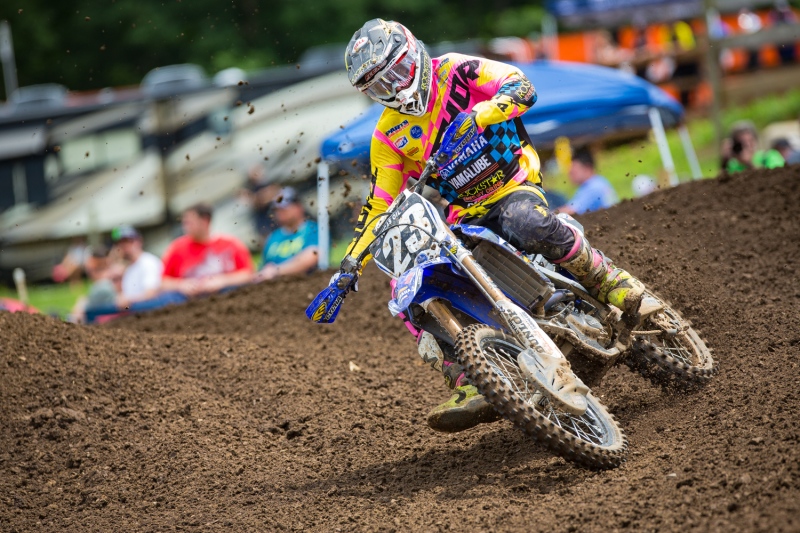 Plessinger won his first national of the year in grand style with a 1-2
Plessinger pulled some great starts despite his size and won the overall, what did you see in his race?
I've been skeptical with Aaron since the beginning of the season. I don't think is fitness was where it should be. We saw him hit the wall a few times and lose positions. Some races, he hit the wall in the middle of the races but found a second wind at the end like in High Point. I thought it was his problem early this MX season. Starts weren't as much as a factor because we saw him start in front in previous motos. His riding was good, he was often the fastest guy on the track but he was limited by his fitness. Obviously, his starts didn't hurt him in Muddy Creek but too many people (and maybe also himself) think his starts were his only issues. I don't agree. His fitness is coming around and ironically his results are too at the same time. I really like this kid. I like his skills on traitorous tracks and his cool/nonchalant approach of racing.
But, to perform on the MX scene, you have to have everything on point in your arsenal. It seems like he's getting there. His overall win is the proof of it. He has to keep plugging away during the week, get stronger, use the full potential of his riding skills and by doing that, we'll see him back up there again. Skills and speed are the toughest things to get. He already got those. Now, he need to build his beast mode which indirectly will build his confidence and state of mind. When he'll be able to pin it for 3 times 35 minutes and realize it, Aaron could become pretty tough to beat because his skills could then be a bigger strong point and make a bigger difference.
Osborne's point lead is over a moto now with his 5-1 finishes, what did you think of him?
Zach is doing what he needs to do to win a second title this season. He struggled a bit in the first moto not being able to pass quick enough "second tier" riders. It's ok when you regroup and win moto 2. Zach didn't win the overall and the fat check that goes with it but made a great operation in the points. He gained 18 points on JMart who's having a rough 2017 and gained 5 on A-Mart. He's now got a 31 point lead which is pretty comfortable. He lost 6 points on Plessinger but it's not a big deal since Aaron is 40+ points back. Zach's second moto was way better and more Osborne-like. At this point of the series, he can have a couple hiccups here and there and be ok with a moto win. He doesn't have to win every moto to win this thing.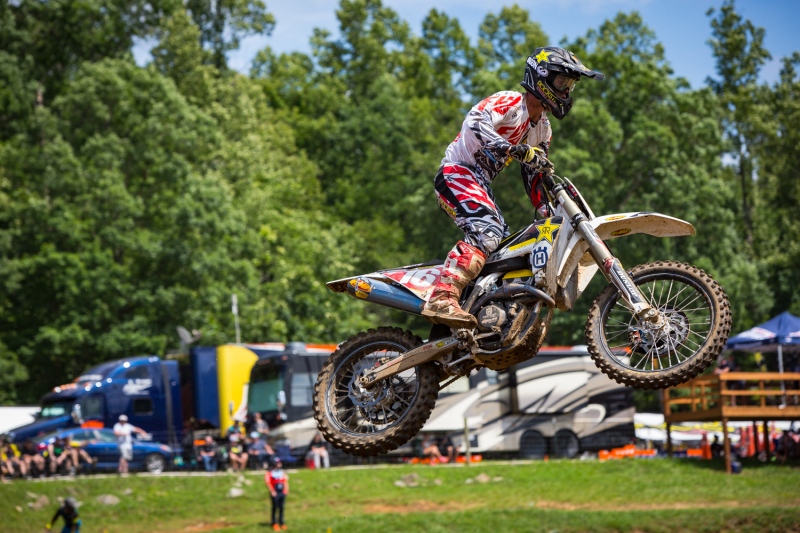 Wacko Zacho extended his points lead to over a moto now with his 5-1 finishes.
Indirectly, this situation affects the mental side of things. Knowing he doesn't have to absolutely win, we're gonna see him not take that many chances when things don't click perfectly just like in moto 1. He has the ability and the strength to turn it around right away like in moto 2. It's a good position to be in. Since the beginning of the series and except Colorado, Zach either won an overall or at least moto at each race. That's a good track record in a tough class. Zach is a veteran of the class but he's dealing very well with his new status of man to beat since the beginning of SX. He's been delivering results pretty much at every race in 2017. This new status isn't easy but he's doing great.
Pulpmx Show #300 was a hit with the listeners, talk about it from your perspective, how much fun you had, what you thought of it?
The 300th was very cool. It was fun to get together with Chad and Timmy in a non-racing environment. That hasn't happened ever actually. I really enjoyed the pre-show conversation and the shit talking off air too. That was funny. On air, I'm sure it was great for the listeners to have inputs and opinions from us 3. The Yamaha days were pretty fun days and those 2 guys are pretty nice guys. Chad can be moody at times but deep inside he's a cool guy. Timmy is a genuine nice guy, a tough competitor but a nice guy. We teammates for 5 seasons and we never had 1 single issue. That's pretty remarkable when you think about it. Being on the show with those 2 was actually better than sharing the semi with them. The environment isn't as chilled and relax in a semi at the races or in testing than in the Lion's den…
I thought the show went well. Conversations were constructive. We didn't agree on everything but it would've been boring if we did. After doing the show, I realize we don't spend enough time together. I wish we could have some casual "reunions" once in a while. Team Yamaha was such a big part of our lives and it sucks we don't get together to catch up. I see those guys once a year at most. Back to the show. It was fun, went too fast and I wish Chad and Timmy weren't still linked to the industry thru racing or their job. It could be even more fun if they wouldn't have to worry about burning bridges hahaha. Maybe for 400 or 500, we'll all be ties-free… I'd like to thank Matthes, for making the show happen and getting those two guys out of Florida. You know I'm just a text away and I'm always up for an excuse to go to Vegas…