Now that was something special.
Now that was something special.
In my mind the biggest disparity between watching Tomac and watching Baggett at Muddy Creek is unadulterated intensity. Since the sidelining of Ken Roczen and recent retirement of Ryan Dungey, the agreed upon heir to the throne has been Eli Tomac. He definitely took his time finding comfort on the Factory Kawasaki 450 but when he did, he clicked off impressive wins. When the outdoors kicked off, it looked a lot like most of us expected, a week later it got interesting in a big way.
Coming into round five at Muddy Creek, there appeared to be just as many questions still unanswered as there had been after three rounds, with five different winners. Yes, five different winners out of six dropped gates. This, after a series which had widely been awarded to Eli Tomac before the season had even kicked off.
Eli has shown a propensity(or would that be a con-pensity) to falter at the very moments when you expect him to grab the reigns and drive the dagger, deeper. It's got to be frustrating if your Eli, especially when it's always a different slip-up and the pattern is forming, not really a freak thing anymore. And Blake Baggett appears to be eager to pounce on the hope birthed from that tendency.
Blake Baggett is clearly hitting his stride aboard the steel-framed KTM 450 and it was more obvious than ever in Moto-two at Muddy Creek. It was already two weeks ago that Blake made references to Eli Tomac and his "famous father" on the PulpMX Show and these comments were focused on and referenced many-a-time during those two weeks. It was cunning, it was gamesmanship and it was a shot across the bow of the never-quite-dominant Tomac. Eli has tried to take the high road and brush the comments aside but there's no questioning, he heard them and filed them away under the letter "R" for retribution, or maybe it was the letter "A" for avengement.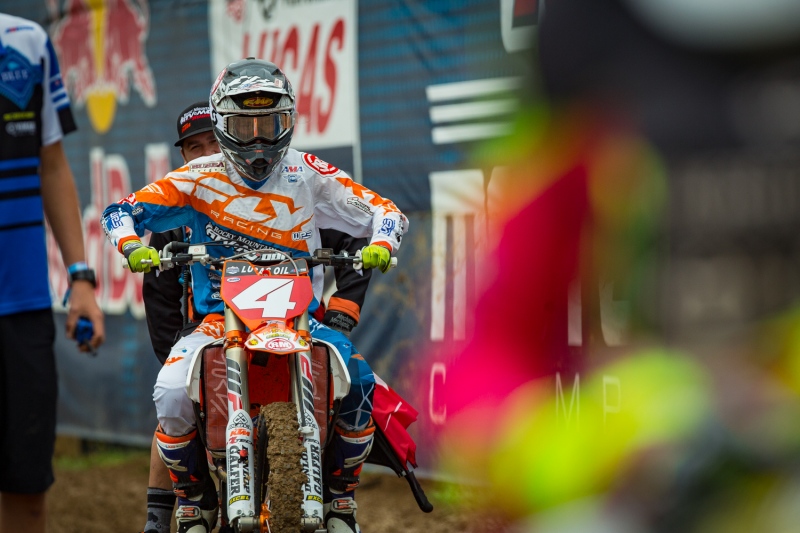 Blake is focusing on making the field look silly.
Eli has made a few statements since those comments were made, clicking off two of four possible Moto wins but all things considered, I'm far more impressed with what I've been seeing from Blake Baggett.
Blake didn't exactly come out swinging but since he showed those first signs of comfort and mid-moto aggression we once came to recognize as a staple of BB4's race craft, it's been all positives. Watching Blake charge through the pack from essentially last to 3rd in Moto two at Muddy Creek had me on the edge of my seat. It was one of those special rides where you can get a sense of the riders comfort with the back and it's predictability on that track. He was running it in deeper, using the body-english to adjust the bikes attitude and finding comfort in his line selection that no one around him was.
It was as if he had the podium on his mind as the only option and there was nothing that was going to bar him from achieving that. Ryan Villopoto and Ricky Carmichael used to do that kind of shit when they rarely didn't find themselves upright and at the front and that is exactly what Blakes Moto-two ride reminded me of. Another incredible ride it harkened back to was Southwick when Dungey's bike wouldn't start and Ryan rocketed into the first turn a lap down. Now that was a bit of a mudder and this was not (sorry JT), but RD5 tore through the pack to finish 7th whereas Blake put it in 3rd.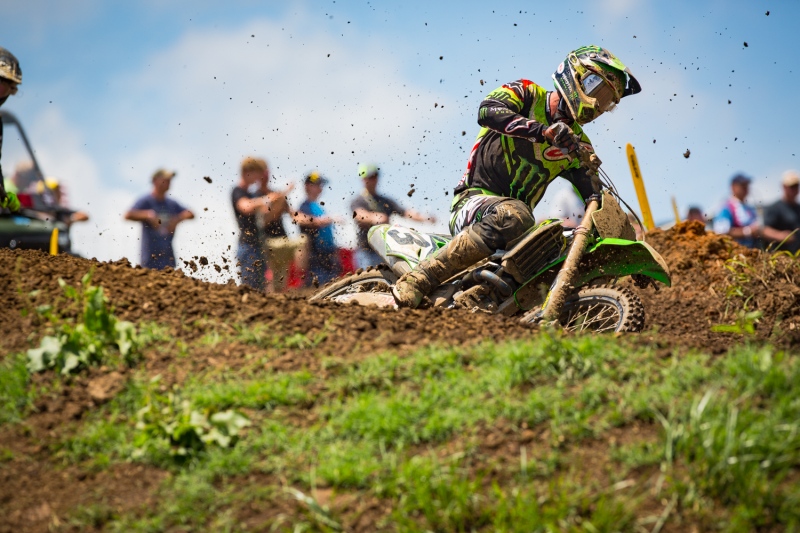 Can Eli put an end to the commonly occurring falters?
One thing you can never count out or do the math on is red-ass and Blake Baggett has it in spades. He's always had it, ever since just before turning pro when he felt shafted by the Pro Circuit Kawasaki team. He was served up a heaping helping of red-ass and he's nurtured it ever since. Red-ass is that intangible that made both RV and RC despise losing more than enjoy winning, and while I don't think BB4 falls into that trope so much, red-ass is born from the same notion and sense of nonnegotiable dominance.
I'm expecting the continued falterings of ET4 along the trail of checkered flags toward the end of the series and likewise, I expect that red-ass, Blake Baggett to be right there on the box and taking advantage of every last one… in exciting fashion, no doubt.