You want the truth? You can't handle the truth?
You want the truth? You can't handle the truth?
Photos by Roogs
A little disclaimer before I start talking about the race in Indiana, I want people to know I am a big supporter of the American series, SX & MX. For the last 17 years, I've been in the US and for 9 of them, I raced on the US circuit. If I didn't like it or thought it wasn't good, I wouldn't be here. Still today, I strongly believe it's the place to be if you're a dirt bike rider just like being in the NBA if you a professional basketball player… 
Uhhh, wow…Herlings. 1-1 on the day…amazing rides in both motos. What did you see there? Technically, why was he so fast?
Jeffrey's day was pretty amazing in Indiana. It started right in practice where he showed he was much faster than anyone else on a track and a bike he just discovered. Tomac was relegated at more than a second and Marvin at more than 2 in timed practice. It surprised me a bit because the track was very US-like, deep with ruts, jumps and he was racing in Sweden last weekend. We have to take in consideration the jet lag with 6 hours difference compared to where he's from and pretty much all the "excuses" or circumstances we find for US riders where they race the MXDN in Europe. Jeffrey is a full on MX rider with no SX background (more on that later). He rides all year long on all types on tracks in Motocross. It's maybe one of the reason he adapted so well for the race in Indiana. As far as his technique, here again, he's strictly a MX rider and one of the best the sport has produced and you could see the big difference in corner speed compared to the US riders. He also never got stuck in one line. His lines evolved so much during the day.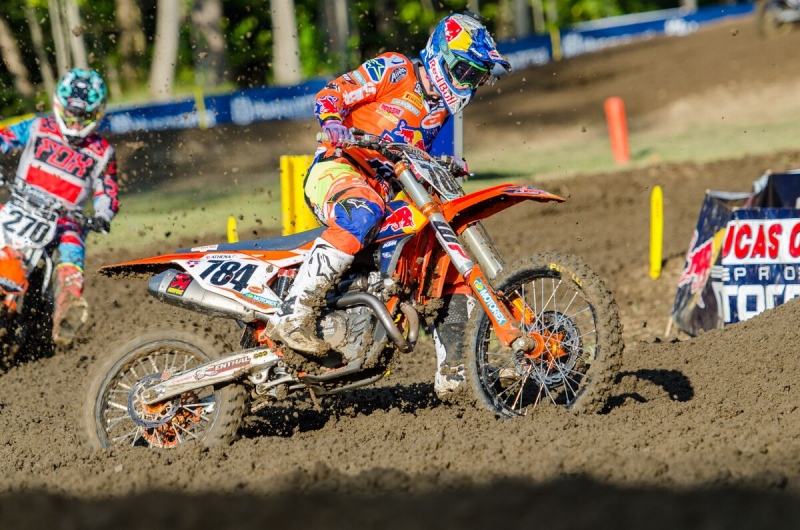 Herlings went 1-1 in Indiana and it really wasn't close…
When, in 2nd moto, most of the riders were using a lot of the first moto lines which didn't work as well anymore, JH moved around on the track to find faster ones. For example, after the big uphill triple where Nicoletti crashed, most of the riders kept going to that super deep rut inside. It had a huge hook in it and they were losing time. Herlings chose to move to a nicer rut a couple feet outside. The entrance of it had less bumps and the rut itself was way smoother. He kept his momentum and that line was at least half a second faster. Obviously his fitness was great after seing what he did in moto 2. He crashed on the first lap with scoring and timing showing him in 22nd on the first lap. He passed the field like they were not even there. When he got to second, he was only 8 seconds from Marvin. I don't think he would've won the race if Marvin didn't crash but it was still a huge performance. When you're in 22nd on the first lap, when you have to deal with over 20 riders, when Marvin is leading, you're way farther than 8 seconds back.
Just having Jeffrey being within 10 seconds from Marvin, who led every lap until he crashed, shows us he was way better than everyone else in that moto. In the first moto, Marvin was faster because he caught him and caught within a second of the Dutch rider. Marv started to be too anxious, lacked patience and started making a lot of mistakes which is unlike him. But it's understandable because he was maybe riding out of his comfort zone. Overall, it was a great race which I hope will open the eyes of a lot of people. To be honest, I wanted Herlings to get beat Saturday just like Everts, Smets and Bolley, all world champions, who came to race a National as a GP rider. That was the first time a GP rider has won a national since JMB in Gainesville 1989. I can only congratulate Jeffrey for his performance and thank him for making my saturday on my couch exciting…
Is American motocross in trouble?
I think the Motocross side of the USA series has been in trouble for a while. It's the reason the US hasn't dominated the MXDN for quite some time. I think it's easily understandable when you analyse things. We are in a Supercross oriented country. All the industry, teams, riders, trainers are focused on Supercross from mid-September until the Cinco de Mayo weekend that's Las Vegas SX. That's almost 8 months of Supercross. Bikes are tested for 3 months in SX before A1. Riders ride in SX most of that time. They don't really test or ride in MX during that time. They start testing in MX around the off weekend in SX which is mid april around Easter. That's maybe 3 days a week of MX riding/training/testing for only 2 weeks. Then, they have to finish the SX championship until the first weekend of May. Then, we have an off weekend before the Nationals starts where everyone can ride and test in MX. It's just not enough to get ready and make yourself better in MX. Riders are so used to SX bikes that it's difficult to build a MX bike. US riders search the good MX setup for weeks, even after the MX series has started. We often hear riders complaining about their set up. It's understandable because they have no time to get ready.
I don't think MX bikes in the US look that great in MX but they are amazing in SX. Here again, it's totally normal. Riders ride at least 4 times a week for 3 months before Anaheim. There is plenty of time to get ready and have the right set-up. If they had the same amount of time to prep for MX, it would be a different story. I've been a US rider for a long time. We hated starting MX testing and we didn't really like having to go race 12 Nationals after a long SX season unless your name was Carmichael or Tortelli. On the other hand, Euro riders prep for MX just like US riders prep for SX. They've mastered their preparation, their bike set-ups and their technique. US riders were way better for the longest time until Everts became the king of Europe. Stefan dragged everyone else with him to be better and set the bar high. He's one of the reasons the level in Europe improved a lot. Riders moved to where he trained and practice. They all are in Belgium or in Holland now. Indirectly, he had a huge affect of the European motocross scene. As long as the SX series will be big, be that important with that many races, it will be difficult for US based riders to be competitive in Motocross. The top guys like Roczen, Tomac and Marvin will always be competitive but will not dominate like the US riders once did in the 80's, 90's and 2000's. The second tier US based riders are now just not as good as the second tier Euro MX riders because the focus on SX is too big and that's totally normal. We just have to accept it because there's not much we can do with the way Motocross is on both side of the Atlantic.
Marvin looked to be really pushing hard when he was behind Herlings and then had a weird crash in moto two…what did you see from him?
I think Marvin really wanted to win. I believe he could've beaten Herlings in the first moto. He was faster but was also to impatient. When he got on Jeffrey's real wheel, he wanted to pass him too quickly. He still had time to do so. I think he burnt himself too much too quickly. He was making a lot of small mistakes and he almost crashed a few times behind him. He also didn't deal with lappers very well which usually lappers often help the second place guy more than the leader. I liked that he went out of his comfort zone to try to beat Herlings in the first moto. Too bad he was a bit too sloppy to be able to but I liked his drive. He's always in control and flawless. It's good to see him charge more than he's used to.
He's not used to it and it's understandable he made a few mistakes and maybe got a bit out of breath at one point. Indirectly, that first moto will help Marvin in the future. I hope he will have this drive to beat a Tomac or a Roczen (if he ever gets back to his level) like he did to beat Herlings. That will help him a lot. In the second moto, he had the race won but made another mistake. He didn't have to go for that double when he messed up before it. He had a 8 second lead with a couple laps to go. This moto was his but it shows you that a rider catching you a bit and even with 8 seconds behind can put pressure on you. If Herlings wasn't catching like he was, Marvin would've never crashed there.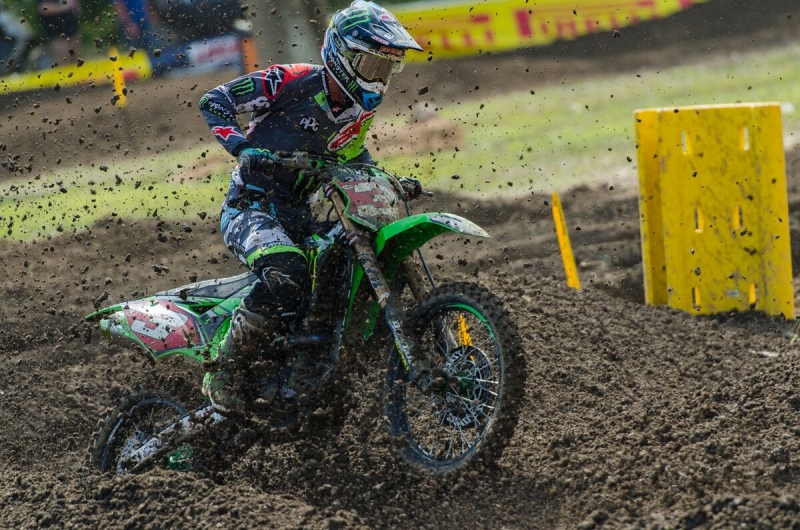 Eli Tomac is your 2017 450MX champion
Tomac going after Herlings in moto one..surprised?
I think it was great. Eli finally got a holeshot in the 23rd moto of the season. Herlings was on fire in the first lap and passed a few riders. I liked the way Tomac approached the moto. As we say in French, the best defense is the attack. Too bad he crashed early and that was it for the day for Eli. After the crash, he was on survival mode to score enough points to clinch the title. We can't really analyze anything from the way Tomac rode Saturday after the crash. Out of the 80 riders on both gates in Indiana, Eli was the only rider who had something to lose. The rest of the field didn't have any pressure. It's understandable he rode safe to clinch and there's nothing to be ashamed of by going 5-6 in the last race when you end up champion. 
Tomac playing it safe for the title, does he let loose this weekend at the USGP?
If I'm Eli, I'm going full Red Bud/Southwick mode. Got nothing to lose just like Herlings in Indiana and you have your whole country waiting for you to kick some Euros asses like he did at the 2 USGPs in 2016. He's got one of the two titles he wanted in 2017 and one exhibition race before he can take some well deserved time off before the Monster Cup. Eli is a winner at heart. He hasn't dealt with pressure very well in SX in MX but he's definitely one of the most lethal riders on earth when he has nothing to lose. Jacksonville is exactly the atmosphere he shines in and I hope to see him ride like he did in Red Bud or Southwick against Herlings and Cairoli. Antonio has a good lead in the championship and I'm sure he doesn't want to do anything stupid. Herlings, just like in Indiana, has nothing to lose and has to win and hope something happens to Cairoli to get closer in the standings. Cairoli can actually clinch the World Championship title if he scores the same amount of points as Jeffrey or more. That could be interesting also. I'm sure if Antonio has the opportunity to win the title in Florida, he will take it and get it over with, the earlier the better…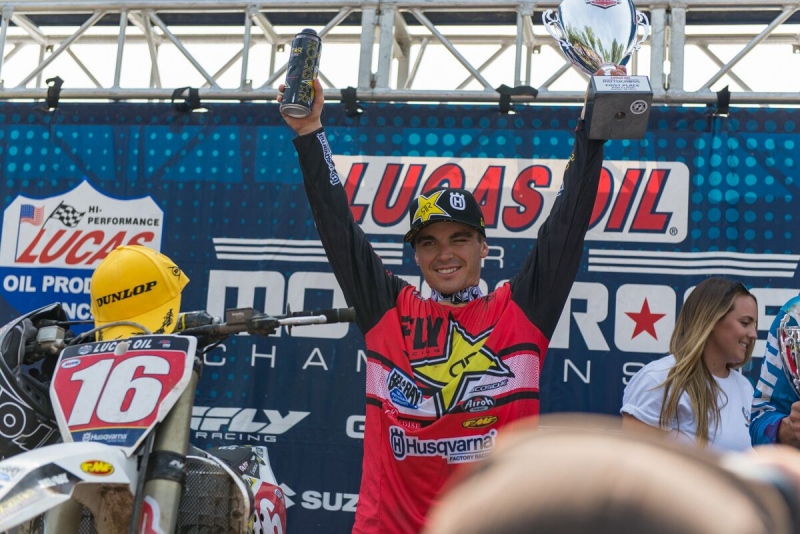 With the title secured, Osborne dominated Indiana.
Zach re-established himself as the guy in 250MX with his day. What did you see?
Zach was on a mission and, once again, it shows you the difference in performances in riders when they have and don't have pressure. Zach already won the title last weekend so he was a free man in Indiana. His ride just confirms what we already knew. He was the best 250 guy this season in SX and MX. There is no debate. It was such an amazing season for him. Dominating the SX series early, having issues in the middle of it. Coming out with one of the best rides in history of SX in Las Vegas. Then, keeping the momentum outdoors. Some of his rides were very inspiring. Wherever he was in the beginning of the races, he always gave his all at all the rounds. Saturday was no different. He seems like he waited patiently half of the first moto behind AC and when he decided it was time to go, the Osborne machine took over and say "see you on the podium, guys"… His lap times were very good and way faster than everyone else. On moto 2, he was even faster than everyone else by over 2 seconds. That was definitely a great way to end his 2 championship winning season… I can't wait to see you in 450MX next year…The 450 class needs you, buddy… 
Did you like the Indiana track? Looked good right?
I thought the track looked great. I've never been there but it looks like a cool place. It looked well prepared. The man made inside bumps and lines worked good. They don't always do. I like the way they fixed the track between motos where they only touch the outsides of the turns, leaving the inside ruts. The jumps looked fun. The second triple looked pretty hard to jump on a 250. It was either going outside and jumping it or inside double single. Bunch of passes were made on that spot in the 250 class. I'm not a fan of man made sand rollers but they also worked there. Overall, the track did its job. It made for some good racing. It wasn't difficult to pass and the riders could make the difference with their speed and technique. It's not always the case and it's nice to see.