We transcribed our recent PulpMX Show interview with Jeremy Mcgrath for you.
We transcribed our recent PulpMX Show interview with Jeremy Mcgrath for you.
PulpMX: What's going on with you? Truck racing? Looks like you've been pretty busy doing that?
MC: Yeah, it's been a pretty good truck racing season, pretty good summer. It flew by way too quick. I didn't get to ride my dirt bike as much as I wanted, but the weather is getting good now and I'm starting to ride quite a bit more. In fact, I'm going to go ride tomorrow. It's going to be fun. But truck racing has been keeping me pretty busy over the summer.
How dangerous is that? Nowhere on the level of a Supercross race, but do you wake up sore? Do you have problems?
No. It's a real funny question because I would say in the auto racing world or in the truck racing world or whatever, it may seem like you're hot inside the cab of the truck. There's no windshield. You're getting roosted. You're wearing a really hot fire suit. So, you get really hot in there, but as far as physically demanding, no. It's not very tiring. Nothing can speak to the level of what Supercross and motocross is about. I would never, ever sit here and try and tell you that truck racing is physically demanding. What it does do though, when you're in the heat of the battle, just like you guys all know, when you're in the hornets nest, your mind gets stressed out. So, you get a little tired from trying to think and trying to do everything right. It's a super fun sport. It's very difficult. Way more difficult than I ever imagined. The tracks are 9/10ths of a mile long, and when you're running around with 900 horsepower and 60, 70, 80, 90 miles an hour in some cases, the track suddenly becomes small like a Supercross track. It gets really busy out there. It gets a handful sometimes. I'm enjoying it, but it's still nothing like dirt bikes.
I saw the Red Bull Straight Rhythm two-stroke thing and the first thing I thought of was, where the F is McGrath? I know Jeremy from Red Bull has to have reached out to you. We've got RV and Ronnie Mac and Chad Reed. You would be so perfect to grab a two-stroke and go down the Straight Rhythm. What's up with that?
First of all, here's the deal. I'm just about to wrap up my first Pro 2 title in off-road racing, which is like seven years in the making. So, I'm super pumped about it. Then all of a sudden Red Bull Straight Rhythm comes out, it's on the same weekend. So, when you guys are all at Pomona Fairplex enjoying Red Bull Straight Rhythm, I'm going to be in Arizona kicking some butt and wrapping up my first truck title. So, unfortunately they're on the same weekend. I think I went out and started my two-stroke just because I'm like, you know what? It's like throwing a shot over the shoulder for the homies.
Would you do it if it wasn't? Would you be interested? It wouldn't take that much for you to line up and do it, right?
Yeah. I think it'd be all right. It would probably scare me a little bit. Sometimes the rhythms and stuff are a little bit… I don't know. My bike's ready. It's sitting there. I'm ready. I've been training quite a lot lately and riding a little bit. I think I could get out there. To say that I can compete with any of those other guys maybe would be a little far-fetched, but I think it would be interesting. I'd definitely want to go down there and try it, practice it maybe. You never know.
That'd be awesome. People would dig it for sure. I think it would be great. I was really surprised. I was like, there's got to be something up. I know it's not the Monster/Red Bull conflict. There's got to be some reason why you're not there. Now we know, truck race.
Unfortunately it's the final race of the series and I can't miss it. It's one of those things that definitely would be cool. I want to go. I heard Villopoto and Reed were in a match race and I was like, I want to get down there and check this out. Then I saw Sleeter's story today and he had his two-stroke warming up on that thing. I was like, oh man, everyone's getting in on this.
Stank Dog is in too this weekend. It's a go for all these guys coming out of the woodwork. MEC this weekend. You know the deal. Joker lane is faster this year. three main events. One million dollars if you sweep them all. Pretty good chance that Supercross next year adopts some races that have three main events.
That really is cool.
What do you think? You like it?
In my opinion, I think we don't get to see the stars enough. As a huge fan of the sport still, I love it so much, and for me I want to see the stars ride some more. I really like the Monster Cup format. I don't think that in Supercross, the regular series does not need a joker lane at all. But it was kind of fun for Monster Cup. But I like the format. The three main events is pretty cool. It might be a little hard for the beginner fan maybe or the average fan to kind of figure out the overall at the end of the night, but I think for us it's going to be cool.
I agree. I think it's going to be fun. Switch it up. Let's have some races like that.
This is what I heard. You guys tell me if this is true. I heard that next year on the starts they're adopting also the metal grate for the starts. Is that true?
That's true, absolutely.
I don't know. I'm not so sure on that one. I'm not sold on that. I think it's cool but it takes another element out of how much can you dumb down the sport. This sport is hard, and in my mind it's like, why are you going to make every single person a good starter? I'm a little hesitant on that one. But definitely stoked on the three-moto format. It would be pretty neat. It's going to be pretty neat for us as fans. I'm excited to get out this weekend and check it out.
The one thing about the starting pad is like we had talked about, everyone has start devices. Everyone now has a starting pad. Everyone has rev limiters and ECU's with shift points that help them out. Do we need all 22 guys in the first turn at once? We need some guys to be better at starting and worse to spread things out into the first turn. The last thing we need is to make things more equal in fifth gear, fourth gear coming down in the first turn.
I guess everyone can be crazy and not let off. It really is just going to make everyone start a little bit better. I guess for Eli Tomac's sake it's going to be a good thing. He kind of sometimes struggles with the starts, so that might get him in the game a little bit more.
Who do you got for the win Saturday?
Well, it's hard to bet against Eli right now. I haven't even seen the start list, to be honest. I saw Roczen riding a couple weeks ago when I was at Pala and he looked pretty good. Honestly he probably wants to race, but they're not going to let him race for a while yet. What's the start list like? Is Musquin coming?
Musquin, Gajser, Anderson… MC, I think you were at Honda back in the time Barcia was there and worked with him quite a bit. Are you excited to see him do his own deal and kind of come back out and show that he can do it?
It's funny. I think it's pretty cool that Barcia is making the move on his own. When I was at Honda and he was at Honda, he was complaining a lot when he was there, too. That's part of the reason why he left, I think probably. But I think as you get older you just need to take some responsibility. I think you see that with a lot of riders. You've seen a lot of stuff along the way with Chad, who by the way I'm a huge fan of, I always have been. But at times it was everyone else's fault. And all of us know as we get older you learn to accept the bad parts of yourself, and I think you accept a little responsibility and you realize, hey, maybe it wasn't those guys. Maybe I needed to work a little harder. Maybe I needed to do this. It's cool. I think that Barcia is making a statement by getting out there and doing his own thing. He's probably one of two things: he's going to realize that he does like his Honda, or two he's going to realize that he had it a little easier than he actually thought he did. That's cool. It will be good. Having a big field there is good for us.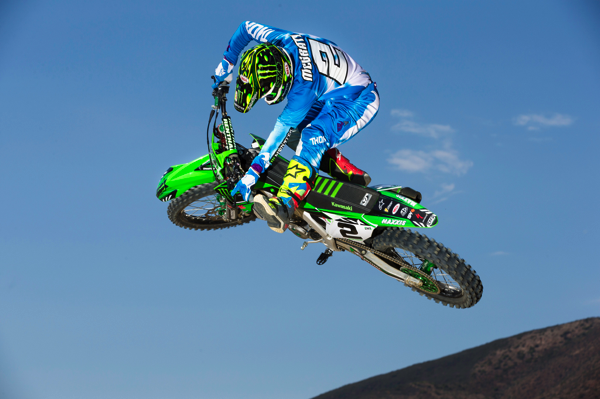 Another thing I was interested in with your current deal with Kawasaki, I know your brand ambassador role you get to work with the Team Green kids a little bit. I know you've been busy with the truck racing, but have you been able to work with any of the kids? Kawi usually has a lot in that All-Stars race? What do you think of that event?
I think it's a great idea. I haven't worked with any of the guys in it. By the way, the truck racing series is cool but it's only once every five weeks. So, I have plenty of time to go out and do stuff. The hardest part for me on working with the Team Green guys before this All-Star race, we were set to go out and do it, and then schedules kept changing around and all this stuff. With that being said, the schedules never matched up. Anyway, I was trying to get it going with Ryan Holiday but then just (ran out of) time.
It's going to be interesting to see, when you talk about Chad, I know him pretty well and I said, I think you need to stop changing things on you bike. He's like, no, no. I'm like, I think you should stop testing. Stop changing things. Just ride your bike for once. He's not having it.
You know what's funny? It would be an interesting question or an observation I would say, is back when Chad was just crushing on the Yamaha, was he changing his bike every week like that and still winning every race every week? I think he probably liked his bike pretty good and probably was just winning.
I think there's something to be said too as you get older. I'm sure maybe MC can attest to this. You get older and you almost feel more and you almost nit-pick things a little bit more because you kind of know what you like. Then you start overthinking everything and then you're always searching.
Yeah, I think certainly one of the things you always search for is the feeling you had when for instance like me or Carmichael or anyone that's won races quite often, whatever local races, for whatever level it is, you're always searching for that setup. My bike just felt so good during this time period. You're always trying to make it feel like that. Chad is such an awesome rider and he's had so many great experiences with different teams and stuff, he's got a lot of thoughts that he has to pull from and a lot of memories to try and get his bike always set up. So, some of that stuff can be overthought or whatever. To your point, that can be a detriment too. That can hurt you because you're just always thinking instead of worrying about riding. What's the deal with Chad? Do we know when he's racing?
No, he's racing a YZ 250 at Straight Rhythm.
That's probably only because he hasn't signed a deal, right?
Yeah. He's got a KTM and a Honda at his house, and he's been spending more time on the Honda lately, but I don't think the factory guys can put anything together for him. I think Astephen at WMG has been trying to put together a side team, but it's not looking good.
I thought for me, and just out of my own sort of laying it down how I thought it would go, as soon as Millsaps signed with Yamaha, I thought for sure they would fit Chad right in with Baggett as his teammate on the Rocky Mountain ATV team or whatever.
Just a gear deal, real gear deal more than anything. That team's a WPS Fly. You mentioned Kenny Roczen earlier and obviously you're not his doctor. You don't have medical advice. But all of us guys that talk about the sport and write about the sport for a living, can he come back and be 100% Ken Roczen again? What do you think?
I think he can. Here's my reasoning behind that. He's young. I remember getting hurt when I was younger, obviously it wasn't to that degree, but you bounce back. The feelings that you have in your head and stuff go away a lot quicker than they do when you're 30 years old or 32 years old or 35 or whatever the case is. I think Roczen is going to be fine. He's young and I also heard that he could have chose to not ride. Maybe he had a payout going insurance-wise and stuff like that. He feels like he can do it. Trust me, I saw him riding at Pala literally like two weeks ago and I was like, whoa. He was flying and he's standing up everywhere. Didn't even look like he was trying. I hear rumors. I don't think his arm goes back straight and stuff like that, but I guess who needs a straight arm when you're riding motocross?
Back in the day, we all know that you and Fro weren't fans of each other. What was the beef back then? I guess I didn't hear the story, and I apologize if you told it 100 times, but I guess I don't really know it.
There was a ton of things. You guys all know Jeff. Imagine he was real arrogant all the time and just kind of a prick. Then what the major beef for me was his riding etiquette. The way I saw it, and this is obviously my point of view – and Jeff and I are friends now. I can't hold a grudge like that. I like what he does, his stuff on TV. The guy's great. His riding etiquette was something else. It was a bit like Barcia but maybe worse. He had no problem cutting over on your front wheel on the take-offs of jumps. Doing the look-overs and taking you out. Just doing a start and totally cutting over on you. So there was absolutely no riding etiquette. There's certain etiquette, but there's always unwritten laws when you're competing. There's certain things you just don't do. I've been caught up with it with Lusk a few times, and even Larocco a few times. But not always. Fro is the one guy that would just put my life in danger. Unfortunately for me, he was just fast enough to cause me problems at times. So, for me that was really what the beef was. Once the media gets a hold of a little bit of that, they drive a wedge in-between. It was kind of like when media was trying to make it like me and Carmichael were enemies and stuff when he first came up and all that. I love that kid. We've been friends… I've known him since he was eight years old. His family's great. We never had a problem. Everyone made it seem like that. With Jeff it was different. We just really didn't like each other. He was just out of line on the track. I thought it was dangerous. It never stopped. That was my beef, really.
I did that story on your '96 season that was almost perfect on Racer X Online, the oral history of it, and we got a lot of compliments about it and people loved it. People also loved your honesty. They were like, I can't believe he said that. I'm like, he said it. There it is. It's right there on paper.
You know what's fun for me these days? I still love dirt bikes and all you guys. It's been the best thing ever in my life, really. I feel so much passion for it. But the beauty of it, being older I can say exactly what I'm thinking and I don't have to politicize any of the stuff because I'm getting paid and stuff like that. It's fun to sort of just be myself and tell it how it is. That's what I always tried to do throughout my career, but sometimes you had to water stuff down a little bit. I think sometimes people get upset a little bit at some of the little things I say. I'm just trying to tell the truth. Which is something we don't get a lot these days. Love it or hate it, I appreciate someone that wants to tell the truth. Us as fans, that's all we want really.
I agree. Cooper Webb said some things that made me shake my head, but I admired that he said it and I respected it. I'm like, I don't agree, but good for you for saying that. We need that.
I had an interview with Pastrana the other day and he basically echoed the exact same thing. Basically questioning him about what's missing in moto now and he's just like, personality, truth from the guys. He just was talking about how blown away he was, just to see where riders have gone in that direction.
It sucks. The days are lost of the Pastrana's, the Windhams, myself, even Carmichael to a degree later on when he was able to speak a little more freely. Chad Reed of course was always a great one to listen to. But as a fan, I think our number one request out of all of us, even you guys, anyone, they all want to learn to know and get to know the riders. How do we do that? We do that through the interviews. I have to say and I've said this already before, but if I was a sponsor, I'd get mad at someone for saying my name on the podium, because I want the adverse of what's going on. I want it to be exact opposite. The interviews are just terrible these days and they need to get better.
What's your take on the MXdN situation? I've read a lot about it. I've written about it. we've talked about it, all of us. Ryan Dungey skipped a couple years in a row. Of course, Eli Tomac skipped the last couple years. Other guys don't seem to want to go. Where are we at with this race?
Well, you've got to look at it financially, which you've probably written about it already. For instance, take some of our guys from here, the guys that are KTM-sponsored. They probably financially, the team is what I'm speaking about mostly, the teams have the financial wherewithal to do it much easier when they have the Factory KTM team in Europe or whatnot. Honda has always supported the Motocross des Nations really well. Some of the other teams don't support it as good, because it's expensive. It's a big race. It's expensive. You got to ship a lot of stuff over there. We can't really blame it on all the riders. I will say that a guy like Eli Tomac if he wanted to go I'm sure that Kawi would totally support him. It's unfortunate because we always, and I see all the interviews and stuff, we see everyone speaking about how in the past riders would just do or die anything to race that race. Some of that certainly we've lost. I'm guilty of it too. I raced it two times, but I was invited to it I think three times. At least three times, maybe four. But I kind of have mixed emotions about it. I think it's really up to the rider. I think it's a bummer and as a fan now it's a bummer.
I don't think you hold it against them. I think they're fine. It's six weeks after their last national, and if you want a vacation and you want some downtime you've earned it. 29 races. I'm okay with these guys skipping.
What do you guys think about having Motocross des Nations right after the US nationals? When is the last GP race? When is the soonest they could do it?
Pretty much what they're doing right now. The schedule is really pushed back. They've added a lot of races. It used to be fourteen, now it's eighteen, twenty?
The other thing too with the GP's is it's kind of like following F1. When they do the fly-away races they need the week break. So it's like, it's a 19-round schedule, well when a bunch of those are fly-aways you're adding a lot of break weeks, so the GP schedule is starting ealier than ever, but it's also ending later than ever.
It's really spread out I guess.
They do it as soon as they can.
My biggest question, the one I know you've talked about, Steve, and I've read some of the dates for Des Nations. It has moved a little over the years but not drastically. The biggest one to me I always question is, do you think Monster Cup should be a little bit later in the year when more of the guys have started Supercross testing? Do you think the race would be better in November? Or do you think the riders would be more upset with how they do their boot camps and stuff?
That's a good question, too. I think for all the riders, they probably think Monster Cup is a little early, but think about the manufacturers. One of the reasons maybe is if something happens at Monster Cup they still can have some time to get rejuvenated or get healed for Anaheim or January first race or something. So, maybe that's one of the reasons. I don't know. again there's no perfect answer. Everyone's trying to force more Supercrosses all the time, which we all love Supercrosses, but at the same time trying to figure out how to get Motocross des Nations in, finish the GP's… What if they did Motocross des Nations before the GP's were finished?
I think those guys would be like, what the F?
All the years your whole career, when you look back in your videos and the photos, what's your favorite gear setup that you wore of all time?
This is an awesome question. I can't give you one answer. Do I have to give one answer?
Give me your top three.
I'll give you a top three. First, I didn't know it at the time, and I'm not counting this in my top three, but that Peak Axo gear back in the day was pretty sweet. You can look at that now and go, wow that was pretty cool. But I think really, my '96 Fox gear was so sweet. That was the orange, kind of red orange with the white and yellow and whatever on it. That was pretty cool. I think the year that I wore the all-white No Fear at Daytona when I won Daytona on the Yamaha. It was like vented and all white. That stuff was so far ahead of its time. It was cool. So those top two for sure. Let me see what my third one might be.
If it was me, I'm going MC No Fear look. Sorry Pete Fox and all that, but the No Fear '99 stuff…
Somebody did a No Fear topic on the forum the other day. Some of the stuff that Kdub and MC wore, there are some classics in that.
'98 No Fear was a little suspect, but in '99 and 2000 when we had the white and the black. You remember the Anaheim I had those gold No Fear pants and jersey? That kit right there was my favorite all-time kit.
Do you have some of that old stuff still? I saw you have the mock ups in your garage, the mannequins, but do you have a lot of it or is that all you have?
No, I have tons of gear. That's one thing that I am, a rat pack. Every year after each season I'd pack a whole gear bag up and throw it in my attic. That's why I had boots. You guys all know I keep all my helmets. I have like 45 helmets here, and then I have another like 15 at Troy's office. But I have gear from every year. I have my Peak gear and I have all my Fox gear from every year. I even have my number 15 Sinisalo gear. That gear was pretty sick too. That was the kidney belt days right there.
Do you have the 125 AXO?
Yup. I have the 125 AXO and I have the number one Peak gear AXO, which was next for Supercross. Then I have every year of Fox. I have most every year of No Fear. The thing I'm disappointed in and I've been talking to Surwall a little bit through text trying to get that gold set, and he's like, "Man, I got it in my attic somewhere. I just need to find it." It's funny. He shot me a text the other day and he's like, "Just so you know, I haven't forgotten. I'm still looking for the gear. I haven't found that gear yet." But I have the all-white. I have the black. And I have all the helmets to go with all of it. It's pretty cool. I've got a lot of stuff.