The long awaited 2018 "dual dual" Honda CRF250R has come!
The long awaited 2018 "dual dual" Honda CRF250R has come!
I had the chance to spend a lot of time with it on Wednesday at Zaca Station. Honda hasn't faired well in the production 250 shootout category for quite sometime, but with the emergence of this all new 250R they could be in the hunt once again. I put together "10 things" I took away from riding this machine right here, but if you want to listen to my sweet voice, you can listen to the "Keefer Tested" podcast and here all of this stuff and more. Below are ten important things you need to know about the 2018 Honda CRF250R: 
1. Torque: The 2018 Honda CRF250R is not going to blow you away with tons of torque like the Yamaha YZ250F down at low rpm's. If you like to run third gear in corners and are a lazy rider, this might not be your type of engine character. The Honda prefers to be revved up in the higher rpm's and will reward you when you do so. The Honda comes on smooth (similar the the KTM) an builds up its power more calculated which leaves you with better traction feeling (on hard pack). If it's super loamy and deep the Honda needs some more excitement down low.
2. Top End: This is where the smiles happen the most. The 2018 CRF250R revs 900 rpm higher than the 2017. This means its rev limit is 14,400 rpm! WOW! Do yourself a favor when you ride this bike and let her scream out each gear. The Honda's engine will reward you with faster lap times and a strong pull when your higher up in that rpm range. This doesn't mean it's slow through the mid range, because it does have a healthy mid range to go with its impressive top end pull as well. The faster the track is the better the Honda works. 
3. Gearing: I almost in pain as I type this part of the article. You might have to go full MXA on the Honda and go up to a 49 tooth rear sprocket. 48 comes stock on the 2018 model and if you want to use third gear it can help by going up "one tooth". I just threw up in my mouth a little when I said this. My problem with going up one tooth (besides the obvious) is that it shortens second gear up too much. To me second gear is already too short and when I shift into third gear I feel the gap between second and third is still too far apart. I would like to see the gap between these two gears close a little. First gear is actually tall for 250F standards. In a tight section at Zaca I could almost use first gear, which is unheard of in the world of production 250F MX'ers. 
4. Shifting: I did have a little trouble shifting (under load/acceleration) out of corners. Again shifting from second to third gear felt tough at times and I had to pay attention to using the clutch when I went to shift. It wasn't a notchy feel, but you had to have a heavy foot to get the Honda into third gear on a couple spots around the track. I am going to dissect this more when at other tracks. 
5. Suspension: Thank you Honda! Thank you! You went to spring forks and I couldn't be happier. In the past Honda hasn't been the leader in production suspension settings, but for 2018 this 250R is damn good! The suspension has a balanced feel and soaks up square edge and braking bumps excellent. It is a little soft up front on landings, but a couple clicks stiffer on the compression remedied this for me. The shock likes to have a sag around 107-108mm and unlike its bigger brother, the 450, the 250 doesn't have that empty feeling end-stroke out back. The damping feeling near the end of the shock's stroke is good and leaves you with a enough bottoming resistance for a 165 pound aggressive front end type of rider.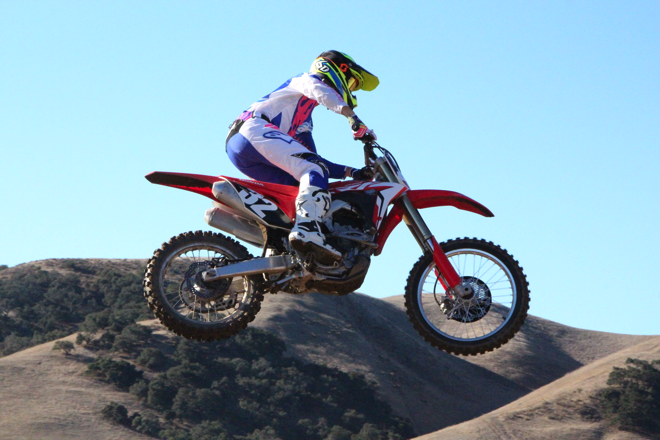 It's all aces for the 2018 CRF250R!
6. Cornering: Uhhhhhhh. Duhhhhhhh. Yes, it corners! The 2018 Honda corners much better than the 2017 Honda 250R and gives the rider even more front end grip. I feel like I can pick a rut on the Honda and it sticks right into it. It continues to lean and doesn't want to stand up, which in turn gave my Novice tester the confidence to rip corners all day at Zaca. If you're a rear steering rider don't be alarmed, the little red rocket will do that for you as well. A little tap of the rear brake and some throttle will swing the rear end around nicely and give you enough traction to come out with a hand full of throttle. Out of all the 2018 250F's I have ridden so far (Kawasaki, Yamaha, Suzuki) the Honda is the best cornering machine. 
7. Weight Feel: I mean it's a 250F, how heavy can it feel right? I know Honda claims that the 2018 bike is lighter than last year, but on the track I can feel it as well. Change of direction is where I feel it the most. Honda provided us with a 2017 bike to ride back to back and you can feel how much quicker the 2018 bike reacted to sudden line changes. If I wanted to bank down off of a berm quicker the 2018 bike did that easier and more stable than the 2017 machine. 
8. Stability: When Honda went to the Showa 49mm spring fork, that change alone helped stability. That change alone is worth the price of admission, trust me. However, the new frame not only allows an inside line to be carved easily, but the stability should be commended as well. Coming down a fast choppy hill the CRF250R stayed true and got into my line (that I wanted) without as much as a wiggle. Unlike the 450R where it can be rigid feeling at times on fast straights, the CRF250R doesn't have that sensation and flexes enough to be stable at high speeds. Yes, the 250R naturally will more stable because it doesn't have the horsepower that of the 450R, but it flexes more than the 2017 250R, which is a huge plus!  
9. That Dual Dual Life: Do I think Honda needs two headpipes? No. Do I think it looks cool? Yes! Will it be more expensive to purchase a muffler system? According to some muffler manufactures, no it will NOT be THAT much more. Yes, crashes do happen and that leads you all wondering if having a headpipe on each side of the bike creates a better chance of screwing one of them up? Yes, I am sure it could. Unless you're an off-road guy, I think the chances of damaging a headpipe is not that much greater. I did however feel that the middle of the bike (where I squeeze with my legs, when doing starts) is a little girthy. When I squeeze the CRF250R (on starts only) my legs hit the heat shields of each headpipe fairly easily. This burned my pants quicker than usual, so make sure to be aware of that if you squeeze your machine a lot on starts. 
10. Tidbits: The electric start is awesome, just make sure to remember to pull the clutch in all the way before starting. Speaking of the clutch, the clutch pull is not as hard as the 450R and is buttery smooth. The ergonomics of the CRF250R feel just like the 450R. You are able to get comfortable right away and as most testers usually say "it just feels like home". I think Honda has a better 250 for 2018, but we will have to see how it stacks up against the others come November 14th.