JT and I do some synapse-busting on the 2018 Alphadog.
Swizcore: So JT, we are essentially a month out from the start of another Supercross series and with the #5 of Ryan Dungey vacating the podium that he has almost literally lived on since 2010, the possibilities for race winners and fresh-faced podium finishers are impressively lengthy.
Eli Tomac and Marvin Musquin are the obvious shoe-ins for the top spots and honestly, even considering Ken Roczen's injury, recovery and unknown competitive-readiness following said injury, I just have a feeling that he is going to shock and spoil early and often in the new year. It would seem that Ken's "question mark" for 2018 would be THE story but the more I think about it, I really think the facet I find the most interest in is all the new names and resurgent names who find confidence and fire in the absence of Ryan Dungey. Am I crazy?
I mean really, the podium has essentially been a 2 position deal since 2010. It was just accepted that Dungey would always be on it and it was just a fact that was tucked away in the heads of everyone out there like a weight on their shoulders, holding them down. I really want to get into the nitty gritty of which of these "Podium Sniffers" of years past is poised to most respond to this new Post-Dungey era beginning in a mere four and a half weeks.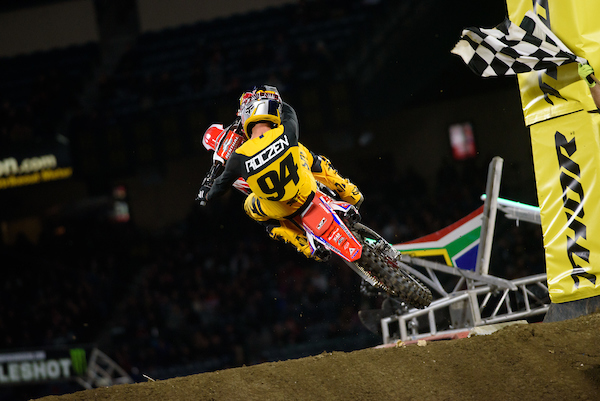 Roczen's 2017 started off like a dream.
JT: Most would agree that 2018 is the most "up for grabs" year since the departure of Ryan Villopoto for the 2015 season. Even in that pre-season, though, we should have known that Ryan Dungey was the heir apparent. He was in Villopoto's shadow during RV's run and with Reed aging, it was all lined up for the 3-peat that he was able to accomplish. So, the real question is "is this year really up for grabs after all?". My thought process here is the on-paper results. Eli Tomac, on paper, would be the easy favorite, right? He won nine (and should have been ten) races last year. That's a heckuva statement to have in your back pocket when the champion has vacated the throne. Is it that cut and dry, though?  I think not.
Ken Roczen was on fire before his gruesome injury at Anaheim 2 last January. He had won two straight and looked to be the class of the field, albeit early in the year. If, and this is a huge if, he can regain that level of performance, the entire landscape shifts. His 2017 level would easily make him the favorite entering the season. The issue here is that we can't possibly expect him to be at that level, can we? His arm doesn't look to be 100%. That's just common sense and although I am not a doctor, I have injured my body enough to know that I am making a good assumption on that. Will it be strong enough to put him at the front of the pack, deal with crashes, allow him to bang bars, fight through mistakes, etc? That's really where my questions arise. I fully believe he will be fast enough to win. His talent is undeniable and he is on Grade A equipment. It's all of the other X factors that have me wondering. Only the bright lights of supercross can answer my Q's.
Finally, we have the emergence of Marvin Musquin. I say emergence because he has seriously raised his game. He was good in 2017. Good is not enough to win a title, though. He had five races outside of the top five, with three of those being outside the top ten and one DNF. Some will say "SO DID ELI!!!" and pound their fists in unfair analysis fashion, but the difference is that Eli racked up all of those wins. Marv had two wins (3 counting East Rutherford) versus Eli's nine (ten counting Vegas). That's a big difference and over the course of 17 races, added up to a 61 point margin. This is where I think Marvin will need to focus his attention. He will have to do one of two things: eliminate those rounds where he loses big points OR find the pace to rack up multiple wins. He will need one of those solutions to win this title. Case in point: the 2017 Lucas Oil Pro Motocross Championship could have been his to win had he not DNF'd that moto at Southwick. One mistake can make a world of difference. Ask Eli about East Rutherford if you need more evidence.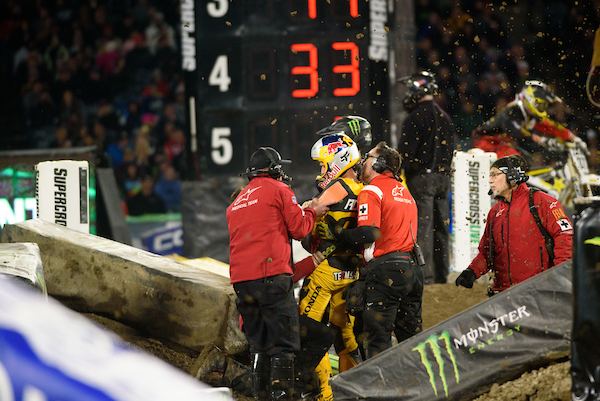 …but ended like a nightmare.
Swizcore: Your comments on Roczen's arm have made me drill down into what I really think about Ken's 2018 response to his horrid 2017 exit. I thought I had already fleshed out my thought process on this but I hadn't. I believed my opinion was that Ken would shock everyone with a triumphant and dominant return but thinking back to the injury, the trauma through multiple surgeries (including compartmental syndrome) and seeing the appearance that it has now, I'm extremely wary JT. Having been through a complicated knee surgery where I saw not only complete death of the full thickness of skin tissue requiring grafts and also resulting in permanent (and incredibly painful) nerve damage, I must say, I don't think there's a high chance of Ken bouncing back quite so quickly nor highly.
That nerve damage is a devastating thing and the rate of blood flow flooding into the affected area results in reciprocal levels of burning and sheer pass-out pain. I'm sure Ken is beyond that type of pain at this point but what I truly am curious to see is how his arm reacts to actual race-day pressure and abuse. We all know there's nothing like actual racing to see where you're really at and I think that is going to be leaving Ken more surprised than most fans. Call me a hater but it seems only logical to me.
I think I just emphasized your point instead of countering it… I'm a failure.
JT: I think Kenny has already suffered the toughest part of the comeback trail. He must have gone through Hell as you mentioned with surgery after surgery, infections, and the post surgery complications as you mentioned. Now, it's all about getting back to who he used to be. Less than a year ago, he was the fastest man alive. That skill doesn't just go away so in any case, look for something close to his old form when the first practice heads out in January. The big question for me is will he be able to find and maintain that last 1% of excellence that he has been able to harness in recent history. That's a level most have never been to and Kenny's climb back to that precipice has to be considered the biggest wild card of 2018.