These will be back some day no doubt.
Today, the mullet is thought of mostly as an odd footnote of late-eighties and early-nineties culture. Its weird combination of short-in-the-front and long-in-the-back looks pretty ridiculous to the modern eye, but for a good three or four years, it was the most popular hairstyle in motocross. Just take a look at nearly any photo from the late eighties, and you are bound to see those lovely flowing locks trailing out the back of your favorite rider's helmet.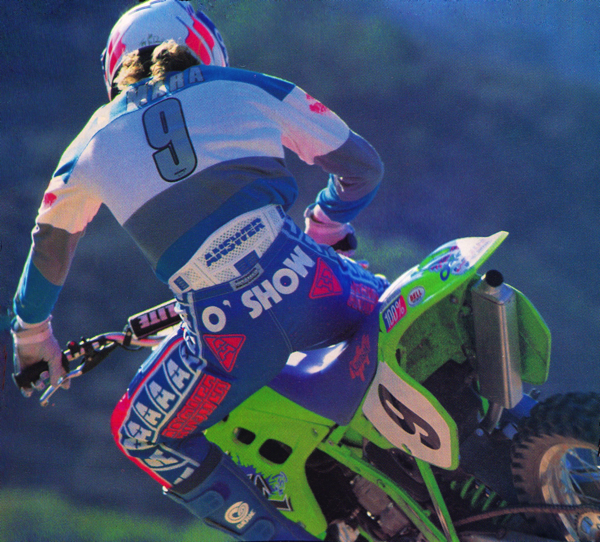 The Moto Mullet in its natural habitat. Photo Credit: Answer Racing
While the mullet became all but ubiquitous during this era, the 'dos of a special few continued to stand out in this sea of hair product. Like any art, the mullet had its masters and we here at PulpMX believe those masters deserve to have their genius recognized. With that in mind, Matthes and I are going to give you our picks for the best mullets in moto. After each pick, I am going to give my rating from 1-to-5 Andre Aggasis (the known gold standard for sports mullets), and then both of us will add a few thoughts for context. Finally, a tip of the hat to the OG mullet hunters at Transworld MX for all their pioneering work in the field of mullet appreciation. RIP to that column and hopefully, the lawyer stuff has all been settled by now.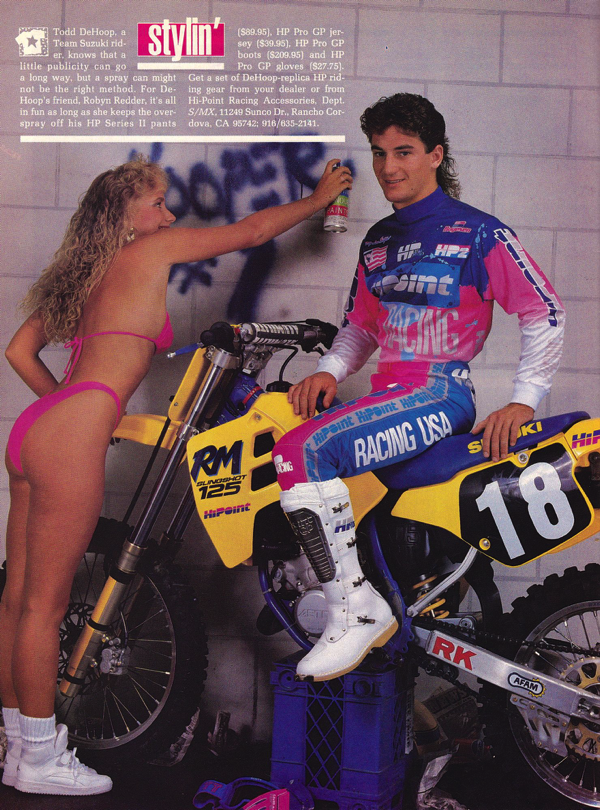 Mullet Number 1 – Todd Dehoop     Photo Credit: Super Motocross

Moto Mullet Rating – 2 Agassis out of 5
Blaze: Here we have the very definition of a textbook mullet. Nothing too crazy, just short up front and nice and long out back so your competitors can see those curls flowing as you blow on past. Extra style  points awarded for his badass HiPoint Pro-GP boots and beautiful 1989 RM.
As a side note, what the heck was with bikinis in the eighties? If that waistline gets any higher it is going to double as a bra.
Matthes: This is a very classy mullet by Hoopster. Nothing crazy, the top of the head is also very full of hair and it's natural. It almost looks dare we say it, good?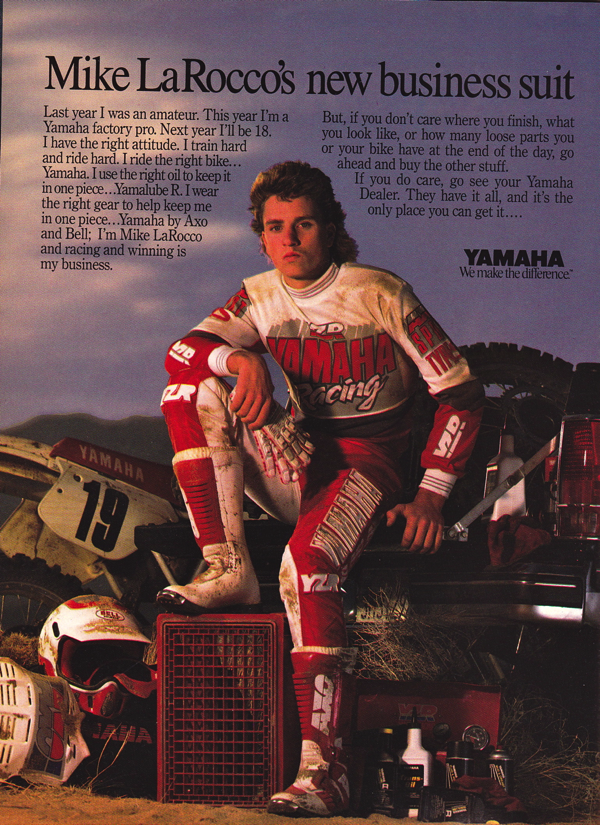 Mullet Number 2 – Mike LaRocco       Photo Credit: Yamaha

Moto Mullet Rating – 2 Agassis out of 5
Blaze: It's funny, I don't ever think of Mike LaRocco as being Damon Bradshaw's teammate, but in 1989, those two were a one-two punch of moto-mullet goodness. In this picture, Mike's mullet is in full-on Farrah Fawcett mode, but I suspect that had more to do with Yamaha's ad department than LaRocco's personal preference. In practice, Mike's mullet always looked more like he was using Soul Glo than Aqua Net. Either way, it is hard to not appreciate that mighty mane.
Matthes:  As Blaze says, this is fully manicured and poofed up mullet for the cameras. It kind of looks like a full-grown porcupine was just set on top of Larocco's head really. Oh, and then covered in Aqua Net. Nice smile there Mike.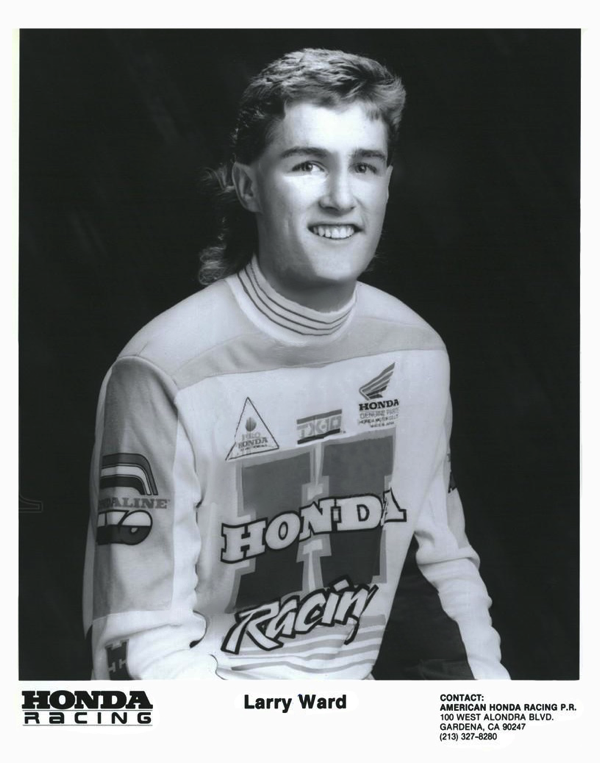 Mullet Number 3 – Larry Ward       Photo Credit: Honda

Moto Mullet Rating – 3 Agassis out of 5
Blaze: Now here is a guy who has long been known for his epic mullet, Larry "Big Bird" Ward.  Here, in 1989, it is relatively tamed, but a year later, it would sprout forth in all its curly glory. When Ward took the win at the Kingdome that year, it was rumored his mullet may have been responsible for at least one of the block passes put on Chicken that night. True story.
Matthes: Unlike Mike and Todd, Larry went with the business up top, party in the back look that has defined the mullet. And with Larry, this axiom of life actually proved to be pretty true.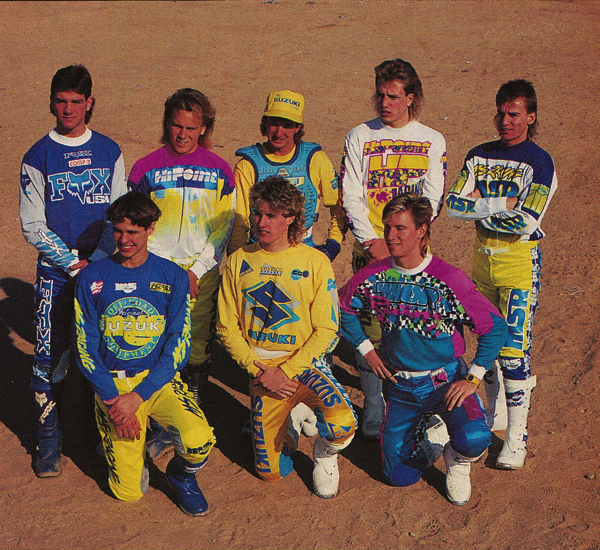 Team Suzuki 1990: (Top row left-to-right) Jeromy Buehl, Buddy Antunez, Jimmy Gaddis, Mike LaRocco, Guy Cooper, (bottom row left-to-right) Denny Stephenson, Larry Ward and Ronnie Tichenor. Photo Credit: Suzuki
Blaze:  In 1990, Team Suzuki was the acknowledged epicenter of the moto mullet revolution.
Matthes: There are no words for Buddy Antunez's hair back then. It was simply glorious. Of course, he went prematurely bald and has run the shaved head for many years now. God, life is cruel.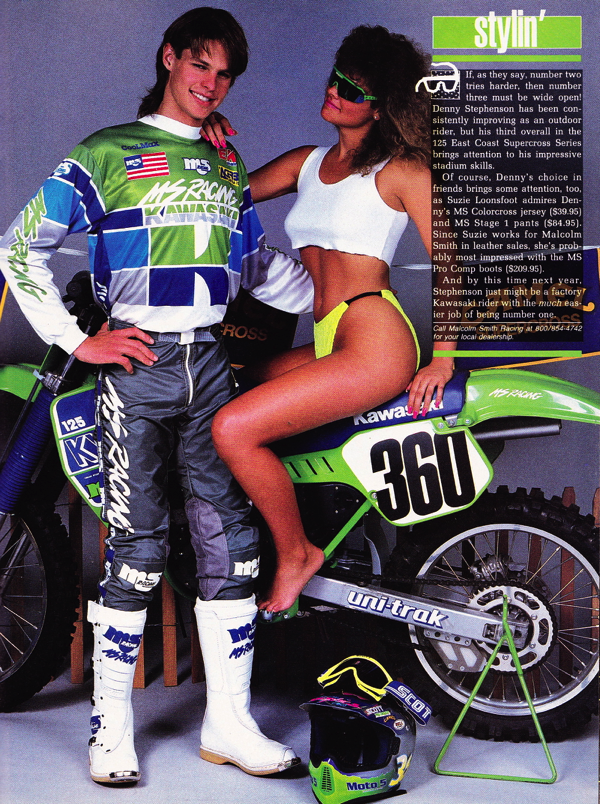 Mullet Number 4 – Denny Stephenson       Photo Credit: Super Motocross

Moto Mullet Rating – 3 Agassis out of 5
Blaze: In 1989, if you rented a Dbo for a day, you got one sweet mullet thrown in for free. I have no idea what the heck Denny was doing with his hair in 1990 (bottom row left, in the Suzuki picture above), but in 1989, he was on point. Maybe he was just sick of pulling all the chicks and wanted to cut his buddies some slack by going with some weird bowl cut (I mean seriously, what the hell is with that haircut? He looks like he has a giant mushroom on his head)? Either way, his 1989 mullet was golden and looked as great flowing out the back of his helmet in MSR ads, as it did plowing face-first into a set of Englishtown whoops.
Matthes: Looking good D-Bo! This is almost more of a rocker-type mullet where he'd be at home on an MX track and at a Scorpions concert. Picture the #360 just head banging with that and he'd fit in nicely in an MTV music video in the mid-80's.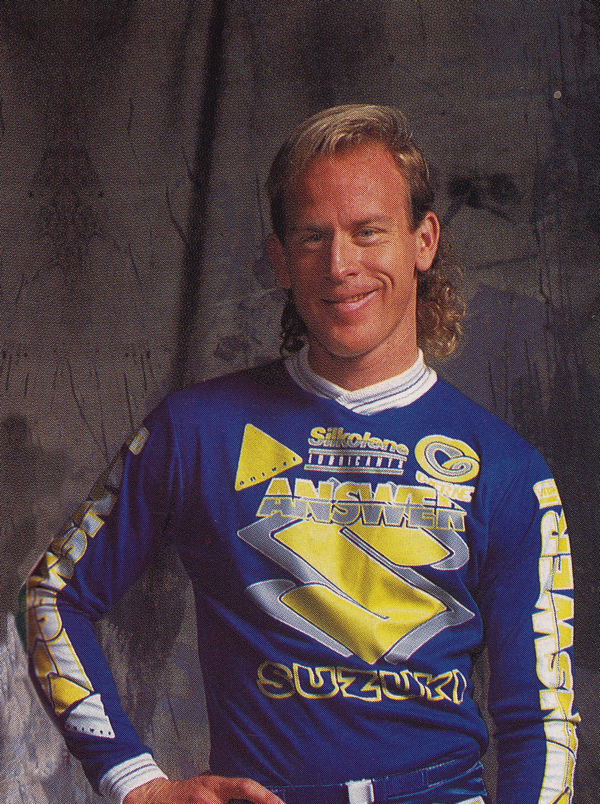 Mullet Number 5  –  Johnny O'Mara       Photo Credit: Answer Racing

Moto Mullet Rating – 4 Agassis out of 5
Blaze: Now we are getting into mullet royalty. Johnny O'Mara, the O'Show, was always at the very cutting edge of moto style. His gear, his bikes (at least the red ones) and his look were always on point. In 1987, when the mullet was just starting to gain traction, the O'Show was there to show the unwashed masses the way to moto coolness. Strictly business up front, and full-on Ronnie Lechien four-day bender out back, the O'Show knew how to do the good old Tennessee waterfall right.
Matthes: This is great, O'Show is kind of a reserved type of person when you talk to him, but the stories of his pranks back in the day are legendary with many of them involving poop. So yeah, this fits him perfectly.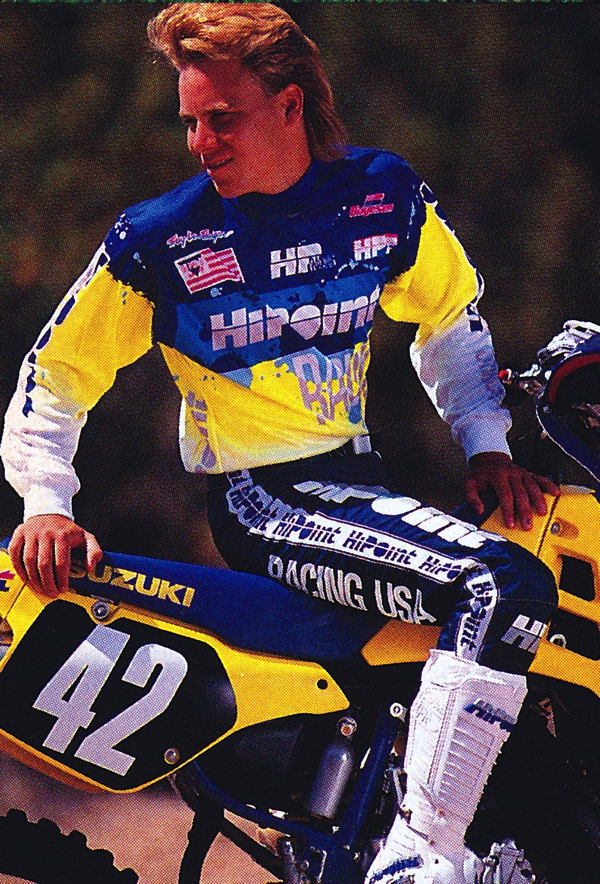 Mullet Number 6  – Buddy Antunez       Photo Credit: HiPoint Racing

Moto Mullet Rating – 3 Agassis out of 5
Blaze: OK, there are mullets that you look at now and chuckle (most of them actually) and mullets where you say, "That dude was a badass." This is definitely the latter.  As a man who is follically challenged, I am always a bit jealous of a guy with a thick head of hair, but even when I had hair, it never looked like this. For me, this photo of Budman encompasses everything that was great about 80s moto. The bike, the gear, the mullet, they all just scream "come back, things were cooler then." Of course, Buddy's mullet, like my own, is long gone, but for one brief shining moment, there was Camelot…
Matthes: As I said, no words. It's…. perfect. Like a lion on the plains of Africa.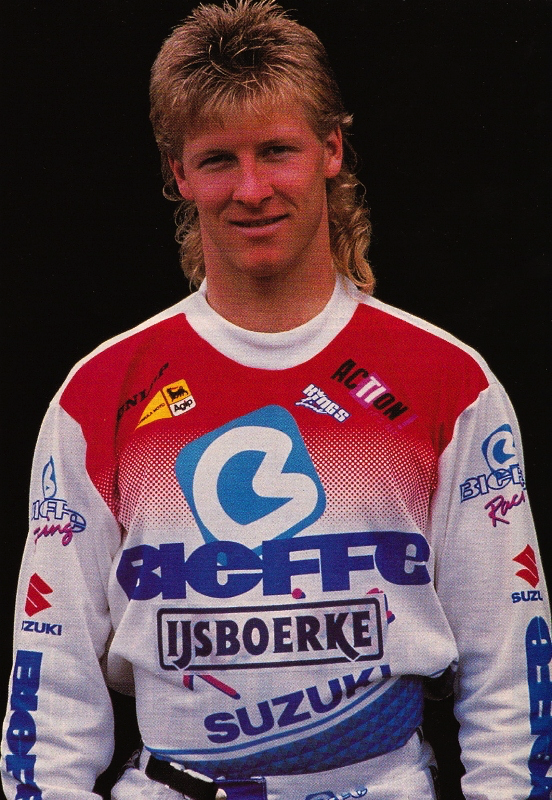 Mullet Number 7  – Donny Schmit     Photo Credit: Motocross Action

Moto Mullet Rating – 4 Agassis out of 5
Blaze: Now this is a proper early-nineties mullet. Donny has it nailed here, right down to the hedgehog look in the front and long, flowing curls down the back. Unlike the Budman's mane, I would not want to be caught dead with it now, but in 1990, this was what a true mullet connoisseur was going for.  Bonus points awarded for taking this Tennessee top hat to the 1990 125 World Motocross title.
Matthes: Donny is from the Midwest and as we all know, the mullet hasn't really gone out of style to this day with some in that area. This came VERY natural for Donny, I have no doubt.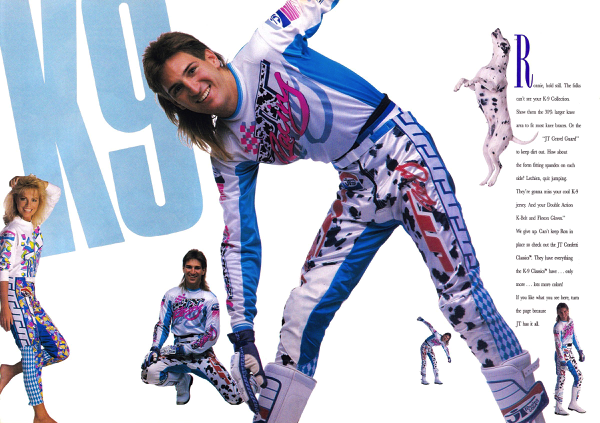 Mullet Number 8  – Ronnie Lechien     Photo Credit: JT Racing

Moto Mullet Rating – 4 Agassis out of 5
Blaze: Few men in history have rocked a mullet with more swagger than 1985 125 National Motocross champion Ron Lechien. A legendary partier, there can be little doubt that Lechien's Missouri mudflap probably saw more action than any other coif of his era. Truthfully, Lechien probably should have run party in the front, and party in the back, but of course that probably would have made it hard to see the pit tootsies…
Matthes: Bonus points awarded for Ronnie's mullet, in that when it was hanging out of helmet, it always looked kind of greasy. Like a member of GNR who hadn't showered for weeks.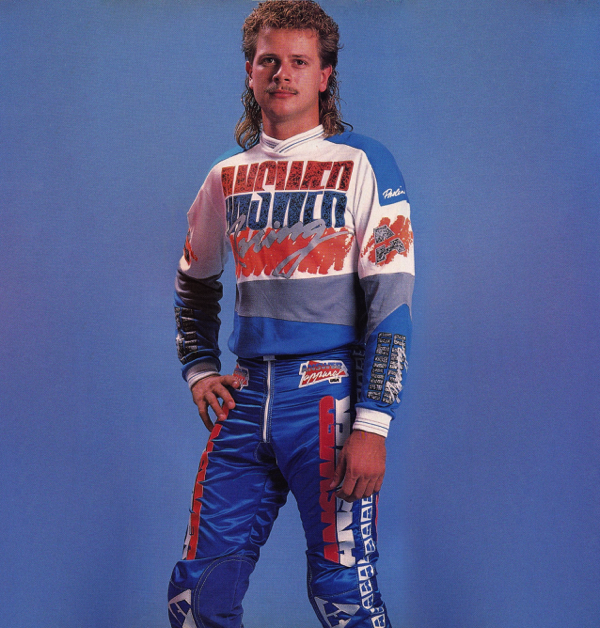 Mullet Number 9  – Mystery Answer guy     Photo Credit: Answer Racing

Moto Mullet Rating – 5 Agassis out of 5
Blaze: Matthes suggested we add this guy to the list and I had to agree.  In spite of the fact that I have no idea who he actually is, that mullet had to make the cut. For those who don't recognize him, he appeared next to Micky Dymond in one of Answer's gear ads from 1989. While Micky was the star of the ad, that beaver pelt could not be ignored. Just look at that sheen… I think Eddie Murphy in Raw ran less Jheri curl. Obscure or not, there can be no doubt that this guy belongs in the pantheon of moto mullets.
Matthes: Amazing mullet! Curled, shiny and perhaps the perfect length! Wind-swept back at the ears even. Add in the 'stache and we have perhaps THE perfect look for this era. And Blaze, we finally have an Answer (!) to this Answer man, as I put in a text to Eddie Cole, the owner of Answer products back then. This beauty is none other than a guy named Gary McClelland who worked in the design department over there. Upon seeing this photo, Eddie replied "Look at that hair!" Yes Eddie, yes indeed. Here's to you Gary (and by the way, "Gary" is a perfect name for this hair style as well) and that specimen up top there.
**I'm so glad that Blaze didn't put Micky Dymond from these ads in this list because he didn't have a mullet, he had perfect hair and I don't want to hear another word about it.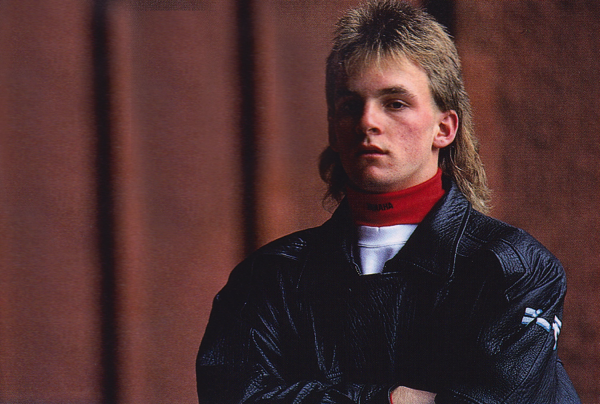 Mullet Number 10  – Damon Bradshaw     Photo Credit: Naoyuki Shibata

Moto Mullet Rating – 5 Agassis out of 5
Blaze: Sweet mother of mullets! Now this, is a perfect melding of man, beast and hairspray. If there has ever been a more flawless pairing of demeanor and hair, I don't know who it could have been. In 1989, the Beast from the East was all attitude and that North Carolina neck warmer was the perfect embodiment of his brashness. For many, that golden neckerchief was likely to be the last thing they saw as the #45 Yamaha bounced off their tib-fib. Love him or hate him, Bradshaw was (and is) an icon, and that magnificent mullet is part of that legend.
Matthes: This story is either the greatest one we've ever done on Pulpmx.com, or perhaps, the worst. On that point, I leave it for you to decide, but on the matter of THIS mullet, I think it is pretty clear this is where we need to end.
For your daily dose of old-school moto goodness, make sure to follow me on Twitter and Instagram -@TonyBlazier
For questions or comments, feel free to drop me a line anytime at TheMotocrossVault@Gmail.com