Welcome everyone to the article that runs only on daylight. I even typed this article during daylight hours! There is absolutely no need to turn on the lights for this one folks. I attended the first round of the Monster Energy Supercross Series in Anaheim, but came in early to geek out on the bikes and study the riders in practice. This lasted between 8-4 much like banker hours, so grab a sandwich and enjoy some of the things I viewed at the first round at A1. Yes, some of these admissions are from the couch as well…..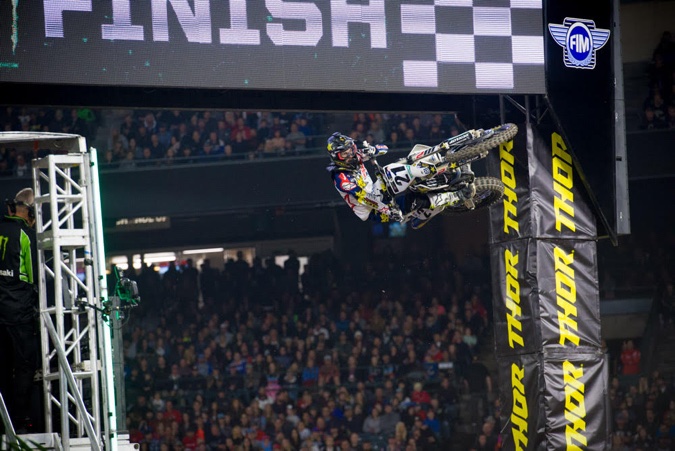 Jason Anderson: Anderson is fun to watch ride! His corner speed is so good and to me looks better than anyone else in the class. JA will win some races and I think will get into some riders heads this year. He's in shape and has confidence knowing he can win in 2018. I also heard that Anderson isn't with the Baker factory anymore? Maybe this is not true and is a rumor, but this was the ongoing talk in the pits at A1. We will see…….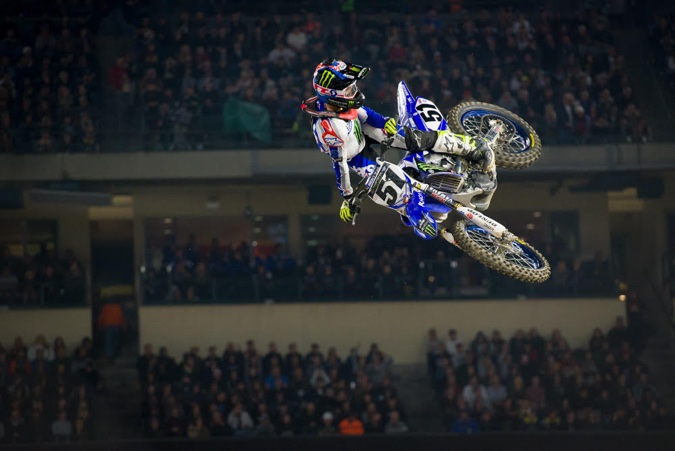 Justin Barcia: I am not going to lie, it's nice to see Barcia up front again. He was fast all day in practice and was near the top of the board in times. The 2018 Barca still has the same rev the crap out the bike style however, but the new generation YZ450F seems to be clicking for the full time Yamaha rider. Yes, I said full time! Don't even think Yamaha is going to kick him to the curb after what they saw from him Saturday night. Bam Bam is back…. Back again.… Guess who's back? Tell a friend!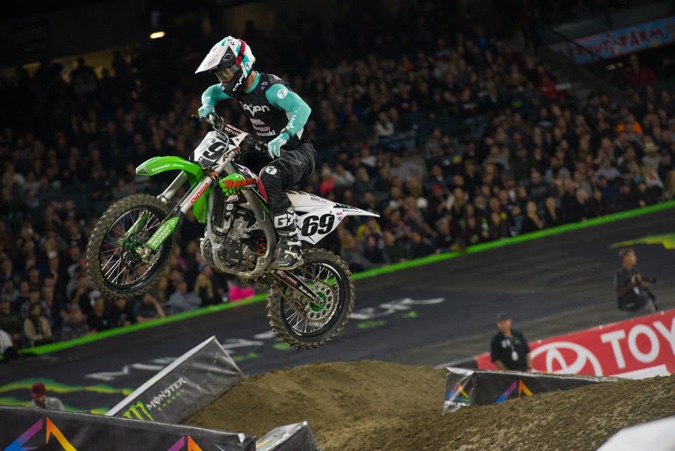 Tyler Bowers: Straight from the 2018 Keefer Inc.Testing 450 MX Shootout to a 14th at A1, Tyler Bowers rode well all day/night. He was in the first B practice, but AMA corrected that problem for the next set of practices by putting him in the A practice. Tyler is getting help from Triggr and Rutted Racing among some other key quality people. We don't know if he is going to continue past the west coast SX rounds, but I would like to see him land a fill in ride of some sort before the west stretch ends. Nice ride Tyler!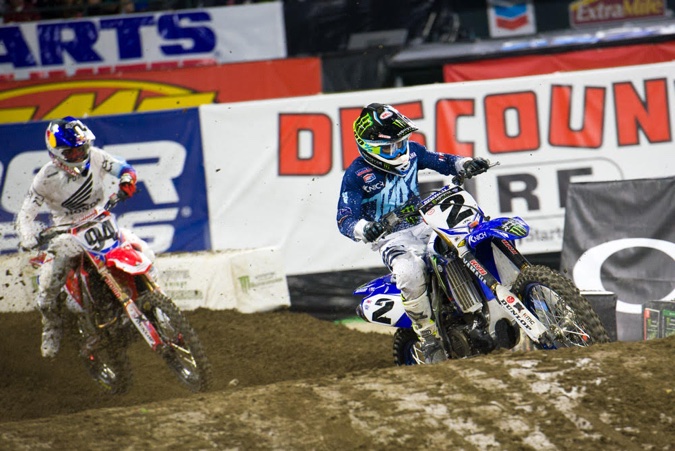 Webb And Roczen Heat Race: Well that was fun! As I was sitting watching all of this go down in the heat race it dawned on me that this little scuffle stemmed from something more off of the track than on it. This was only a heat race and it felt like it was the 1990 Seattle Supercross with Larry Ward and Jeff Matasevich doing the stop and go boogaloo. Sometimes the P.O.P. can get in the way between two grown men, but I am sure this will be squashed soon enough.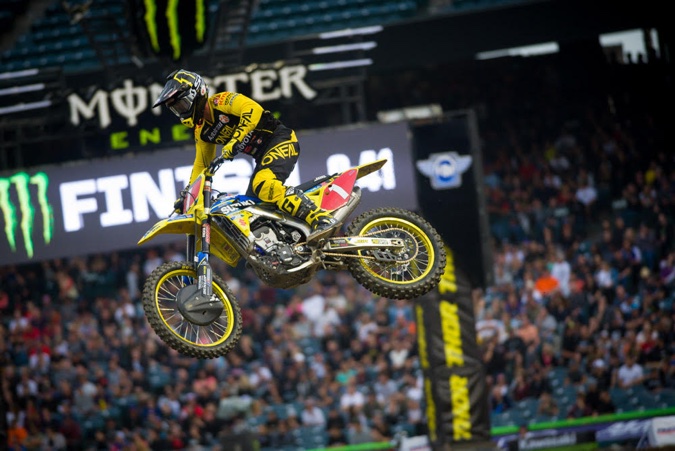 Justin Hill: Hmmmmmm? Not what I expected from 1w. Have no fear, I can guarantee you he will be back up on the podium come Houston. He was your fastest qualifier and looked creative on a basic track like A1. I don't think it's the Suzuki because it looked very good. I think it was some nerves and lack of starts on this night. "We" will get better!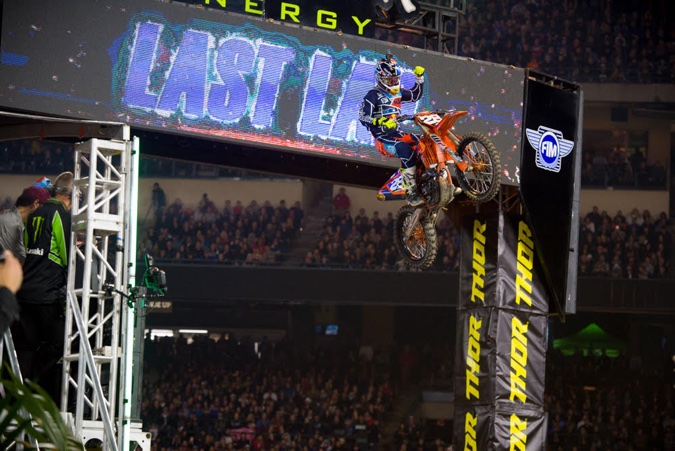 Shane McElrath: Who called this last week on Monday's Pulp Show? Yes, I did! This dude is so solid when he rides and is always very neutral on the motorcycle. He is not flashy but rolls his corners good and is superb in the whoops. Those two things are a combination for success in supercross. That and his bike is very fast and hooks up well on the hard pack slick Anaheim dirt.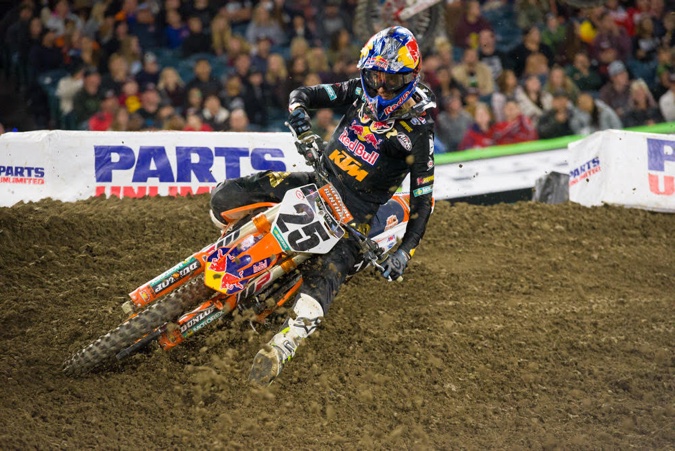 Marvin Musquin: Marvin "Jumping through the whoops" Musquin was just fine at A1. JT says this will be a problem, but I beg to differ. Jumping through the whoops before the finish wasn't slower by any means and was more consistent in the main event. He skimmed the other set just fine and won the race. I am telling you people that main event whoops are slick, broken down and cupped out! Jumping through them is better! Suck it JT! 🙂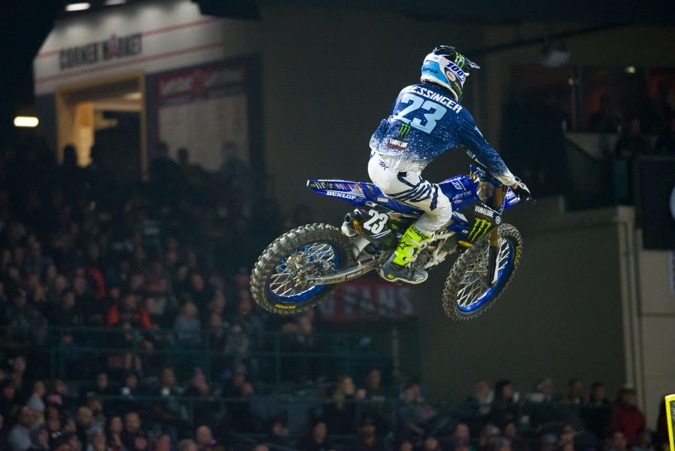 Aaron Plessinger: AP was good! Not over the top good, but very solid. Unlike like last year where he made mistakes, AP was solid all day and is looking towards a championship this season. You can see this in his riding and how he attacked the track. His starts were good this go around and that is only going to help him stay close to the big players this year.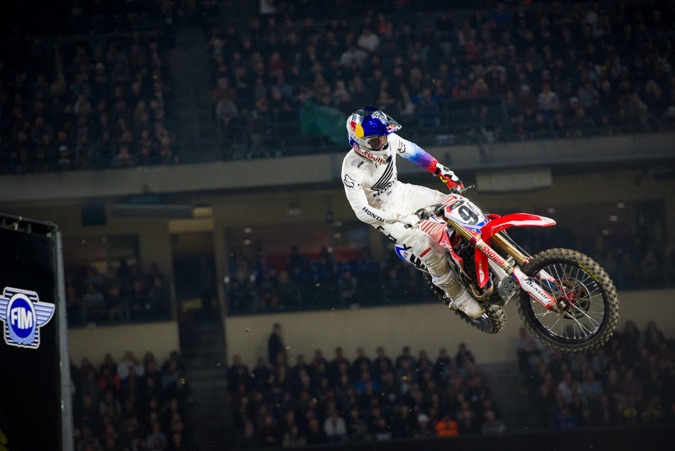 Ken Roczen: The feel good story of 2018 folks. Roczen was fast enough to win, but a fourth will do for the first round. He was fastest on the sheets in practice, but also looked that way as well. Roczen is so sneaky smooth it's simply mind blowing to watch. He stays lower on jumps, his corner speed rivals Jason Anderson's and he is solid in the whoops! He is back on spring forks this year and looks to have some more front end traction as well. His set up went stiffer for 2018 and the spring fork will give him extra front wheel traction, so he is able to run his front end slightly stiffer.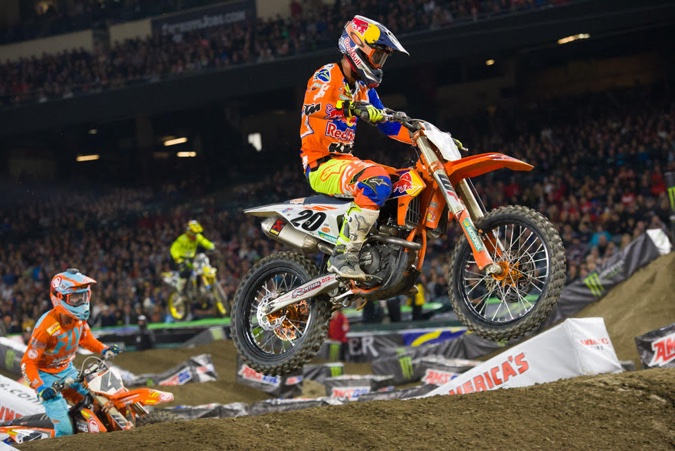 Best Dressed: Stop. Before you read any further just know that "Best Dressed" is still going strong. The 722 doesn't own fashion! I mean McGrath is team "Best Dressed" so you know it's legit. Now I know Tomac had some problems in the Main Event with his Alpinestars pants as he was leading, but Broc Tickle's orange and blue Alpinestars set was to me the best looking out of the bunch at A1. I did like Roczen's all white Fox giddy up, but the Alpinestars Techstar Factory gear set up matched perfectly with the orange Red Bull KTM. Tickle didn't light the world on fire with his results, but he should did look great out there riding his new factory bike.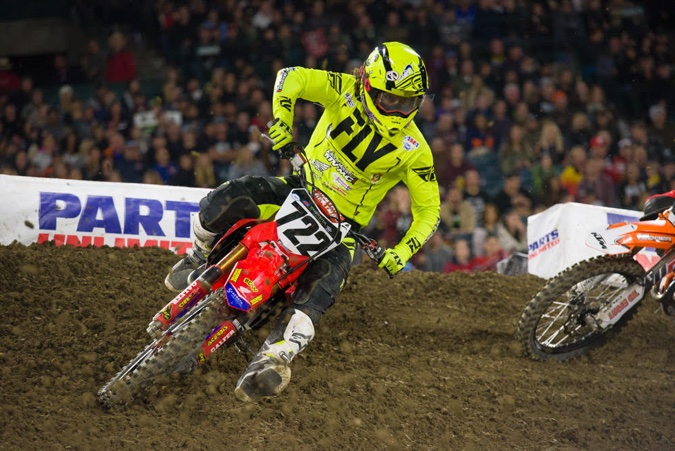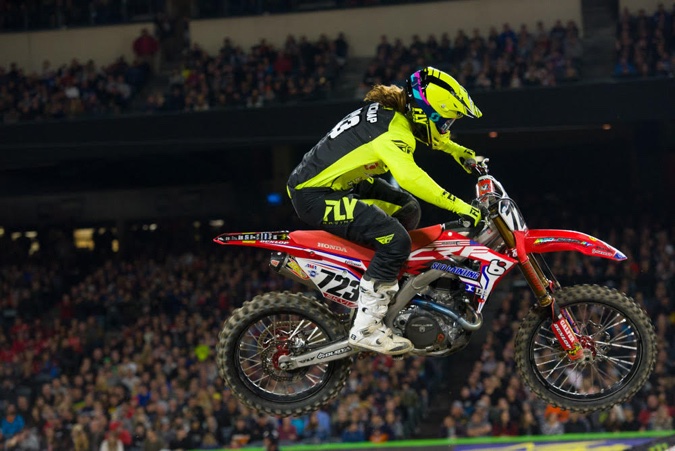 Enticknap Brothers: Adam and Tyler were under the SKVI truck and trailer and seem to be relaxed and having fun. Not shocking right? Adam made it into the main event straight from the heat race and Tyler suffered from poor starts that had him on the outside looking in. Tyler however has better style than Adam and to me looks better on the bike. Sorry Adam, but you know it's true. I would like to say congratulations to Adam for making the main at A1 because that is no easy feat to do in the 450 class.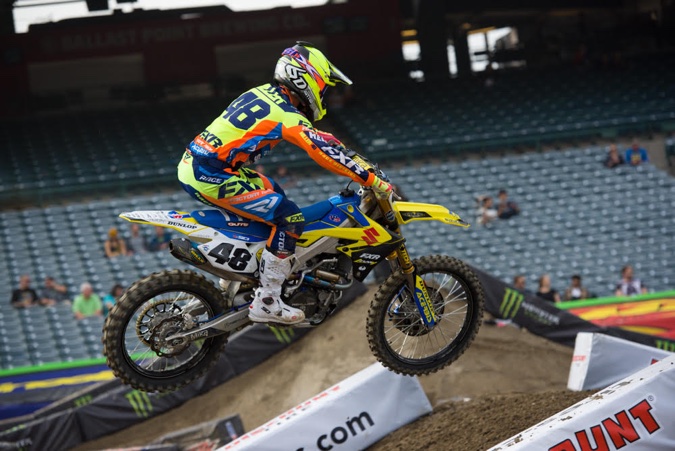 Henry Miller: Miller's results or lack thereof doesn't do justice for how well he rode at A1. Watching him in practice, I noticed he wasn't out of control and was surprisingly good in the whoops. I did feel like the H.E.P. Suzuki's were a little underpowered, but that didn't stop Miller from riding well. Look for Miller to catch on to this supercross thing and do well in the coming rounds.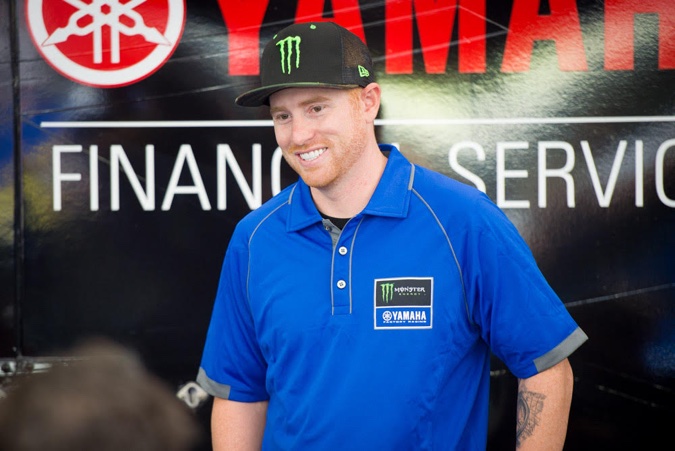 Ryan Villopoto: The media was told to be at the Yamaha factory rig at 9AM sharp for a special announcement, so I was there at 8:50 ready to see a new bike unveil or something! Instead Mike Ulrich from Yamaha's media relations department introduces Ryan Villopoto as their new brand ambassador. "What"!! That was the word I heard from no more than eight to ten media journalists as the red headed former supercross champion walked out from the back of the trailer. Villo will be riding the YZ450F for the first time Monday at Zaca station and will be helping the bLU cRU people spread the YZ love all across the country! Cha Ching!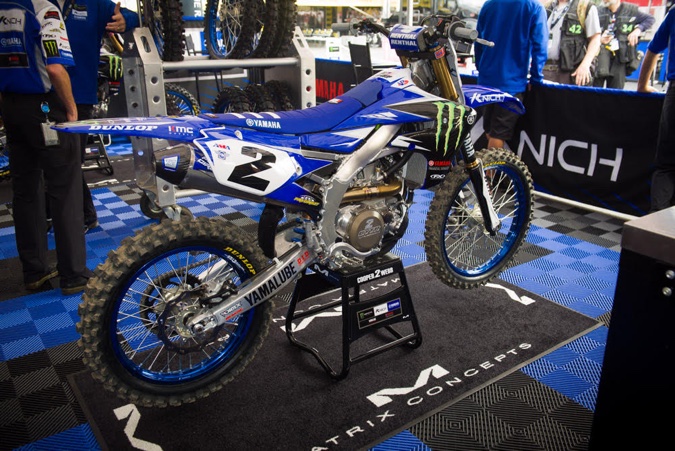 Best Looking Bikes: The Yamaha machines are sexy! Not shocking to most of you that I like a Yamaha, but serious, go look at them up close when you're at a supercross and see for yourself. I could do without the "M" claw, but they are just so clean and the blue color pops so good out on the track. Not to mention every gear color combo goes with blue!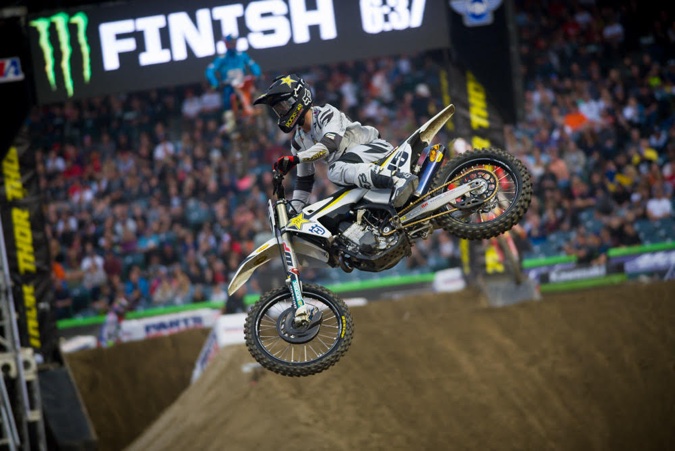 Dean Wilson: Poor Dean-O….He was so fast in practice and looked like a frisky Scottish dancer out there. He got a little too anxious and tried doing the wheelie/soak into a small double and it backfired. Big time! Hopefully his shoulder isn't too messed up and we will see him soon because he is podium material and good to have up in the mix. Oh and did I mention that the Husqvarna's look amazing? Well they do!
Rockstar Girls: Alert! Alert! Alert! After Dark……The Rockstar girls have amazing outfits. It blows the Monster girls outfits away! The slits going up the side of the pants and shirts really let the male mind go to a place that makes us smile. Something about pink lemonade and cotton candy perfume along with a ton of makeup really does it for me!
C Practice: I DON'T KNOW ABOUT YOU GUYS, BUT C PRACTICE GIVES ME ANXIETY! Not to say that these gentlemen shouldn't be in the show, but it is just plain terrifying to watch as a rider myself. These guys are giving it their all and mistakes happen frequently. Supercross is not easy and if your buddy next to you is claiming that he or she could do it, have them watch the "C Practice"! You're welcome.
**Red Bull KTM Factory Bikes: The Red Bull factory KTM's are fast! I know what you're thinking, "Kris of course they are, they are factory bikes". Yes all factory bikes are fast, but when you watch other factory machines trying to get over a rhythm section while seat bouncing and then you see the KTMs and their riders soaking up the same rhythm, you have to think to yourself "holy shit, it must be good to be Musquin and Tickle".
**Pulp Fans: I met a ton of fans of the show which is always nice to see. I had some great conversations with a few of them and it's nice to see how passionate they all were about the show.
**Anaheim Whoops: The set of whoops before the finish gave riders fits all day in practice. There was no starter whoop and the first few were deep. Poor Phil Nicoletti crashed in them on the first lap of practice and that kind of set the tone for him the rest of the day. We didn't see the consistency in the whoop building that everyone was hoping for, but maybe the Dirt Wurx guys will get this figured out for Houston.
**Dave Feeney: Dave is Zach Osborne's mechanic, but has wrenched for countless past champions in the past. Dave is one of the few mechanics I can go up and talk to and he will explain the bike to me in detail. When asked if he plans on retiring anytime soon, he just shrugs and says I love dirt bikes and being at the races. I love Dave Feeney!
**Lars Lindstrom: This is nothing more than one heterosexual male giving another heterosexual male a compliment, so nobody get all crazy here with lame thoughts. American Honda's Lars Lindstrom is a damn good looking specimen. Not only does this dude have looks, but he can wrench on a bike like no other, ride fast as hell and is approachable about all aspects of life. Most of the time I just like talking to Lars about other things besides dirt bikes and he seems to know a lot about everything I bring up. If you ever see a tall, dark, handsome fellow under the Honda tent, ask him a question, he's almost like that magic eight ball that has all the answers.